Cordell Broadus is a former football player, fashion model, and filmmaker. He has also done modeling in various sectors, like a brand endorsement, music videos, and he played in movies also.
For those unknown, Broadus is the son of a famous rap god, "Snoop Dogg." Yes, the D-to-the-O-to-the-double-g. Come on, who doesn't know Snoop Dogg!
Thanks to that, he got many chances in his life in the glamour industry, ultimately leading him to have a successful career. But he did work hard for it.
Since his childhood, Cordell has been an excellent football player, and even his dad and family wanted him to make a successful career out of football.
Once his father Snoop told in an interview that he wanted to see Cordell play in the NFL.
However, he quit football to follow his dream as an actor.
Quick Facts | Cordell Broadus:
| | |
| --- | --- |
| Full Name | Cordell Broadus |
| Birth Date | February 21, 1997 |
| Birth Place | Las Vegas, Nevada, USA |
| Nickname | Cordell |
| Religion | Christian |
| Nationality | American |
| Ethnicity | African-American |
| Education | Graduate |
| University | University of California, Los Angeles |
| Horoscope | Pisces |
| Father | Calvin Cordozar Broadus, (Snoop Dogg) |
| Mother | Shante Broadus |
| Siblings | 3 |
| Brothers | Corde Broadus, Julian Carrie Broadus |
| Sisters | Cori Broadus |
| Age | 26 |
| Height | 1.91 meter (6 feet 3 inches) |
| Weight | 165 lbs (75 kg) |
| Build | Muscular |
| Eye Colour | Dark Brown |
| Hair Colour | Black |
| Profession | Model |
| Famous for being | Son of Snoop Dogg |
| Sexual Orientation | Straight |
| Marital Status | Married |
| Wife | Phia Barragan Broadus |
| Ex-Partner | Marissa Hopkins |
| Children | 3 |
| Son | Champion Broadus |
| Daughters | Cordoba Journey Broadus, Chateau Broadus |
| Net Worth | $2 million |
| Hobbies | Traveling |
| Social Media | Instagram |
| Favorite Place | Switzerland |
| Last Update | November, 2023 |
Physical Appearance | Cordell Broadus
Broadus weighs 75kgs while he stands at 191 meters. His body measurements are estimated to be 42-32-38. Likewise, his shoe size is 9 (US).
The youthful fellow is a gym enthusiast; he loves to work out. Cordell hits the gym five days a week and has an attractive physique to vouch for.
Similarly, Cordell's hair is dark, and his eyes are dark brown.
Click here if you want to read the article about Travis Kelce's girlfriend >>
Cordell Broadus | Early Life & Childhood
Cordell was brought into the world by Shante Taylor and Calvin Cordozar Broadus Jr, aka Snoop Dogg.
Broadus was born on February 21st, 1997, in Las Vegas, Nevada. The former athlete spent a fun and great time with his parents and siblings, Corde Broadus and Cori Broadus.
Likewise, Broadus has a half-brother named Julian Corrie Broadus from his father's previous relationship.
As for Cordell's educational background, Broadus went to Bishop Gorman High School. He then finished his bachelor's degree at The University of California.
Cordell Broadus's loving family
Cordell has a big family with a brother, sisters, and children, and they all are happy and united in real life. We all are familiar with Snoop Dogg.
As for his mother, Shante is a famous businesswoman, and she is the owner of Boss Lady Entertainment Label.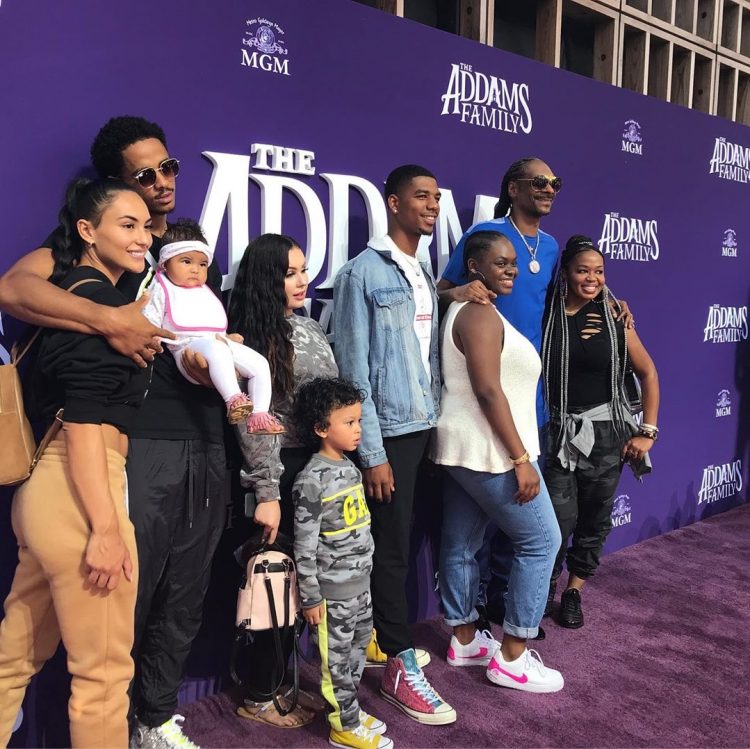 Likewise, Cordell's brother, Corde Broadus, is a gamer and rapper like their dad.
At the same time, Broadus' sister, Cori Broadus, is a singer and business person. She additionally, as of late, opened up with regards to her mental health in the media in May 2021.
Cordell Broadus | Professional Journey
Cordell Broadus has had a variety of careers in his lifetime and what he did was good and what he is doing now is even better.
Broadus is certifiably not another name in the American celebrities circle. He is frequently seen gracing the front page of style magazines.
Additionally, the model has likewise taken an interest in numerous runways and has ventured into the film business as a director and entertainer.
Cordell Broadus | Football Career
As we mentioned before, Cordell was a part of the football crew of Bishop Gorman High School.
Besides, the youthful competitor's senior year at school was chronicled by ESPN in their series Snoop and Son: A Dads Dream. Cordell was appraised as the No. 3 possibility in Nevada by Rivals and number. 2 by 247Sports.
In the wake of finishing school, numerous respectable universities like Arizona State University, University Of South California, and so forth needed to admit Broadus.
Yet, Cordell Broadus ultimately chose to join the University of California, Los Angeles (UCLA) in 2015. Later, he stopped pursuing football.
As expected, Cordell faced much hate and backlash from the general people and football fans when he decided to leave football.
Despite all, Cordell decided to seek a film creation degree and later started his profession in film and fashion.
Follow the link if you are interested to read about Odell Beckham's girlfriend >>
Cordell Broadus | Film Journey
Cordell Broadus opened his artistic enthusiasm since early on. He watched numerous films in his extra time, which propelled him to work in a similar field.
In addition, the fashion model took recording classes, scriptwriting and picked up editing classes in high school. Broadus later sharpened his abilities at the college.
Cordell's first project was for the documentary Christian Audigier The Vif in 2017.
Also, Broadus has made many clips for Joyrich's ad campaign. He has additionally produced and directed a film for Kangol's 80th anniversary.
Along with direction, the movie producer has additionally acted up on a few music videos and documentaries.
For instance, Snoop Dogg's music video, Drop It Like It's Hot, highlighted Cordell.
Furthermore, Cordell has shown up on numerous TV programs. For example, he was a group captain for an episode of Wild 'N Out in 2018.
Cordell Broadus | Fashion Journey
Broadus postponed his dream career to follow his football profession. In any case, later, he started showing his artistic vision and innovativeness in fashion.
During his college years, Broadus started planning for some fashion brands. He at first turned into a creative chief for "Joyrich."
Besides, Cordell made the attire dependent on the mid 90's hip-bounce style impacts from LA. He took his father, Snoop, for motivation.
Subsequently, the fashionista started going to runway shows and design occasions. His first show was for Dolce and Gabbana show in Italy.
Besides, Cordell started demonstrating and joining the advertisement missions of Salvatore Ferragamo, MCM, Kenneth Cole.
In his fashion journey, Broadus has been the front face of ODDA, CR Fashion Book, COVETEUR, and much more magazines.
On Tommy Hilfiger's spring '18 runway show, Cordell likewise joined Gigi Hadid, Winnie Harlow, Hailey Baldwin Bieber, Joan Smalls, etc.
Moreover, the model has done campaigns with MCM, Calvin Klein, D&G, Kangol, Philipp Plein, and many other big brands.
Cordell Broadus | Personal Life
Close by modeling and filmmaking, Cordell is a family man. He is happily married to Phia Broadus.
Also, Phia is a business owner and a former professional skater. She was a former cutthroat skater until the age of fifteen.
There is not much information about when the couple began dating. Yet, going through Phia and Broadus's Instagram accounts, it should be in 2017.
Moreover, we don't know about the pair's wedding date because both are private and have kept their relationship lowkey in the media.
The pair's firstborn, Cordoba Journey Broadus, was brought into the world in 2019, followed by the birth of their second girl, Chateau Broadus, in March 2021.
On the other hand, Cordell likewise has a child named Champion Broadus from his past relationship with Marissa Hopkins.
Phia and Broadus's family life is very low-key in the media because Cordell doesn't like to expose his kids to the limelight this early.
Follow the link to read the article about Polyxeni Ferfeli >>
Net Worth | Cordell Broadus
Broadus belongs to a celebrity family, so he doesn't focus on wealth from his early life because he is living a lavish life from his early stage of life.
Likewise, Cordell is a renowned model and has done many assignments for many brands, and he has earned good money.
Broadus has done many brand endorsements and worked in television. He has been in the glamour world for an extended period and has made a considerable fortune.
As of now, his net worth is $2 million.
Social Media | Cordell Broadus
Aside from being the son of Snoop Dogg, Cordell is a very famous personality, thanks to him modeling for the big brands and his former football career.
Cordell likes to surf on the social media handle and if you are a fan of his work and want to see his lifestyle and pictures, then follow him on social media.
Instagram – 774k Followers
FAQ | Cordell Broadus
Who is the biological mother of Cordell's son Champion Broadus?
Champion is the first son of Cordell from his ex-partner, Marissa Hopkins. Though Cordell doesn't mention her name anywhere, his son Champion often visits his biological mother.
Has Snoop and Cordell worked together?
Cordell and Snoop have worked many times with each other. Cordell has featured his father, Snoop Dogg, on his first single, "Bron & Bronny." The song was very famous back then, and Cordell's work gets more appreciated in the glamour industry.
Did Cordell date Khloe Kardashian in the past?
Cordell Broadus has made a move on Khloe Kardashian previously. Albeit, the transition to get her out on the town for the date was not successful.
Hayu shared the video on youtube; many fans are empowering Cordell to keep up with the Kardashians star, Khloe. He took action when Cordell was only 19 years of age.