Craig Hutchison's wife, Clare Haze Wright, co-founded the beauty company Ello Botanicals. The couple lives in Melbourne in Gippsland with Clare's two kids.
The Australian journalist and businessman Craig Hutchison grew up in a rural area in Australia and slowly climbed the corporate ladder. He began as a sports reporter and later opened a tiny PR agency named Crocmedia.
In the coming years, Hutchison turned the PR agency into a million-dollar company. But now, the millionaire and his business do not look in a good position.
As pointed out by the Herald Sun, Craig's company, Sports Entertainment Network, reportedly posted a $9.2 million loss. But Hutchison hasn't backed down and has come out all guns blazing to defend his company.
In his Off The Bench program, Hutchison has said his business contrary to the reports, is doing extremely well. So, only time will tell who stands correct.
Craig Hutchison Wife, Clare Hazell Wright
Craig Hutchison's wife, Clare Hazell Wright, is a part-time model and entrepreneur. A woman previously married, Clare has two kids from her first relationship.
With Craig and her two kids, Nicholas and Ava, Clare lives in South Yarra, Australia. The two have kept their relationship low-profile, with Craig choosing not to share any pictures of Clare on his Instagram handle.
However, the CEO of Sports Entertainment Network has shared a few pictures with Nicholas on his social media profile. In 2021, he shared a snap of Nicholas holding the National Basketball League trophy.
We don't know the exact date Craig and Clare tied the knot as articles till 2021 have been mentioned as partners. But in a legal document published in 2022 talking about the change of directors' interest, Clare has been cited as Craig's spouse.
Clare Hazell Is The Co-Founder Of Ello Botanicals
Clare Hazell co-founded the facial oil brand Ello Botanicals with her sister-in-law, Rachell Hazell.
The two established the company in October 2021 and are frequently seen marketing the product on their Instagram page.
On their website, Clare has written a short description of her childhood and how it inspired her to establish her first company. Clare grew up in Brookfield Farm, Tasmania, taking trips with her dad.
On the same farm, Clare and Rachell now produce their Tasmanian essential oils. Earlier this year, the brand was also nominated for SHE-com awards and was recently featured in the Australian tabloid The Mercury.
Craig Hutchison Family
The millionaire entrepreneur Craig Hutchison grew up in rural Warragul with his two siblings. His dad, Ken, was a hardware shop manager, and his mum, Pauline, was a humanitarian.
At 21, Craig lost his mom to leukemia. In his interview, Hutchison said losing his mum turned him combative. The Australian journalist briefly talked about his dad and his kindness.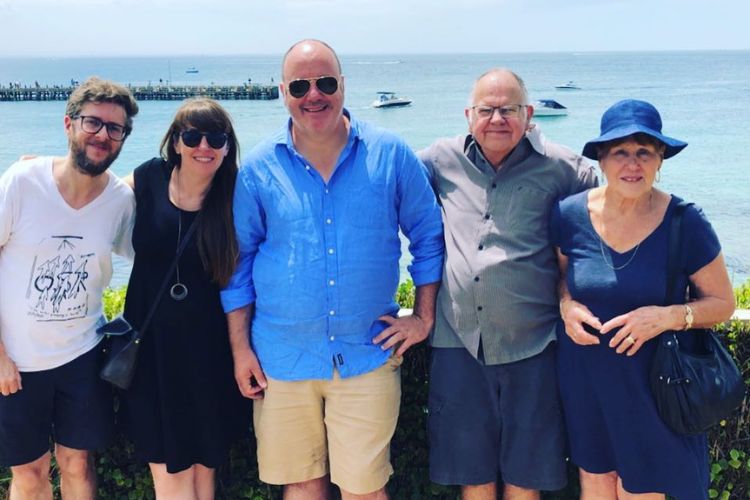 He said even in eight decades, his dad wouldn't have any enemies while he makes a new one every afternoon. Craig's brother, Shaun Hutchison, works in insurance, and his sister, Micala Hutchison, lives in Amsterdam.
Craig has featured his sister on his Instagram page, sharing a picture of her visiting the family in Australia with her husband, Dean. His niece and nephews, Shaun's kids, are also frequently seen on his page.