As revealed by Rafael dos Anjos, he was never in a serious relationship until he met his wife, Cristiane dos Anjos who has been with him since 2007.
The lovebirds have never held back from showcasing their support for each other.
Cristiane has always encouraged her husband's MMA career on and off camera.
With her marriage to Rafael, she changed her surname from Cristiane Gurgel to Cristiane dos Anjos.
Rafael dos Anjos, a professional mixed martial artist, competes in the lightweight and welterweight in the UFC.
The 38-year-old fighter made his professional debut at UFC 91 on November 15, 2008, where he lost the match against Jeremy Stephens.
The former UFC Lightweight Champion boasts thirty-two wins inside the octagon, among which sixteen are via decision.
Furthermore, he surpassed Frankie Edgar for the longest fight time and is the first fighter to achieve 8 hours of fight time in UFC history.
Rafael dos Anjos Wife, Cristiane dos Anjos
Rafael dos Anjos shares a deep and everlasting connection with his wife, Cristiane dos Anjos (born: August 12, 1982).
The couple have been together since May 2007, a year before the fighter debuted in the UFC.
They met during a tournament in Brazil, where Cristiane worked as a ring girl and producer of the event.
Just hours before the fight, she received the task of announcing the fighter's name.
But instead of calling out Rafael dos Anjos, she misspelled and uttered Rafael dos Santos which led to their first-ever interaction, and there was no turning back after that.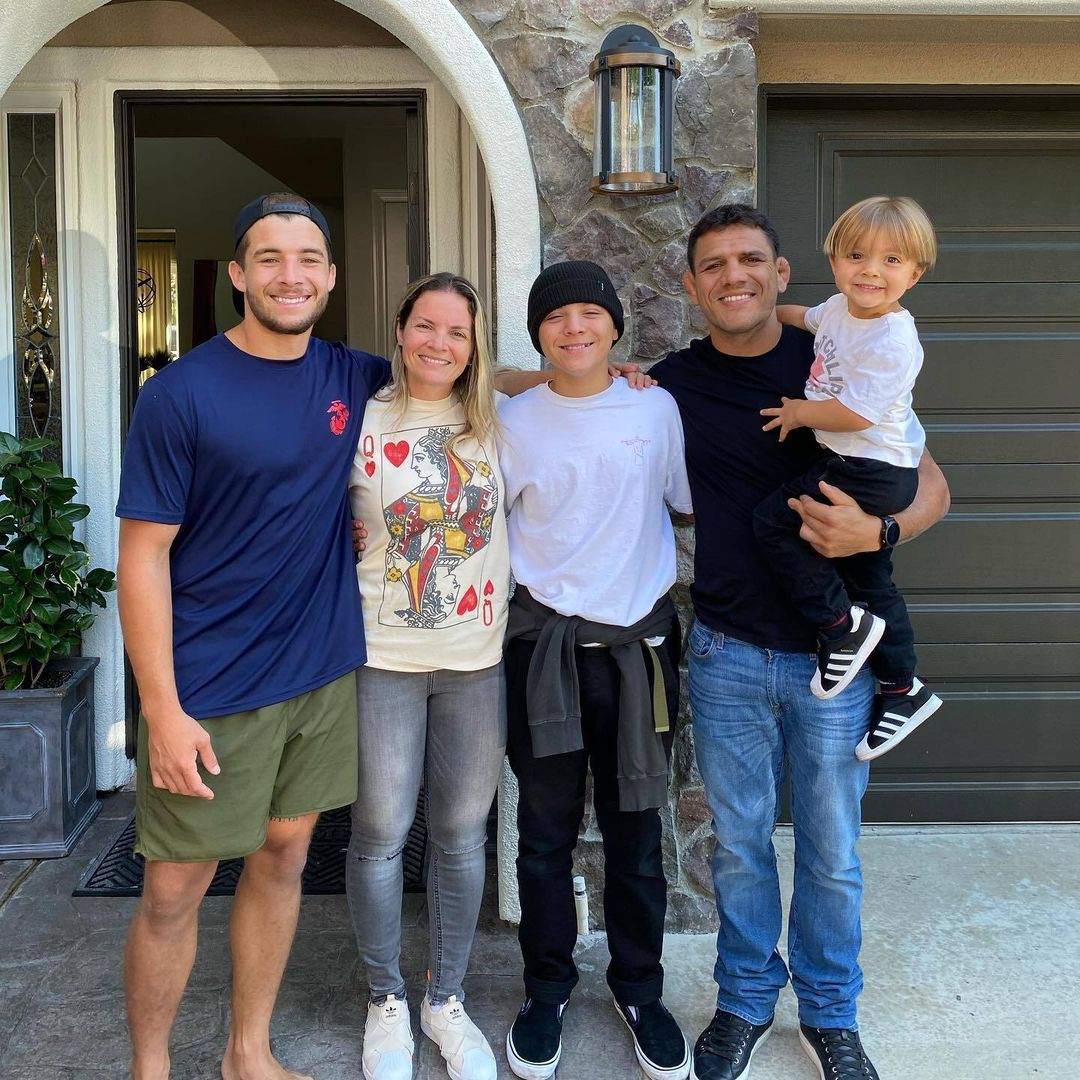 After dating for a while, they embarked on a beautiful journey, exchanging wedding vows on December 14, 2011.
The two are proud parents to Rafael (born: December 2008) and Roginho Dos Anjos (born: September 2018). Not to forget Gustavo Barrouin Mello, Cristiane's son from a previous relationship, lives with them.
Parents: Rosane & Paulo dos Anjos
Born on October 26, 1984, Rafael dos Anjos is one of two children of his parents, Paulo and Rosane dos Anjos. Besides him, they have a son named Daniel dos Anjos.
Rafael experienced a rough childhood, being born to a lower-middle-class family. His parents had to work hard to make ends meet.
Despite the challenging circumstances, Rafael never lost hope and pushed hard to make his parent's life better.
Today, his parents are undoubtedly proud of the changes he has brought to their life.
With limited information available about his parents, it looks like they prefer to live a low-key life.
However, Rafael sometimes shares pictures alongside his mother on his Instagram account.