Some people are oozing with so much talent that they go from one career to another like nothing.
It may be because they know they can do it and also because they like to try new things. One of such persona is Dale Tallon, who has ventured different paths.
Dale Tallon is a former Canadian ice hockey player and executive. The NHL star was active as a professional player from 1970 to 1980.
Moreover, Tallon served as a defenceman for the Vancouver Canucks, Chicago Blackhawks, and the Pittsburgh Penguins.
After retiring as an ice hockey player, Tallon joined the Blackhawks as a broadcaster and served 16 years of his life.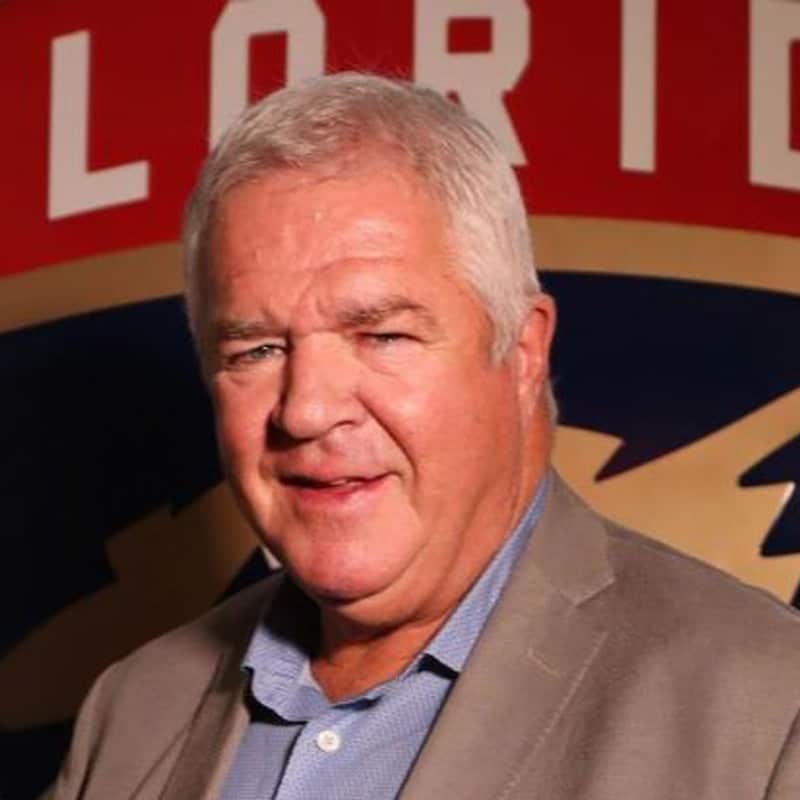 Similarly, in 1998 Tallon worked as a director of the player and eventually served as the Blackhawks' General Manager for a year and later for the Florida Panthers.
The multi-talented hockey player, Dale, also was a passionate golfer from an early age. Tallon won the 1969 Canadian Junior Gold Championship and qualified for the Canadian PGA.
There are more interesting parts of Dale Tallon, which we will discuss after checking some quick facts.
Quick Facts
| | |
| --- | --- |
| Full Name | Michael Dale Tallon |
| Birth Date | October 19, 1950 |
| Birth Place | Noranda, Quebec, Canada |
| Nick Name | Dale, Tallon |
| Religion | Christian |
| Nationality | Canadian |
| Ethnicity | White |
| Education | Not Available |
| Horoscope | Libra |
| Father's Name | Not Available |
| Mother's Name | Not Available |
| Siblings | Not Available |
| Age | 73 Years Old |
| Weight | 88 kg (195 lb) |
| Height | 6 ft 1 inch |
| Eye Color | Blue |
| Hair Color | Black (now Grey) |
| Married | Yes |
| Wife | Margaret Tallon |
| Profession | Former Ice Hockey Player, Golfer, Broadcaster, Manager |
| Children | Kristen Tallon, Lauren Tallon |
| Net Worth (2021) | $1 million to $5 million |
| Retirement | 1980(Playing career), Managing Career Active |
| Social Media | Not Available |
| Merch | Autographed Hockey Puck, Autographed Hockey Card |
| Last Update | November, 2023 |
Dale Tallon | Age, Body Measurement & Horoscope
The talented phenomenon Tallon turned [calculate years datestring="10/19/1950″] Years Old last October in 2023. In this 72-year-long life, he has experienced and seen different parts of life.
It looks like even at this age, Tallon is as enthusiastic and passionate as before.
He has been active in sports for almost five decades as a player, broadcaster, and executive. And who knows what new we will get to see from Dale.
Other the other hand, Dale's birthday falls under the sign of Libra. The Librans are one of the most balanced people like the sign denotes.
Moreover, they are generous, intelligent, and excellent negotiators. These remarkable qualities have helped Tallon to succeed in his career path.
As far as his physical features go, he is 6 feet and 1 inch tall and weighs around 88 kg, almost 194 lbs.
Also, read Paul Kariya: Mighty Ducks, Jersey, NHL, Retire, Wife & Net Worth >>
Dale Tallon | Early Life and Family
The NHL player, Dale, does not talk much about his personal life. Therefore, there is not that much information out there about his parents, wife, and children.
Besides being a good ice hockey player, Tallon was good at golf. His parents, whose names are not disclosed, supported him and wanted him to pursue golf.
Furthermore, Tallon's mother got a golfing scholarship for his son. But Tallon ended up pursuing ice hockey as his career. Even so, his parents were supportive of his career choice.
Moreover, Dale married a beautiful woman named Margaret. They have been together since they were married.
Together, Dale and Margaret have two beautiful daughters, Kristen Tallon and Lauren Tallon, happily married. They are often seen cherishing their father's career.
Let's check an Insta post from Kristen Tallon cherishing his father.
Amidst a busy and successful career, Tallon has created a beautiful and happy family.
Career | Ice Hockey, Broadcasting, Manager & Golfer
The multi-faceted defenceman, Tallon, has a varied and interesting career history. He has a series of experiences as an ice hockey player, a successful broadcaster, and a talented executive. Let's discuss his career in detail.
Early Career
Tallon started his career early on. The Canadian-born played his first tournament when he was just 11 years old in 1961. Dale's junior career began when he was only sixteen.
Tallon played with the Oshawa Generals, a junior ice hockey team in the Ontario Hockey League. After his rookie year in 1967-68, Dale was traded to the Toronto Marlboros.
As the Toronto player, he improved his performance with 17 goals and 49 points in 48 games.
Moreover, in the last season of his junior career, Tallon scored his career-high of 39 goals, 40 assists, and 79 points in 54 games. There were high expectations from Dale during his junior year.
NHL Career
After his OHA (Ontario Hockey Association) career, Tallon's next step led him to the Vancouver Canucks. He got selected in the 1970 NHL Amateur Draft second overall.
In Dale's first year with the Canucks, he scored 14 goals and 42 assists. Moreover, Dale's high score took the Canucks to the 1971 and 1972 NHL All-Star Games also.
Further, Tallon was also selected to Team Canada's roster for the 1972 Summit Series during his NHL second season.
On May 14, 1973, Tallon was traded to the Chicago Black Hawks in exchange for Gary Smith and Jerry Korab.
When he became the Black Hawks, Tallon was given Bobby Hull's number 9, which did not go well with the fans. Tallon gave his best for Chicago in the 1975-76 season when he scored 15 goals and 47 assists.
After five seasons with the Black Hawks, Tallon was traded to the Pittsburgh Penguins on October 9, 1978.
Just after two seasons with the Penguins, Tallon decided to retire with a total of 98 goals and 238 assists in 642 games in his 10-year NHL career.
Dale as a Broadcaster
Even though Dale retired from his playing career, he pursued another role for the sport he likes. Tallon then joined the Blackhawks as a broadcaster.
The relentless player, Dale, appeared as an analyst for the Blackhawks radio and television. Moreover, Tallon spent 16 seasons as a broadcaster.
Then Tallon was found pursuing another role, which was an executive.
Curtis McElhinney: Ice Hockey, NHL, Family & Net Worth >>
Tallon as General Manager
Chicago Blackhawks
After his broadcasting career, Tallon worked as director of player personnel for the Blackhawks from 1998 to 2002. Then he was given the role of assistant general manager in 2003, in which he performed well.
After two years, on June 21, 2005, Tallon was promoted to a general manager position.
As soon as he was handed over this role, Dale started building a new team. The ambitious manager, Dale, was supposed to create higher-scoring games.
During Dale's new team-building process, he hired many free agents like Adrian Aucoin, Nikolai Khabibulin, and Martin Lapointe.
But the first season did not go well, with more losses than wins ranking the Blackhawks 14th in the 15-team Western Conference.
After the first season, team performance improved, giving 71 and 88 in the next two years.
In the 2008-09 season, the Blackhawks' score went up with a 46-24-12 record for 104 points, ranking them overall. In addition to the higher ranking, the Blackhawks were qualified for the playoffs after a long time.
Moreover, the excellent manager, Dale, kept on adding layers of success in his career. Tallon faced a setback when the Blackhawks management faced allegations from the National Hockey League Players' Association.
NHLPA said that the team was not on the top of qualifying offers to their restricted free agents.
The controversy jeopardized Tallon's career, which led to his demotion as the senior advisor. During his bad time, Martin Havlat strongly defended him and blamed the president, John McDonough.
Amidst managerial dilemma, Chicago won the 2010 Stanley Cup. Luckily, the credit for the victory went to Tallon; his name was engraved on the Cup.
Working for Florida Panthers
After spending four years as a general manager and a senior advisor with the Chicago Blackhawks, the Florida Panthers hired Tallon as a general manager on May 17, 2010.
The Panthers also had expected Tallon to form a new team that could deliver better performance.
Keeping the expectation in his mind, Tallon soon started trading away players like Keith Ballard and Nathan Horton. After some major changes, the Panthers team was qualified in the 2012 playoffs after twelve years.
The qualifying success of the team led Tallon to the 2012 NHL General Manager of the Year Award. His contract kept going further. Moreover, Tallon was promoted to an executive position within their organization.
The responsible executive, Dale, again got the role of general manager after Tom Rowe's demotion in 2017.
After many internal struggles, in August 2020, Tallon parted ways with the Panthers. The Panthers later claimed that it was a mutual agreement.
Also, read Andrei Svechnikov: Ice Hockey, NHL, Family & Fight >>
Golf
People who know Dale Tallon should know about his golfing talent. In addition to ice hockey, Tallon is also a great golfer. He won the 1969 Canadian Junior Golf Championship and qualified for the Canadian PGA tour.
Even though Dale did not pursue golf as his professional career, he was the head professional at the Tamarack Golf Club in Illinois and Highland Park Country Club in Chicagoland.
Tallon | Net Worth
The Panther's GM, Dale, has been active in ice hockey in various roles. He has earned his net worth from playing, broadcasting, and being an executive and general manager.
Tallon has an estimated worth of $1 million to $5 million.
In five decade long career, Tallon must have acquired a luxurious car and property. There was news in 2017 of Tallon's wife buying a Gold Coast condo worth $725,000.
Tallon Allegation
On August 28, 2020, news started to swirl around about Tallon. The ice hockey player, broadcaster, executive, and general manager Dale was reported using racially insensitive comments during the Panthers' two-week stay in Toronto. The NHL confirmed investigating this report.
But, Dale refused all the claims and stated that people are saying his comments were made after Matt Dumba's speech.
"I am not racist by any means. I have never said anything of the sort. I am all for peace, am all for this alliance and what everyone is trying to do right now."
– Dale Tallon
Read more about the accusation: Dale Tallon Under Investigation for Alleged Racist Comments >>
Later Dale dismissed the allegation by saying that he did not make racially and culturally insensitive comments during the team's stay. Moreover, the NHL investigation also could not prove the allegation.
Common Questions about Dale Tallon
When was Dale Tallon accused of racial comment?
Dale was accused of racially insensitive comments in August 2020, which was cleared in October 2020.
Does Dale have children?
Yes, Dale has two daughters, Kristen and Laura. They are both happily married.
When did Tallon retire from his hockey career?
Tallon retired from his playing career in 1980 after ten successful seasons with the Vancouver Canucks, Chicago Blackhawks, and Pittsburgh Penguins.
What does Dale Tallon's NHL career statistic look like?
Throughout his decade-long NHL career, Dale Tallon maintained a career statistic of 98 goals and 238 assists for 336 points in 642 games played.
Why was Dale Tallon demoted?
Back in October 2020, the Blackhawks demoted Dale Tallon from a general manager to an adviser. Apparently, they demoted him after he missed the deadline to qualify the team's restricted free agents.