Andrei Svechnikov became an ice hockey heartthrob before 20 years of age. The Russian ice hockey winger is loved and cherished by well-wishers worldwide.
He is currently associated with the Carolina Hurricanes of the National Hockey League (NHL). NHL is the most popular and premium ice hockey league in the United States and Canada.
The Carolina Hurricanes drafted Andrei Svechnikov in the 2018 NHL Entry Draft, second overall.
Today, we will be talking about Andrei Svechnikov without excluding anything significant that has ever happened in his personal and professional life.
Quick Facts about Andrei Svechnikov
Full Name

Andrei Svechnikov

Known As

Svechnikov

Date of Birth

March 26, 2000

Birth Place

Neftegorsk, Yuzhno-Sakhalinsk, Russia

Religion

Not Known

Nationality

Russian

Horoscope

Aries

Age
23 years old
Height

6 feet 2 inches (188 cm)

Weight

84 kg (185 lbs.)

Eye Color

Dark Brown

Hair Color

Dark Brown

Build

Athletic

Father's Name

Igor Svechnikov

Mother's Name

Elena Svechnikov

Sibling

A brother

Brother's Name

Evgeny Svechnikov

Marital Status

Unmarried

Relationship status

Not Known

Kids

None

Profession

Ice Hockey Player

Position

Right Wing

Shoot

Left

Affiliations

National Hockey League (NHL)

NHL Draft

2nd overall, 2018

NHL Debut

October 4, 2018

Plays for

Carolina Hurricanes

Active Since

2018

Awards and Honors

Emms Family Award as rookie of the year

United States Hockey League (USHL) Rookie of the Year

Net Worth

$1 million

Social Media
Instagram, Twitter
Merch
Autographed Items, Jersey
Last Update
November, 2023
Andrei Svechnikov – Early Life and Family
Andrei Svechnikov was born on March 26, 2000, in Neftegorsk, Yuzhno-Sakhalinsk, Russia. He was born to father Igor Svechnikov and mother Elena Svechnikov. He has an elder brother: Evgeny Svechnikov.
The Svechnikov family shifted to Barnaul Russia after 1995. They did so because of the massive 1995 Neftegorsk earthquake.
Andrei is not the only ice hockey enthusiast in the family. His elder brother, Evgeny, is equally popular in the NHL. Andrei basically followed the footsteps of his elder brother.
You might be interested in reading: Curtis McElhinney: Ice Hockey, NHL, Family & Net Worth
Mother's Love
The Svechnikov boys receive the utmost support from their parents. Their mother, Elena, has stood firm and flexible at the same time for her sons.
Their father, Igor, is the only family member living in Russia as of now. He could not leave the country because of his work.
Elene transitioned to the United States so that her sons could flourish in their careers without having to stay away from home. She could only speak a few English words.
Nothing beats the love of a mother. She holds that strength to sacrifice her social relationships and shift to an alien's land where she cannot even communicate with the people around her.
Elena never misses her sons' tournaments. She believes that her presence motivates and provides moral support to both of her sons.
Andrei is very close to his family, and particularly his mother. His favorite way to pass his spare time is to watch good movies and enjoy his mother's cooking. Elena once said in an interview that Andrei loves pasta, chicken, and borscht cooked by her.
She further said that her younger one is a clean freak. He has to have his room neat and tidy every time. She further added that Andrei gets pissed off if he does not find his things in the right place.
Elena describes Andrei as a very kind human being. She said that both her boys are very responsible. She further added that there are instances where she learned kindness and responsiveness from her sons.
You might also be interested in reading: Deryk Engelland Bio: Ice hockey, NHL, Family, & Wiki
More about Andrei
Andrei admitted that he is superstitious when it comes to his tournaments. But he did not describe his superstition particularly because he believed that once he says it openly, it would stop working for him.
He further said that he likes having pasta and chicken as a pregame meal. As for pets, Andrei loves kittens and can be often seen playing with them.
Evgeny Svechnikov: The Elder Brother
Evgeny is four years older than Andrei. The Detroit Red Wings drafted him in the 2015 NHL draft, 19th overall. He played his debut game with them in the 2015-2016 seasons.
Detroit Red Wings then assigned him their AHL affiliate Grand Rapids Griffins of the American Hockey League (AHL) on April 24, 2016.
Evgeny and Andrei were almost certain to play against each other in 2019. However, the awaited game did not occur because the Detroit Red Wings sent Evgeny to their AHL affiliate for an emergency right before the team faced the Carolina Hurricanes.
The fans and well-wishers of the Svechnikov brothers want to see them face each other in a legit tournament. The boys grew up together and practiced the sport together for the longest time.
If the match happens, it would be fascinating to watch.
Evgeny Svechnikov Bio: Ice Hockey Career, Net Worth & Wiki>>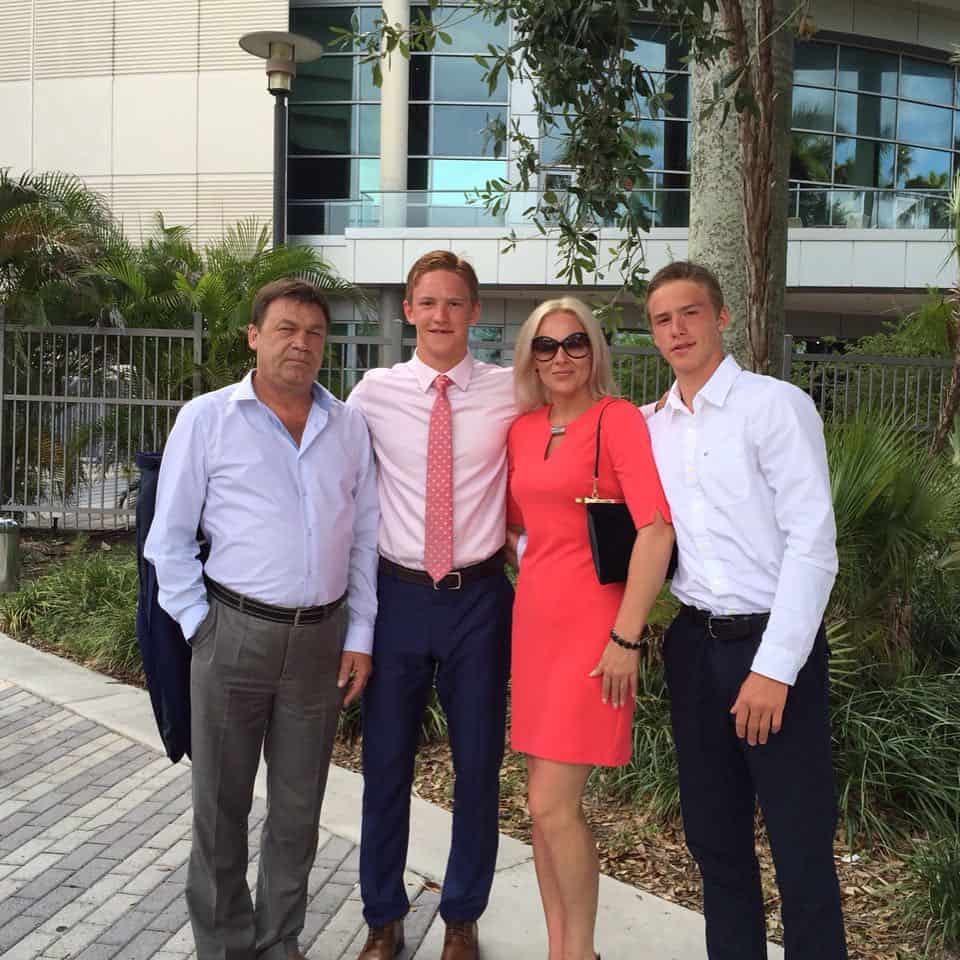 Andrei Svechnikov – Ice Hockey Career
Andrei first played professional ice hockey as a junior in North America with the Muskegon Lumberjacks of the United States Hockey League (USHL).
He signed a tender with the Muskegon Lumberjacks in May 2016. He must have taken this route because the family already had to go for a reallocation. His brother, Evgeny, played for the Grand Rapid Griffins of the American Hockey League (AHL) then.
Andrei recorded some good scores and finished sixth overall in the 2016-2017 seasons of the league. He was also named to the All-USHL Team. He was then declared USHL Rookie of the Year.
Brandon Carlo Bio: Ice Hockey Career, NHL, Family, Net Worth, & Wiki>>
Canadian Hockey League (CHL)
Andrei Svechnikov was drafted in the 2019 CHL Import Draft, first overall. The Ontario Hockey League's (OHL) Barrie Colts picked him.
He registered 40 goals and 32 assists for 72 points in 44 games in his first season with the team.
Andrei then earned Emms Family Award as rookie of the year. He was also the top-ranked North American skater by the end of the season as per the NHL Central Scouting Bureau for the upcoming NHL Entry Draft.
National Hockey League (NHL)
The Carolina Hurricanes selected him in the 2018 NHL Entry Draft, second overall. He got into a three-year entry-level contract with the team on June 30, 2018.
He played his debut game representing the Carolina Hurricanes on October 4, 2018. Andrei went scoreless in a 2–1 loss to the New York Islanders.
He then recorded his career-first NHL point a day later. It was an assist in a 3–1 victory over the Columbus Blue Jackets.
Similarly, he recorded his career-first NHL goal during an 8–5 win against the New York Rangers on October 7.
As a result, he enlisted himself as the first player born in the 2000s to have scored an NHL goal.
He completed his rookie season with 20 goals and 17 assists for 37 points. Further, he recorded 5 points in 9 postseason games.
Andrei stood up as the first NHL player to score a "Michigan" goal on October 29, 2019. He recorded it against David Rittich in a 2–1 victory over the Calgary Flames.
Likewise, he recorded a similar goal on December 17 against the Winnipeg Jets.
Andrei has been getting better and more polished every other day. He hiked his record, scoring 24 goals and 37 assists for 61 points in the next season.
Will never forget this day! Happy Draft Day! #NHLDraft pic.twitter.com/ZAEoMxFeEl

— Andrei Svechnikov (@ASvechnikov_37) October 6, 2020
The Carolina Hurricanes matched up with the New York Rangers in the 2020 Qualifying Round. Andrei recorded a hat-trick in Game 2 of the series. It was a 4–1 victory for the team.
Andrei has been setting records one after another in his tournaments. The earlier victory was also the first in Hurricanes/Hartford Whalers franchise postseason history.
You can see his career statistics on the website of hockey-reference.
Connor Clifton Bio: NHL Career, Family, Girlfriend, & Wiki>>
Andrei Svechnikov – Injury
Andrei was injured in August 2020. It was a leg/ankle injury. The injury happened when he tangled with Bruins defenseman Zdeno Chara in front of the net in Game 3 of the best-of-7 series.
His teammates helped him after his leg appeared to buckle. Moreover, his team lost the game. The Boston Bruins had a 2-1 victory in Game 5.
It was a high ankle sprain. It looked very severe when first examined. Chara pushed him back over his own. Svechnikov then grabbed his right knee and lay on the ice.
Everyone that witnessed the incident expected it to be a broken leg or torn ligaments, with a long rehab to follow.
The doctor said that it may get recovered in a week or may even take a few months. Andrei was disabled from playing for quite a while.
He announced that he has completely recovered and is excited to join the team in late August 2020.
You can watch the latest news about Svechnikov on the website of NHL.
Mika Zibanejad Bio: Ice Hockey, NHL, Family, Net Worth, & Wiki>>
Andrei Svechnikov – Girlfriend
Currently, Andrei is dating a model, Julia Hamilton. Apparently, when Julia's followers asked her if she had a boyfriend, she replied "yes" with her picture alongside Andrei.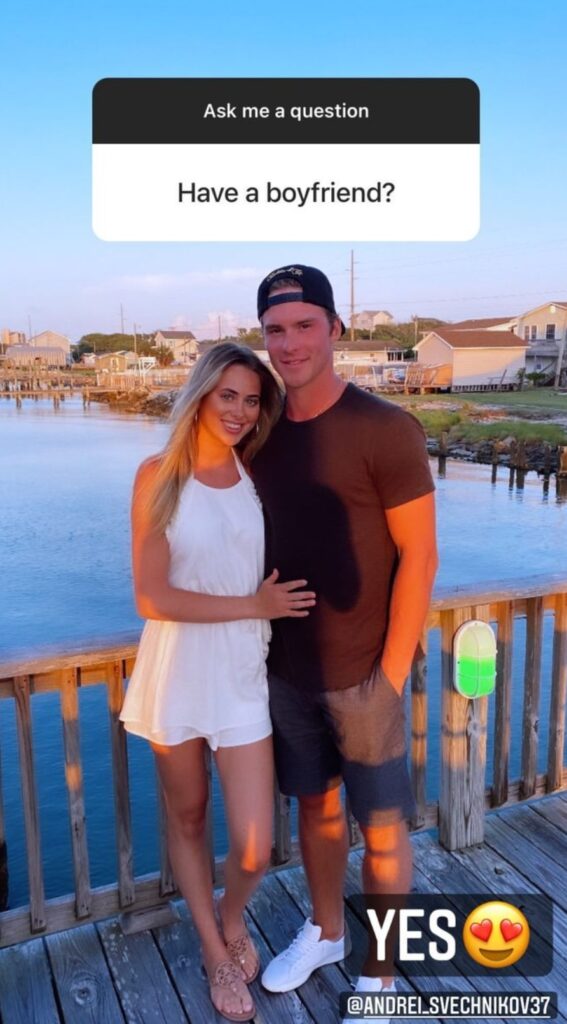 Well, Hamilton studies at the University of Liberty as a business specialist.

Andrei Svechnikov – Net Worth
Andrei has just started his professional career. He has already earned a good amount of money.
Andrei Svechnikov's net worth is estimated to be around $1 million.
He lives a decent life in his early 20s with self-made money. Moreover, he earns a few super-expensive goodies. He is often spotted in his black Mercedes.
Visit Andrei Svechnikov – Wikipedia to stay updated about his life happenings.
Andrei Svechnikov – Social Media Presence
The young ice hockey winger is very active on his social media handles. He posts glamorous pictures of himself. You can follow him via these links:
Common Queries about Andrei Svechnikov
Who is Andrei Svechnikov's brother?
Andrei Svechnikov has an elder brother named Evgeny Svechnikov. Both the brothers are associated with the NHL.
What's the Andrei Svechnikov – Alexander Ovechkin issue?
Alexander Ovechkin knocked out Andrei with a right hook when they got into a fight in the first period of Game 3. Both of them blamed the other one for initiating the fight.
Andrei was just 19 then. He said that he's not some superhero to get into a fight with someone in his rookie season.
Andrei further added that he said 'yes' when the other party asked for a fight. He defended himself, saying that he was simply standing for himself.
The fight took another direction when Andre's elder brother Evgeny interfered. Evgeny wrote a threatening message online.
Evgeny Svechnikov Bio: Ice Hockey Career, Net Worth & Wiki>>
He posted an Instagram story writing, "One, two Freddy's coming for you." Moreover, he directly tagged/mentioned Alex Ovechkin in the story.
Ovechkin is also from Russia like the Svechnikov brothers. He currently serves as captain of the Washington Capitals of NHL.
He was 34 years old when the fight took place. Why would a 19-year-old rookie initiate a feud with someone 15 years older? Moreover, it was Ovechkin's fourth fight of the career.
How good is Andrei Svechnikov?
Andrei is good in his game. He had just begun and already planted a name for himself in the crowd. He has set a few records in a short period.
The Russian ice hockey player has also been honored with a few awards.
What is the jersey number of Andrei Svechnikov?
Andrei Svechnikov wears jersey number 37 for the Carolina Hurricanes.
You can check out his black jerseys and apparel, click to follow!
In the meantime, you can also check out his hockey cards!