Six-time All-Star Damian Lillard is estimated to have a net worth of $70 million.
Damian Lillard is 32 years old professional basketball player. To date, he has played his whole NBA career for Portland Trail Blazers.
Despite anything, Lillard will definitely be considered one of the greatest to wear Blazers jersey in the future.
He is an elite point guard and among the best in NBA. He can break down any defense easily and make plays to help his team win.
Moreover, Lillard is known for his scoring ability. He has the ability to drain 3 pointers from an astonishing distance.
Furthermore, he is Blazers all-time and 10th in NBA for most 3 points made.
Alongside basketball, Lillard is also known as a rapper. Probably he is the best rapper among athletes. Moreover, he has already released 3 albums.
Lillard is a money-making athlete. Currently, he is making $40 million from his salary and endorsement deals.
Quick Facts
| | |
| --- | --- |
| Name | Damian Lamonte Ollie Lillard Sr. |
| Date of Birth | 15th July 1990 |
| Birth Place | Oakland, California, USA |
| Nick Name | Dame, Big Game Dame, Dame Time |
| Age | 32 years old |
| Gender | Male |
| Religion | Christian faith |
| Nationality | American |
| Ethnicity | Black |
| Horoscope | Cancer |
| Body Measurement | 42 inches (Chest), 16 inches (Arms), and 33 inches (Waist) |
| Height | 6'2″(1.88 m) |
| Weight | 88 kgs (195 lb) |
| Body Mass Index (BMI) | 25.0 |
| Build | Athletic |
| Wingspan | 2.03 m |
| Shoe size | 16 |
| Hair Colour | Black |
| Eye Colour | Dark Brown |
| Tattoo | Yes |
| Father name | Houston Lillard |
| Mother name | Gina Jhonson |
| Siblings | Houston Lillard (brother), Lanae Lillard (sister) |
| Relationship | Married |
| Wife | Kayla Hanson |
| Children | Dame Jr (son), Kai Emma Lee Lillard, and Kalii Laheem Lillard (Twins) |
| Profession | Professional Basketball Player |
| Position | Point Guard |
| Education | Arroyo High School, St. Joseph Norte Dame High School, Oakland High School (High School), Weber State University (College) |
| High School Ranking | 2-star recruit/ unranked (Rivals) |
| Draft | 2012 (6th overall pick) Drafted by Portland Trail Blazers |
| NBA Debut | 31st October 2012 |
| Team | Portland Trail Blazers |
| Current Affiliations | NBA |
| Jersey Number | 0 |
| Salary | $31,626,953 |
| Net Worth | $70 million |
| Social Media | Instagram, Twitter, Facebook, Youtube |
| Achievements | 2018 ALL NBA First Team, 6x NBA All-Star, 2013 NBA Rookie of the Year, 2019 J. Walter Kennedy Citizenship Award, No.1 retired by Weber State University |
| Shoe | Adidas |
| Merch | Shoes, Basketball Card, Adidas Dame series, Rookie Card, Jersey |
| Last Update | June, 2023 |
Damian Lillard | Salary and Net Worth
According to Spotrac, Damian Lillard will make $349,733,611 when his current expires in 2025.
After being drafted by Blazers, Lillard signed 2 years $6.3 million deal. Likewise, in his debut season, he earned $3,065,040 whereas making $3,202,920 in the 2013-14 season.
Then Lillard finished his rookie contract with $3,340,920 and $4,236,286 in years 3 and 4.
Later, in 2015 Lillard signed a 5-year lucrative rookie extension contract worth $140 with Blazers.
In the first year of his contract extension, he made $24,328,425. Likewise, he earned $26,153,057 and $27,977,689 the following season.
Thanks to his hard work, Lillard got his Veteran Player Extension. Later, he agreed on a $196 million extension. In the 2019-20 season, he made $29,802,321.
Likewise, currently, Lillard is earning $31,626,953. Furthermore, he is ranked 19th in the highest-paid player list and top among the Blazers roster.
According to various online sources, the estimated net worth of Damian Lillard is $70 million.
Read Also: Kawhi Leonard Net Worth: House & Endorsements >>
Damian Lillard | Endorsement and Charity
Endorsement
According to Forbes, Damian Lillard reportedly earned $14.5 million in 2020. Lillard is one of the most marketable players in the NBA.
Damian Lillard has one of the best shoe deals in the NBA. In 2014, he signed a 10-year $100 million contract extension with Adidas.
Lillard got his first shoe deal only after being drafted by Adidas.
Moreover, Adidas has also released its own signature shoe line and logo, Adidas Dame. To date, the 7th generation of his shoe line has been released.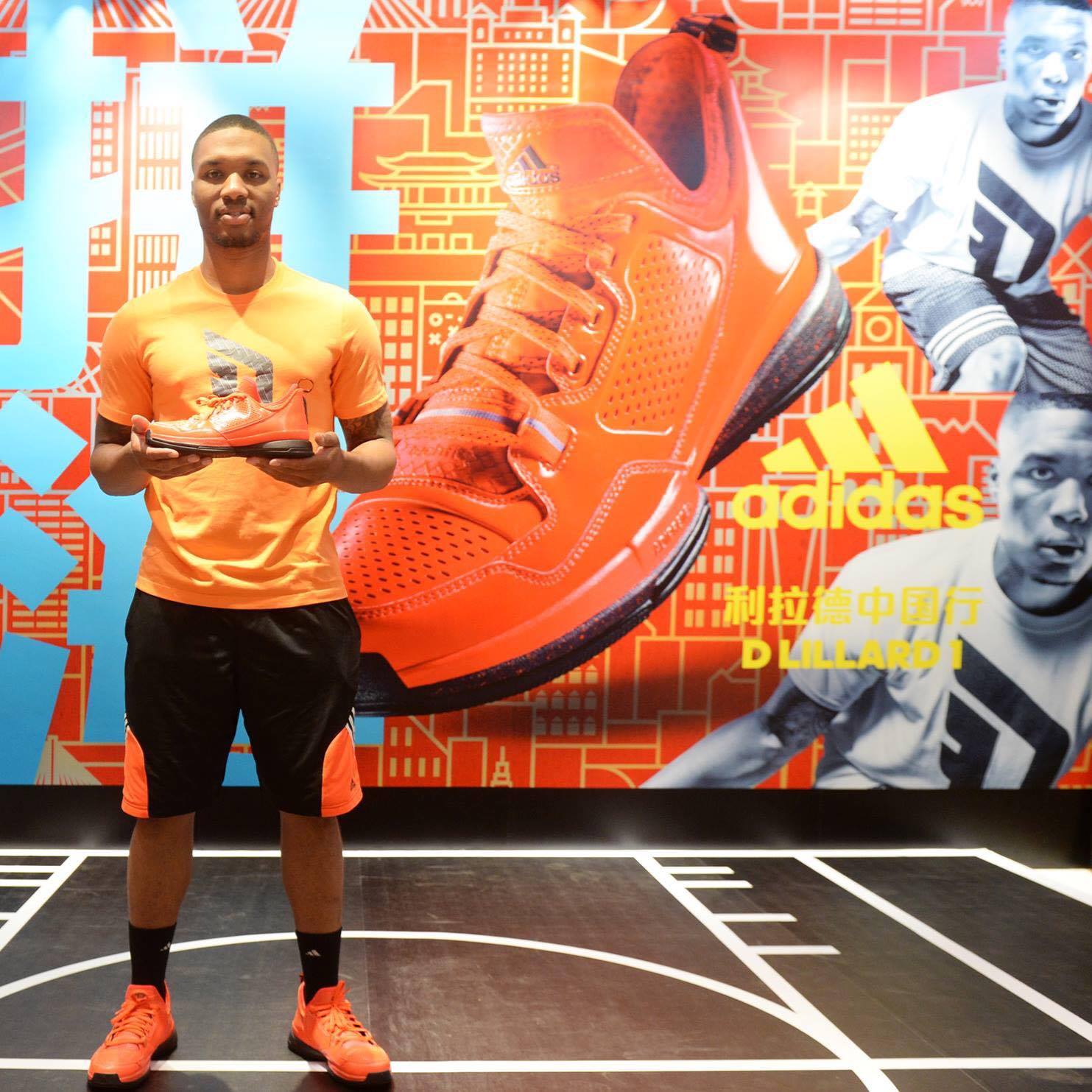 Likewise, as per Ballers shoes DB, Lillard 4 was among the most popular Adidas shoes in the 2017-18 NBA season.
At present also Adidas Dame line shoes are among the best-selling in the NBA. Before the debut of his signature shoes, Lillard wore other Adidas sneakers on the court.
Recently before the beginning of the 2020-21 season, Lillard inked a deal with Gatorade. He was targeted among athletes to promote the Gatorade Bolt24 product.
In 2019, Lillard was among the NBA players to sign a deal endorsement deal with Hulu. He has been in many of their advertisement campaigns to promote their streaming services.
Likewise, in 2019 Damian Lillard signed a sports endorsement with 2k sports. Moreover, the NBA 2k20 soundtrack featured his track 'Money Ball.'
He will feature on the cover of NBA 2k21 alongside Zion Williamson and the late Kobe Bryant.
In April 2021, Lillard was named the next NBA ambassador of the NBA Offical Timekeeper company Tissot.
Furthermore, Lillard also has an endorsement deal with JBL, Foot Locker, Spalding, and Moda Health.
Investment
In 2021, Lillard was among 50 athlete investors invested in athlete-owned sports network Players TV. As part of his contract, Lillard will have his basketball career documentary series premiered.
Likewise, in 2020 Lillard partnered with startup 3-D virtual reality gaming company VIZNTM Gaming.
Similarly, in 2020 Lillard bought a Toyota dealership in McMinnville. Later he named it Damian Lillard Toyota.
Furthermore, he also provides incentives to his customers. It includes entry to Damian Lillard VIP Club, offering access to Damian events and special offers during the Blazers game.
Charity
Damian Lillard is no stranger when it comes to giving back to the community and assisting others. Moreover, in November 2018, he won NBA Cares Community Assist Award.
During his rookie season, Lillard initiated the RESPECT program. He partnered with 3 high schools in the Portland area with the program, where he has already conducted many assemblies and events.
Damian Lillard is also the global ambassador of the Special Olympics. He has participated in many Special Olympics games.
In 2020, Lillard donated $1,00,000 to Blazer's Covid 19 relief fund. Later, he also encouraged his teammates to donate as well.
He also actively participated in the Black Lives Matter protest. During the 2020 bubble, Lillard wrote How Many More on the back of his jersey.
Okay, let's get back to 2015. Not a charity thing but Damian never backs himself when it's time to show some love to his fans. Considering the practice of giving back once, he went to a local Foot Locker and gave away 20 pairs of his signature shoe.
After a few hours, a random Facebook user took a photo of the shoes and posted it on the Portland Sole Collector. He was looking for buyers who wanted the signed D Lilliard shoe.
The Facebook user priced the shoe at $250, which is $145 more than the sneakers listed on Adidas' website. (Those were the signed ones so it is worth it).
Damian Lillard | Lifestyle
House & Cars
In 2017, Lillard purchased a large house in WestLinn, Oregon, for $6,650,000. 4,371 sq. ft property has 4 bedrooms and 3 bathrooms.
Some cool features of his house are large rooms, a BBQ center, a movie room, a swimming pool, and a basketball court.
Furthermore, Damian Lillard showed fans inside his Portland crib and car collection in his music video "Goat Spirit."
Lillard has cars in his garage worth around a million. He frequently drives around Bentley Bentagya. It has been advertised as the fastest SUV reaching a top speed of 187 m/h.
Moreover, Bentagya is World expensive SUV costing $200k.
Likewise, the first car he bought from NBA salary was Porsche Cabriolet, charcoal grey costing $100k.
Fitness
Lillard trainer Cem Eren mentions describes him as a fighter who plays basketball. He boxes regularly for an intense workout.
According to reports, he begins his training at 7:00 am in the morning. Firstly he does some lifting and conditioning. Later, he put on his gloves for 8 to 10 three-minute rounds.
Lillard states he feels stronger on the court as well, making his movement and shooting smooth.
Music
Damian Lillard is also a star off the court. He has been rapping when he didn't even have an interest in basketball.
He goes for the name Dame D.O.L.L.A (Different On Levels the Lord Allows).
Lillard debuted his first album, The letter O, in 2016. It was ranked the 7th best-selling album on Billboard R&B/ Hip-Hop chart in 2016. A year later, he releases his second album.
In 2019, he released his third album Big D.O.L.L.A music industry stars like Lil Wayne, Mozzy, and Jeremih. In the US Independent Album, his album placed 12th as published by Billboard Magazine.
Tattoo
Damian Lillard has covered his body with tattoos. Moreover, his first tattoo was Lillard Brothers, dedicated to his brother Houston on the right arm.
He also has the name of his sister on the same arm.
Likewise, on his left forearm, he has tattooed portraits of individuals who have had a big influence on his life. They are his grandmother, grandfather, mother, father, and uncle.
Furthermore, his other famous tattoos are the Psalm scripture on his left arm, the Heart of the City on his chest, and a basketball tattoo on his right arm.
Besides these, he also has many tattoos with different meanings on his body.
Read Also: Antoine Griezmann Net Worth: Cars, House & Salary >>
Damian Lillard | Professional Career
Damian Lillard was drafted by Portland Trail Blazers in the 2012 NBA draft as the sixth overall program.
During his debut season with Blazers, Lillard recorded 19 PPG, 6.5 APG, and 3.1 RPG. Later, he won the 2012-13 NBA Rookie of the year for his impressive display.
Next season, Lillard got his first All-Star selection. Moreover, he became the first NBA player to appear in all 5 All-Star festivities.
The same season he made his first playoffs appearance. Lillard, in his first 3 seasons, started in all 82 games for Blazers.
In 2015-16, he became the fastest player to score 600 career 3 points in field goals, achieving that milestone in 247 games.
In the 2017-18 season, Lillard was named to All-NBA First team, becoming 3rd Blazers to earn that honor.
After scoring 32 points in a loss against the Raptors, Lillard became the 8th player to record 10,000 points and 2,500 assists in the first 6 NBA seasons.
Next season, Damian Lillard led his team to the first Western Conference finals since 2000. However, the notable moment of the playoff is the game-winning 37 ft game-winning buzzer-beater against Okhalama Thunders.
In the 2019-20 season, he was named NBA Bubble. He led Blazers to a 6-2 record, averaging 37.6 PPG, 9.6 APG, and shooting 43.6 % from beyond the arc.
Lakers trading for Damian Lillard
Well, there are rumors roaming around that Lakers soon might hire Blazers' Damian Lillard attracting him with a huge offer.
While Damian Lillard has kept repeating that he would play only one team throughout his career, it also depends on Blazers, if they like to keep him or not. Moreover, he has also pledged to retire in RIP city as the best player in NBA history.
But at the same time, some reports state that Damian wants to drop his position in this franchise and is likely to request a trade-in next few days.
Representing Team USA at Tokyo Olympics
As per online sources, Damian would be wearing Number 6 and will be competing at the Tokyo Olympics as he was named to the 12-man roster.
Damian also outlined the reason for his commitment to play for the USA Basketball at this summer's Tokyo Olympics, "Gregg Popovich being the coach of the national team played a big role in my decision. Training Camp in Las Vegas has already begun on July 6.
And the US is going to open its Olympic schedule in Tokyo against gold-medal champion France.
Prior to this, Damian holds up a very limited experience with Team USA, appearing for the senior national team four times. The last one was in 2014, he wasn't on the 2016 Olympic team.
Damian was discarded from consideration for the team that finished 7th at the Basketball World Cup in China in 2019.
Interesting Facts
Lillard has already set many records milestone for his team. In 2018-19 he became Blazer's fastest payer to record 12,000 points. Likewise, he is the fastest Blazer and records 10,000 points, and 2,500 assist in his first six-year.
Lillard wears jersey number 0 to symbolize his struggle as a basketball superstar from his hometown Oakland. Furthermore, 0 also represents Ogden, where his college was located, and Oregon, Blazer's location. The Blazers announcer also calls Lillard No 0 in the pregame intro.
Lillard is a huge WWE fan. Stone Cold, The Rock, and Rick Flair are his favorite WWE wrestlers. He also mentions his brother and him trying WWE moves during their childhood days.
Quotes
This era is like, 'Oh, I want to win championships, and how many rings do you have?' I've said that's what I play for: to win. But I'm not as overly consumed by that as by how I treat people around me. And how I care about the people around me."
"I'm loyal to Portland. I want to play my whole career here, but at any moment, they can decide we want somebody else.
"Pressure is the single mom who is trying to scuffle and pay her rent. We get paid a lot of money to play a game. Don't get me wrong: there are challenges. But to call it pressure is almost an insult to regular people.
Read Also: Canelo Alvarez Net Worth: Cars, Endorsement & Career >>
Frequently Asked Questions
Which shoe does Lillard wear on the court?
In April 2014, Damian Lillard signed one of the best shoe contracts in the NBA with Adidas. His shoe deal is estimated to be 10 years and $100 million.
On the court, Lillard wears his own signature line shoe, Adidas Dame. Moreover, Lillard and Adidas already released 7 generations of his signature line Adidas Dame.
What is the salary of Damian Lillard?
In 2019, Damian Lillard signed 4 years supermax contract extension with Blazers worth $196 million. Currently, he is earning $31,626,953, making him the 19th best-paid player in NBA and the highest in the Blazers roster.