The small forward from the Brooklyn Nets, Kevin Durant, is one of the highest-paid basketball professionals in the world who depicts a massive net worth of $170 million.
Durant has worked rigorously throughout the years for his fat bank check. Indeed, he has given back-to-back high-end performance and has to date, garnered several accolades under his name.
Currently, Kevin Durant stands as the third-richest basketball professional, following LeBron James and Stephen Curry. Ever since his college days, Durant was a highly recruited athlete.
Today, apart from his on-the-court profession, Kevin Durant is well-known for his philanthropy.
Likewise, he is also a photographer and a writer. Not to mention, he has also featured himself in acting.
Quick Facts
Full Name
Kevin Wayne Durant
Date of Birth
September 29, 1988
Birth Place
Washington, DC
Nick Name
KD, Easy money, Darantula, The slim reaper
Religion
Christianity
Nationality
American
Ethnicity
Black
Zodiac Sign
Libra
Age
34 years old
Height
6 feet 10 inches (2.08 meters)
Weight
240 lb (109 kg)
Hair Color
Dark Brown
Eye Color
Dark Brown
Build
Athletic
Father's Name
Wayne Pratt
Mother's Name
Wanda Durant
Siblings
A sister, Brianna Pratt, and two brothers, Tony Pratt and Rayvonne Pratt
Education
Oak Hill Academy
Montrose Christian School
The University of Texas at Austin
Marital Status
Unmarried
Ex-girlfriend
Cassandra Anderson
Kids
None
Profession
Basketball player
Position
Small forward
Affiliations (Teams)
Seattle Supersonics, Oklahoma City Thunder
Golden State Warriors
Brooklyn Nets
Active Years
20007-present
League
NBA
Draft
2007 (1st round and 2 and overall pick)
Net Worth
$170 million
Social Media
Instagram, Twitter, YouTube
Merch
Shoes, Signed NBA Jersey, Trading Card
Last Update
March, 2023
How does Kevin Durant make his money?
Kevin Durant makes money through various means both on and off the court as a highly wanted player.
Read about LeBron James' motivational quotes collection!
Earnings inside the court
As a rookie on the court, Kevin Durant first signed his official deal in 2007 for four years with Seattle Supersonics worth $19,505,783. Back then, he earned an annual average salary of $4,876,446.
Kevin also won the Rookie of the Year award in the 2008-09 season
In 2011, he signed a five-year contract worth $89,163,134 with a base salary of $17,832,627. Later, in a single 2016-2017 season, he bagged the contract worth $54,274,505.
Likewise, he earned an average salary of $25,625,000 in 2017 while $30,750,000 in 2018. Currently, he has a four-year contract with the Brooklyn Nets worth $164,255,700.
Additionally, this contract offers $159,955,700 guaranteed with an annual average salary of $41,063,925. According to Spotrac, Durant also has an incentive bonus of $1,050,000.
Career Stats
| | | | | | | | | | | |
| --- | --- | --- | --- | --- | --- | --- | --- | --- | --- | --- |
| WS | SUMMARY | G | PTS | TRB | AST | FG% | FG3% | FT% | Efg% | PER |
| 5.0 | 2020-21 | 35 | 26.9 | 7.1 | 5.6 | 53.7 | 45.0 | 88.2 | 60.8 | 26.4 |
| 146.7 | career | 884 | 27.0 | 7.1 | 4.2 | 49.4 | 38.4 | 88.3 | 54.5 | 25.2 |
Brand Endorsements and Sponsorships
As one of the best players in the league, Kevin Durant is termed a highly marketable athlete.
Nike
Kevin Durant features a massive deal worth $26 million with Nike for shoes and apparel. Together, they first launched the 2011 KD 4s, which hit the market in a heavy term.
His recent shoe is the one that got released in 2020, named KD13. Overall, his contract with Nike validates for ten years and is worth $275 million.
Sparkling Ice
In 2014, Kevin Durant signed the deal with Sparkling Ice, and had been together ever since. They have even worked alongside for the unveiling of a basketball court in Seattle.
Panini
In January 2016, Durant signed a long-term exclusive deal with the world's largest sports and entertainment collectibles company, Panini. Also, he is the global NBA spokesman for Panini and also features in their numerous campaign.
You might want to plunge into Stephen Curry's inspirational quotes >>
Orange Leaf Frozen Yogurt
In September 2014, Kevin Durant signed a partnership deal with Orange Leaf Frozen Yogurt and now owns a certain company.
This deal was his first one after joining the Roc Nation agency, and also he was their foremost brand ambassador.
Other brands
Up until today, Kevin Durant has numerous brand endorsements under his name, which also includes Sprint, Gatorade, and General Electric, to name a few.
In 2014, he also appeared in an advertisement for Google alongside celebrities like Sia, John Legend, and Chrissy Teigen.
Today, he is also the brand ambassador for American Family Insurance and a huge endorser of 2K Sports. Additionally, he also features a 10-year deal with the Swoosh worth $300 million with a $50 million retirement package.
Investments
Most of the player's investment is made through Thirty-Five Ventures, where Durant is the co-founder and partner. It is simply a venture capital firm.
Until today, Durant has made seventeen investments in total, which include Sandbox VR, Yoshi, Rubrik, Whoop, Robinhood, Postmates, and many more. His recent investment was for the Seed Round – Pearpop on April 15, 2021. He reportedly invested $6 million there.
Furthermore, Durant is also an investor and community partner for Philadelphia's Union.
His outside-the-box investments were for Pieology, a pizza company, and high school highlight app Overtime.
Other Business
Kevin Durant owns a restaurant, KD's Southern Cuisine, in the Bricktown neighborhood. Moving on, he has also worked as a photographer for The Players' Tribune at Super Bowl 50.
In 2012, Kevin Durant tried acting for the first time in his life for Thunderstruck's children's film.
Similarly, he also worked as a producer for a documentary on basketball in Prince Georges County 'Basketball County: In the Water.'
All aside, Kevin Durant's jersey regularly ranks as one of the NBA's best-selling.
During his partnership with producer Brian Grazer's Imagine Television, they created a basketball-themed drama for Apple.
Read about Cristiano Ronaldo's net worth and many more!
Kevin Durant | Lifestyle
With his impressive net worth, Kevin Durant leads a lavish life owning various properties. Also, he has an active life and indulges in games and the professional world.
Workout Routine
Kevin Durant's trainer is Dwight Daub, who looks after his training and arranges the routine for it. Also, his exercises are categorized into three fields; mobility, strength, and shoot training.
Initially, his mobility training features thoracic spine extension, rotational med ball throws and splits Stance Overhead core matrix.
His strength exercises include single Romanian deadlift, three-way single-leg Romanian deadlift, inverted row on a physioball, overhead press, and dumbbell pushup.
Lastly, his shoot training comprises picks and pop, freeze pull-ups, catch and shoot, post up, counter, dribble drag, and many more.
Diet Plan
Kevin Durant is quite conscious about eating habits and makes sure he gets every nutrient composition required. Also, he makes sure never to skip a meal.
Moving onto his daily schedule, Durant feeds on egg competes, two egg whites, fresh fruit, and toast for his breakfast. It is often followed by a fruit and a triple berry acai smoothie.
For lunch, he goes with grilled salmon, brown rice, and bautéed spinach. In the meantime, his dinner includes roasted vegetables, grilled chicken, and fruit smoothies.
House
According to the sources, Kevin durant has spent $30 million to buy houses all over the United States. Also, he has sold some of his houses and has made investments while still some remain.
Malibu House
In June 2019, Kevin Durant sold his beach house in Malibu, California, for $13.49 million (or $70,000 a month to lease). Well, Durant had himself bought the house for $12.15 million.
This house stood at 3,423-square-foot and had four bedrooms, six bathrooms, a kitchen, a dining area, a library, and a media room. Also, it depicted high ceilings and French oak floors with elevator services.
You might be interested in Usain Bolt's career earnings and net worth; click to follow >>
Oakland House
Currently, Durant's Oakland house is also up in the market for $6 million. This house expands to 9,084 square feet and includes seven bedrooms, eight bathrooms, a private half basketball court, and chic front door glass.
Michael Burgess initially designed this house.
Cars Collection
Of course, with Kevin Durant's crazy net worth and earnings, he can afford any cars of his liking. Some of the famous models he owns date are Lamborghini, Range Rovers, Ferraris, and Porsches.
Besides, Durant also features a $2,00,000 Ferrari California, a classic 1966 Ford GT 40, and a customized Chevrolet Camaro SS.
Help and Charity
Numerous commercials have featured him as the "nicest guy in the NBA throughout his career journey." Indeed, he has been involved in numerous charitable works and organizations to date.
Durant has also launched a Kevin Durant Charity Foundation, which helps the youth at risk and families with a low economy.
Some of the help he has provided is $10 million for the children's college, $1 million to the Red Cross for tornado relief, and $3 million to the University of Texas to aid their basketball program.
Back in 2014, Durant stood with the KIND snack to launch StrongAndKind.com with the theme "being kind is not a sign of weakness."
All his works have made him represent Time's 100 Most Influential People in 2018.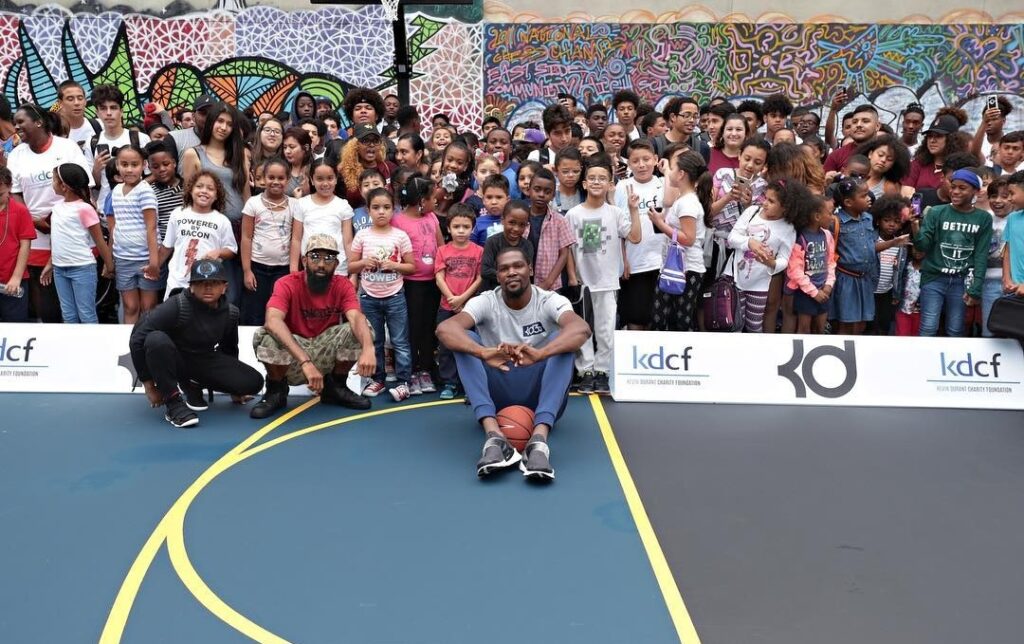 Furthermore, he is also the spokesperson for the Washington, D. C. branch of P'Tones Records.
Recently, his foundation also worked to provide relief for the homeless New Yorkers during the global pandemic.
Click to follow Lewis Hamilton's net worth article!
Short Glance on Kevin Durant
Even as one of the top marketable athletes, Kevin Durant states that marketing doesn't interest him. Durant, as a person, is devoted to Christianity and has loads of tattoos inked, and often plays video games.
Back in his early years on the court, Durant was often criticized for his slim build, defense, and passing. However, we know who has a say now.
Some of his awards and honors to date are highlighted below.
2× NBA champion: 2017, 2018
NBA Most Valuable Player: 2014
11× NBA All-Star: 2010–2019, 2021
2× NBA All-Star Game MVP: 2012, 2019
NBA Rookie of the Year: 2008
NBA All-Rookie First Team: 2008
2009 NBA Rookie Challenge MVP
2× Olympic gold medalist: 2012, 2016
FIBA World Cup gold medalist: 2010
FIBA World Cup Most Valuable Player: 2010
Naismith College Player of the Year: 2007
AP Player of the Year: 2007
AP All-America 1st Team: 200
Oscar Robertson Trophy: 2007
Adolph Rupp Trophy: 2007
John R. Wooden Award: 2007
Big 12 Player of the Year: 2007
USBWA National Freshman of the Year: 2007
How often has Kevin Durant faced injury in his life?
One of the finest athletes and two-time Finals MVP has faced a good amount of share of injuries, but however, he is counted amongst those athletes who return back from an injury with a bang.
To point out, his Achilles tear was a countable one that he faced back in 2019, teaming up with Curry and Thompson in the second round of the playoff against the Houston Rockets and getting sidelined for nine games.
In alignment with an article by FiveThirtyEight.com, even stars like Kobe Bryant, Rudy Gay, and Chiney Ogwumike, after an Achilles injury, have dropped down in their performance.
Last April, Kevin suffered a left thigh concussion in the first half against the Miami Heat and just could not return.
While driving to the rim, Kevin made contact with an opponent, and hence he was further moved out of the court.
In February 2021, Kevin faced a hamstring injury that didn't seem harmful in the beginning but later required extra time to heal.
In 2016, Kevin survived a Grade 2 MCL sprain and tibial bone bruise in his left knee after his fellow mate fell into his knee with the Warriors.
Kevin sustained a foot fracture in his right foot in 2014. He underwent surgery to recover from that injury. Not only that, after the first surgery, he felt increased soreness that led him to the second operation, a bone graft surgery.
Gigantic Wingspan
Jordan holds a wings poster, and for the moment, Kevin Durant, with a wingspan of 7'5", was eternalized on an airliner using more than 30 decals to cover around 560 square feet of an Alaska Airlines Boeing 737.
Not to mention, Kevin, the combination of a great height and unparalleled wingspan, was officially announced as the adviser to the CEO of Alaska Airlines.
Kevin is spotted among the top 10 players in the league and is considered a nightmare for fighting defenses. With the gigantic wingspan, he can easily open jump shots, and close down lanes.
He has the rare collaboration of size and shooting touch, which has made him one of the best shooters in NBA history.
Commenting on Kyrie Irving Situation
Irving is currently out of the team's home game to fulfill the vaccination requirements. As per sources, New York City recently occupied the Brooklyn Nets' practice facility; the HSS training center is excused from the city's vaccination mandates due to its stand as a private building.
Kevin Durant recently availed his thoughts on the Kyrie Irving situation and that Irving should be allowed to practice. He said, "We want him here for the whole thing, practices, home games, shootarounds. Hopefully, we can figure this thing out."
Kevin Durant fined for Disparaging language on Social Media
In April 2021, Kevin Durant was fined $50,000 by the N.B.A for using offensive and humiliating language on social media.
It was actually Michael Rappaport, an actor and podcast host, who shared screenshots of a private conversation with Durant in which Durant used homophobic and misogynistic language.
The images shared by Rapaport did not happen to show the full exchange of texts, but in one, Durant seemed to threaten Rapport by naming a time and place for them to see each other.
Durant tells Rapaport, "I swear I ima spit in your face when I see your dirty a**."" Furthermore, he asks him to meet him up at 10 on the 17th tomorrow in order to organize a fight between them in Manhattan, New York City.w
Social Media
Besides, if you are interested in his private uploads, do check out his social media sites. He is on Instagram as Kevin Durant (@easymoneysniper@easymoneysniper) with 11.8 million followers.
Likewise, he is on Twitter as Kevin Durant (KDTrey5) with 19 million followers. Similarly, he has his own YouTube channel named Kevin Durant (Boardroom) with 772k subscribers.
Read in detail on Kevin Durant's biography and activities.
Quotes
"I'm a basketball player. That's what I do and what I love, but that's just not all who I am. I'm talented in a lot of different areas."
"My style has changed and evolved mainly because I've grown to have more confidence in myself."
"I'm not a guy that's going to brag or feel like I'm better than the group."
Kevin Durant | FAQs
Why is Kevin Durant nicknamed easy money?
Kevin Durant is nicknamed easy money due to his superior shooting and scoring ability.
How many rings does Kevin Durant have?
Kevin Durant has won 2 rings in his career in the 2017 and 2018 seasons with the Golden State Warriors.