Muhammad Ali, the sportsman of the century, nicknamed "The Greatest," was a professional American heavyweight boxer, sports figure, and activist. Ali made a fortune worth around $50 million by his death in 2016. Moreover, his magnanimous legacy, activism, and immense strength on and off the ring will never perish.
Muhammad Ali is widely known as a critical figure in the Civil Rights Movement in the 1960s along with Martin Luther and was entitled the "Champion of Freedom."
His champion mentality, belief in himself, and uplifting nature are praised and applauded to this date.
Born and raised in Kentucky, Ali is famous for his sheer determination and philanthropic nature.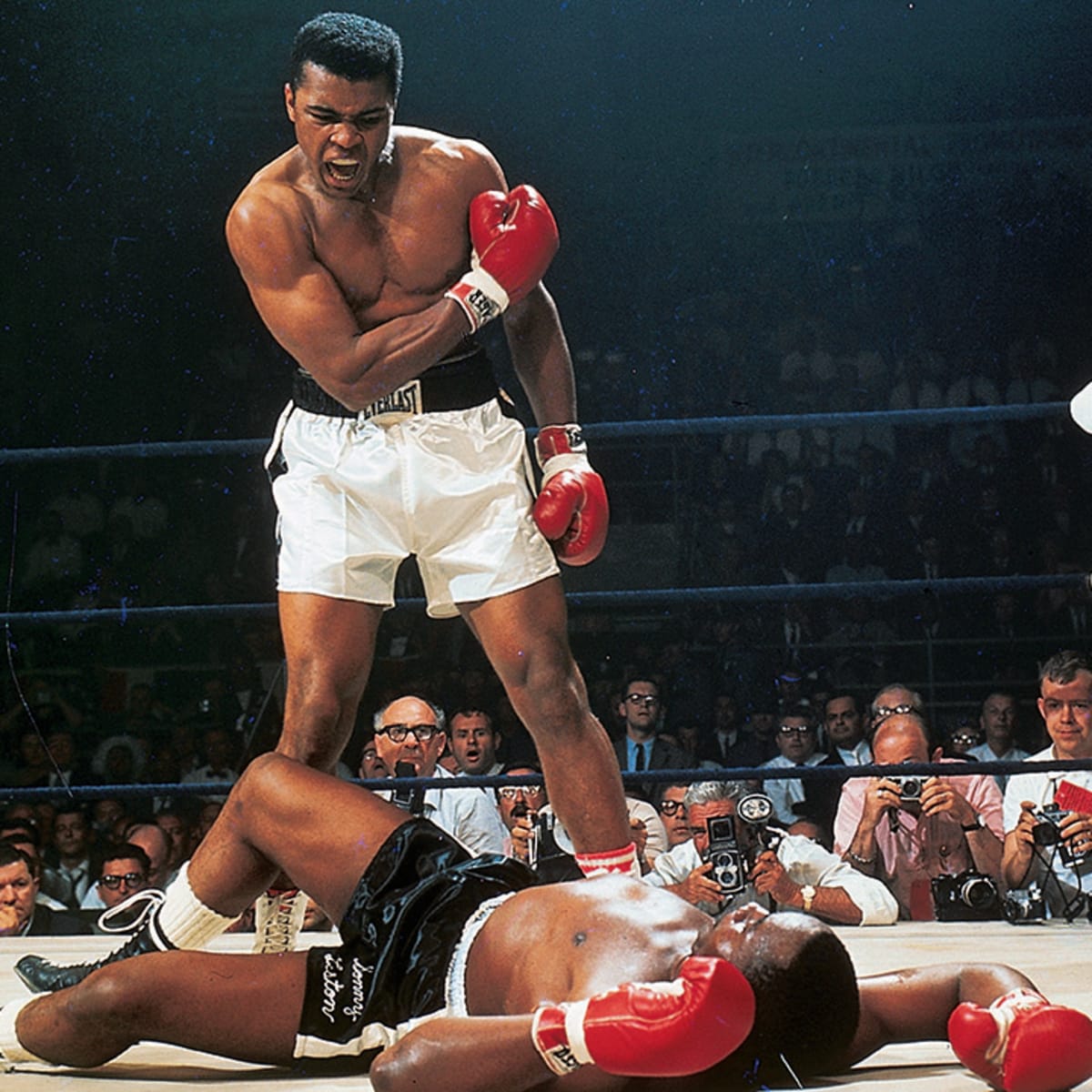 Be it for his inspirational quotes or activism speeches, there are barely any people who don't know him or his legacy.
"I hated every minute of training, but I said, 'Don't quit. Suffer now and live the rest of your life as a champion."-Ali"
Ali always embraced his fans, and his life's real purpose was to live for others and provide service to the ones in need.
Before getting into details about the philanthropist and activist, here are some quicks facts:
Quick Facts about Muhammad Ali
| | |
| --- | --- |
| Full Name | Cassius Marcellus Clay Jr |
| Birth Date | January 17, 1942 |
| Birth Place | Louisville, Kentucky, US |
| Death Date | June 3, 2016 |
| Death Place | Scottsdale, Arizona, US |
| Nick Name | The Greatest |
| Religion | Islam |
| Nationality | American |
| Ethnicity | Mixed |
| Education | Central High School |
| Mother's Name | Odessa Lee Clay |
| Father's Name | Cassius Marcellus Clay Sr. |
| Horoscope | Capricorn |
| Siblings | Rahman Ali (Brother) |
| Age (At the time of death) | 81 Years Old |
| Height | 6 ft 3 inches (1.91 m) |
| Weight | 107 kg (235.895 pounds) |
| Hair Color | Black |
| Eye Color | Black |
| Build | Athletic |
| Profession | Boxer, Activist, Philanthropist |
| Marital Status | Married |
| Wife | Yolanda Williams |
| Kids | Nine |
| Salary | Not Available |
| Net Worth | $50 million (Till 2016) |
| Social Media | Instagram, Twitter |
| Merch | Posters, Books, Autographs |
| Last Update | May, 2023 |
Muhammad Ali | Early Life, Family, And Education
The heavyweight boxer was born on January 17, 1942, to Cassius Marcellus Clay Sr. and Odessa Lee Clay.
His birthplace is Louisville, Kentucky. Muhammad Ali was named after his father, who was again named after abolitionist Cassius Marcellus Clay. Ali's father used to paint signs and billboards while his mother was a domestic helper.
The activist also has a brother named Rahman Ali. He and his brother attended Central High School. Cassius Jr. had difficulty reading and writing and was therefore dyslexic.
Ali grew up amid extreme racism and racial segregation. As a child, he wasn't allowed water because of the color of his skin.
Ali got into boxing when he was 12 years old when police officer Joe Martin, a boxing coach, recognized his potential and offered to teach him boxing.
He didn't initially but eventually came around and was trained by Fred Stoner, whom he gives credit for his stamina and style. In his amateur career, 'The Greatest' had 100 wins and 5 losses.
Furthermore, the philanthropist won six Kentucky Golden Gloves titles, two National Golden Gloves titles, an Amateur Athletic Union National Title, and a gold medal in the Summer Olympics in Rome in 1960.
Muhammad Ali | Height, Weight, and Age
Born on January 17, 1942, the American boxer weighed about 107 kg (235.895 pounds) and stood 6 ft 3 inches tall (1.91 m).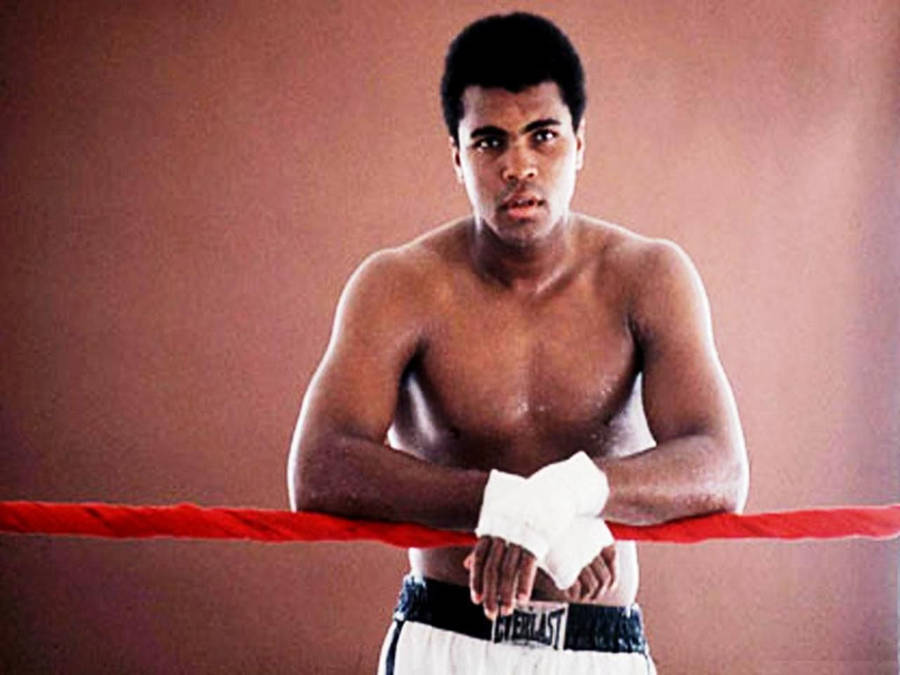 He was physically strong and tall with a well-built, athletic body. Ali was 74 years old at the time of his death in 2016.
Muhammad Ali | Professional Boxing Career
After his Olympic win in Rome, the boxer returned to his hometown to start his professional boxing journey.
He was so great in what he did; the athlete was undefeated for three straight years and ended most of his fights in knockouts.
Ali was quite popularly known for his trash talk in the ring too. On top of that, he would predict which round his opponent player would give up and was right most of the time.
He even went against a heavyweight champion title holder and became the youngest boxer.
In 1964, the activist changed his name from Cassius Jr. to Muhammad Ali when he converted to Islam.
As a result of his faith in Islam, he refused to fight in the Vietnam War and opposed it.
He was arrested, charged with draft evasion, and stripped of his championship title.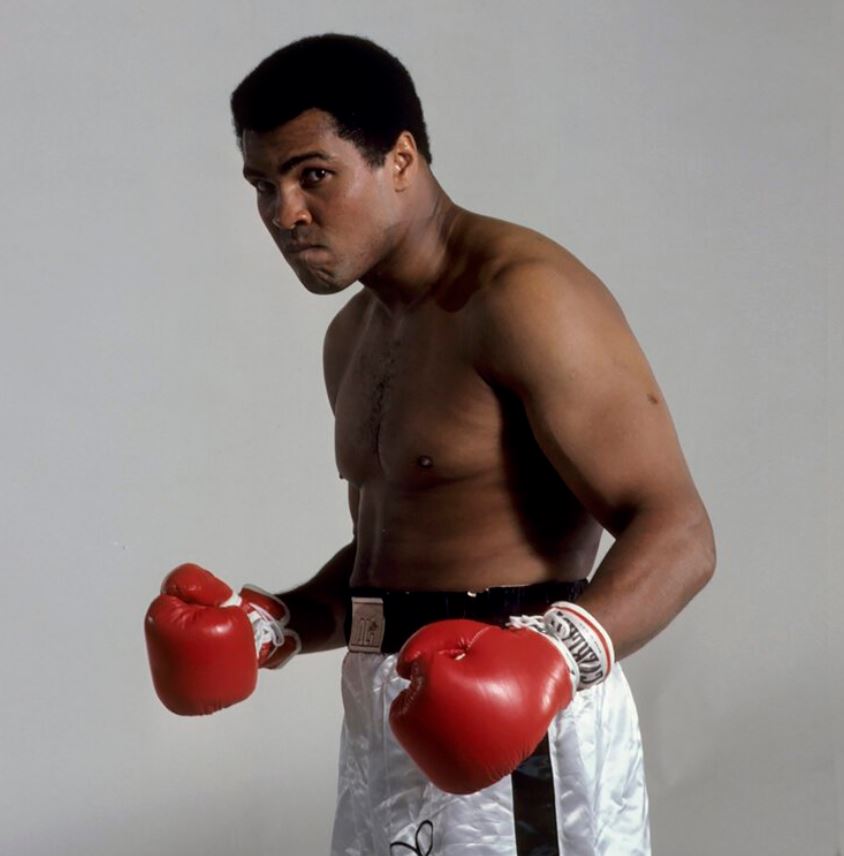 Later on, the court found Muhammad guilty and faced conviction. However, he appealed to the supreme court and reversed the conviction after four years.
His case and bravery were recognized and praised by several Civil rights activists. The brave fighter was even awarded the Martin Luther King Award.
A few months ahead, the undefeated player stood against another undefeated player, Joe Frazier, in the Madison Square Garden.
The match was very popular and, sure enough, lived up to its name, but unfortunately, Ali lost the match.
Nevertheless, he fought Frazier twice, and to everyone's surprise, he defeated the undefeated and claimed the heavyweight title.
[Also, check out a fellow boxer Chuck Wepner's Age, Net Worth, Wife, and Settlement.]
Muhammad Ali | Awards and Accomplishments
Muhammad Ali received many awards and accomplishments in his profession and philanthropy. We have listed some of them below:
| | |
| --- | --- |
| 1959 | National Golden Gloves Light Heavyweight Champion |
| 1959 | National Amateur Athletic Union champion |
| 1960 | National Golden Gloves Light Heavyweight Champion |
| 1960 | National Amateur Athletic Union champion |
| 1960 | Gold medal, Rome Olympics, light-heavyweight boxing |
| 1964-67 | World Heavyweight Champion |
| 1970 | Dr. Martin Luther King Memorial Award |
| 1974 | Sportsman of the Year, Sports Illustrated |
| 1974 | Fighter of the Year, Boxing Writers Association |
| 1974-78 | World Heavyweight Champion |
| 1978-79 | World Heavyweight Champion |
| 1979 | Honorary Doctorate of Humane Letters, Texas Southern Univesity |
| 1979 | Street named after him in Louisville, Kentucky |
| 1985 | Recognized for long, meritorious service, World Boxing Association |
| 1987 | Elected to Boxing Hall of Fame |
| 1990 | Inducted into the International Boxing Hall of Fame |
| 1996 | Lights Olympic torch, Atlanta |
| 1997 | Arthur Ashe Award for Courage, ESPN |
| 1997 | Essence Living Legend Award |
| 2001 | Presidential Citizens Medal |
| 2005 | Presidential Medal of Freedom |
| 2005 | Otto Hahn Peace Medal |
| 2012 | Philadelphia Liberty Medal |
Ali had been married four times. He has nine kids, including seven daughters and two sons.
Sonji Roi
The boxer met the cocktail waitress Roi through a friend. Furthermore, he was mesmerized by her beauty that he asked her to marry him after their first date. The pair were married a month later in 1964.
However, things quickly turned sour when she chose not to follow Islamic cultures and dress codes.
They started quarreling almost constantly and finally divorced in 1996. As per Ali's viewpoint, she wore lipstick, revealing clothes, and went to a bar, which was wrong.
On top of that, he even left her a note that said, "You traded heaven for hell, baby." The pair didn't have any children during their marriage.
Belinda Boyd
After his divorce, he married Belinda, born into a family that had converted to Islam.
Ali had four kids, three daughters and a son with her. Maryum "May May" Ali was their first child born in 1968; they had twins Jamillah and Rasheda in 1970, and finally, Muhammad Ali, Jr. was born in 1972.
The above picture shows Ali with his twin daughters playing.
Besides that, he has a daughter named Khalila Ali, born in 1974 to a then 16-year-old Wanda Bolton, who converted to Aisha Ali, with whom he had an extramarital affair.
He eventually married her though it was never legally accepted.
On top of that, he had another daughter, Miya Ali, from another extramarital relationship with Patricia Harvell.
Veronica Porché
The boxer married her while she was pregnant with his second child. He has two daughters, namely Hana Ali, born in 1976, and Laila Ali, born in 1977. They parted ways in 1986.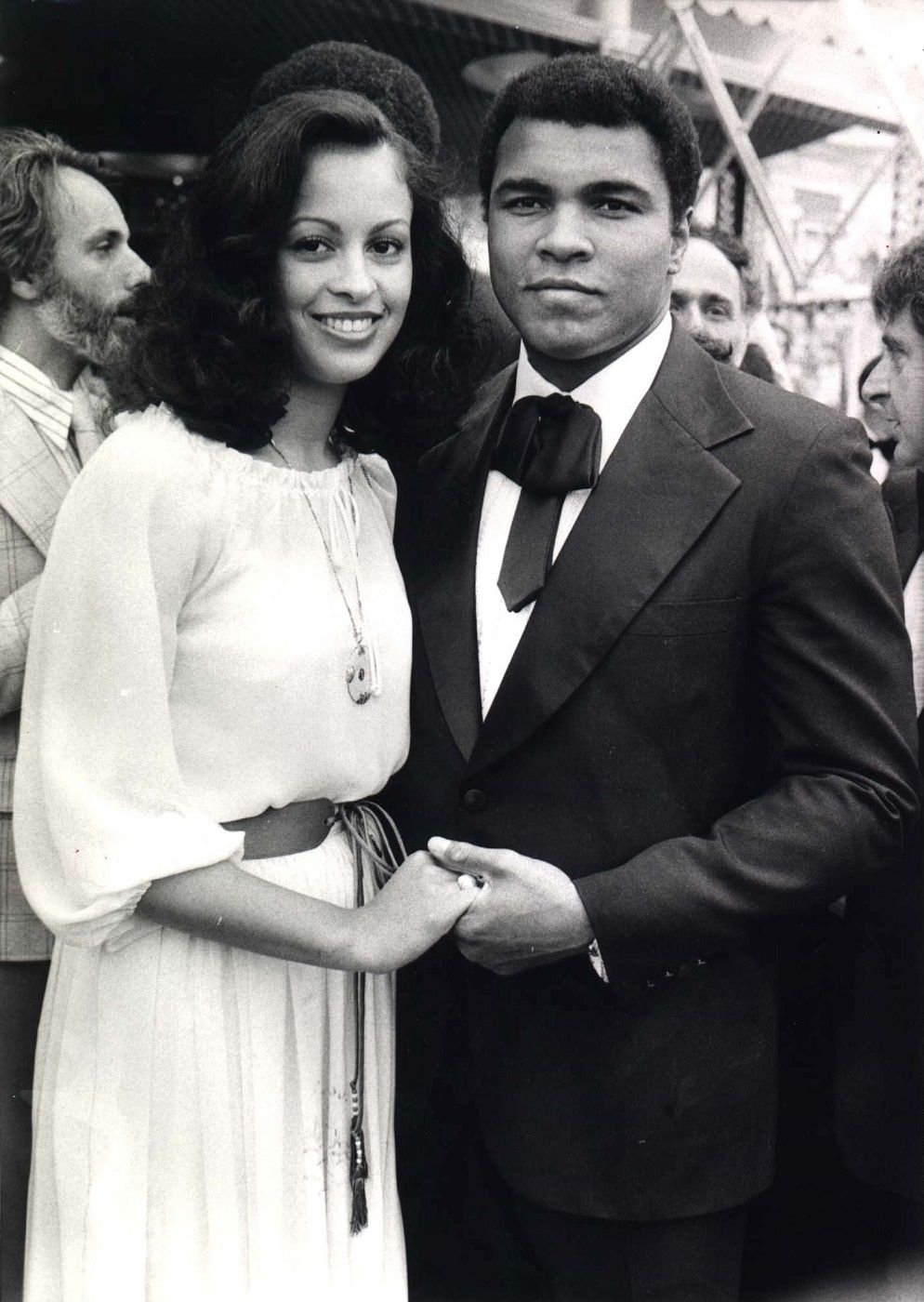 Laila Ali became a professional boxer, which her father detested at first, stating 'women are not meant to be hit in the breast, and the face that's all but later came around to it.
He even apologized to his daughter for his comments.
Yolanda "Lonnie" Williams
The father of nine married his last wife, Lonnie Ali, his long-time friend, on November 19, 1986. The pair adopted a five-month-old baby boy named Asaad Amin.
The heavyweight boxer was diagnosed with Parkinson's disease when he was just 42 in 1984.
The condition took away his motor skills; he suffered from tremors, rigidity, slow movement in general, and the inability to maintain his posture or balance.
Nevertheless, he fought the disease like the fighter he is. However, on June 4, 2016, the philanthropist suffered a septic shock that turned out to be fatal, and he left the world at the age of 74.
Over a billion people viewed his Funeral worldwide, and he has nine kids to continue his legacy.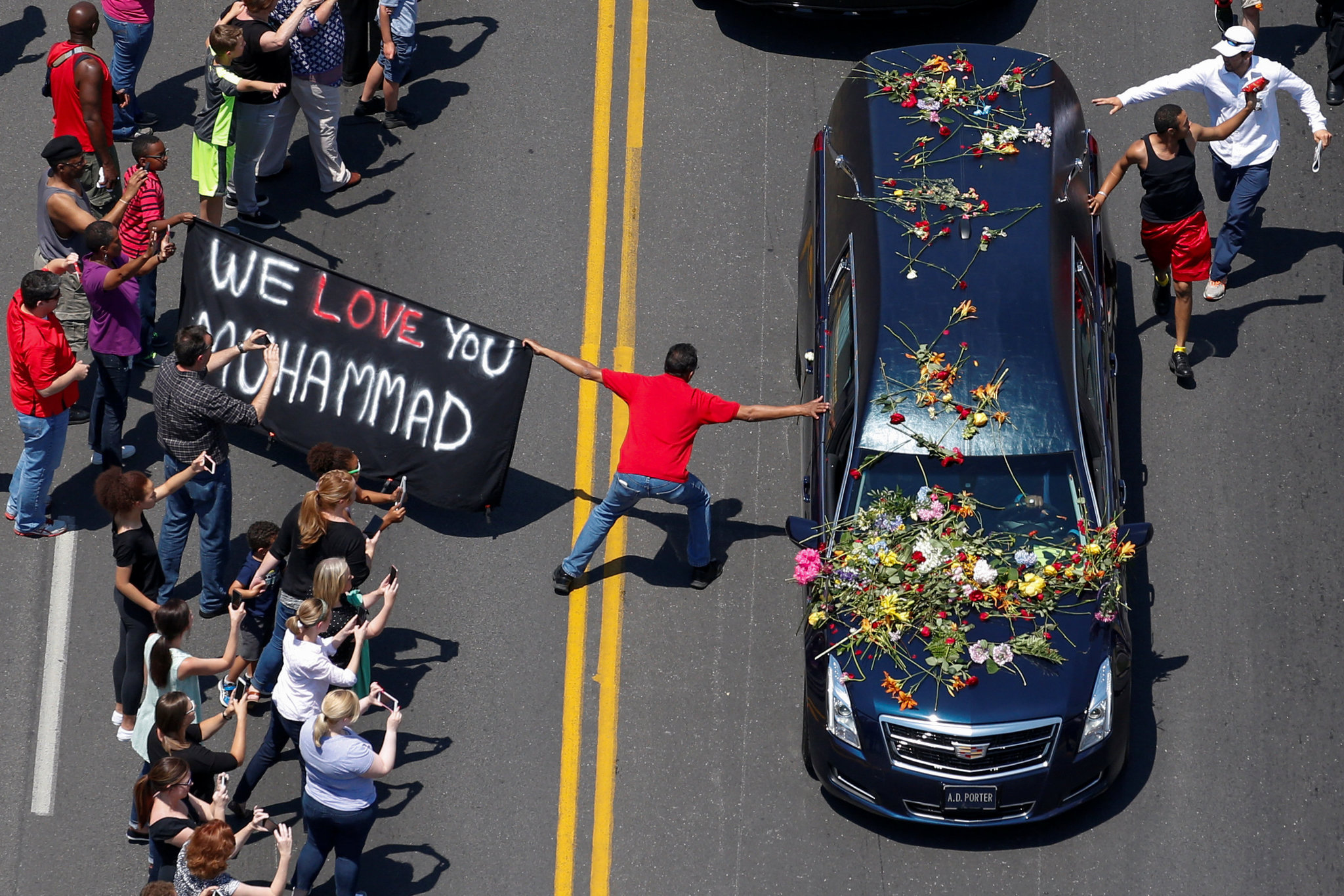 The boxer had a net worth of $50 million at his death in 2016. During his time, he was one of the highest-paid athletes in the world.
He earned a lot while fighting; his highest is $7.9 million, which roughly converts to $22 million as of 2020.
Besides that, he was also a gifted singer and had received two Grammy nominations.
On top of that, he made cameos and appearances in movies and starred as himself in his movie biography. Ali also wrote two autobiographies of his own.
In addition, he has also had a pretty successful career in rapping. He is very well respected in the rapper communities and served as an inspiration for many high-profile rappers like LL Cool J, Jay Z, Eminem, Diddy, and many more.
Ali also received Presidential Freedom Of Honour from President George Bush.
10 Interesting Facts about Muhammad Ali
Muhammad Ali, aka Cassius Marcellus Clay Jr., was named after his father, Cassius Marcellus Clay. His father was named after prominent southern white abolitionist Cassius Marcellus Clay.
Elijah Muhammad gave him his holy name, 'Muhammad Ali.' Before changing his name to Muhammad Ali, he announced that he would keep his name Cassius X instead of Cassius Marcellus Clay. However, that name did not last long.
The name 'Cassius X' was inspired by activist Malcolm X. Moreover, Malcolm X significantly influenced Muhammad Ali's victory over Liston.
Muhammad Ali had dyslexia and hence, had difficulty in learning.
Muhammad Ali won the light heavyweight gold medal in the 1960 Summer Olympics. This victory did not spare him from racism, as he was refused service at a Kentucky diner even when he was wearing his medal.
Ali's great grandfather, Abe Grady, was Irish. He married an enslaved person and built a family in Kentucky in the 1960s. Hence, Ali had Irish blood.
Ali was conscripted to fight in the Vietnam war but refused to do so. The case went to Supreme Court, and Ali was convicted. However, he remained free.
Ali had a bride stage career with a Broadway Show. In his boxing exile, he starred as a militant black lecturer in the Broadway musical "Buck White."
The Colombia records released a spoken word album titled "I Am the Greatest" in 1963, featuring Muhammad Ali's sole poetic performance accompanied by music.
The gloves that Muhammad Ali used in his legendary bout with Sonny Liston became worth $836,000 after 50 years of the bout. Ali had won $630,000 by winning the fight, which is much lesser than the price of his gloves 50 years later.
[ You will also enjoy other 80 Motivating Muhammad Ali Quotes]
Muhammad Ali is on Instagram, with almost 5.5 million followers (as of august 2022). The account pays tribute to the legend, boxer, and activist.
It contains several photos of him boxing, saying motivational quotes, and giving activism speeches. His account beams motivation and hard work and the result it can provide.
"Services to others is the rent you pay for your room here on Earth." – #MuhammadAli pic.twitter.com/CzRSyNBsXr

— Muhammad Ali (@MuhammadAli) July 13, 2020
The athlete is also on Twitter, with over 878.6K followers. Well-known celebrities, including The Rock, a former wrestler, and TV personality Ellen DeGeneres, follow him.
Furthermore, the account also helps continue his legacy and help people become aware of Parkinson's disease.
But even more than that, His handle stands for pushing yourself the hardest, fighting for what you want, always believing in yourself, and never giving up.
Common Queries about Muhammad Ali
What was Muhammad Ali's boxing record?
Muhammad Ali had 56 victories and 5 losses with 37 knockouts in his career.
How did Muhammad Ali die?
Muhammad Ali had had Parkinson's disease for more than a decade. The condition causes nervous system disorder and affects movement.
Ali also suffered from Spinal Stenosis. He died of septic shock at the age of 74.
Were Muhammad Ali and Mike Tyson friends?
Mike Tyson and Muhammad Ali were good friends. Tyson has said in his interviews how Ali assisted him in shaping his career. Moreover, Tyson was one of the pallbearers at Ali's Funeral.
The friendship began when a 14-year-old Mike Tyson said to Ali that he would defeat Larry Holmes and get revenge for him.
When did Muhammad Ali join to Nation of Islam?
Cassius Marcellus Clay Jr. joined the Nation of Islam in 1964 and identified himself as Muhammad Ali.
However, he later disowned the Nation of Islam, adhered to Sunni Islam, and got vocal about racial integration.
How much was Muhammad Ali's punch power?
Muhammad Ali's punch power produced approximately 1,000 pounds of force. His punches had cumulative effects.
Is there a movie based on Muhammad Ali?
Yes, there are multiple movies and documentaries based on Muhammad Ali. From the 1971 drama 'Ali the Fighter' to 2001's 'Ali,' the heavyweight champion has been the subject of multiple films throughout the past five decades.
How is Nico Walsh related to Muhammad Ali?
Nico Walsh is the grandson of Muhammad Ali, "the Greatest of All" time boxing champion. Nico. He is the son of Rasheda Ali, who is the daughter of Muhammad Ali.
Muhammad Ali secretly admitted that he didn't believe he could beat a prime Mike Tyson in a dream super-fight.
Is Muhammad Ali Indian?
Muhammad Ali is not Indian. He was born and raised in Kentucky. He was predominantly of African descent, with some Irish and English family heritage.
Why was Muhammad Ali so legendary?
Muhammad Ali is legendary because he is the first fighter to win the world heavyweight championship on three occasions. He is an activist and a philanthropist who raised his voice against racial injustice.