Darren O'Day is a professional baseball player from Florida who plays for the Atlanta Braves in Major League Baseball (MLB).
He plays in the pitcher position at the professional level. O'Day has played for several teams throughout his baseball career, including Baltimore Orioles, Texas Rangers, New York Yankees, etc.
Interestingly Darren's actual surname is "Odachowski." The story behind the change of his surname to O'Day is included in the article below.
Moreover, Darren is an incredible baseball pitcher, and he is famous for his submarine style. Currently, O'Day plays for the professional team Atlanta Braves.
Today, we at PlayersBio will take you through some interesting details about the life of Darren O'Day.
Let's get started with some quick facts about him.
Quick Facts:
| | |
| --- | --- |
| Full name | Darren Christopher O'Day |
| Nickname | The Blade |
| Birthdate | October 22, 1982 |
| Birthplace | Jacksonville, Florida, United States |
| Age | 40 years old |
| Nationality | American |
| Ethnicity | White |
| Religion | Unknown |
| Horoscope | Libra |
| Father's name | Ralph O'Day |
| Mother's name | Michal O'Day |
| Sibling | One brother: Kyle O'Day |
| Residence | New York |
| High School | Bishop Kenny High School |
| College | University of Florida |
| Wife's Name | Elizabeth Prann |
| Height | 6'4″ |
| Weight | 99.8 kg |
| Body type | Lean |
| Eye Color | Light Blue |
| Hair Color | Black |
| Profession | Baseball Player |
| Former team | Los Angeles Angels, New York Mets, Texas Rangers, Baltimore Orioles, Atlanta Braves |
| Current team | New York Yankees |
| Position in team | Pitcher |
| Jersey Number | #56( Atlanta Braves) |
| Net worth | $25 Million |
| Career Earnings | $41,493,700 |
| Highlights & Awards | All-Star (2015) |
| Social Media | Twitter |
| Merch | Baseball Trading Card |
| Last Update | March, 2023 |
Who is Darren O'Day from? Early Life, Education & Family
Darren O'Day was born to amazing parents, Ralph O'Day and Michal O'Day. As for siblings, Darren has a brother named Kyle O'Day.
You might be wondering why Darren has such a unique surname. Well, there is an interesting fact about that.
O'Day's original surname or family name was Odachowski. However, his paternal grandmother shortened the long surname to O'Day for ease of pronunciation.
Talking about O'Day's grandmother, she raised Darren's father Ralph and her two other sons all by herself.
This was due to the death of O'Day's grandfather, which was caused by a car accident.
Education
So, where did Darren O'Day pursue his academic journey? Firstly, as a high school student, Darren attended Bishop Kenny High School.
Moreover, the baseball pitcher started baseball at a young age. O'Day played high school baseball for Bishop Kenny and was a prolific pitcher on the team.
After graduating from high school, O'Day was offered many scholarship opportunities from different universities.
However, he chose to enroll at the University of Florida in Gainesville. Furthermore, as a university student, O'Day studied agriculture and life sciences.
He also continued his baseball journey with the university. Actually, O'Day wanted to pursue a medical career, but at the time, he received lucrative offers to play baseball.
After consulting with his girlfriend, O'Day chose to play baseball. He played for the Florida Gators baseball team from 2003 to 2006 under coach Pat McMahon's leadership.
Later, Darren graduated from the University of Florida in 2006 with a Bachelor's Degree in Agricultural and Life Sciences.
You might be interested in reading about: <<Mark Belanger Bio: Baseball Career, Wife, Awards & Death >>
How tall is Darren O'Day? Age, Height & Physical Appearance
Darren O'Day is 40 years old as of 2023. As the pitcher was born on October 22, his star sign is Libra.
People with this sun sign are known for having a warm personality.
Now, let's head in to talk about the baseball side of Darren O'Day. So, how tall is the baseball pitcher?
The New York Yankees' pitcher stands at an ideal height of 6 feet and 4 inches.
Moreover, his tall height helps generate extreme strength while pitching. Likewise, he weighs 99.8 kg.
Furthermore, his perfect height combination gives him an ideal lean body to play as a pitcher. Likewise, O'Day has light blue-colored eyes and black hair.
Darren O'Day | High School and College Career
O'Day began playing baseball from a very young age. During his high school years, he played high school baseball for Bishop Kenny High School.
Moreover, he was a prolific player from the very beginning of his playing journey.
Likewise, the young pitcher went on to play for the baseball team of the University of Florida.
O'Day played for the Florida Gators baseball team under coach Pat McMahon. He played for the team from 2003 to 2006.
Moreover, during his college years, O'Day was awarded the "Southeastern Conference Academic Honor Roll."
He received the award for four consecutive years, from 2003 to 2006. Further, O'Day was also awarded Academic All-American during his senior year.
Besides, O'Day also played in the 2005 College World Series for the Florida Gators.
Darren O'Day | Professional Career
After graduating from high school, O'Day didn't get drafted in the MLB draft.
Despite the initial disappointment, O'Day never gave up and continued working towards his dream of playing in the MLB.
Likewise, after not being selected in the draft, O'Day remained a free agent. Soon, the Los Angeles Angels signed him as a free agent in 2006.
Further, his professional debut came two years later. O'Day debuted professionally in the MLB for the Angels in 2008.
New York Mets and Death of a Close Friend
O'Day stayed with the Angels for two seasons. However, in 2008, the New York Mets signed him in the Rule 5 Draft. O'Day professionally debuted for the Angels in 2008.
Moreover, during his time with the Angels, he formed a close relationship with teammate Nick Adenhart.
Nick Adenhart was a right-handed pitcher for the New York Mets. Adenhart and O'Day formed a strong relationship during their time with the Mets.
However, due to an unfortunate accident, Adenhart died in a collision with a drunk driver.
Nick Adenhart was only 22 years old at the time of his death. Moreover, Nick's death deeply affected O'Day.
He continued paying tributes to Adenhart by showing different respectful gestures.
To this day, O'Day inscribes his cap with 'NA34′. He does this to remember his friend who wore the number 34.
Regarding the unfortunate incident, O'Day commentated by saying the following.
"Losing his friendship and the joy of watching him pitch was tough, He had just started to show how talented he really was."
Texas Rangers, Baltimore Orioles & Atlanta Braves
The professional team, Texas Rangers, signed O'Day on April 22, 2009. Moreover, the Rangers needed him quickly after his signing.
As a result, O'Day came straight to the match from the airport. As the Rangers didn't plan his arrival properly, he wore Kason Gabbard's jersey in his first-ever game.
Later on, O'Day signed for the Baltimore Orioles in November 2011. Moreover, he received $1.3 million in 2012 as a player for the Orioles.
All in all, O'Day spent six years with the Orioles from 2012 to 2018.
All-Star Inclusion in 2015
During O'Day's spell with the Baltimore Orioles, he successfully managed to play one All-Star Game.
He finished the 2015 season with a 6-2 record and an ERA of 1.52. Likewise, Darren finished the 2020 season with the Atlanta Braves with 4-0 and an ERA of 1.10.
Further, the club decided to cancel the extension of his contract. As a result, he became a free agent in 2021.
Darren O'Day Trade and Transaction
On May 29, 2006, Anaheim Angels signed Darren as a non-drafted free agent.
Later in 2008, he was hired by New York Mets from Anaheim Angels in Rule 5 major league draft on December 11, 2008.
On April 22, 2009, Darren was waived by Texas Rangers from New York Mets.
Further, he was moved to Baltimore Orioles following that and later waived on November 2, 2011. Later, he was hired by the Orioles as a free agent.
On July 31, 2018, Baltimore Orioles traded Kevin Gausman and Darren O'Day to Atlanta Braves in place for JC Encarnacion, Brett Cumberland, Evan Phillips, Bruce Zimmermann, and international bonus slot money.
Further, Atlanta Braves inked a club option contract for a second-year contract with Darren O'Day for $2.5 million on November 8, 2019.
After completing the 2020 season, the Braves refused their $3.5 million club option on his contract for the following season, willing to pay his $500,000 buyout. So, Darren became a free agent.
You might be interested in reading about: <<Tuffy Rhodes: Career, Japanese Hall of Fame & Retirement >>
New Journey with the New York Yankees
The baseball pitcher signed a contract with the professional team New York Yankees worth $1.75 million on February 10, 2021.
Back to the Injured List
In July, Darren made his way back to the injured list in July 2021, just after his much-awaited return from a shoulder injury.
But this time, Darren got placed on the ten days IL because of the left hamstring strain before the first pitch of New York Yankee's series-opening competition against the Mariners in Seattle.
And the team recalled right-hander Nick Nelson from Triple-A Scranton to grab his spot.
In 2018, while with the Orioles, he had to undergo season-ending surgery to fix the strain in the same hamstring.
To bring on, this was the second major injury of the season. He faced a right rotator cuff strain in early May, which placed him on the injury list.
Hamstring Strain
In the 2021 season, Yankees manager Aaron Boone came out with the news that O'Day is expected to miss the rest of the season after suffering a major left hamstring strain.
He did not expose the fact that whether O'Day requires surgery or not, but yes, the hamstring injury was indeed a Grade 3 strain.
Later, Darren was transferred to the 60-day injured list in July 2021.
Atlanta Braves
Darren signed a minor league contract to return to the Atlanta Braves on November 29, 2021. Later, he was selected to the Opening Day roster.
Summary Career Stats
| | | | | | | | | | | |
| --- | --- | --- | --- | --- | --- | --- | --- | --- | --- | --- |
| SUMMARY | WAR | W | L | ERA | G | GS | SV | IP | SO | WHIP |
| 2021 | 0.3 | 0 | 0 | 3.38 | 12 | 0 | 0 | 10.2 | 11 | 1.219 |
| Career | 17.4 | 40 | 19 | 2.53 | 616 | 0 | 21 | 587.1 | 611 | 1.023 |
Darren O'Day | Unique Pitching Style
O'Day is famous for his unique pitching style among all the MLB pitchers. He throws by using submarine pitches.
In baseball, a submarine pitch involves releasing the ball by throwing it from just above the ground.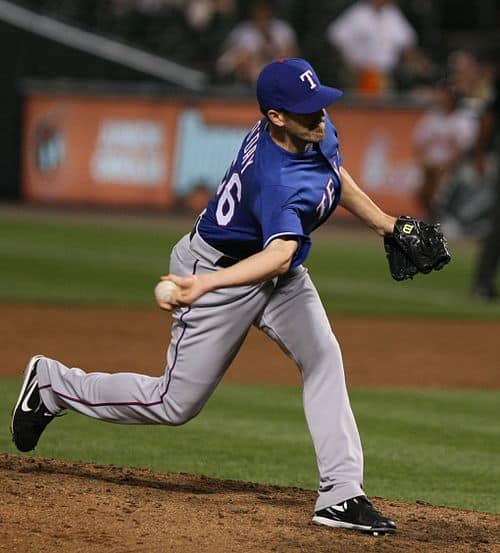 Moreover, the pitch involves bending the torso at a right angle. Currently, O'Day is one of the few pitchers to pitch using the submarine style.
Who is Darren O'Day married to? Wife & Children
Darren O'Day's romantic life is a huge interest in the market. Many people are excited to know who the baseball pitcher is married to.
If you are one of them, don't worry. Here at PlayersBio.com, we have covered every piece of information regarding Darren O'Day.
O'Day is happily married to his beautiful wife, Elizabeth Prann. The duo got married in 2010. Moreover, the couple has two beautiful children.
They have a son named Dane, born in 2017, and a daughter named Claire, born in 2014.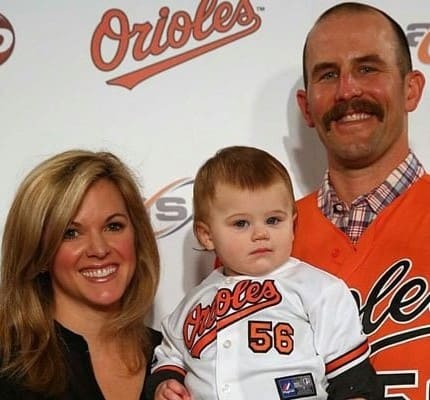 Know more about Elizabeth Prann
Talking about Elizabeth, she hails from Aurora, Colorado. She received her education degree from the University of Florida.
There are many reports claiming that Darren and Elizabeth met at the university during their academic years.
Moreover, Prann worked for Headline News which was previously a part of Fox News.
Likewise, she has also worked as a reporter and fill-in anchor for NBC and WJHG. Prann is a dog-lover and supports her husband in his professional pursuit.
You can follow the spectacular Elizabeth Prann on her Instagram at @ElizabethPrann.
Dog Lover
O'Day is known for being a pet-lover. Likewise, O'Day doesn't shy away from revealing his love for his dogs.
He owns an adorable dog named Allie and frequently plays with him. O'Day loves bringing his dog to training and practice sessions.
What is Darren O'Day's Net Worth? Net Worth & Salary
So, what's the big number that reveals the net worth of Darren O'Day. Darren is an outstanding baseball player who has been professionally in this field since 2006.
Likewise, Darren has garnered a lot of fame through his unique playing style. Through his hard work and dedication to the game, O'Day has achieved a significant bank balance.
To this date, O'Day has accumulated his net worth through his playing career, investments, endorsements, and sponsorships.
"According to various online sources, Darren O'Day has a net worth of over $25 million."
Also, in the 2021 season, Darren signed a 2-year contract with the New York Yankees worth $3.15 million. His annual salary with the Yankees in the 2021 season was $1.57 million.
Darren O'Day | Dynasty Guru
With his outstanding performance in 2015, Darren could make a career-high 31.9 percent strikeout rate, a 5.5 percent walk rate, and not so defining 1.52 ERA.
His improvement has been commendable over the past four seasons. Also, we cannot deny the fact that he is behind one of the most consistent closers in the match.
If we see beyond the typical standard scoring categories, he is also an important reliever in the leagues.
You might be interested in reading: <<Christian Hackenberg Bio: Career, College, NFL, Baseball & Net Worth >>
Is Darren O'Day on Social Media? Social Media Presence
Yes, Darren O'Day is connected with his fans through social media. The MLB pitcher currently uses Twitter as his only social media platform.
Moreover, the player interacts a lot with his fans. Despite multiple accounts under the name of Darren O'Day, there is no official account under his name.
Furthermore, O'Day loves tweeting about baseball and Major League Baseball. Likewise, you can also find him tweeting about different MLB matches and players.
Moreover, O'Day also supports his wife by tweeting videos about her. You can follow him on Twitter at @DODay56. He has a huge fan following of over 40k followers on his Twitter profile.
Some FAQs:
Did Darren O'Day retire from baseball?
No, Darren O'Day has not retired from his baseball career. He is still playing for the professional baseball team Atlanta Braves of MLB.
How fast does Darren O'Day throw?
According to reports, on average, Darren O'Day throws at 78.6 MPH while topping out at 80.3 MPH.
How much is Darren O'Day's Atlanta Braves contract worth?
O'Day's current one-year contract with the Atlanta Braves is worth $1 million. According to reports, he will earn a base salary of $1,000,000 in the 2022 season.
How much is Darren O'Day's Georgia house worth?
According to sources, Darren O'Day's Georgia house is worth $350,000. The MLB pitcher purchased the house in 2010.
(Make sure to comment below if any information regarding Darren O'Day is missing.)