Often at a house party, we tend to think of dart games as quick entertainment and engagement. Well, it has been a practice or ritual for long years now. And stating that we haven't ruined our house walls and boards for the game will be a lie.
Indeed, the wall paints get ruined and have loads of holes and pokes on them. Hence, it's always safe and better with the dartboards in the cabinet to get away from scolding and ruins.
So, today, we are back with the top nine best quality dartboard cabinets available because why settle for only good, right?
Top 9 Best Dartboard Cabinets
One of the important things to know before buying an expensive dartboard cabinet is that not everything expensive means quality. Hence, one shouldn't waste money on a flimsy cabinet with a hand-me-down dartboard.
Well, we will start our discussion initially from the bottom of the list while we save the best at last. But, before that here is a quick view of the list.
9. Trademark Gameroom Walnut Dartboard Cabinet Set
Merits
Perfect for beginners and children
Affordable price
Demerits
No self-healing
Cheap look
If you are searching for an affordable and flimsy dartboard cabinet set, it is perfect for you. This set comes with a magnetic closure door mounted with a cricket chalkboard.
Additionally, it also comes with six steel tip darts, chalk, and an eraser. Overall, it looks decent and gives a good play; however, the board and cabinet fall off easily as it is not that sticky. Furthermore, it is also made up of wound paper and is a particle board.
Hence, if you are a beginner or want to get it for your younger ones and don't want to spend a huge amount of money then, it's a perfect choice. Altogether, you can make it yours at around $40 to $60.
8. DMI Sports Deluxe Dartboard Cabinet Set
Merits
Sturdy and long-lasting design
Easy setup and a wall protector
Has multiple finished like Rosewood, Cherry and Rustic Tan finish
Demerits
Low-quality darts and easily bounces off
It doesn't heal well
This is again another dartboard cabinet that would be a perfect choice for beginners. The design is sturdy and long-lasting, with multiple finishes that give pleasure to our eyes.
As for the details, it is made up of steel, brass, and pure oak wood that comes with six darts and a replaceable chalkboard. In the meantime, it also has a score marker and a sisal dartboard.
Altogether, it depicts an easy setup and measures the same size as those in an official tournament. One of its best features has to be its cabinet with multi-purpose as a storage unit, dartboard holder, and score counter.
However, its only flaw is the low-quality darts and the healing property.
<<<12 Top Darts Players of All Time>>>
7. Arachnid Bullshooter Marauder 5.0
Merits
Electronic design
Auto scoring
34-38 different game choices
Demerits
Small board
Low-quality darts
This set is from the brand, Arachnid, perfect for large home parties that seek several games to keep up the mood. Well, it is also an electronic board with a safe cabinet and auto scorekeeping theme.
Also, the score window is large with colorful, backlit scoring that comes with integrated wood doors. One of its unique features is that it has 137 options of games with around 34 to 48 games.
All in all, this particular piece is available in black color that will cost you around $100.
6. Deluxe Solid Wood Dartboard Cabinet Set
Merits
Affordable price
Pine made board with padded back
Demerits
Durability
No dartboard, darts, and mounting hardware
No manuals
With an affordable price tag, Deluxe Solid Wood Dartboard Cabinet Set comes in a beautiful package. It is made from New Zealand pine with a furniture-grade paint finish. It doesn't look classy; however, it has bronze hinges and a padded back.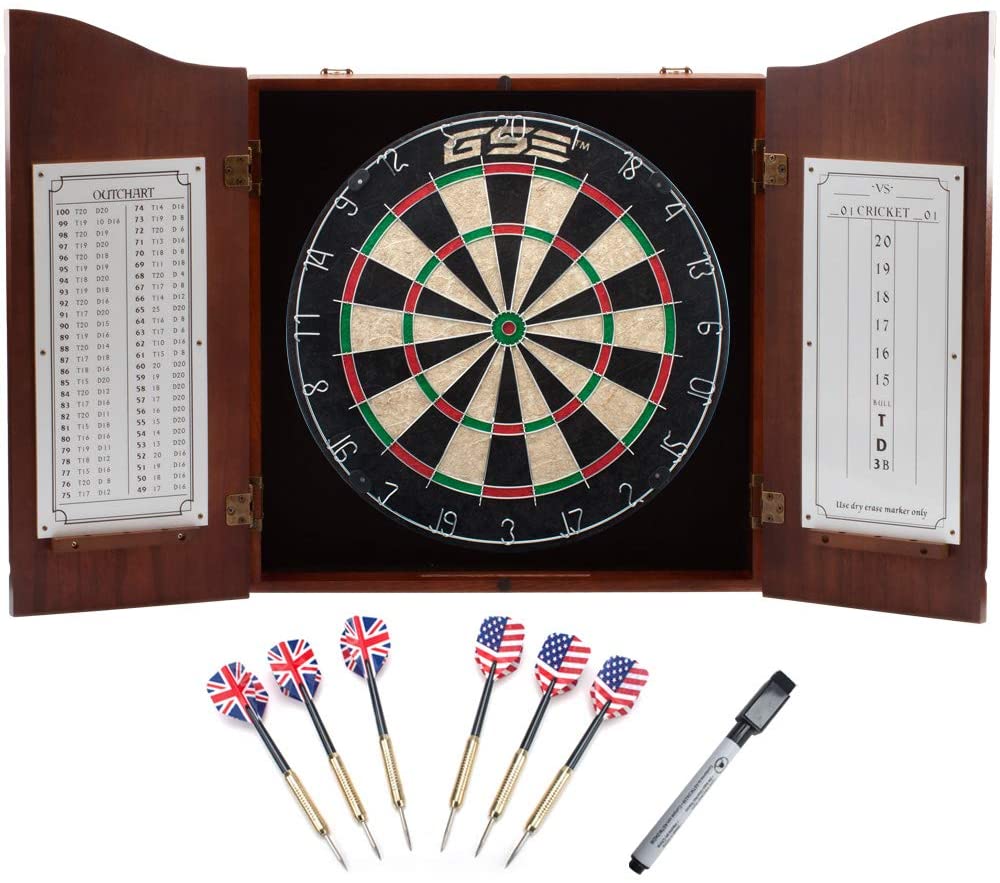 Additionally, it has built-in storage in its cabinet, which is attached with a white dry-erase scoreboard. Altogether, one of its downsides is that it only consists of a cabinet and has no dartboard, darts, and mounting hardware.
Herewith, you can get the cabinet in a dark cherry color that will cost you between $69 to $79.
5. Viper Stadium Cabinet & Shot King Sisal/Bristle Dartboard
Merits
Solid and high-quality cabinet and dartboard
Classy and vintage design
Demerits
Heavy cabinet
Less sticky
Are you searching for a vintage classic touch but without robbing a bank? Well, Viper Stadium Cabinet & Shot King Sisal/Bristle Dartboard is perfect for the term. This classy piece comes in a dark walnut finish with wood construction.
In the meantime, it also includes steel tip darts, a dry-erase scoreboard, a dry erase marker, and mounting hardware. However, its pro-sized look is quite heavy.
Furthermore, it also portrays a storage area for your darts and other accessories. Altogether, it may not quite live up to its solid-looking image.
This piece is available at four different options: a deluxe set, premium set, elite set, and standard set. Well, the deluxe set will cost you $236.8, the premium set costs $220.99, the elite set costs $246.99, and the standard set costs $125.53.
<<<12 Best Steel Tip Darts Available in the Market>>>
4. American Legend Dartboard Cabinet
Merits
High-quality design
Two scoreboards
Demerits
American Legend Dartboard Cabinet is made to impress with its premium solid wood usage with decorative trim details. It includes a bristle sisal dartboard and two chalk scoreboards with chalk.
Additionally, it consists of six steel tip darts and built-in dart houses. And what more? It contains stylish touch that will blend well with one's interior design.
Altogether, this round dartboard cabinet is available in rustic style in black color and weighs 29 pounds.
3. Viper Hideaway Cabinet & Steel-Tip Dartboard Set
Merits
Affordable with reversible games of cricket and baseball
Demerits
Weak wound paper with no self-healing
Slim cabinet
Viper Hideaway Cabinet & Steel-Tip Dartboard Set is one of the only wound paper board cabinets that gives a professional game feeling. It is affordable quality bristle board with reversible games of both cricket and baseball.
Likewise, it has an astonishing interior design with a magnetic lock and has a quick installation process. All in one, yet it has a slim cabinet, and the formation with wound paper makes it have a less healing property.
Weighing at 12.8 Pounds, this traditional type classic type dartboard cabinet comes with a surface mount in the color black.
Get all the details about the top darts player, Phil Taylor!
2. Barrington Collection Bristle Dartboard Cabinet
Merits
High-quality bristle board
Professional quality darts
Demerits
Strong smell at the beginning
Official-sized, tournament quality, solid wood cabinet, Barrington Collection Bristle Dartboard Cabinet has certainly loads to offer. Equally important, it doesn't easily tear down and comes back to its form after a dart goes through it.
This particular cabinet is crafted with pine veneer and paint accents. Furthermore, it portrays a high-quality draft and staple-free bulls-eye to prevent it from bouncing off. Altogether, it includes six darts, six flights, two scoreboards, a dry erase marker, and a wall mounting kit with hardware.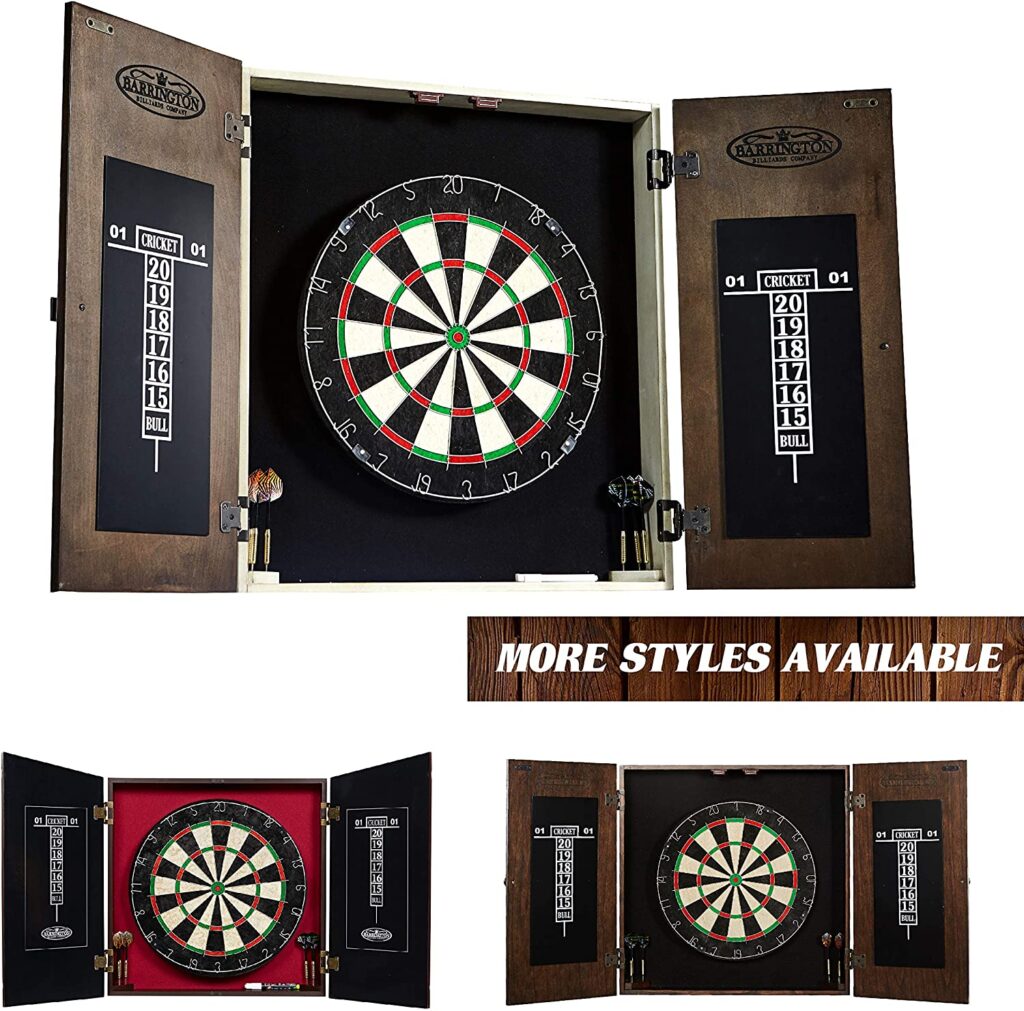 All these top quality, however, gives off a smell at the beginning. Hence, right as you bring it up, it's not a good idea to keep it right in your living room.
This certain type of cabinet is available in two styles; Kingsbury and Woodhaven (LED Lights). Also, Kingsbury offers two options starting from $253.50, while Woodhaven (LED Lights) has six options starting from $608.8.
1. EastPoint Sports Belmont Bristle Dartboard and Cabinet
Merits
Easy installation
High self-healing
High value
EastPoint Sports Belmont Bristle Dartboard and Cabinet only speaks and drips of professionalism. This quality bristle board comes at an official size of eighteen inches with an attractive hideaway door cabinet.
Moreover, it consists of all the needed hardware and features a staple-free bullseye. It also has a movable number ring. All in all, it depicts accurate high-end gameplay. Most importantly, all of its reviews showcase no downsides of this dartboard cabinet.
Likewise, this certain dartboard cabinet comes in black color and depicts other four options; Belmont dartboard with cabinet, Derbyshire Dartboard with cabinet, Joust dartboard, and Volt Premium Sisal Dartboard.
Here, Belmont dartboard with cabinet offers thirteen options starting from $38.95. Derbyshire Dartboard with cabinet has nine options from $57.68. Moreover, the Joust dartboard has four options starting from $27.77. Lastly, Volt Premium Sisal Dartboard has three options starting from $119.78.
Summary
Herewith, we have come to an end of the top nine lists of the dartboard cabinets. Share your view regarding our list on the comment section down below!