Phil Taylor is undoubtedly the most powerful name in the world of darts. Popularly known as "The Power," Philip Douglas Taylor is a former professional darts player from the United Kingdom.
He dominated darts for more than two decades and won 214 professional events. His major wins include a record 85 major championships and 16 World Championships.
Phil was named among the top ten British athletes of the previous 35 years by the BBC in 2015. Moreover, he is the world's wealthiest and most successful darts player.
Today we are here with everything you need to know about the legendary darts player Phil Taylor.
The article sums up his life, including his most notable achievements and controversies throughout his career.
Further, you will also know about Phil Taylor's personal life and net worth by the end of the article. However, before that, have a look at some quick facts.
Quick Facts
| | |
| --- | --- |
| Full Name | Philip Douglas Taylor |
| Nick Name | Phil, The Power |
| Birth Date | August 13, 1960 |
| Birth Place | Stoke-On-Trent |
| Home Town | Stoke-On-Trent |
| Nationality | English |
| Ethnicity | White |
| Religion | Christianity |
| Sex | Male |
| Sexual Orientation | Straight |
| Laterality | Right-handed |
| Darts | 26g Target Phil Taylor Gen 4 |
| Walk-on music | Snap (I've Got) The Power |
| Chinese Zodiac | Rat |
| Food Habit | Non-Vegetarian |
| Education | Not available |
| Zodiac Sign | Leo |
| Father's Name | Douglas Taylor |
| Mother's Name | Elizabeth Taylor |
| Siblings | Christopher Taylor, Lisa Taylor |
| Sponsors | Target Sports |
| Age | 62 years old |
| Height | 5 feet 7 inches |
| Reach | Not available |
| Weight | 80 kg |
| Chest size | 34 inches |
| Biceps size | 16 inches |
| Waist size | 39 inches |
| Shoe size | Not available |
| Eye Color | Brown |
| Hair Color | Grey |
| Profession | Professional Darts Player |
| Current world ranking | Retired |
| Coach | Eric Bristow |
| Marital Status | Divorced |
| Ex-Wife | Yvonne Taylor (m. 1988-2014) |
| Girlfriend | None |
| Playing darts since | 1986 |
| Children | Four |
| Net Worth | $10 Million |
| Social Media | Twitter, Instagram, Facebook |
| Merch | Phil Taylor Darts |
| Last Update | June 2023 |
Phil Taylor: Early Life and Family
The legendary darts player was born on August 13, 1960, in Burslem, Stoke-on-Trent. His Father's name is Douglas Taylor, and his mother is Elizabeth Taylor.
Taylor dropped out of school when he was 16 and started working at various places, including as a sheet metal worker.
Phil spent most of his early working days producing ceramic toilet roll handles, for which he was paid £52 per week.
He liked playing darts and football as a kid, but he didn't take them seriously. However, in 1986, Phil moved into a terraced House in Burslem near Eric Bristow's bar, the Crafty Cockney.
Phil's wife, Yvonne, once gave him a set of darts for his birthday. Following that, Phil started playing weekly, occasionally at Bristow's pub. By 1986, the English player had already been named to the county team.
Moreover, he was also playing in the Super League. Later that year, Bristow financed Phil with £10,000 to assist him in starting a professional career in darts.
Moreover, Bristow also kept the condition that Phil should give up his work in the ceramic business.
Also, find more about Gary Anderson's Bio: Career Highlights & Controversies>>
Phil Taylor: Body Measurements
The darts player Phil Taylor was born in the year 1960. So, he is currently 62 years old.
Phil was born in the Rat year, according to the Chinese calendar. Talking about Phil's physique, he has a healthy body. His chest size is 34 inches, his biceps size is 16 inches, and his waist size is 39 inches.
Phil consumes healthy nutrition and exercises daily. Moreover, the English player weighs about 80 kg and stands 5 feet 7 inches.
Likewise, Phil has several tattoos on his body. He has a tattoo, "POWER," on his right hand. Further, he has dark brown eyes and grey hair. Phil's nationality is English, whereas his ethnicity is White.
Further, Phil's zodiac is Leo. Sapiens with the Leo sign are realistic, joyful, and liberal. They are fiercely proud and confident.
Phil is no different.
Phil Taylor: Early Career
Bristow sponsored Taylor. Together, they traveled to Las Vegas to compete in the North American Open.
However, Phil was defeated in the first round. As a result, his debut year on tour was a struggle.
In 1988, Phil won his first victory in the Canadian Open by defeating Bob Anderson in the final. Bob was the World Champion of that time.
Likewise, he also reached the quarterfinals of the British Open and the semi-finals of the Winmau World Masters in 1989.
Moreover, Phil also qualified for the World Championship for the first time in 1990. Despite considerable success in Open competitions, he entered the 1990 World Championship as an unseeded outsider with seeding of 125–1.
After sharing the opening two sets, Phil won his first global title by defeating Bristow 6–1 in groups.
Following that, Phil Taylor dominated the Open tournaments throughout 1990. He won championships in the Isle of Man, Finland, North America, and Denmark.
Further, he was also victorious at the British Pentathlon, Europe Cup, British Masters, and the Winmau World Masters, the game's second major tournament.
Phil's World Championship defense in 1991 concluded in the quarterfinals when he was defeated by Dennis Priestley, who went on to win his first world title.
In 1991, the English player won fewer championships, losing the Danish Open and the World Masters finals against Rod Harrington.
The following year, Taylor won the World Championship for the second time, defeating Mike Gregory 6–5 in a deciding leg in the final.
Moreover, Phil called the victory "one of my favorite victories in my career."
Learn More About: Peter Wright: Career, Controversies & Net Worth>>
Phil Taylor: Professional Career Highlights
Phil has had the most unique and highly successful darts career. He has won 21 World Championship finals in total.
Phil won eight World Championships from 1995 to 2002 and 14 consecutive World Championship finals from 1994 to 2007.
Further, Phil was the world's number one for thirteen years, including eight years from 2006 to 2013.
Likewise, the Englishman was also the first to win 70 PDC Pro Tour events. However, Michael Van Gerwen broke the record in February 2019.
Taylor has 11 broadcast nine-dart finishes, a new record (and 22 overall). In addition, Phil Taylor was the first individual to hit two nine-dart finishes in a single match.
Moreover, Phil Taylor participated in British Darts Organisation (BDO) competitions until 1993. He was also one of 16 top players who broke away from the BDO to form their organization.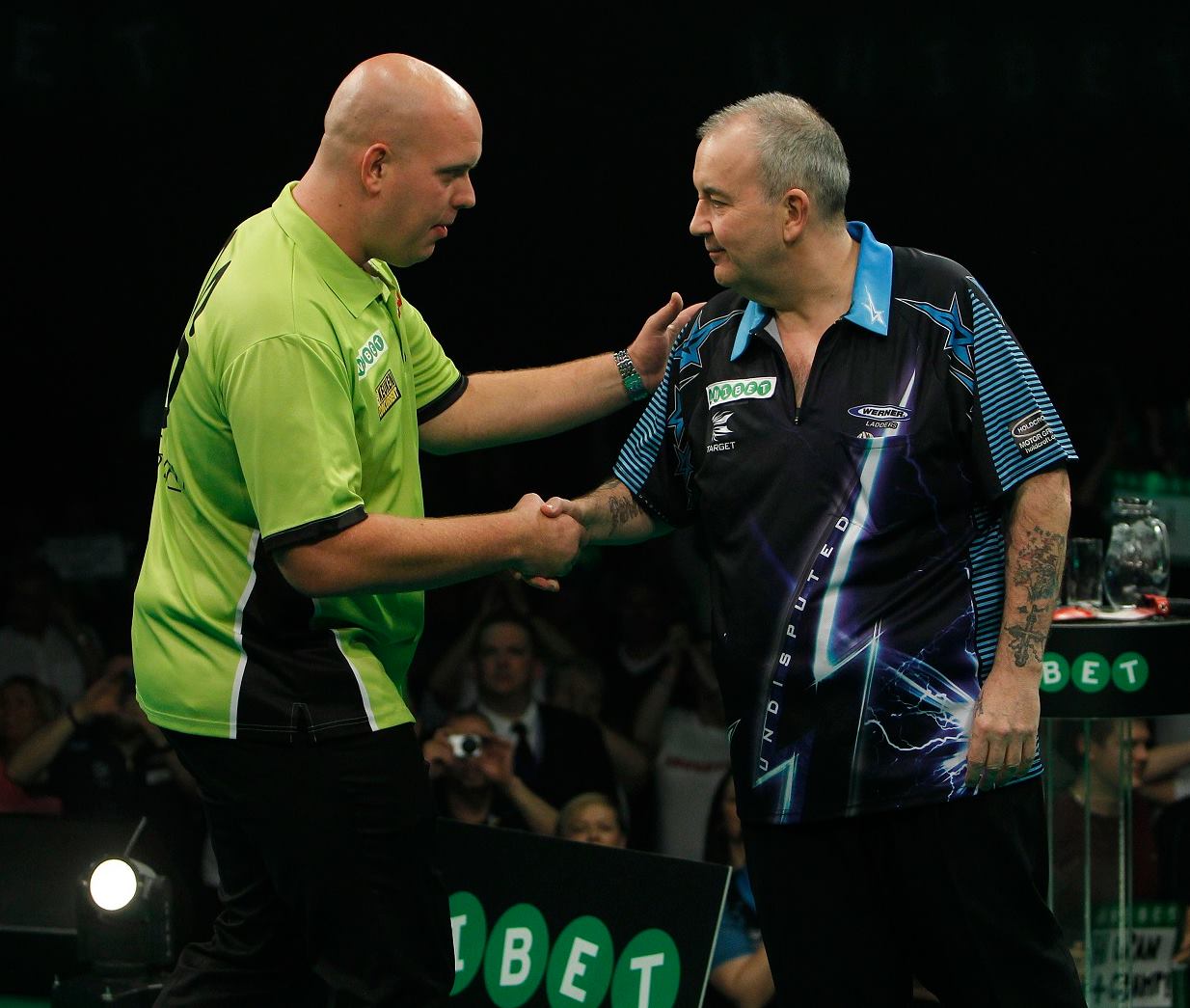 Their organization was previously called the World Darts Council. However, it is now known as the Professional Darts Corporation (PDC).
Phil won the PDC Player of the Year title six times (2006, 2008, 2009, 2010, 2011, and 2012).
Further, he was nominated for the BBC Sports Personality of the Year award twice (in 2006 and 2010), finishing second in the latter event, making him the first darts player to ever place in the top two.
Additionally, in 2011, he was recognized in the PDC Hall of Fame. After the 2018 World Championship, Taylor announced his retirement from professional darts.
Phil Taylor: Controversies
A Conviction for Indecent Assault
In October 1999, Phil returned to his van after an exhibition match in Fife, Scotland, accompanied by two ladies ages 23 and 25.
The ladies later accused Phil of indecent assault. Phil initially rejected the charges. However, after the Dunfermline Sheriff's Court found him guilty in March 2001, the improper assault allegations became public.
Phil was also fined £2,000 in May 2001.
Moreover, the player's MBE nomination from the 2001 New Year awards was revoked due to his conviction, and he was never granted it.
The Swearing Controversy
In 2007, Chris Mason made waves for criticizing Taylor in the press before their World Championship last 16 matches and allegedly shouting at him at the post-match handshake on stage after Taylor defeated him 4–0.
However, after the competition, Chris apologized to Taylor. Nevertheless, the Darts Regulation Authority issued Chris a £750 fine and a four-month penalty (suspended for a year).
Phil Taylor: Television and Music Appearances
The English player's darts accomplishments have earned him televised appearances. He made multiple appearances on the ITV game program 'Bullseye,' hosted by Jim Bowen and Tony Green.
He has also appeared in Justin Hawkins' solo project British Whale's music video for "This Town Ain't Big Enough for the Both of Us," a version of the Sparks song.
Over the years, the legendary player has also been on several BBC television series.
On February 2, 2009, he had a cameo appearance as 'Disco Dave,' the leader of a rival darts team to the Rovers Return, in ITV's long-running popular serial series Coronation Street.
Phil was briefly on screen for a few seconds and had no conversation.
Further, he appeared at the British Comedy Awards, presented by Jonathan Ross, on January 22, 2011, to give the Best Comedy Panel Show award.
Taylor also made his first appearance on 'OMG! Jedward's Dream Factory is an Irish children's reality television show in which pop duo Jedward assisted in fulfilling the dreams of children who had previously written into the show.
Moreover, Phil also made a guest appearance on 'A Question of Sport' on March 12, 2012.
Likewise, Taylor and the other seven Premier League players recorded a charity track with Chas Hodges and his band called "Got My Tickets for the Darts" in May 2012, which Chas wrote.
The track was published on the 18th of May, the night following the play-offs at London's O2, where it had its world debut. The single's proceeds were given to Haven House Children's Hospice.
Phil Taylor: Personal Life
Phil was married to his childhood sweetheart, Yvonne, in 1998. The marriage lasted for 23 years. However, the marriage between Phil and Yvonne could not sustain.
As a result, the couple got divorced in 2014. Phil was emotionally as well as financially devastated by the divorce. He had to give up five mansions and £830,000 to his ex-wife.
Phil blames himself for the divorce and agrees that he spent more time playing darts than with his family.
Likewise, Yvonne also pointed out that Phil was seldom at home and paid little attention to their family. The lack of time for the family was the main reason for their divorce.
The couple had four children together. Lisa Taylor was the firstborn child of the couple in 1983.
Likewise, the couple gave birth to their second child Chris in 1984, one year after Lisa was born. Similarly, Kelly Taylor was born in 1989, and Natalie Taylor was born in 1990.
Phil Taylor has also co-written his autobiography with the late Sky TV darts commentator Sid Waddell.
Likewise, Phil is a fan of Port Vale, his hometown football team. Moreover, in January 2011, he was also inducted into the Stoke-on-Trent Hall of Fame, which had just opened.
Additionally, in the 2001 New Year's honors, Phil was named a Member of the Order of the British Empire (MBE).
See: Current World's No. 3 Pro Darts Player, Michael van Gerwen Boasts $6 Million Net worth >>
Phil Taylor: Net Worth
Phil has had an outstanding career in the sport of darts. As a result, Phil has amassed a lot of wealth to live a life of luxury. Phil is considered to be the wealthiest darts player.
Most of Phil's money comes from his earnings as a professional darts player. He has won around £7.1million in his career as prize money.
Phil "THE POWER" Taylor has a net worth of approximately $10 MILLION.
Apart from prize money, the former darts player earns various sponsorships and endorsements.
Social Media Presence
The legendary player is on Instagram, Facebook, and Twitter. He has thousands of followers altogether.
Phil usually shares information about his personal and professional life on his social media platforms.
If you guys are curious about Taylor and his lifestyle, feel free to follow him on his following accounts:
Facebook: Phil The Power Taylor (410k followers)
Instagram: @phil_taylor_official (71.9k followers)
Twitter: @PhilTaylor (350.8k followers)
Phil also has a website called philthepower.com. The website describes him as the most successful player in darts history.
The website shares news and articles related to Phil. Further, you can also shop various Phil Taylor products via his website.
The English player does not have a YouTube channel yet. However, Phil's videos are posted on YouTube by various sports channels, including the official channel of the Professional Darts Corporation.
As a result, all of Phil's videos have many views
Frequently Asked Questions
Is Phil Taylor involved in Charity?
After Covid, Phill and Raymond van Barneveld raised £15k for charity to assist the needy who were covid positive.
Was Phil called the "The Crafty Potter"?
In the early 1990s, Phil was known as "The Crafty Potter," a reference to his role as Eric Bristow's protégé ("The Crafty Cockney") and his work in the ceramics sector.
However, Phil quickly rose to prominence in his own right. As a result, during the 1995 World Matchplay in Blackpool, Phil was given the nickname "The Power" by the production manager of Sky Sports, Peter Judge.
Where are Phil Taylor's parents?
Phil's parents are no more alive. In 1997, Taylor's Father, Doug, passed away due to colon Cancer. Likewise, his mother, Elizabeth, also passed away in 2015.