The Las Vegas Raiders wide receiver Davante Adams ethnicity is African. He uses his NFL fame to advocate for racial justice and engages in charitable works.
Born in a struggling family alongside three siblings with a broken home, the American football player knows the value of life and work ethics.
He grew up in East Palo Alto, California, an area with a bad influence then. So, despite his parents' separation, they co-parented him to ensure his path was clear.
Well, it all paid off! Davante is the highest-paid wide receiver in the NFL, followed by Tyreek Hill and Stefon Diggs in the #2 and #3 rank. Thanks to his 5-year $140 million contract with the Raiders.
A two-sport player at Palo Alto High School, Adams played two collegiate seasons at California State University, Fresno, before going for the NFL draft.
He became the 2nd round (53rd overall) pick of the Green Bay Packers in the 2014 NFL draft, where he played until 2021.
Then, he joined he Las Vegas Raiders (2021- now), where he currently plays and wears his previous jersey number #17.
In his rookie year, he scored his first NFL touchdown on an 11-yard pass from Aaron Rodgers against the Vikings.
The six-time Pro Bowl honoree was initially behind teammates Jordy Nelson and Randall Cobb in the depth chart. After the 2017 season, the scenario changed as he emerged as one of the top wide receivers.
Davante Adams Ethnicity: Where Is The Wide Reciever From?
Davante Lavell Adams, an American by nationality, is from East Palo Alto, California. It is also the birthplace of his father, Doug Adams.
His father and mother, Pamela Brown, are of black ethnic background. So naturally, Adams' ethnicity is African, though the details of his heritage and its roots are unknown.
Born on December 24, 1992, the 30-year-old NFL player emphasizes racial harmony. No wonder his wife & mother of his two kids, Devanne Villarreal Adams, is a white Mexican.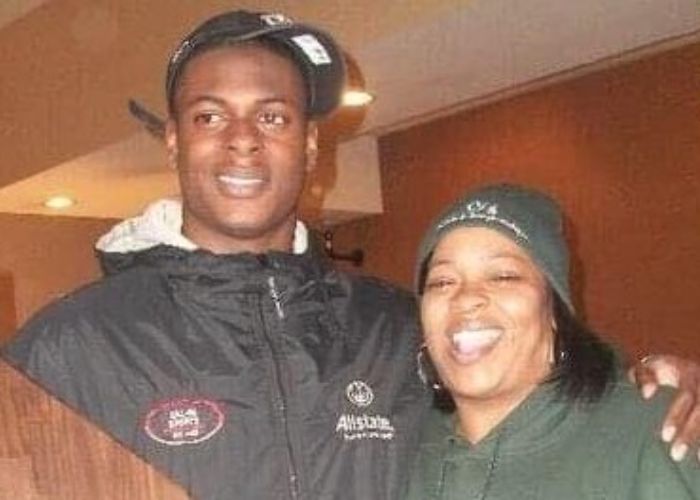 From a struggle in a high crime-rate suburb of Palo Alto to a multi-million residence in Las Vegas, a lot has changed in Davante's life.
But one thing that he still clings to is- never to forget one's roots and where they came from.
In a September 2023 episode of CBS 'Secret Celebrity Renovation,' the former Packers player paid a surprise visit to his grandmother, Bettie, in East Palo Alto, California. He helped to upgrade his grandmother's home.
Given that, after his parents' divorce, he split his time between his parents and grandparents, it's no surprise he is very close to his grandma.
As reported, when he used to live with his father, Adams had to sleep on the couch.
The NFL star's mother had two jobs: site manager for Synopsys and braiding hair at night to supplement her income.
She had to raise Davante and his three siblings: brother Doug Jr. and twin sisters Destiny and D'aishanae.
Davante Adams Is OutSpoken About Racial Injustice
The American football wide receiver believes in equality and advocates for racial justice.
In May 2020, in the wake of the death of George Floyd, Adams went on a spree of Tweets and poured his thoughts on ignorance and racism.
On his Twitter (now X) post, he wrote,
"Not every response to this continued injustice and racism has been 100% positive and productive…but until my people stop being murdered by those paid to protect and serve for simply being black I'm focused on that."
Following a series of tweets that showcased his concern and grief on racism, he concluded with a hopeful message stating 'everybody with the right mindset would keep fighting for equality.'
Later, in June 2020, Davante joined Patrick Mahomes, Saquon Barkley, Michael Thomas, and other fellow NFL stars to share a passionate video about racial inequality.