American football player Stefon Mar'sean Diggs plays wide receiver for the National Football League's Buffalo Bills (NFL).
Diggs is regarded as one of the greatest wide receivers in the history of American football by the sports world. In his first year at Maryland, he finished second in the ACC Freshman of the Year vote.
Since turning pro, Stefon has left a legacy of stellar accomplishments in the NFL's record books as a football player.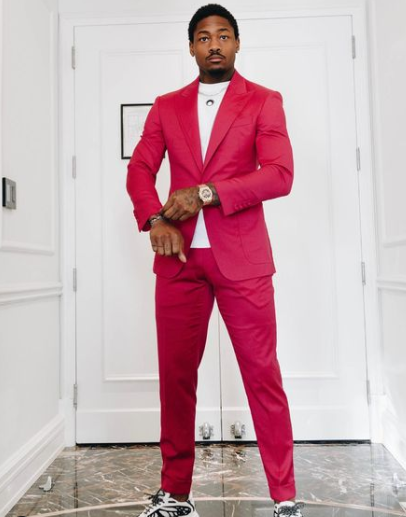 We will let you know all about Stefon in this article, so make sure to stick with us till the end. Here are some quick facts about Diggs:
Stefon Diggs | Quick Facts
Full Name
Stefon Mar'sean Diggs
Date of Birth
November 29, 1993
Age
30
Birthplace
Gaithersburg, Maryland, US
Profession
American Football Player
Years active
2012 – Present
Nationality
American
Religion
Christianity
Zodiac Sign
Sagittarius
Ethnicity
African-American
Salary
$8.9 million
Marital status
Divorced
Girlfriend
Tae Heckard
Children
Nova Stefon Diggs
Father Name
Aron Diggs
Mother Name
Stephanie Diggs
Brothers
Darez Diggs and Trevon Diggs

Aron and Porsche (step siblings)

Porsche
Our Lady of Good Counsel High School
College
University of Maryland
Height
6 feet
Weight
88 Kg
Hair color
Black
Eye color
Dark Brown
Achievements
Named MVP of the US Army All-American Junior 2011,
PFWA All-Rookie Team 2015,
Second Team All-Big Ten 2014,
USA Today High School All-American 2011
Favorite color
Black
Favorite restaurant
Northeast Minneapolis Restaurant
Hobbies
Tattooing
Social Media
Instagram, Twitter, and Facebook
Net Worth
$13 million
Merch
Buffalo bills
Last Update
December, 2023
Early Life
Stefon Mar'sean Diggs was given the name during birth, specifically on November 29, 1993, in Gaithersburg, Maryland.
Diggs had a deep interest in sports, not just football but also track since he is an excellent sprinter. He was renowned for his extraordinary abilities in every game he played throughout his time at Our Lady of Good Counsel in Maryland.
Learn more about Adamn Vinatieri's future plan: Adamn Vinatieri talks about his retirement on Pat McAfee's show!>>>
Stefon Diggs | Family Life
Stefon Diggs has been a kind older brother to his siblings and a dutiful son to his mother. After Stefon's father, Aron Diggs, passed away because of congestive heart failure, he has taken over the role of the father in his home ever since.
Oldest of the three siblings, the wide receiver has two younger brothers in the family, Darez Diggs and Trevon Diggs.
In comparison to his younger brother Darez, who was born in 1995, Stefon is a few years older.
Darez attended the Friendship Collegiate Academy Public Charter school and played on the football squad there as well. He is believed to be performing exceptionally well in the majority of his games as a member of the University of Alabama Birmingham Blazers, where he currently plays.
Trevon, the second sibling of Stefon, was born in 1998; he played for Wooton High School actively before switching to the University of Alabama Crimson Tide. The cornerback currently plays for the Dallas Cowboys.
In addition to his brothers, Aron Diggs has a half-sister named Porsche.
Stefon Diggs | Career
One of the most well-known players, Stefon Mar'sean Diggs, started his professional career from 2012. Diggs played before during his time in high school and college.
The NFL star played in just seven games in 2013, following a summer injury in Wake Forest. Despite his injury, he was still chosen by the coaches and media due to his status as an honorable All-ACC.
With Diggs' strong performance against FIU to open his sophomore season, he amassed 98 receiving yards, one score, and 70 return yards on three kickoffs.
Diggs won the ACC Receiver of the Week award for his performance against Old Dominion, compiling a career-high 179 receiving yards, a touchdown, and other notable stats.
Check out this article to know about Collin: The Popeyes Meme Kid, Collin Dieunerst Has Bagged State Championship>>>
Stefon Diggs | Dating Life
The player has a long history of being associated with numerous women in terms of relationships. The name of Stefon Diggs' ex-wife is Tyler. Additionally, the couple welcomed a stunning girl kid named Nova in 2016.
Following their subsequent separation, Winter Blanco entered Stefon's life. The gifted player broke up with her and is now happily dating Tae Heckard.
The admirers of this couple hope to see them wed soon. However, the pair has not yet provided any confirmation on such topics.
Net worth
With the agreement made with the NFL draft in 2015, Stefon Diggs' professional life began to change. They paid him $2.5 million over four years to play for them. He then signed on with the Vikings to play for them for an additional four years.
Diggs has been a member of the Buffalo Bills since 2020. He signed a four-year extension of a $96 million contract in 2022.
From 2018 to 2022, Stefon Diggs' net worth grew significantly. Currently, Stefon's net worth is estimated to be worth 13 million dollars.
Be sure to read this article: New season of 'The Bachelor: After the Rose' with Emmanuel Acho>>>
Frequently Asked Questions
Was Stefon Diggs a 5 star?
Stefon Diggs, a five-star recruit, had a wide range of prestigious schools to select from by Friday. He ultimately decided on the Maryland Terrapins, a team from his hometown.
Is Stefon Diggs related to Quandre Diggs?
Seahawks' defense Trevon and Stefon Diggs are not related to Quandre Diggs. However, Quentin Jammer, a former Chargers great, is his younger half-brother.
How many Diggs brothers are in the NFL?
Trevon Diggs of the Dallas Cowboys and Stefon Diggs of the Buffalo Bills are brothers in addition to being well-known NFL players. Trevon, the younger brother who has just completed his second season in the NFL, is five years younger than Stefon, the receiver in his seventh season.