Not everyone in this world is lucky to be portrayed in a movie for their history-making achievement. But yes, David Lattin is one of the few historical figures who made a mark in destroying racial disorders.
David is among the few athletes who established himself as a racial pioneer who brought some unimaginative changes in college sports in the 1960s when the Whites ruled everywhere.
The change, the landmark moment, happened when the Texas Western won the 1966 Divison I NCAA championship against Kentucky's polished team. The team comprised all African-Americans.
And the whole movement was picturized in the 2006 Disney film, Glory Road.
For those who still did not recognize him, Dave is a former basketball player. He served as a starting center for several NBA and ABA teams.
Dave did not have that long basketball career, but he indeed made a name with his achievements as an athlete, with his writing and business ventures.
Let's dive a bit deeper into his side of the story and navigate more about him. But before that, how about taking a quick look at the given facts.
Dave Lattin | Quick Facts
| | |
| --- | --- |
| Full Name | David Lattin |
| Birth Date | Houston, Texas |
| Birth Place | December 23, 1943 |
| Nick Name | Big Daddy D |
| Religion | Not known |
| Nationality | American |
| Ethnicity | Black |
| Education | Evan Edward Worthing Early College High School, University of Texas |
| Horoscope | Capricorn |
| Father'sName | Not known |
| Mother'sName | Elsie Lattin |
| Siblings | Not Known |
| Age | 79 years old |
| Height | 1.98m(6'6″) |
| Weight | 102 kg(224 lb) |
| NBA draft | 1967/ Round:1/ Pick: tenth overall |
| Hair Color | Black |
| Eye Color | Black |
| Last played for | Memphis Tams |
| Build | Athlete |
| Marital Status | Not known |
| Kids | son (Clifton) and daughter (Leslie) |
| Position | Power Forward/ Center |
| Profession | NBA player, Writer, Entrepreneur |
| Net Worth | Not known |
| Salary | $5,25,000 annually (in 1960's) |
| Number | 47, 43, 33, 22 |
| League | NBA |
| Active Since | 1967-1973 |
| Social Media | Not Available |
| Merch | Book "Slam Dunk to Glory" |
| Last Update | June, 2023 |
Dave Lattin | Early Life
Starting with the basics, Dave was born on December 23, 1943, in Houston, Texas, to his widowed mother, Elsie. Sad but true, his father left him in 1949 when he was just six years old.
However, details regarding his father and the reason for his father's death remain unknown.
High School Endeavours
Dave went to elementary and secondary schools in Houston and later graduated from Evan E. Worthing Senior High School in 1963. Before that, he attended Crispus Attucks Junior High School and Attucks Middle School.
The reason for joining Worthing was to explore his potential, and additionally, it was bigger than the other high school that Dave went to.
To brief, joining Worthing became one of the best decisions in life as the outcome was fruitful.
It helped Dave gather an abundant experience as in the eleventh grade; he became the first high school All-American. Not to mention, he was the first high school All-American from the state of Texas in basketball at that level.
And eventually, accomplishments started happening to him step by step. There was a minor funny incident attached to this moment. Somebody had already informed his mother about the success that he made.
Before his mother popped into their house, he was sitting on the chair, having his leg propped up on the coffee table, which was entirely not appreciated by his mother.
And suddenly, a voice got raised, "Okay, Mr. High School, All-American, it's nice that you are high school All-American, but you still have to get your foot off my coffee table." And to that, Dave replied, "Yes ma'am, sure."
Elsie, Always stood by his side.
While Dave's father left him and this world at an early age, his mother took all the responsibilities and never lagged in fulfilling his duties as a parent.
While his mother remained supportive all the time, she knew nothing about the game. She just stood there by him to cheer him up. She did not even come to his games, but that does not mean she didn't morally support him.
Dave's mother saw him play only once when playing for the Globetrotters (Harlem Globetrotters).
To boot on, Dave's mother did not even care about the game; all she saw was the fun he was having.
Mike Woodson Bio: Net Worth, Coaching, Wife & NBA >>
Having good grades
Well, trying to flourish as an athlete and having good grades at the same is a challenging task. But lucky him, Dave had a teacher named Ms. Douglas in his high school, an English teacher.
Not to mention, Ms. Douglas was quite serious about making good grades thus took her profession wholeheartedly. She would stay back and make sure that all the athletes, not just specifically him, and forge on the study, get all their assignments done.
Over and above that, Ms. Douglas would stay back until and unless the basketball practice was over and the kids bounced back into her room.
As a student and athlete was a tough job to deal with, the athletes had to compete equally, just like the other students in the classroom. There are no ifs and no buts, certainly.
Thankfully, there were no rules as such that an athlete has to score a certain average.
College Days
After coming out of high school, college days are one of the other platforms where you can build your foundation, probably strong. In like manner, Dave left Tennessee state in 1964 as there he could not find tough competition.
Dave moved back to Houston, played the AAAU, and later enrolled in Texas Western College in 1965 after receiving a full scholarship. He there played with the Miners, a Division 1 team in the NCAA.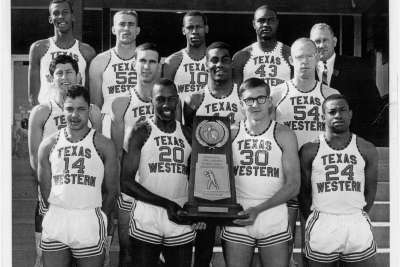 The Miners won the 1966 Divison 1 NCAA National Championship with five black starting players under the guidance of Coach Don Haskins. He was named All-American for the 1966 and 1967 seasons.
The exact moment brought an explosive change in his life; the winning moment allowed the colleges to practice great racial equality in sports.
After all, they defeated the all-white team from Kentucky for the 1966 championships.
Dave Lattin | NBA draft and Basketball Career
The tables turned when Dave got hired as the number ten pick by the San Francisco Warriors in the NBA League in 1967 after leaving Texas Western College.
Later on, he was selected by the Kansas City Chiefs of the American Football League in the year 1967 in the finals, being the 443rd overall pick.
Dave was most significantly hired to play as a wide receiver there. And after that, he went on playing with the Phoenix Suns, the Pittsburgh Condors, and the Memphis Tams.
It was not even a decade, but he ended his playing career with the Harlem Globe in 1976.
Post Basketball Career
Well, Dave might have ended up with the basketball thing, but he was all set to explore other skills which were trapped inside him. That also leads to being good in academics.
After completing the play with Harlem Globe Trotters, Dave returned to school and earned his B.S. degree in business administration. Furthermore, he launched different successful business ventures, which also included Your Maison Housing.
Dave was also inducted into the Texas Black Sports Hall of Fame and the Naismith Memorial Basketball Hall of Fame in 2007.
The same year, he wrote a book, "Slam Dunk to Glory," the Amazing True Story of the 1966 NCAA Championship Game that brought a change in America forever."
Portrayed in a movie
Coming back to the previous year, in the 2006 American Sports Drama, Glory Road, Dave was portrayed by Schin A.S Kerr. The movie was directed by James Gartner and produced by Jerry Bruckheimer.
Moreover, Josh Lucas portrayed Don Haskins, the head coach of Texas Western College, and guided the all-black lineups throughout the competition. The movie talks about racism, discrimination, and student athletics.
To sum up, the film is based on how a newly hired coach, Don Haskins, puts all his effort into bringing his all-black squad together to help compete for the national championship.
Then Don puts all his efforts to train his team comprised of seven blacks and five white athletes, who also threatened to cut them off who does not give their total input.
Slowly and gradually, their victory gathered an ample amount of racial hatred for their squad.
This incident somehow destroyed their mental strength, and sadly, they lost the last game of the regular season. Therefore, they ranked third in the nation entering the 1966 NCAA tournament and ended the 1965-1966 regular season with a 23-1 record.
Following that, going on to the NCAA final, they faced the top-ranked, highly experienced, and qualified squad all-white Wildcats coached by fabled Adolph Rupp of the University of Kentucky.
Despite all the odds, when seemingly failure was ahead of their place, they managed to beat Kentucky with some mind-boggling steals, rebounding, and passing techniques.
Dave Lattin | Personal Life
Coming to the personal aspects of his life, Dave's relationship status remains anonymous. Nothing could be extracted about his ex-girlfriend or wife from the internet.
But yes, as per sources, he has a son and a daughter.
"50 years down the line, Grandson carries on the legacy."
Dave Lattin is a proud grandfather as he can see his younger days coming back in his grandson Khadeem Lattin. Born on April 19, 1995, Khadeem is a forward for the Northern Arizona Suns.
Before that, Khadeem was busy making memories just like his grandfather playing for an Oklahoma Sooners squad in the NCAA tournament in 2016.
To recall, Dave was one of the African-American line-ups among the five who got remembered for his thunderous dunk that put the Texas Miners on the board against Kentucky in the 1966 Division I NCAA Tournament.
When everybody knew Texas was seen as an underdog to No.1 Kentucky, they pulled off the game in an explicit manner. They managed to stay relaxed and aggressive at the same time in the game.
And Dave wants to instill the same spirit, the same passion for the game in Khadeem. They keep exchanging texts and phone calls. Nevertheless, his mother is no step away from providing guidance.
And why not? Khadeem's mom, Monica Lamb-Powell, who separated her ways apart with his dad Cliff Lattin in 1996, was a notable basketball player in her time.
Monica performed at USC before playing two seasons in WNBA. She also renders quick feedbacks and constructive criticisms when needed.
Not only that, if there is anything that happens wrong, just like racial clashes. Dave also explains it to him, "He is there to attend school, play basketball and go to class. Nothing obnoxious should distract him."
As in 2015, a racist video starring Oklahoma's SAE fraternity members divided the campus in half. Henceforth, Dave intended to explain it to him.
What does Dave think of Khadeem as a player?
Well, the 6 feet 9 inches Khadeem is no longer a little kid to Dave. He knows that his grandson is growing and astounding as an athlete and as a person too.
To bring in sports, he knows that some parts of Khadeem's game are better than his.
For instance, Dave is a big fan of his shot-blocking part; Khadeem does that exceptionally well. However, he has to work a little bit in rebounding.
Furthermore, Dave wants to see him leading the nation in rebounding, shot-blocking, and complete in the first 15 in scoring. If Khadeem manages to do that, he would always take the game one level higher.
But on the other hand, Khadeem, during his childhood, remained stingy with the details of his grandfather. He could not understand why people came up to him and asked if he is related to Dave Lattin.
When Glory Road finally got released in 2006, Khadeem went to the hall alone and absorbed the entire story to get out of the whole confusing scenario. The cinema filled all the blanks that he was trying to fill up.
Below is the embedded youtube video, the trailer of the movie "Glory Road," if you want to get a better idea of him.
You may also read about Josh Selby | Childhood, Career, Rivals & Net Worth >>
Dave Lattin | Net Worth
There is no doubt that the star basketball player Dave Lattin is a rich and wealthy person. However, the online sources miss claiming anything about his net worth and salary.
Besides making money from basketball, he must have earned well from his business ventures.
Let you know, NBA players back then in the 1960s used to make a sum of $5,25,000 annually aligning with the internet sources.
Frequently Asked Questions (FAQs)
Why is Dave Lattin nicknamed Big Daddy D?
The reason behind his nickname remains unknown, but he was highly eminent for his clean-shaven head and the nickname Big Daddy D.
Besides excelling in his basketball career, what is he good at?
Dave had a promising business career both as a corporate executive and entrepreneur. Not to mention, he was President and CEO of three Houston business firms and now serves as the CEO of Your Maison Housing.
Dave also worked as a director for several wholesale distribution companies in the distilled spirits industry.
Dave Lattin | Social Media Presence
This would not sound pleasing, but we have to mention this here. After so much surfing on the internet, we could not get any access to his social media handles which probably means Dave is not available there.
Anyways, no matter if Dave uses or does not use social media, his fans are always going to stay loyal to him. May he live long and reach heights of success.