Mike Woodson is a former professional basketball player who played in the National Basketball Association(NBA). Currently, he serves as a head coach for the Indiana Hoosiers men's basketball team.
The former athlete actually attended Indiana University as a collegiate player. He was an exceptional player to the Hoosiers.
Correspondingly, he added that it was like a "dream come true" to have the opportunity to coach the Indiana Hoosiers. The NBA coach feels like he's come a full circle as he's coaching the team he played for.
Moreover, he has also served as an assistant coach to many well-known NBA teams like the Milwaukee Bucks, Cleveland Cavaliers, Philadelphia 76ers, Detroit Pistons, and the New York Knicks.
Not to mention, Woodson was the 2004 NBA Championship with the Pistons.
Besides that, he was also the head coach of Atlanta Hawks from 2004 to 2010 and New York Knicks from 2012 to 2014. Furthermore, the coach started his playing career with the Knicks when they drafted him in the first round.
Similarly, he has played for the New Jersey Nets, Sacramento Kings, Los Angeles Clippers, Houston Rockets, and Cleveland Cavaliers. Mike served as a shooting guard in the NBA for 10 years before retiring in 1991.
Aside from that, the former basketballer also represented the United States National Team in the 1979 Pan American Games held in San Juan, Puerto Rico. Subsequently, he won a gold medal in the team competition.
Before getting into details about the former player turned coach's life and career, here are some quick facts about him.
Quick Facts
| | |
| --- | --- |
| Full Name | Michael Dean Woodson |
| Birth Date | March 24, 1958 |
| Birth Place | Indianapolis, Indiana, the United States |
| Nick Name | Woody |
| Religion | Christianity |
| Nationality | American |
| Ethnicity | African American |
| Education | Indiana University |
| Horoscope | Aries |
| Father's Name | Chester Woodson |
| Mother's Name | Odessa Woodson |
| Siblings | 11 |
| Age | 65 years old |
| Height | 6'5″(1.96 m) |
| Weight | 195 lb(88 kg) |
| Hair Color | Black |
| Eye Color | Brown |
| Build | Athletic |
| Profession | Former NBA Player, Coach |
| Current Coaching Team | Indiana Hoosiers |
| Position | Shooting Guard |
| Active Years | 1980-1990 (As A Player), 1996 – Present (As A Coach) |
| Marital Status | Married |
| Wife | Terri Woodson |
| Kids | Two: Mariah Woodson & Alexis Woodson |
| Net Worth | Approx. $12 million |
| Social Media | Twitter |
| Merchandise | Autographed Basketball Card |
| Jersey Number | 44, 42, 2 |
| Last Updated | April, 2023 |
Mike Woodson | Early Life, Family, And Education
Mike Woodson was born in Indianapolis, Indiana, the United States. His parents are Chester Woodson and Odessa Woodson.
The player's father was a working-class man who worked multiple jobs to keep his family afloat. He delivered pianos, managed Laundromats, and mowed lawns.
Likewise, his mother was a registered nurse. Both of them were weak and had poor health most of the time.
The former NBA player has 11 siblings. As a result, Chester and Odessa worked very hard to feed a family of 15. The entire family had to live in a two-bedroom house for most of their life.
The coach's childhood was filled with financial difficulty and trying times. Hence, he comes from a very struggling family.
On top of that, Chester died of a heart attack when he was only 13 years old. In an interview, the shooting guard said about his father, "I just truly believe that he worked himself to death."
Following the death of their father, the Woodson siblings split up to ease the load on Odessa, who had been overworking herself. So, Mike lived with his oldest sister and his husband for a year before moving back home.
After that, all the siblings helped their mother out. Moreover, the former NBA coach used to give Odessa half of his paycheck.
Sadly, the player's mom passed away from her health complications while playing for the Clippers. She was proud of the life Mike had built.
However, Mike was disappointed that she was unable to enjoy his NBA success. Nevertheless, he had bought Odessa her first house and was somewhat satisfied with himself.
Education
The former NBA player had attended Broad Ripple Magnet High School, where he played high school basketball.
Following his graduation, he chose to attend Indiana University as it was close to home. Furthermore, he played collegiate basketball for the Indiana Hoosiers.
Learn More About Former NBA Head Coach, Pat Riley Bio: Wife, Net Worth, Coach, NBA & Heats >>
Mike Woodson | Age, Height, And Weight
The former Knicks head coach was born on March 24, 1958. Hence, he is 65 years old as of 2023. As a former athlete, Woodson is quite conscious when it comes to his health and diet.
As a result, he is quite fit for a guy in his 60s. Furthermore, Mike is 6 feet 5 inches tall and weighs 195 lb, i.e., 88 kg.
Mike Woodson | Basketball Career
High School And Collegiate Career
Mike went to Broad Ripple Magnet High School, located in Indianapolis, Indiana. Further, he played basketball for the high school team.
As a result, he could practice with the highly talented player on and off the court. In general, the basketballer loved playing for Indiana state; thus, he chose to play for the Indiana University.
Initially, the head coach of Ripple High school advised him to play for a different university. However, Woody wanted to go somewhere where his family didn't have to travel to see him.
Hence, the former player was elected to play collegiate basketball under coach Bob Knights. Furthermore, in his junior year with the Hoosiers, he became their leading scorer.
Similarly, he led the team to the 1979 NIT Tournament, which they won by defeating Purdue University. As a sophomore, he with his teammates won the Big Ten championship.
Moreover, the victory would come back to bite them as they lost to Purdue in the tournament's regional semifinals.
After this loss, the shooting guard skipped his junior year to enter the 1990 NBA Draft.
Playing Career
Early Career And Trades
Upon draft, he was the 12th overall pick for New York Kinks. Further, Woodson came off the bench and averaged 4.7 points in 81 games playing just 11.7 minutes in his rookie year.
Likewise, the following season he got the chance to start the game. As a result, the former athlete averaged 15.7 points, 2.7 assists, and 1.2 steals while starting in 74 out of 83 games played.
Despite an inevitable increase in his offense, the Knicks traded him to the New Jersey Nets. After just playing seven games with the Nets, they traded him to the Kansas City Kings.
The Kings became the perfect fit for Woodson as he started the game and average 16.1 points. Furthermore, he moved to the second unit from the following season.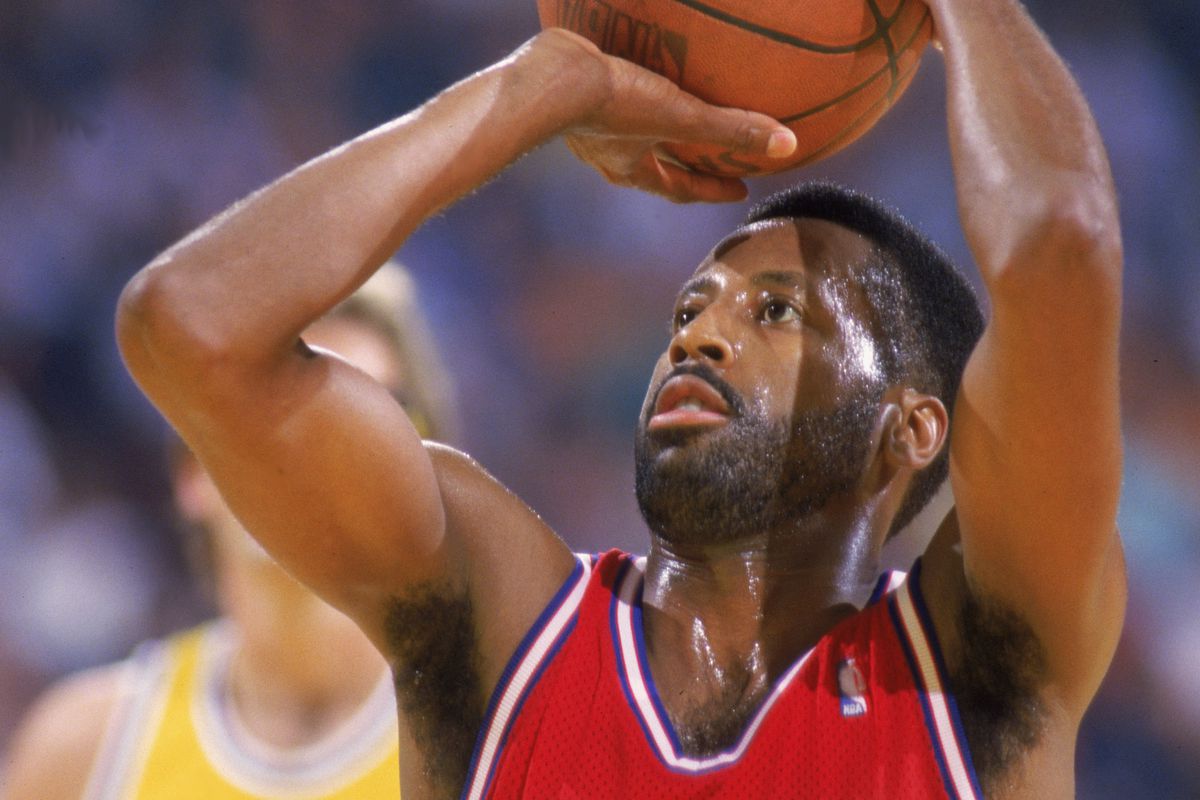 Moreover, in his NBA career with the Kings, they made the playoffs two times. However, both the time they were knocked out in the first round.
Hence, the shooting guard was traded to the Los Angles Clippers after the 1985-86 playoff loss.
Besides that, through his five-year career with the Kings, he averaged 16.3 points while playing 387 games. All in all, he was a productive player off the bench for the Kings.
Retirement
After the trade, Mike played two seasons with the Clippers as their backup shooting guard. Further, his game still had that explosiveness as he averaged 17.6 points in two seasons.
Nevertheless, the franchise decided to trade him for some young players. As a result, the Clippers traded him to the Houston Rockets, where he filled in the backup shooting guard.
Moreover, Woody played for three years where his offensive game was lacking behind. Hence, for the 1990-91 season, the Rockets traded him back to the Nets.
On playing 15 games with the Nets, they trade him to the Cavaliers. Thus, upon playing just four games with the Cavaliers, Woodson announces his retirement from competitive basketball.
Besides that, he played his last game against the Nets, where he averaged 2 points in 7 minutes of playing.
Don't Forget To Check Out Former Rocket's Player Rafer Alston Bio: Net Worth, Stats, Contract, Jersey & NBA >>
Coaching Career
Initial Career and NBA Championship
After five years of retirement, the former NBA player joins Milwaukee Bucks as their assistant coach. Further, after three years, he joins the Cavaliers front staff as an assistant coach.
Likewise, he bounces to Philidelphia and Denver in the next two seasons as an assistant coach. Not to mention, he won his first ring with Denver as their assistant coach.
After winning his first ring, the Atlanta Hawks hired him as their Head coach for the 2004-05 season.
Moreover, in the first three seasons, the Hawks couldn't make the playoffs. Nonetheless, they were improving their standings each year.
Finally, in the 2007-08 season, they made the playoffs as the eighth seed. Nevertheless, their playoff dream was crushed in seven games by the Celtics in the first round.
However, the following season the Hawks improve their standing to the fourth seed. As a result, they qualified for the playoffs, beating the Heat to face the Cavaliers in the second round.
Furthermore, they were swept by the LeBron James' Cavaliers in the second round. Similarly, the Atlanta team again clinched a playoff position the following season.
Much like the previous season, they again get knocked out in the second round versus. After this loss, the Hawks didn't re-sign him, and he joined the Knicks as an assistant coach.
Knicks Head Coach, Clippers, And Indiana
Further, the Knicks fired Mike D'Antoni and promoted Woodson to the head coach position next year. Instantly, he took the Knicks to the playoffs, but they lost in the first round.
Likewise, they again made the playoffs the second time and lost in the second round. For the final year with the Knicks, he failed to put them in a playoff position.
Therefore, he wasn't re-signed by the Knicks, so he joined the Clippers as an assistant coach. Besides that, he served four years as an assistant coach for the Clippers from 2014 to 2018.
You Might Be Interested In Former NBA Player Turned Head Coach, Lorenzo Romar Bio: NBA, Contract, Coaching & Net Worth >>
Achievements And Highlights
Second-team All-American – NABC in 1980
2004 NBA champion with The Detroit Piston's Assistant Coach
Gold Medalist – 1979 Pan American Games
Mike Woodson | Marriage, Wife, and Kids
The former shooting guard is married to Terri Woodson. Although not sure, numerous sources claim that the couple is college sweethearts.
The duo has been married for a long time, but their love is as fresh as teenagers.
The King and his Court! Merry Christmas to all from the Woodsons 💕💕💕 pic.twitter.com/CMpaJ3V5oV

— Terri Woodson (@TerriWoodson4U) December 25, 2017
Besides that, they have two daughters, namely Mariah Woodson and Alexis Woodson. Unlike their father, both of them are volleyball players.
Mike Woodson | Net Worth And Salary
Woody has earned most of his wealth through his career in the National Basketball Association as a player and coach.
Many sources estimate his net worth at $12 million.
Although his exact salary details are kept private, he will reportedly earn millions with the Hoosiers. Since he is quite popular, Mike has attracted a few sponsorship deals.
Mike Woodson | Social Media Presence
The NBA veteran is not much of a social media person. Hence, he does not have an Instagram account.
Nevertheless, he is quite active on Twitter with 17 thousand followers. The former athlete mostly shares his life as a head coach through his social media handle.
Welcome home, Coach Woodson. pic.twitter.com/jrIeKcYawR

— Indiana Basketball (@IndianaMBB) March 28, 2021
Furthermore, he has tweeted several basketball-related news, events, and highlights. Recently, Mike has received many congratulatory posts on making it the head coach of the Indiana Hoosiers.
Mike Woodson | FAQs