David Pollack's wife, Lindsey Pollack, is a former teacher and currently works in the family foundation with David. Lindsey shares two kids with her husband of 18 years.
A highly religious family, David, and Lindsey stumbled across each other at the University of Georgia. The former ESPN sports analyst has also proudly claimed that Lindsey was his only girlfriend.
Since establishing their charitable foundation in 2016, the couple has been actively raising awareness about childhood obesity.
A former NFL player, David Pollack's career ended after suffering from a broken sixth cervical vertebra. Since then, David began working as a sports talk show host and was one for ESPN, but not anymore.
Pollack was one of 20 on-air ESPN employees let go by the company on June 30, 2023. Jeff Van Gundy was also one of them.
A day later, Pollack shared a video on Twitter thanking his supporters and acknowledging ESPN for letting him contribute to the network.
David Pollack Wife, Lindsey Pollack
David Pollack's wife, Lindsey Pollack, is a former preschool teacher at Duluth First United Methodist Church.
A native of Lilburn, Georgia, Lindsey studied early childhood education at the University of Georgia and the University of Cincinnati. Lindsey is available on Facebook and has shared several family pictures.
Lindsey might have crossed paths for the first time with David while they were students at the University of Georgia. The couple tied the knot in 2005, the year David was drafted by the Cincinnati Bengals in the NFL.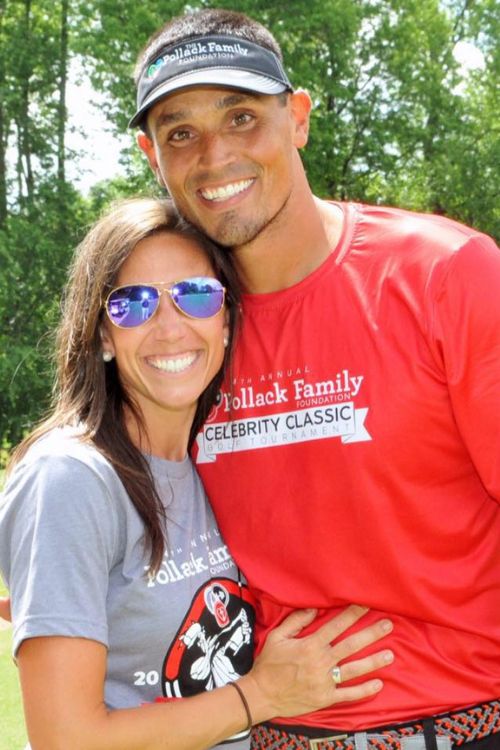 On their ninth wedding anniversary, David shared a picture of him and Lindsey and captioned the post, "My only girlfriend turned into my wife nine years ago today. Best decision I ever made. I love my Baby doll!"
The football couple is big when it comes to giving back to the community. They launched Pollack Family Foundation in 2016 to fight childhood obesity.
The Pollack Family Foundation partnered with two charities, the Children Healthcare of Atlanta Strong4Life movement and C.H.O.I.C.E.S.
Earlier this year, the foundation organized Celebrity Golf Classic, and its Instagram handle shared a couple of photos from the event.
David and Lindsey are religious and have connected their faith to the work they do in their community.
David And Lindsey Are Parents To Two Kids
The football-fanatic couple, David and Lindsey, experienced parenthood for the first time in 2008 with their son Nicholas.
Nicholas was born on August 3, 2008, and is currently 14 years old. The teenager is seen attending games with his family and was present at the SoFi stadium to watch the Georgia Bulldogs emerge victorious over TCU Horned Frogs.
Like his father, Nicholas has also shown interest in playing sports. He currently stars for the Generals Baseball Academy and has previously won a championship with his school's basketball team.
His sister, Leah, is in the same boat and loves playing softball. Leah was born on May 7, 2010, and is the Pollack family's youngest child.
David and Lindsey have already integrated their kids into the family foundation and are seen attending various charitable events with their parents.
The two were pictured along with their parents attending the 7th Annual Pollack Family Foundation Celebrity Golf Classic earlier this year in May.
The Georgia natives have cultivated a strong sibling bond for their kids.
In 2018, Lindsey shared a series of photos of Nicholas and Leah dressed as football players, with Nicholas repping the New York Giants jersey of Saquon Barkley.