Jeff Van Gundy is an American sports commentator currently signed with ESPN. He is also a former basketball coach of the New York Knicks and the Houston Rockets in the NBA.
He most notably guided the Knicks to the 1999 NBA Finals, although they fell short in the series against the Spurs.
The Hemet, California native, is the son of the former head coach Bill Van Gundy at Genesee Community College and SUNY Brockport.
Let's learn more about one of the most experienced basketball announcers in the game, Jeff Van Gundy.
Quick Facts
| | |
| --- | --- |
| Full Name | Jeffrey William Van Gundy |
| Known As | Jeff Van Gundy |
| Nickname | Jeff |
| Birthdate | January 19, 1962 |
| Age | 33 |
| Birthplace | Hemet, California, United States |
| Current Residence | Texas, United States |
| Father | Bill Van Gundy |
| Mother | Cindy Van Gundy |
| Siblings | Stan Van Gundy |
| Nationality | American |
| Marital Status | Kim Van Gundy |
| Children | Mattie Van Gundy, Grayson Van Gundy |
| Built | Large |
| Sexual Orientation | Straight |
| Eye Color | Dark Brown |
| Hair Color | Partly Bald (Black) |
| Height | 1.75 m/175 cm/5'9″ |
| Weight | 165 lbs./75 kg |
| Ethnicity | White American |
| Horoscope | Capricorn |
| Religion | Christianity (Apparent) |
| Profession | Commentator/Former NBA Coach |
| Education | Brockport Central, Yale University, Menlo College, Nazareth College |
| Association | ESPN |
| Active Career | 1985-2007 (Coaching Career) |
| Played For | Nazareth College |
| Net Worth | $16 Million |
| Salary | Approx. $1 Million |
| Social Media | Twitter |
| Last Update | June 2023 |
Early Life & Education
Early Life
Jeffrey William Van Gundy, also known as Jeff Van Gundy, is a former professional basketball player and coach. He was born on January 19, 1962, in Hemet, California.
Gundy grew up in Martinez, California. He comes from a basketball family as his father, Bill Van Gundy, was a former head coach at SUNY Brockport and Genesee Community College.
His elder brother, Stan Van Gundy, followed in their father's footsteps and became a successful head coach in the NBA, leading teams like the Miami Heat, Orlando Magic, and the New Orleans Pelicans.
Stan is also the former head coach and director of basketball operations for the Detroit Pistons.
Education
Jeff was a standout high school point guard in Martinez, California, earning All Greater Rochester honors twice while leading Brockport Central to the Class AA finals in 1979 and 1980.
He then played college basketball at Nazareth College, where he became an All-American and led the Golden Flyers to an NCAA Division III Tournament berth in 1984.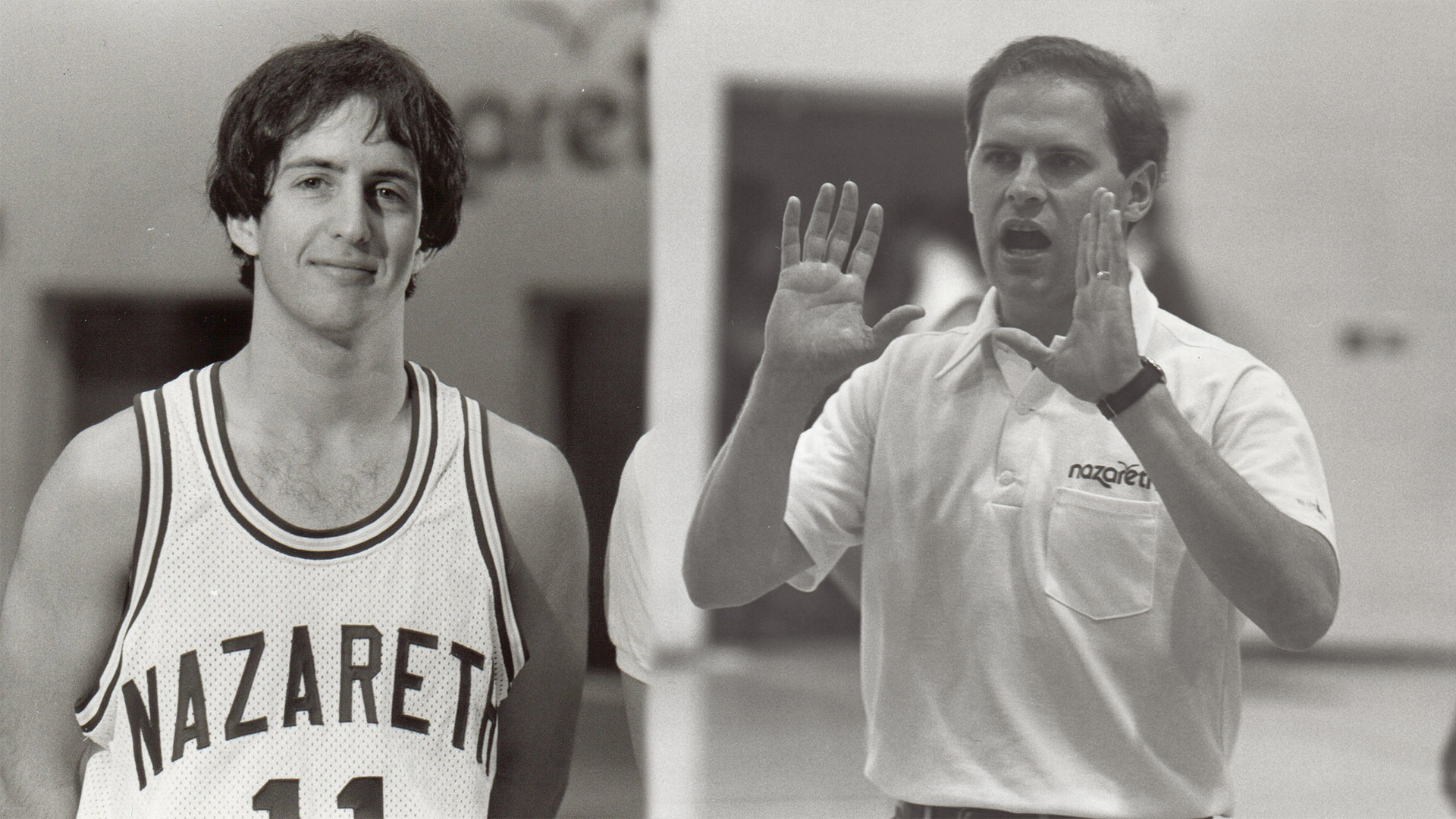 He still holds the Nazareth career record for free throw percentage, at an impressive 86.8%.
After attending Yale University briefly, Gundy transferred to Menlo College before finally graduating from Nazareth College in 1985.
Career
Gundy began coaching at McQuaid Jesuit High School in 1985 before becoming an assistant coach for the New York Knicks in 1989.
He eventually became the head coach of the Knicks in 1996 and then moved on to coach the Houston Rockets in 2003.
After being fired from the Rockets, he became a guest analyst for ESPN and has since become a regular broadcast member.
Van Gundy also coached the United States men's national basketball team at the 2017 FIBA AmeriCup and in the qualifiers for the 2019 FIBA World Cup in China.
Currently, he works as a color commentator with play-by-play announcers Mike Breen and Mark Jackson for ESPN's NBA Finals coverage.
Wife Kim Van Gundy
Jeff Van Gundy and his wife, Kim Van Gundy, have been together since they first met in high school in the early 1980s.
Despite Jeff's decision to transfer from Yale to Menlo Junior College as a college basketball player, Kim remained a supportive presence in his life.
They began dating and got married in 1990, residing in Westchester, New York.
The couple has two daughters, Mattie, and Grayson Van Gundy, and Jeff's love for his family is evident in his dedication to being a responsible and present father.
Daughters
Jeff Van Gundy's daughters prefer to keep a low profile despite their father's fame in the sports industry.
His eldest daughter, Mattie, is now 27 years old and has already graduated from the University of Georgia with a bachelor's degree in public relations.
Mattie started her professional career in 2014 as an office aide at the University of Georgia's men's basketball team and has since moved up the ranks to become a senior account executive at Interdependence Public Relations.
Although she did not follow in her father's footsteps in the sports industry, Mattie played basketball in her earlier years and has always been interested in sports.
Meanwhile, Grayson, Jeff's youngest daughter, is currently focusing on her academics.
Net Worth & Earnings
As of 2023, the former basketball coach and ESPN analyst Jeff Van Gundy has a net worth of $16 million.
He has garnered his wealth from his career as a head coach and as a sports analyst.
On June 10, 2003, Jeff Van Gundy was appointed the head coach of the Houston Rockets, succeeding Rudy Tomjanovich, who had coached the Rockets for 12 seasons.
Despite the lack of an official announcement regarding the deal's financial details, a source within the league disclosed that Jeff Van Gundy's contract with the Houston Rockets was worth $18 million over four years.
Moreover, Gundy is one of the most successful sports analysts in the nation. He has spent decades in the media industry, and with his level of experience, he might be making a fortune.
Van Gundy Persona
Jeff Van Gundy's broadcasting style has drawn criticism for his nostalgic longing for how basketball was played, prioritizing fewer 28-foot shots and better rebounding.
While he is generally perceived as genuine and honest, some have questioned his level of frankness as an NBA analyst.
However, in his departure from broadcasting, Van Gundy has expressed a desire to be more forthright in his analysis.
Unknown Facts About Jeff Van Gundy
Jeff Van Gundy is an executive board member of Pro-Vision Academy in Houston, a non-profit organization that provides educational, job-training, and mentoring services to children aged 10-18.
In 2011, Jeff Van Gundy was awarded an honorary degree of Doctor of Humane Letters by Nazareth College, his alma mater, during their 84th Annual Commencement Ceremony.
In 2005, Jeff Van Gundy was fined $100,000 by the NBA for claiming that the referees showed bias against Houston Rockets' center, Yao Ming. He accused Dallas Mavericks owner Mark Cuban of causing the prejudice, leading to the fine.
Frequently Asked Questions (FAQS)
Is Jeff Van Gundy in the Hall of Fame?
Jeff Van Gundy played for Nazareth College and played an instrumental role in helping his team secure the NCAA Division III Eastern Regional title in 1984. In 1996, he was inducted into the Nazareth College Sports Hall of Fame to honor his contribution to the college's sports legacy.
Does Jeff Van Gundy still work for ESPN?
In October 2021, Van Gundy agreed to a multi-year contract extension with ESPN. While he expressed a willingness to talk less per game, he stated that he would be happy to do so in exchange for a longer-term commitment from the network.