The German basketball player, Dennis Schroder has already made quite a name in basketball internationally. He currently plays for the Boston Celtics in the NBA.
Brought in 2013 as a mystery player from overseas, he has been a part of five different NBA clubs in over nine seasons. He played most games for Atlanta Hawks for five seasons.
Schroder plays in point guard position. He has an amazing ability to control the ball and ensure the ball reaches accurately to his teammates during the game. In addition, his fans remember him for his aggressive gameplay.
Starting initially from SG Braunschweig, he has made a tremendous leap from the second-tier German league to the NBA. However, the celebrity player has never had the opportunity to become an NBA champion in his nine-year career.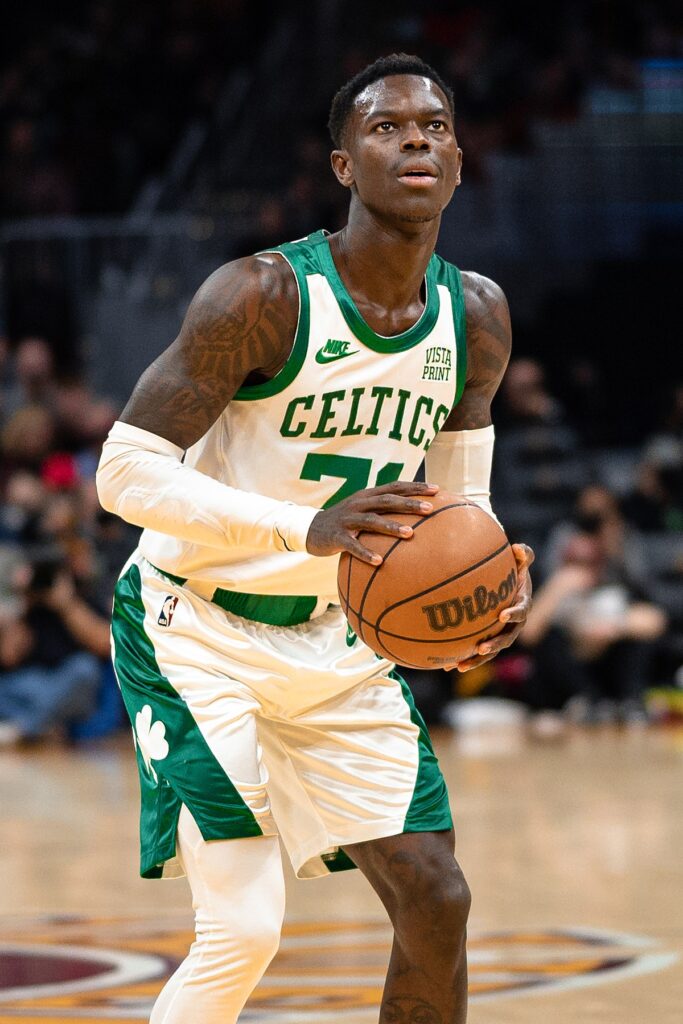 Apart from being a player, he owns his German hometown club Braunschweig that participates in Basketball Bundesliga (BBL), the country's top-level professional basketball league.
In his early years, Dennis was an average player. But over the past years, he has shocked almost everyone with his much-improved gameplay.
This article below will explore more about Dennis Schroder's life, career, wife, kids, and net worth.
But before moving into that, here are some quick facts that you might find interesting to discover.
Quick Facts
Full Name
Dennis Schroder
Date of Birth
September 15, 1993
Birth Place
Braunschweig, Germany
Nick Name
The Menace
Religion
Islam
Nationality
German
Ethnicity
German-Gambian/Mixed
Zodiac Sign
Virgo
Age

29

years old
Height
1.85 m (6 feet 1 inch)
Weight
172 lb (78 kg)
Hair Color
Black
Eye Color
Black
Build
Athletic
Father's Name
Axel Schroder
Mother's Name
Fatou Schroder
Siblings
A brother and a younger sister
Sibling's Name
Cheyassin Secka (brother), Sister's name unknown
Education
Not available
Marital Status
Married
Wife's Name
Ellen Ziolo (m 2019)
Kids
A son and a daughter
Kid's Name
Son- Dennis Schroder, Daughter- Imalia Aaliyah
Profession
Professional basketball player
Favorite Dish
Chicken Alfredo
NBA Draft
2013
Position
Point guard
League

The Basketball Bundesliga (2011- 2013)
NBA (2013- present)

Active Years
(2010–present)
Clubs He Played For

Phantom Braunschweig (2010-2013)
Atlanta Hawks (2013-2018)
Bakersfield Jam (2013)
Oklahoma City Thunder (2018-2020)
Los Angeles Lakers (2020-2021)
Boston Celtics (2021-Present)

Net Worth
$40 million
Currently Plays For
Boston Celtics
Career Highlights & Awards

BBL Best Improved Player (2013)
BBL Best German Young Player (2013)

Social Media
Instagram
Merch of Boston Celtics
T-shirt, Hoodie, Unisex Adult Beach Towel
Last Update

January, 2023
Early Life, Family & Education
On September 15, 1993, Dennis Alfredo was born in Braunschweig, Germany, to Fatou and Axel Schroder. His mother, Fatou, was from Gambia, Africa.
Schroder mostly roamed around in the city and nearby parks as a child. He grew up playing soccer and skateboarding. Coming from a country where basketball is unpopular, he only became acquainted with basketball at 11.
Around the same time, Liviu Calin, the head coach of the German National Basketball Team, introduced a youth program to attract young talents.
Fortunately, the coach had an eye on him. Not because he knew the sport, but he had an athletic physique. Schroder hopped in but was not initially interested in learning the game.
However, after his father died in 2009, Dennis changed his mind. He decided to make a career in basketball. As a result, he began to show up regularly in the training sessions.
Moreover, he has a brother and a younger sister.
Dennis Schroder | Career
Professional career
Dennis began his professional career in 2010. He debuted in the second-tier German league from Phantoms Braunschweig's farm team, SG Braunschweig.
He could not play well in his first season. However, he improved by averaging 17.8 points and 6.7 assists over 23 regular games in the second season.
<<12 Best Women's Basketball Coaches of All Time>>
Likewise, he played 30 games for Phantoms Braunschweig in the same season averaging 2.3 points and 0.8 rebounds in 8 minutes per game. His squad went in the playoffs, where he performed very well.
Dennis displayed his career-best performance in the 2012-13 season; his last German League season. He averaged 12 points, 3.2 assists, and 2.,5 rebounds in 25 minutes per game this season.
NBA Career
Dennis Schroder entered the NBA, debuting from Atlanta Hawks after the club picked him in the 2013 NBA draft. The 6ft 1 in tall athlete officially signed with the Hawks on July 11 of the same year.
However, Schroder could not get enough playing time with Shelvin Mack replacing him in the first season.
Soon after, he went with Bakersfield Jam to play NBA Development League. He finished his rookie season playing just 49 games for the Hawks.
Schroder played for the Hawks until the 2018 season, making numerous records, including his career-high 41 points in a 99-94 win over the Utah Jazz on March 20, 2018.
He joined Oklahoma City Thunder in 2018. After spending two seasons as the sixth man in the City Thunder, he transferred to the Los Angeles Lakers.
On December 22, 2020, he made a debut for the Lakers against the Loss Angeles Clippers. Unfortunately, they lost the match though he scored 14 points, 12 rebounds, and 8 assists.
During his time in the Lakers, Schroder missed many games, with his performance becoming inconsistent. Moreover, he rejected the club's offer of $84 million for four years contract extension, further upsetting them.
On August 13, 2021, he signed a one-year contract with Boston Celtics as a free agent for the new NBA season.
National Career
Dennis Schroder has played for the German National Team under-18 and represented German under-20 teams, apart from his club career.
Schroder made his debut for the senior German national basketball team against Finland.
Moreover, he helped Germany reach the quarterfinals at the Eurobasket 2017, scoring an average of 23.7 points per game.
<<<Jaylen Adams: College, Basketball, Girlfriend & Net Worth>>>
Age, Weight & Height
As of 2023, the popular athlete is 29 years of age.
Dennis Schroder has achieved so much at such a young age that even LeBron James has praised him for how he plays. The Lakers' star went on to call him "Dennis the Menace" in an interview in 2021.
The Muslim basketball player is tall and athletic. He stands at 1.85m (6 feet 1 inch) as an adult.
Dennis is a non-vegetarian. Currently, he weighs around 172 lb (78 kg).
Dennis Schroder | Wife & Kids
Dennis Schroder married his girlfriend, Ellen Ziolo, on July 20, 2019. They had known each other since their high school days. However, they began dating in 2017 and eventually decided to marry.
His wife was born on December 10, 1991. She is about 5 feet 9 inches tall.
The couple, at present, has two kids together. Ellen gave birth to a baby boy before their marriage on February 19, 2019. They have named him Dennis Schroder Jr.
Likewise, their daughter, Imalia Aaliyah, was born in the August of 2020.
Net Worth, Salary & Career Earnings
According to various sources, one of the most celebrated foreign players among the American NBA fans, his net worth is estimated to be around $40 million.
The point guard of the Boston Celtics mostly makes his earnings through league games. It is assumed that he makes about $15 million on average annually.
While he was in his prime around the 2020-21 season, the Lakers had offered him a good amount with four years extension in his contract with the club. But, the player turned it down and decided to leave, resulting in his loss.
While hoping to make it big, the player further lost his worth following the forgetful playoffs in 2021. However, Boston Celtics recently signed him on a one-year contract of $5.9 million, promising him a good salary.
<<<Becky Hammon: Husband, Partner, NBA & Salary>>>
There is no reliable information regarding his salary during his career in the German league. But, his estimated annual salary throughout his NBA career is known.
In his five different seasons with the Hawks, he had received different amounts increasing over the years. In his first season, he received about $1.3 million. The club offered him close to $1.7 million for his second and third seasons.
He was paid the highest sum of $2.7 million in his fourth season. However, his salary decreased to $1.5 million in the fifth season.
Besides, while at the Los Angeles Lakers and the City Thunders, the clubs offered him just around $1.5 million on average.
Apart from his career earnings, the player earned well through his merch sales.
Awards & Achievements
Although it has been over a decade since he started playing professional and national level basketball, unfortunately, he has not successfully delivered any trophy or league title for his teams.
However, he has achieved quite a lot as an individual, especially as someone from a culture where basketball is considered foreign. Here are his few achievements:
BBL Most Improved Player
BBL Best German Young Player
Dennis Schroder on Social Media
Even though Dennis is very fond of frequently appearing on media outlets and covers, he is not so active on social media.
However, he has an Instagram account with the username @ds_fg. The account has around 2 million followers as of Jan 2022.
He sometimes posts video clips and photos, mainly associated with his team, family members, vacations, and photoshoots.
The NBA official website has mentioned his Twitter account with the username @DennisMike93, but it is unavailable presently.
Frequently Asked Questions (FAQs)
Is Dennis Schroder hair a birthmark?
No, Dennis Schroder hair is not a birthmark. His mother, Fatou Schroder, suggested that he dye a blonde spot in his hair near the left temple to stand out. He did it upon leaving Germany for the United States.
What number does Dennis Schroder wear?
After transferring to the Boston Celtics, Dennis Schroder wanted to wear his old number 17. But, unfortunately, the Celtics had already retired that number. So, Dennis decided to let fans choose the number what number he should wear the entire season with the Celtics.
Eventually, his fans chose number 71. With this, he became the only fourth player in the history of the NBA to wear this number.
How did the Lakers get Dennis Schroder?
In exchange for Carmelo Anthony, the Lakers acquired Dennis after the 2017-18 season. However, the Lakers were ready to pay up for Dennis. He was supposed to be their starting point guard, but it did not happen.