On Saturday, Derek Lunsford accomplished a historic win by becoming the first-ever two-time Olympia division champion.
At the 2023 event held at the Orange County Convention Center in Orlando, Florida, Derek clinched the title Mr. Olympia.
Despite facing tough competition, Lunsford's exceptional performance secured him the top spot.
The championship was intense between Lunsford and the reigning champion, Hadi Choopan, known as "The Persian Wolf."
During the pre-judging round, Lunsford and Choopan emerged as the top finalists, setting the stage for a highly anticipated face-off.
In the final results, Lunsford claimed the first-place prize, while Choopan was awarded $150,000 for his excellent performance.
Along with his Mr. Olympia victory, Lunsford was also honored with the 2023 People's Olympia Champ award.
Following his remarkable performance, fans have shown increased interest in learning more about his personal and professional life.
This article provides an in-depth exploration of Lunsford's background and career.
Derek Lunsford Wikipedia And Age
Derek Lunsford was born on May 14th, 1993, in Indiana, and is currently 30 years old.
He grew up in Indiana, and from an early age, he displayed a competitive spirit, which he carried throughout his academic years.
His passion for physical activities during his school days served as a foundation for his successful career in bodybuilding.
Despite facing a setback due to the absence of a wrestling program in his college, he persevered by redirecting his athletic focus toward weightlifting.
Gradually, his dedication and hard work led him to embark on a bodybuilding journey, gradually sculpting his muscular physique.
In 2015, Derek Lunsford made his competitive debut at the NPC Indianapolis Championship, where he secured 1st place in the Men's Open Welterweight category.
Continuing his winning streak, Derek triumphed once again at the 2015 NPC Junior Nationals in the Men's Welterweight category, solidifying his position as a rising star in the bodybuilding realm.
In 2017, Derek's determination and hard work paid off as he claimed 1st place in the Men's Light Heavyweight category at the NPC USA Championships.
Mr Olympia's Height And Weight
Standing 167.5 cm, Derek is around 225-240 lbs, according to Fitness Volt. Moreover, the bodybuilder also has his own routine to maintain his physics.
He shared that it took him a long time to figure out his exact healthy routine and the most effective diet plan for his bodybuilding regimen.
Eventually, he settled on a meal frequency of every 2-3 hours, incorporating 50-60g of protein into each meal.
Among Lunsford's preferred food choices are chicken, egg whites, fish, egg yolks, almonds, avocado, coconut oil, rice, and mixed vegetables.
In terms of supplements, he specifically highlights the significance of multivitamins, amino acids, and whey protein in his regimen.
Is Mr Olympia 2023 Married?
Derek Lunsford, also known as Mr. Olympia, is a married man. He tied the knot with his beloved, Jhelsin Mabaga, in 2022.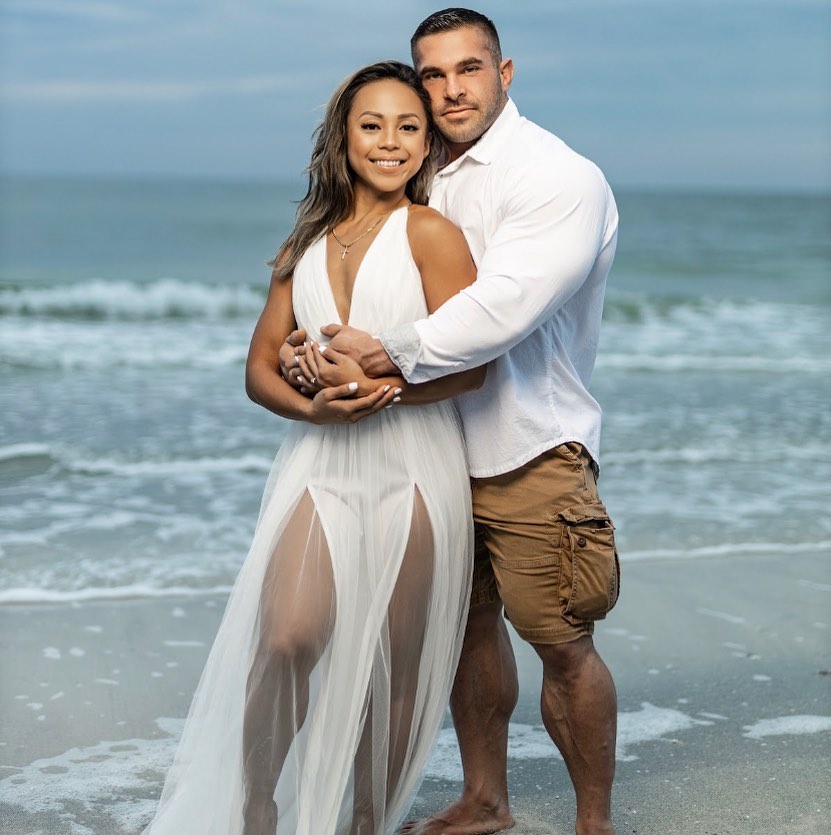 Jhelsin is a fitness trainer and coach who has a considerable following on her Instagram account. Additionally, Jhelsin frequently updates her lifestyle on her Instagram page.
The couple has been together for several years and is now expecting their first child very soon.
They shared a sonography picture of their baby and a picture of them enjoying their time at the beach.