Even if you are not a fan of basketball, there is no way that you would not have heard of the phenomenon known as Derrick Rose. For those who don't know, Rose is an American professional basketball player for the Detroit Pistons of the National Basketball Association (NBA).
However, Rose isn't just an ordinary basketball player; he was born into the game and has achieved indisputable success throughout his career. Adding to that, he was the youngest player to win the NBA Most Valuable Player Award in 2011 at age 22.
Having faced success since such a young age, Rose has made himself one of the best basketball players in the NBA currently. So without wasting any more time, let's look at what Derrick has achieved until now, along with his age, height, family, net worth, endorsements, salary, wife, kids, and many more.
Firstly let's have a look at his quick facts!
Quick Facts
Full Name
Derrick Martell Rose
Birth Date
October 4, 1988
Age
32 Years Old
Birth Place
Englewood, Chicago, Illinois, USA
Nick Name
Rose
Religion
Christianity
Nationality
American
Ethnicity
Mixed (African-American)
Education
Simeon Career Academy

The University of Memphis

Horoscope
Libra
Father's Name
Under Review
Mother's Name
Brenda Rose
Siblings
Dwayne Rose

Reggie Rose

Allan Rose

Height
6′ 3 (1.91 m)
Weight
86kg (189 lbs)
Hair Color
Brown
Eye Color
Black
Body Measurement
40-30-35 (chest-waist-hips)
Build
Athletic
Married
Yes
Wife
Alaina Anderson
Children
Derrick Rose, Jr.

Layla Malibu Rose

London Marley Rose

Profession
Basketball player
Net Worth
$85 million
Salary
$7,500,000
Affiliations
NBA
Active Since
2011
Social Media
Twitter, Instagram, Facebook
Merch
Poster, Jersey & Shoes
Last Update
2021
Derrick Rose Wiki-Bio | Early Life, Education, & Parents
Derrick Rose was born as Derrick Martell Rose in Englewood, Chicago, Illinois, USA. He was raised by a single and loving mother, Brenda Rose.
Likewise, Rose grew up with his three siblings Dwayne Rose, Reggie Rose, and Allan Rose. All three siblings were talented basketball players and used to coach Rose on nearby courts about the basketball's ins and outs when he was young. Not to mention, he was the youngest among his siblings.
Growing up, his interest and passion for basketball also started growing. In 2003, he enrolled at Simeon Career Academy, where his talent began to attract much more outside attention in Chicago's basketball circles.
Moreover, by the eighth grade, his talent as a basketball player was readily apparent. He was known as one of the country's best high school players resulting in numerous wins and awards.
Notably, Rose was also ranked as the nation's best high school point guard in his senior season, averaging 25.2 points per game. Likewise, he also helped his team, The Simeon Wolverines, win the 2006 Chicago Public League championship.
That same year, the Chicago Tribune named Rose 2007 Illinois Mr. Basketball. Similarly, Rose also got ranked as the nation's fifth-best prospect by the famous magazine Sports Illustrated.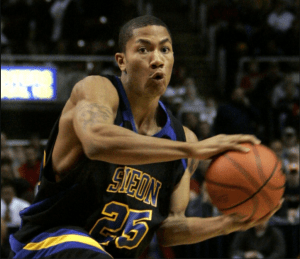 After a successful school career, several college coaches approached him due to his popularity and proficient skills. In the end, Rose decided to enroll at the University of Memphis, located in Memphis, Tennessee. While there, just in a little time, he left his mark on the college game with his outstanding playing skills.
If you are interested in buying Basketball jerseys, click here>>
In his lone year, he represented his basketball team Memphis Tigers and led them to 38 wins, which was the most in NCAA history and the 2008 national championship game.
Have you heard about Derrick Rose's Grading controversy? If not, it's fascinating.
According to the University of Memphis' legal counsel Sheri Lipman, after a month of the loss to Kansas, the NCAA sent a letter to the college stating that Rose had "an invalidated standardized test score the previous year at Chicago's Simeon High School."
Likewise, the next January, the NCAA sent another letter, charging Memphis that Rose had someone else take his SAT for him to be eligible to play at Memphis. After such charges from NCAA, Memphis started its investigation.
While investigating, it was found that Rose failed the ACT three times in Chicago, then mysteriously passed the SAT in Detroit. Likewise, Rose also claimed that he took the test but didn't remember his score.
Moreover, while NCAA was investigating the issue and attempted to contact Rose twice to validate his identity, he didn't respond. After accusations started to swirl, he denied multiple times to the national media, saying,
"I know I took the test. I took it. That's for sure."
Subsequently, after that, a handwriting expert was hired for the investigation. After investigating the handwriting, the expert claimed the writing on the test probably isn't Rose's. But, if he said he took the test, he must have, right?. At the same time, Memphis was also unable to find any evidence that Rose had cheated.
After that, Rose statement was issued through his attorney where he said,
"It is satisfying to see that the NCAA could find no wrongdoing on my part in their ruling. People need to understand that I complied with everything asked of me while at the university, including my full cooperation in the university's investigation of this issue, and was ultimately cleared to play in the entire 2007-08 season by the NCAA Clearinghouse and the university. I look forward to putting this behind me."
Further, on August 20, 2009, the NCAA vacated Memphis 2007–08 season, and Derrick donated to the scholarship fund and settled out of court.
How old is Derrick Rose? Age and Height
Having born in the year 1988 makes Derrick 30 years old at the time of writing. Similarly, he celebrates his birthday every year on the 4th of October under the sign of Libra. Also, this sign is known for being brave, confident, and passionate.
Besides, it is not only his personality that catches attention. Being a player, Rose also has a broad and impressive physique, measuring 40-inches of the chest, 30-inches of the waist, and 35-inches of hips.
Similarly, he stands at a towering height of 6 feet 3 inches(190 cm) and weighs 86 kg (189 lb). Along with that, Rose has brown hair and black eyes that give him an intimidating aura.
Derrick Rose | Professional Career
Rose began his professional basketball career after getting selected with the first overall pick in the 2008 draft by the Chicago Bulls. There, he went on to win Rookie of the Month honors for November and December and was later named to the NBA All-Rookie First Team in addition to being the Rookie of the Year.
In the sophomore season, Derrick continued with his form on the field and recorded his first career triple-double with 22 points, ten rebounds, and 12 assists in a 96–84 win over the Memphis Grizzlies. Likewise, at the season's end, Rose became only the third player since the 1972–73 NBA season to record 2,000 points and 600 assists in a single season.
Moreover, that season Rose also got named as the NBA Most Valuable Player becoming the youngest player to receive the award in NBA history. In the 2011 season in the playoffs, Rose played against the Philadelphia 76ers but was left with an injured left knee.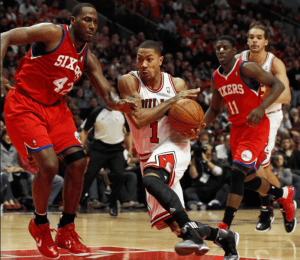 Likewise, he missed all the 2012-2013 whole year NBA season due to his injuries. However, he later returned on October 5, 2013, in a pre-season game against the Indiana Pacers and scored his first point in the first quarter.
Unfortunately, on November 22, Rose again injured his right knee during a game against the Portland Trail Blazers and could not compete in the playoffs. But, Rose later returned on October 29, 2014, and continued his stellar performance, recording 13 points and five assists in 21 minutes of action in the Bulls' season opener against the New York Knicks.
During the 2015-2016 season, Rose had a season-best game with 30 points, nine rebounds, and eight assists in a 115–110 loss to the Denver Nuggets. After, that Rose's journey with the Bulls came to an end, and he was traded to the New York Knicks.
Furthermore, Rose made his first debut for the Knicks in the team's season opener on October 25 against the Cleveland Cavaliers. Later, Rose again got injured and was ruled out for the rest of the season.
After three months later, Rose signed with the Minnesota Timberwolves. Likewise, in Rose's first start of the season, he scored a career-high 50 points in a 128–125 win over the Utah Jazz and secured the victory with a block on Utah's final shot as time expired.
Later, on July 7, 2019, Derrick signed with the Detroit Pistons, becoming the first player in Pistons history to record seven consecutive more than 20 point games as a reserve, with a career-high 14-game streak of scoring 20 points or more.
Unfortunately, his streak ended after suffering a groin injury during a game with the Denver Nuggets. After returning from injury in his third game, Rose scored a season-high 31 points en route to a win against the Phoenix Suns.
Derrick Rose Injuries
Derrick Rose is one such basketball player whose professional career has been crippled by a series of injuries. During his first game in the postseason, Derrick went down with a severe knee injury that led him to miss the remainder of the playoffs and all of the 2012-13 season.
Even after returning to action at the start of the 2013-14 season, Derrick lasted in just ten games and sadly tore his right knee meniscus. Due to which he later got knocked out for getting injured a significant time the following season.
After that, he remained healthy enough to play in 66 out of 82 games in 2015-16. However, Rose missed most of the 2017 season due to a right foot injury and sprained left ankle. Later, he ended that season with another torn meniscus.
Derrick Rose | Personal life and Wife
Derrick has had a very successful career as a basketball player. However, it has been somewhat chequered when it comes to his personal life and not so straight-forward.
Rose was previously in a relationship with Mieka Reese, whom he was dating for a long time. Likewise, the couple has a child named Derrick Rose Jr. (nicknamed Pooh – PJ for short), who was born on October 9, 2012. But after a year later, in 2013, Derrick and Mieka broke up.
Later, Mieka announced their separation news in a message posting on Instagram saying,
"Derrick and I are not in a relationship anymore, but our friendship will always be there and will continue to grow. Even if our only purpose in life was to create our son, I'm OK with that. My son is the greatest gift I could've asked for: he is now the center of my life, and Derrick and I work together to co-parent for him.
Besides, Mieka, he also dated Marisa Miller and Dana Lambert. But none of his relationships was working well and was cut short before seeing the light of the day.
After that, he started dating Alaina Anderson, a fitness and fashion influencer. Sadly, they have not talked much about their relationship beginning, but estimations have been made that the couple started dating in 2016.
Moreover, after dating for a couple of years, the couple tied the knot secretly in February 2018. Likewise, they welcomed their first child, a baby girl, Layla Malibu Rose, on March 6, 2018. Furthermore, their second child, a baby boy, London Marley Rose, was born in July 2019.
Amid many controversies and past relationships, Derrick is currently living a blissful life with his family and enjoying his married life.
How much is Derrick Rose worth? Networth and Income
From his school days, Rose had a successful basketball career and had an even brighter one later. Along with popularity and recognition as fruits of his success, he has also gained a large bank balance.
The self-made millionaire currently possesses a whopping net worth of $85 million. Likewise, he has accrued such eye-watering net worth mainly through his playing career as a professional basketball player.
Furthermore, he is currently earning the Veteran Minimum NBA salary of $2.1 million. Through his NBA career, Rose has already amassed $147.8 million in money. Not to mention he was ranked 22nd in the Forbes list of The World's Highest paid athletes in 2017.
Another source of income for Derrick is the lucrative contracts he has scored with the various sides that he has played. He signed a five year $94 million contract extension with the Chicago Bulls in his senior season.
In the 2016-17 season, the final year of his contract, he made $18.8 million; after that, the Bulls traded him to the New York Knicks. Not to mention, Rose also used to earn upto $21.3 million from salary and winnings after getting transferred to the Cleveland Cavaliers.
Endorsements
Aside from his earnings from salary and contacts, Derrick's net worth has also come from endorsements with several top brands. According to reports, Rose earns around $13 million from his endorsements.
Moreover, he signed a 13-year shoe deal with Adidas for a massive $185 million in 2012, which doesn't end until 2024. And that's from Adidas alone. It doesn't count his other endorsement deals with Skullcandy headphones, Force Factor sports drinks, Powerade, and a suburban Chicago Nissan dealership.
Similarly, Rose is also a part-owner of Chicago-based Giordano's Pizzeria. He has amassed a hefty amount through his hard work and dedication and is undoubtedly living a lavish life.
Social Media Presence
Derrick Rose is quite active on social media. Apart from the fortunes and fame he has collected, he has also successfully assembled millions of followers in his social account.
Take some time to figure out who you are and whats your purpose. Never thought this 22 ounce ball would allow me to travel the WORLD and set a STANDARD for my family. Fearless+belief+sacrifice = what ever the fuck you want lol. pic.twitter.com/6W6eg4vHkT

— Derrick Rose (@drose) May 12, 2020
Moreover, Rose mostly uses Twitter and Instagram to communicate with his fans and followers. On Twitter, he is available as @drose and has 2.6M followers. After joining the site in June 2012, Rose has tweeted around 91 times until now.
Likewise, he is available on Instagram as @drose and has collected 1.5million followers on the site. Besides, he also possesses a Facebook account, which currently has 11,260,148 followers.
Some FAQs:
Who is the youngest MVP in NBA history?
Derrick Rose was named the youngest MVP in NBA history at the age of only 22.
Can Derrick Rose dunk?
Yes, Derrick Rose is considered one of the best dunking point guards in the league and one of the NBA's best athletes.
What position does Derrick Rose play as a basketball player?
Derrick Rose plays in the point guard and shooting guard position as a professional basketball player.
What if Derrick Rose was never injured?
If Derrick Rose never got injured, he would not have to miss any season and playoffs, and he would also win several championships.