Desmond Bane is an American basketball professional who dons the Memphis Grizzlies' jersey at the NBA.
Bane has not had a long career in the league as of now. However, he is considered one of the finest long-term NBA prospects by NBA pundits.
He has also shown flair in just a few seasons in the NBA. It has earned him some prestigious awards and honors in the league.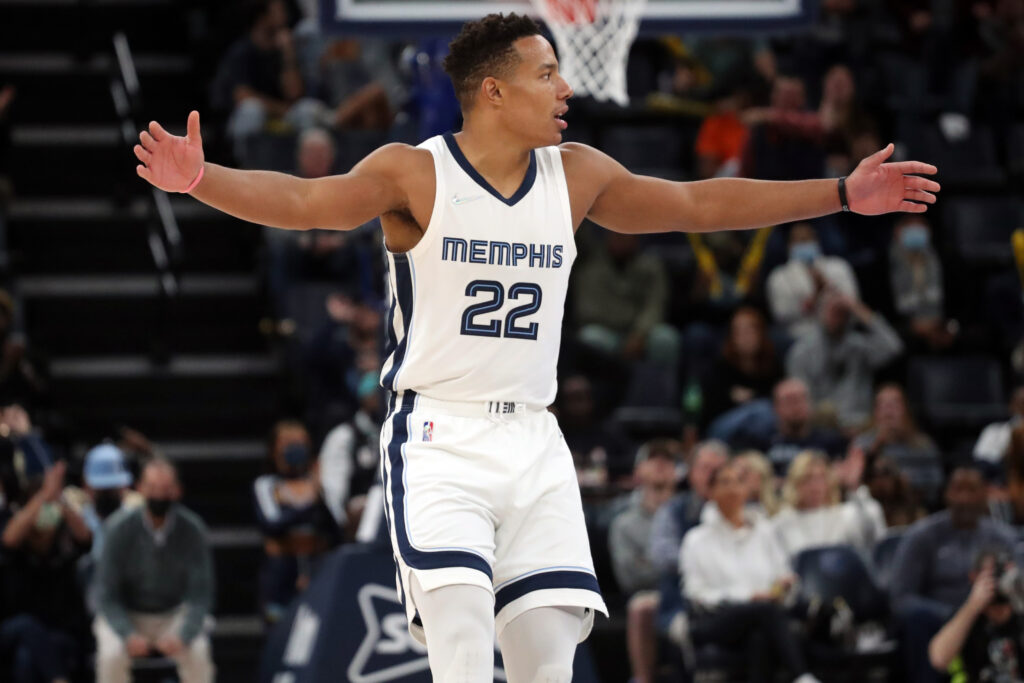 This article will disclose some basic details about the NBA celebrity— from his professional career to his personal life and net worth.
Without any delay, let's look at some of the quick facts about Desmond Bane.
Quick Facts
| | |
| --- | --- |
| Full Name | Desmond Michael Bane |
| Known As | Desmond Bane |
| Birth Date | June 25, 1998 |
| Birth Place | Richmond, Indiana |
| Father's Name | Etieno Ekiko |
| Mother's Name | Marissa Bane |
| Siblings | 1 (Sister) |
| High School | Seton Catholic (Richmond, Indiana) |
| College | Texas Christian University (TCU) |
| Nationality | American |
| Zodiac Sign | Cancer |
| Age | 24 years old |
| Height | 6 feet 5 inches (1.96 m) |
| Weight | 215 lbs (98 kg) |
| Body Type | Athletic |
| Profession | Basketball Player |
| Position | Shooting Guard/Small Forward |
| Current Team | Memphis Grizzlies |
| Draft | 2020 NBA Draft (Round 1: 30th pick) |
| Active Years | 2020-present |
| Marital Status | Unmarried |
| Spouse | N/A |
| Children | N/A |
| Net Worth | $9 million |
| Social Media | Twitter, Instagram |
| Merch | Funko Pop (Memphis Grizzlies) |
| Last Update | January, 2023 |
Desmond Bane's Recent Contribution Against the Wolves
Desmond Bane had a great outing against the Minnesota Timberwolves on Thursday night.
Bane scored 21 points, helping the Memphis Grizzlies to their 11th straight win.
Jaren Jackson Jr. scored 20 points alongside Desmond Bane's 21 points in the 116-108 win over the Wolves. Their scintillating performances helped the Grizzlies pull away an emphatic final-minute win.
Anthony Edwards and D'Angelo Russell helped counter Bane's performance by scoring 30 points and 29 points from the Timberwolves side.
Bane's performance has been a piece of trending news currently.
Desmond Bane: Early Life
Desmond Michael Bane, famously known as Desmond Bane, was born on June 25, 1998, in Richmond, Indiana.
Bane, in his childhood, was successful in baseball rather than basketball. He also focused on baseball until his 8th grade.
Besides these, he also played football and soccer at a youth level.
Desmond attended the Seton Catholic High School in Richmond, Indiana. He played high school basketball for the same. Seton Catholic is a small private school.
Josh Jurgens coached him. Jurgens was the same coach who trained Bane in the third grade.
In his senior year, Bane averaged 30 points, 11.5 rebounds, and 6.1 assists per game. It was a state high season point.
Bane became better and better in his upcoming matches. He scored 62 points against Lincoln Senior High School. It is a school record for the Selton Catholic. Bane, in his 62 points, scored 9 three-pointers.
High School Prominence
Desmond was awarded the Most Valuable Player (MVP) in the Wettig Memorial Holiday Tournament. In his four-year career for the Seton Catholic, he scored 1,991 points.
With this, he surpassed Woody Austin's 1,988 points for the most in Wayne County history.
In 2016, Desmond decided to play college basketball for Texas Christian University.
College & Beyond
Desmond made notable performances in the TCU soon after his entry. He was honored with the Big 12 Newcomer of the Week too. He received this courtesy of his decent outing against the Bradley.
Bane scored 18 points and had seven rebounds against the same.
He became a famous basketball player at TCU after his performance against first-ranked Kansas.
He scored 16 points, including three free throws, with just 2 seconds remaining. And TCU eventually defeated the top contenders, Kansas, in the Phillips 66 Big 12 Championship quarterfinals.
In his first year at TCU, Bane contributed to TCU's win in the NIT. He scored 9 points in the title game against Georgia Tech.
Bane was a starter in 13 games in his freshman career. And he averaged 7.1 points and 2.9 rebounds per game. He scored his season-high 27 points against Iowa State.
In his sophomore year, Desmond Bane again had a decent season. He averaged 12.5 points and 4.1 rebounds per game. He was also the Leader in the percentage chart with 47.2 % of 3-point percentages.
College Success
Bane scored a career-high of 34 points against Texas in the regular-season finale in his junior year. He also scored 30 points against Nebraska in the second round of NIT.
Desmond was named to the All-Big 12 Second Team.
He also had brilliant numbers at the end of the season. He averaged 15.2 points, 5.7 rebounds, and 42.5 % shots from behind the arc.
Desmond was named the All-Big 12 First Team in his senior year. He had even better numbers this season. He averaged 16.6 points, 6.3 rebounds, and 44.2 % 3-point percentage.
Desmond Bane was named the Big 12 Player of the Week in March 2020.
Follow up on Stephen Curry's Bio: Early Life, Wife, Career & Net worth >>
Desmond Bane: Professional Career
From the start of his NBA career, Desmond Bane has starred for the Memphis Grizzlies.
He was selected in the 2020 NBA draft in the first round of the draft by the Boston Celtics. He eventually became the 30th overall pick in the draft.
With this pick, he became the first TCU player in the first round since 1995. He was traded to the Grizzlies.
The Memphis Grizzlies announced on November 2020 that they had signed Desmond Bane.
Desmond Bane had a wonderful outing in his rookie season. He was eventually selected to the All-Rookie Second Team after the season.
He also had the highest 3-point field goal percentage in a rookie season (150 attempts minimum) since Stephen Curry.
In Grizzlies' franchise history, the 6 feet 5 inches Bane is the all-time Leader in 3-point field goal percentages.
What was up between LeBron James and Desmond Bane?
On January 9, in a Sunday match between the Lakers and Grizzlies, Desmond had a heated exchange with Lakers legend Lebron James.
James got frustrated with Bane and Memphis talking too much in a Memphis' 127-119 victory.
Please read our article on Ricky Rubio: Facts, Injury, Family & Net Worth >>
Desmond Bane: Personal Life
Much is unknown about Desmond Bane's marital status or children.
However, reports suggest that the NBA celebrity is unmarried as of now. And is not dating anyone currently.
Family & Siblings
Desmond Bane spent much of his childhood with his mother, Marissa Bane, and his sister. Details about his sister are unknown to the general public.
At just two years of age, Bane had to move around a lot. He spent his early childhood with his great-grandparents in Richmond, Indiana. Richmond is a populous and beautiful city in Indiana.
Bane, aged 13, found out that his Father, Etieno Ekiko, lived in Nigeria.
Desmond Bane: Net Worth
Reports suggest that Desmond Bane's net worth is around $9 million, per salarysport.com.
Despite his short career in the United States' top basketball league, his performances have helped him earn this whopping income.
Bane's contract with the Grizzlies greatly influences the amount. More details about his contract are placed below. It is, therefore, obvious that he can spend heavily on luxurious deals.
Contract
Desmond Bane has a contract with the Memphis Grizzlies in the NBA. The agreement guarantees him a minimum salary of $3,969,600. Moreover, it ensures an average annual wage of over $2 million.
Bane, therefore, will earn an annual wage of $2.3 million in the 2021-2022 season.
Discover Kobe Bryant's Net Worth: Stats, House, Cars, Lifestyle, Kids & Death >>
Awards & Achievements
The below mentioned are Desmond Bane's career highlights, awards, and achievements.
2021 NBA All-Rookie Second Team
— Desmond Bane (@DBane0625) June 18, 2021
2020 First-team All-Big 12
2019 Second-team All-Big 12
Social Media Presence
To follow the Grizzlies' shooting guard on social media platforms, click on the links below.
(Reminder: The followers listed below are as of Jan 2022)
Please read our article on the Top 12 Best Teams in NBA History >>
Frequently Asked Questions (FAQs)
What is Desmond Bane's career high?
Desmond Bane's career-high is 29 points. He achieved this on the 5th of December 2021 against the Dallas Mavericks. He also had nine rebounds in the game.
What is Desmond Bane's jersey number at the Memphis Grizzlies?
Desmond Bane's jersey number is 22 at the Memphis Grizzlies.
Has Desmond Bane won an NBA Championship?
No. Desmond has not won an NBA Championship as of now.
In how many NBA teams have Desmond Bane starred?
The 6 feet 5 inches basketballer has starred in only a single team in the NBA. It is the Memphis Grizzlies.