Marcus Smart brothers share a very close bond with each other. His eldest brother Todd Westbrook (deceased), was like a father figure to him.
Marcus Osmond Smart, also known as "The Cobra," is a professional basketball player for the Boston Celtics of the National Basketball Association (NBA).
Born on March 6, 1994, in Flower Mound, Texas, United States, he represented the Oklahoma State Cowboys in college basketball.
The Celtics selected Smart as the sixth overall choice in the 2014 NBA Draft. He started games off the bench for the Celtics at first until taking over as the starting five in 2021.
He was named the 2021–22 NBA Defensive Player of the Year, making him only the sixth guard in NBA history to receive the honor.
Smart has also been named to the NBA All-Defensive First Team three times and is a two-time NBA Hustle Award winner, winning it in 2019 and 2022. He helped the Celtics reach the NBA Finals in 2022.
In addition, Smart has earned three selections to the NBA All-Defensive First Team. In 2022, he assisted the Celtics in getting to the NBA Finals.
Marcus Smart Brothers
Marcus Smart was born to Billy Frank Smart and Camellia Smart (deceased) on March 6, 1994. He had a challenging upbringing in Flower Mound, Texas, marked by suffering and loss.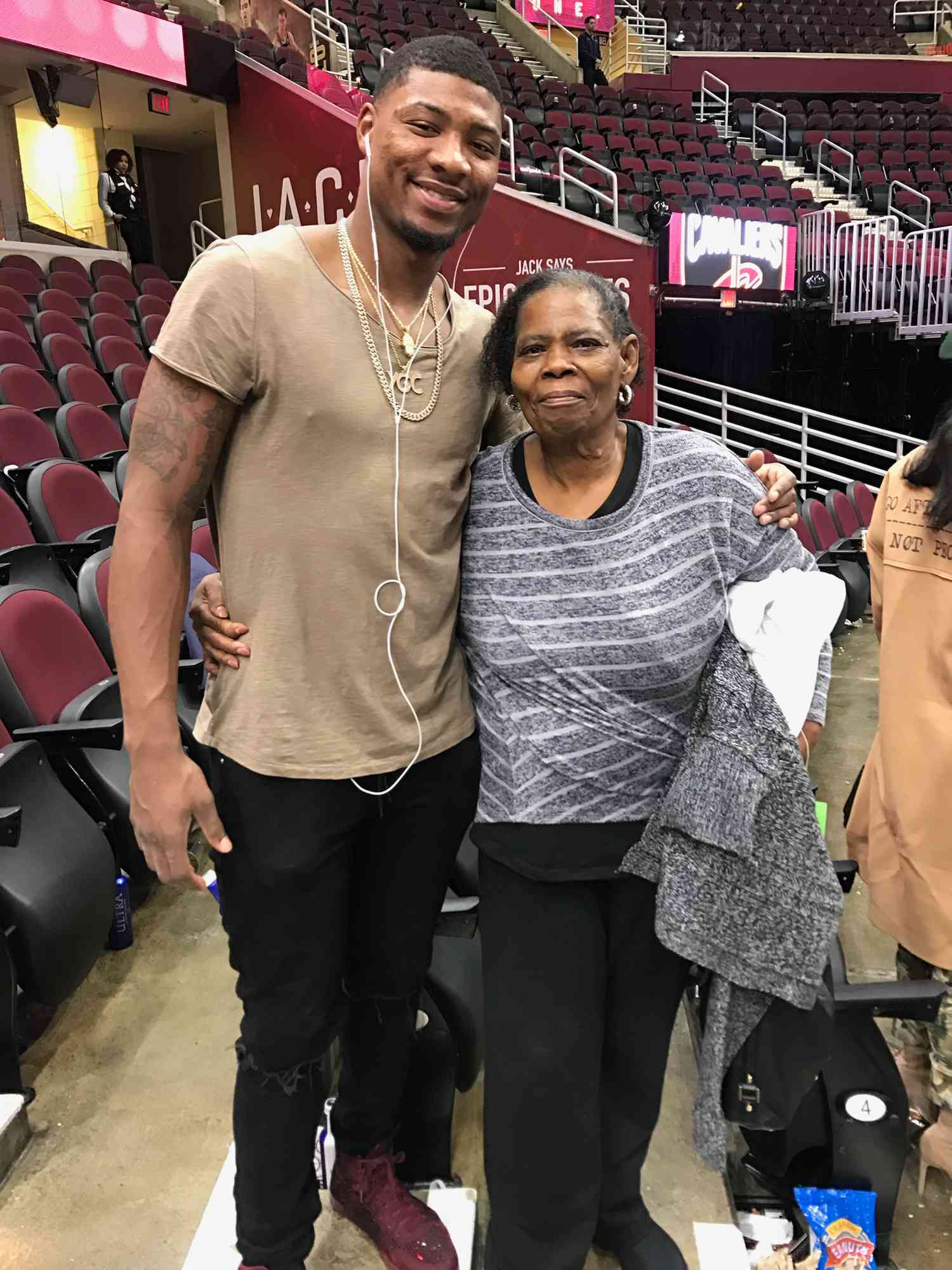 Smart has two brothers, a biological brother named Michael Smart and a half-brother named Jeff Westbrook.
He also had one eldest half-brother Todd Westbrook, who tragically passed away when Marcus was only nine years old. He does not have any sisters.
Despite the age gap between the boys, the entire family is very close-knit. Todd and Jeff Westbrook are decades older than Marcus and played the role of a second father.
Todd Westbrook
A devastating but memorable episode of Smart's childhood was when his brother, Todd, who was a talented basketball player, died at the age of 33. Marcus was 9 years of age at that time.
Doctors discovered a tumor behind Todd's eye when he was 15 years old. Despite that, he seemed unfazed and continued to be the big brother they could look up to.
Marcus learned to shave, shake hands, and do other things from him. Even when his condition worsened, and the illness crept to his lungs and stomach, he spent a lot of time with him.
Todd died in January 2004 after battling cancer for 18 years.
He is a huge motivation for Marcus to keep fighting even when the odds are against him. He never gives up because Todd never gave up.
Michael Smart
Along with having a tough childhood, Marcus often felt angry as a teen. A huge part of it was because when Smart had barely hit puberty, his brother Michael Smart went down a dark path.
Michael was a brilliant basketball player during high school. However, as he grew older, he began to spend time with the Bloods street gang, selling drugs, particularly crack and pimping.
Marcus would frequently try to persuade him to leave that realm and would stay up all night to ensure his brother arrived home safely.
"I was growing up around it. I was seeing it. I was seeing his pain. I didn't like what he was doing, but he was still my brother and I loved him. You see that stuff on the news and play the games, and it's like a video game. When you see it in front of you, it's terrifying."
There was one instance when Michael was hospitalized over his cocaine use; he almost died.
There was so much cocaine in his system that he could have been dead. All this made Marcus's childhood difficult, resulting in him often feeling angry and lost.
After all this, the family moved to a suburb of Dallas named Flower Mound, far from the violence.
Michael stopped selling drugs and started working at a warehouse. Marcus also had to take anger management classes.
He says that without his parents and brothers, he himself would have been dead or in prison.