Earl Clark (Earl Rashad Clark) is an American professional basketball player in NBA. He is the power forward of the NBA G League, Sioux Falls Skyforce.
Clark has played basketball since his high school days. He was a college basketball star drafted into the NBA by the Phoenix Suns in 2009.
Clark is extremely versatile, with a volcano of energy inside him. He can move around the court with seamless effort.
Read this article to learn more about Earl Clark. In addition, this article discusses his early life, career, net worth, and many more.
Now, let's look through some of the quick facts.
Quick Facts
Full Name
Earl Rashad Clark
Known As
Earl Clark
Birthdate
January 17, 1988
Birthplace
Plainfield, New Jersey
Nationality
American
Religion
Christianity

Horoscope
Capricon
Age

35 years old

Father's Name
Larry Clark
Mother's Name
Brenda Clark
Sibling
2
Sibling's Name
Fanisha and Steven
Education
Rahway High School, Rahway, New Jersey
Relationship Status
Married
Spouse
Meghan Clark
Children
Two
Height
6ft 9 in (2.06m)
Weight
234 lb (106 kg)
Build
Athletic

Eye Color
Black
Hair Color
Black

Profession
Professional Basketball Player

Position
Power Forward
Playing Career
2009-Present
NBA Draft
2009 Round: 1 / Pick: 14th Overall
League
NBA G League
Career Highlights and Awards

Montenegrin League champion (2019)
Montenegrin Cup winner (2019)
Turkish League All-Star (2017)
McDonald's All-American (2006)
Fourth-team Parade All-American (2006)

Salary
$57,711
Net Worth
$10 million
Social Media Handles
Instagram
Merch
Rookie Card
Last Updated

March, 2023
Earl Clark: Early Life, Family & Education
On January 17, 1988, Earl Rashad Clark was born in Plainfield, New Jersey. His ethnicity is African-American.
His parents are Larry Clark and Brenda Clark. He has two older siblings, Fanisha and Steven.
Clark went to Rahway High School in Rahway, New Jersey. The athlete played basketball in his high school days.
The African-American player played in Louisville Cardinals for Louisville University and was eventually drafted into NBA.
Earl Clark: Age, Height & Weight
Earl Clark is 35 years old. He stands tall with an amazing 6ft 9in (2.06m) height and weighs 234 lb (106 kg).
The perfect combination of height and weight helps Clark play diligently in the game and score for the team.
Earl Clark: Career
High School Career
Clark went to Rahway High School in Rahway, New Jersey. He recorded 1245 points in his high school career.
Clark had 25.2 points, 13.2 rebounds, and 5 assists per game in their senior season.
In 2006, Clark won the title of McDonald's All-American and a fourth-team Parade All-American. Rivals.com ranked Clark as the 8 player in the small forward position and 22 in the nation.
College Career
Clark played in Louisville Cardinals for Louisville University in his first year. The team won 8 games and also entered NCAA Tournament.
In the 2007 NCAA Tournament, Clark recorded 12 points, 4 rebounds, and 4 steals against Standford.
Clark returned to the University for the 2008-2009 season, leaving NBA Draft. He led the team to victory and helped to earn its first-ever no 1 in the 2008-2009 season.
Read this article about Aaron Gordon: Career, NBA & Net Worth!
Professional Career
Initial Years in NBA
In junior season, Clark announced to leave senior season to enter the 2009 NBA draft. On April 4, 2009, Clark signed with Phoenix Suns in the NBA Draft. He scored a three-pointer on January 28, 2010.
Clark joined Iowa Energy on March 15, 2010, with an average of 2.7 points, 1.1 rebounds, and 7.6 minutes per game. He played a total of 45 games.
On December 18, 2010, Clark was sent to the Orlando Magic. The deal was $3 million. He scored 14 points and 11 rebounds, his first career high on April 16, 2012.
Clark entered a one-year deal with Zhejiang Lions in China in August 2011. He left after one month and returned to the Orlando Magic.
On August 10, 2012, Clark was exchanged for the Los Angeles Lakers.
Clark scored 22 points, and 13 rebounds against the San Antonio Spurs on January 9, 2013. He replaced his seniors in the team and got extended gameplay.
The coach praised Clark for his phenomenal performances. In addition, his scores were highly appreciated by the team.
Clark played more than six games and scored above 10 points and rebounds. He was given the starting position in the game. However, there were limited opportunities for Clark. He had not had much gameplay in the season.
In March 2013, Clark left Los Angeles Lakers. Then, on July 12, 2013, Clark was selected by the Cleveland Cavaliers.
Clark was exchanged to the Philadelphia 76ers on February 20, 2014. The 76ers picked him for the next 2 rounds and were relinquished the next day.
From 2014 – Mid 2016
Clark entered a 10-day deal with the New York Knicks on February 27, 2014. On March 20, he extended his stay another 10 days in his contract. After ten days, Clark was relinquished from the team.
The 6'9″ tall player joined Memphis Grizzlies on September 25, 2014. However, he was out of the club by October 22, 2014. Then he was picked by the Houston Rockets on October 24. After three days, he was freed from the deal.
On October 31, 2014, Iowa Energy signed Clark, affiliated with the Memphis Grizzlies. However, he was transferred to the Rio Grande Valley Vipers after a day.
Clark joined the Shandong Golden Stars of the Chinese Basketball Association on December 10, 2014. He played 19 games for the team and scored 26.7 points and 10.3 rebounds on average per game.
On March 27, 2015, Clark entered a 10-day deal with the Brooklyn Nets. He initially had a good impression on the team, which led to him signing an extended contract with multi-year. However, the Brooklyn Nets released him on August 10, 2015.
On October 30, 2015, Clark was picked by the Bakersfield Jam, an NBA Development League.
After two and half months, Clark was exchanged with the Delaware 87ers. He was the second-round pick. After three days, he debuted in the match against the Westchester Knicks.
Clark scored 4 points, 4 rebounds, 1 assist, 2 steals, and 2 blocks in the first half of the match. However, the Delaware 87ers lost the game to the Knicks.
On March 19, 2016, Clark was released from the team. Then, Clark joined Henan Roaring Elephants' Chinese club on May 24, 2016.
After 2016
On August 18, 2016, Clark was picked by Beşiktaş, a Turkish club in Basket Super League in Turkey. He was one of the best in BSL.
Beşiktaş extended the contract with Clark for the next season on July 3, 2017. In addition, Clark was selected for All-Star Game in the 2017 BSL.
On June 16, 2018, Clark entered into a contract with Budućnost VOLI of the Montenegrin Basketball League. He played in the 2018–19 season.
If you enjoy this article, you may want to read about Baron Davis.
San Pablo Burgos picked Clark on July 19, 2019. With his excellent gameplay and hard work, Clark became the top player of San Pablo Burgos. He had 12.2 points and 5.9 rebounds per game in the ACB league.
Due to Covid-19, the government canceled the ACB League, and Clark returned to the U.S.
Unfortunately, Spain was heavily affected by the pandemic. As a result, there were many restrictions on travel. So, Clark could not resume his practice sessions in Spain. Eventually, Clark was released from the contract on May 15, 2020.
On June 19, 2020, Clark joined the Korean team Anyang KGC.
Later on December 22, 2020, Clark was picked by the Herbalife Gran Canaria. It is affiliated with the Spanish ACB league.
On December 31, 2021, Clark signed a contract with the Sioux Falls Skyforce. The club is in NBA G League.
Earl Clark: Wife & Kids
Earl Clark is married to Meghan Clark. They first met in college. And soon, they began dating.
After many years in a relationship, they finally tied the knot in August 2014. It was a private ceremony.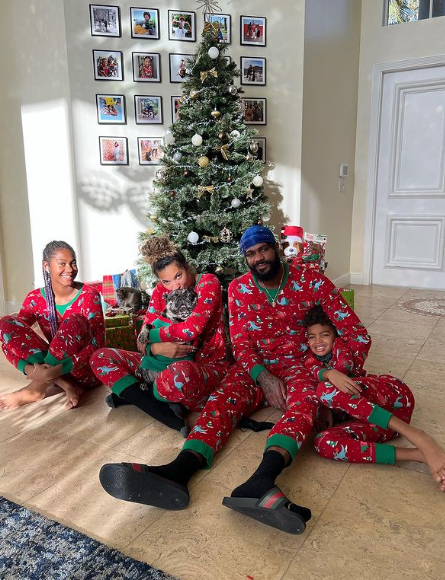 Clark has two children with Meghan, a son Nasir, and a daughter Kenya.
Earl Clark: Injury
In 2013, Clark had a sore right foot while playing for the Los Angeles Lakers and missed the shootaround. Soon, MRI was done, and he was back for the next match.
On January 10, 2022, Clark missed the game against Salt Lake City because of health issues. The cause behind the absence is not clear yet. However, he has been missing from the game for a week.
Earl Clark: Net Worth
Clark's net worth is around $10 million. His earnings are from his deals with the clubs and the merch.
In 2015, Clark's salary was 57,711 USD for playing with Brooklyn Nets. But his current salary is not available.
Earl Clark: Awards & Achievements
Clark has many career highlights and achievements in his basketball career. Let's take a look at them.
Montenegrin League champion (2019)
Montenegrin Cup winner (2019)
Turkish League All-Star (2017)
McDonald's All-American (2006)
Fourth-team Parade All-American (2006)
Earl Clark: Social Media Presence
Clark is active on Instagram. He shares his professional achievements, game, and some glimpse of his personal life.
You may enjoy this – 12 Best Women's Basketball Coaches of All Time
Frequently Asked Questions (FAQs)
Can Clark guard all five positions in defense?
Clark is exceptionally versatile and moves around the court with seamless effort, so he effortlessly switches from one position to another. Even the coach from his affiliated club agreed to it. Hence we can say that Clark can play all five parts in defense.
Did Clark play in China?
In 2011, Clark signed with Zhejiang of the Chinese Basketball Association as he was trying to work overseas. But he returned to America to support his pregnant wife. Eventually, the contract was terminated by the Chinese club.
Is Clark a family man?
Clark is married and has a son and daughter. He likes to spend time with his family. Clark often shares his moments on his social media handle. Also, he is devoted to his wife, who has been beside him as a rock in all the troubling times.