Ed Orgeron is going to be married for the third time after revealing his engagement to his girlfriend, Brandy Nicole.
The couple dated for nearly three years before Orgeron finally decided to pop the big question.
However, fans have had mixed reactions due to their significant age difference.
The American football coach was born in Louisiana, United States, on July 27, 1961.
He played collegiate football as a defensive lineman at LSU and Northwestern State University.
Starting as a graduate assistant at Northwestern State, Orgeron slowly built his coaching career, working with numerous teams along the way.
His latest stint was with Louisiana State University from the 2016 season until 2021 and led the 2019 LSU Tigers to a national championship during his tenure.
Ed Orgeron Girlfriend Turned Fiancee Brandy Nicole- Relationship Timeline
The Louisiana-born coach announced his engagement by sharing photos on Twitter accompanied by the caption: "Had a fantastic evening with my fiancé, Brandy Nicole!" on May 7, 2023.
It is worth noting that her actual name is Bailie Lauderdale, and this will mark the third marriage for Ed Orgeron when they tie the knot.
Ed and Bailie's relationship became public following the announcement of his divorce from his wife of 23 years, Kelly.
The couple began their relationship in 2020 as coach Ed posted a picture with Brandy in October of that same year.
Their relationship faced considerable criticism, primarily due to their significant age difference, as she appeared noticeably younger than him.
The couple shares an age gap of 31 years as reportedly, Brandy is currently 31 years old, as she was born in 1992, while Ed is 62 years old.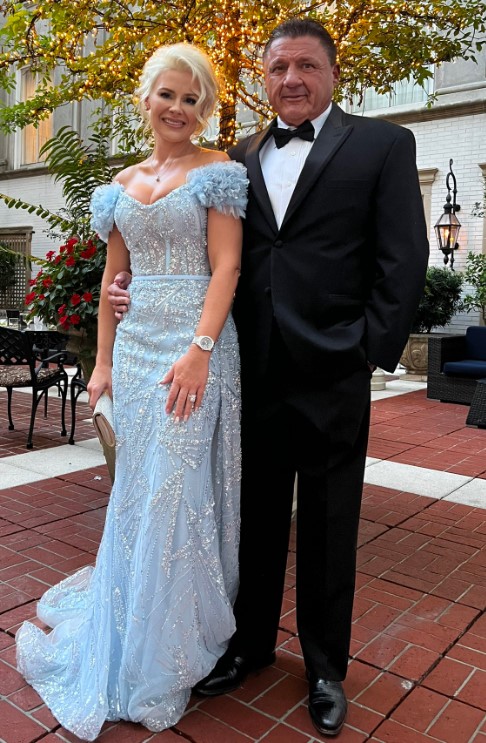 The couple attended the Big Game Kick-Off Event hosted by Jay Glazer, Merging Vets, and Players at Academy LA in Los Angeles, California, on February 9, 2022.
The business owner and fashion owner Brandy Nicole accompanied Orgeron as his date to the Ladylike Foundation Bowling Classic, where they walked the red carpet at the Lucky Strike LA Live on February 11, 2022.
The couple was spotted together again on September 30, 2022, attending the American Athletic Conference game between the Houston Cougars and the Tulane Green Wave in Houston, Texas.
Past Relationships: Two Marriages
Ed Orgeron has been married twice. His first marriage lasted two years, while his second lasted 23 years.
He married Colleen in 1992 while working as the defensive coach at the University of Miami.
However, he took a leave of absence in October of the same year for personal reasons and did not return. The couple eventually divorced in 1994.
During the 1996 Liberty Bowl, Ed met his second wife, Kelly. The couple exchanged vows in February 1997 and has three children: Parker, Cody, and Tyler.
On February 26, 2020, Ed Orgeron filed a divorce petition in East Baton Rogue Parish Family Court, stating their date of separation as February 24.