A coach can mold players into the most fantastic version of themselves. If we are talking about Ed Orgeron, then he is one fine sculptor.
Ed is one of those coaches who has been working in the football industry for more than a decade. Likewise, he has set an example with his skill and vision to inspire players and help them unlock their true potential.
Before being a coach, he was a former professional player at Larose, Louisiana. Currently, coach Orgeron serves at the Louisiana State University as head coach of the football team.
Besides that, he previously served at the University of Mississippi as the head football coach from 2005-to 2007.
Additionally, he was an interim coach in 2013 at the University of Southern California (USC).
Before we move on to the other details, here are some facts about the coach.
Quick Facts
Full Name
Edward James Oregon Jr.
Nickname
Coach Ed, Coach O, Ba Ba
Birthdate
July 27, 1961
Age
61 years old
Birthplace
Larose, Louisiana, United States
Nationality
American
Mom's Name
Cornelia Orgeron
Dad's Name
Edward Orgeron
Sibling
Steve Orgeron
Height
6'2″/188 cm
Weight
108 kg/238 lb
Body type
Athletic
Eye color
Black
Hair color
Dark
Skin
Fair
Education
Lafourche High School
Current Job
Former Football player
American Professional Football Coach
Past teams coached
Louisiana State University's football team
Syracuse University,
McNeese State,
University of Arkansas
Nicholls State University
University of Miami
Relationship status
Divorced
Ex-Wife
Kelly Orgeron
Children
Parker, Cody, and Tyler
Social Media
Instagram
Twitter
Net Worth
$8.7 million
Merch
Flip the Script: Lessons Learned on the Road to a Championship, Autographed Tigers Photo, Autographed 2019 National Champions Logo Wilson Commemorative Football
Last Update
May, 2023
Ed Orgeron |
Early Life, Family, and Education
The big 'Coach O' Orgeron was born on July 27, 1961, in Larose, Louisiana, United States.
Ed Orgeron was born to father Edward "Ba Ba" Orgeron Sr. and mother Cornelia "CoCo" Orgeron. Besides, he, along with his family, is of Cajun descent.
Further, he has a sibling named Steve. The two brothers grew up in their hometown in Larose, Lafourche Parish, Louisiana.
Moreover, both of them attended Lafourche High School together. Besides, Orgeron was a classmate of Bobby Herbert.
Bobby is a renowned quarterback who played for New Orleans Saints, Atlanta Falcons, and Michigan Panthers.
Ed Orgeron |
Career & Record
Playing Career
Before his coaching career, Orgeron played football with Helbert in high school. He was a part of the school's Class 4A State Championship team in the year 1977.
Moreover, Orgeron signed to play for the Louisiana State University's football team.
However, he left the program during his first year and joined Northwestern State University in Natchitoches, Louisiana.
Consequently, Orgeron played for the football team of Northwestern State University. Besides that, his coaching career started after he retired from football.
Early Coaching Career
Orgeron kicked off his coaching profession at Northwestern State as a graduate assistant in 1984. He has coached several university teams during his endeavor.
Orgeron has been a part of the coaching team at Syracuse University, McNeese State, and the University of Arkansas. Besides, he was also a part of the coaching team at Nicholls State University and the University of Miami.
During his run at the University of Miami, its football team won the national championship in 1989 and 1991.
Besides, he was a part of a controversy in 1992. The former player and current coach were arrested after his involvement in a bar fight in Baton Rogue.
Consequently, it led to his dismissal, and Randy Shannon replaced Orgeron. Nonetheless, Orgeron relaunched his coaching career in 1994.
He became the volunteer linebacker coach at none other than the renowned Nicholls State University.
You might also like to read about Matt LaFleur's Bio: Football, NFL, Coaching Career & Family >>
First Stint at USC Football
Ed Orgeron joined the University of Southern California in 1998. Head coach Paul Hackett offered him a defensive coaching position.
Further, Hackett was fired by the team from the head coach of the team in 2000. Nonetheless, Orgeron retained his position as a coaching staff member after the arrival of Pete Carrol.
As a defensive specialist, Pete Carroll was assigned as a head coach for the University of Southern California.
Besides, Orgeron and Peten had previously met during a high school football game. During the time, Pete was a candidate for the head coach position.
Further, after Pete's arrival, USC enjoyed multiple successes. The team has won National Championships (Associated Press) twice.
Additionally, Orgeron was given the responsibility of a Recruiting Coordinator in 2012. Then, in 2003 he was named assistant head coach of the team.
Besides, Orgeron's progress did not come to a halt as he won the National Recruiter of the Year honors in 2004. During the same year, Ed Orgeron was hired by Ole Miss to replace David Cutcliffe.
However, after losing a 14-point lead against Mississippi State in the season finale, Orgeron was fired.
Consequently, it led to his replacement as the head coach by Houston Nutt, the former head coach at the University of Arkansas.
The University of Tennessee and New Orleans Saints
New Orleans Saints hired Ed in 2008 as their new defensive line coach. However, Ed stayed in the position for only a year and made his departure in December 2008.
Nonetheless, his endeavor would continue after the University of Tennesse hired him as an associate coach.
Besides, during his time in Tennessee, he worked under Lane Kiffin.
Second Stint at USC Football
Orgeron would make his return as a member of the assistant coaching staff at USC in 2010.
His recovery was inevitable after Kiffin resigned from his position to join the University of Tennessee as their head coach.
Likewise, Orgeron's arrival came to be after the departure of Pete Carrol from the coaching position. During his second spell at USC, Orgeron was one of the highest-paid assistant coaches.
His annual salary ranged from about $650,000. Further, Orgeron would be named the interim head coach of the University of Tennessee after Lane Kiffin's firing.
Not to mention, Ed Orgeron remained the interim head coach for the rest of 2013. After his experience at Ole Miss, Orgeron decided on a different coaching style approach.
Consequently, it led him to initiate intense aggressiveness in the team's strategy.
Besides, he implemented behavior techniques among the players. Orgeron explained to have used it on his kids.
Further, he explains that he made an effort to treat the USC players like his own sons. His strategy worked perfectly as the Trojans won against highly ranked Stanford.
However, the Trojans would suffer a humiliating 35-14 defeat against cross-town rivals UCLA. It was their second defeat in a row.
This had immensely threatened Orgeron's chance of remaining the permanent coach of the team.
Further, the Trojans ended with 6-2 under Orgeron, finishing the season with a 9-4 record. It was rumored that a former USC assistant coach would replace Orgeron at Trojans during the same year.
Consequently, Steve Sarkisian, who was a head coach at Washington, accepted the USC offer. Thus, it led to the resignation of Orgeron from his position.
Louisiana State University (LSU)
Shortly after, Ed Orgeron would be hired by Louisiana State University as their defensive line coach.
Moreover, Orgeron was named the interim coach after the firing of head coach Les Miles. After he was appointed the head coach, he started to make significant changes to the LSU team.
Orgeron recalls Pete Jenkins to the defensive line coach role. Besides, he promotes Steve Ensminger to the role of an offensive coordinator.
Further, he reduced the practice routine and increased the time players spent in the film room. Besides, Orgeron integrated Pete Carroll's "theme of daily practices" as well.
His theme had their respective titles for each day. The practice days were titled: Focus Friday, No Repeat Thursday, turnover Wednesday, Competition Tuesday, and Truth Monday.
Additionally, under Orgeron, the LSU team finished the season with a 6-2 record.
The LSU would remove the "Interim" tag from his title on November 26, 2016. He would then be named as the team's 32nd full-time head coach.
Furthermore, Orgeron would hire Matt Canada as an offensive coordinator in the 2017 season. Matt was known for his offensive playbook, which was heavily based on jet sweep techniques.
The 2017 season began with LSU ranking in the top 15. However, an early loss to Troy and Mississippi State led to LSU being unranked.
You might also like to read about Mike Tomlin Bio: Football, NFL, Coaching & Controversy >>
LSU Record
Orgeron's season with LSU began with a season opener against Miami, followed by Auburn. His side beats both of the formidable sides and makes its way to the 5th position in the CFP rankings.
However, LSU suffered a defeat against Florida, sending them tumbling down to the 13th position.
Nonetheless, the Orgeron team would bounce back with a win against Georgia and Mississippi State. Consequently, it led LSU to propel up to the 3rd rank.
Further, the LSU football team would face off against top-side Alabama.
The offensive strategies implemented by Steve Ensminger did not have any effect on Alabama's defense. As a result, Orgeron's side lost to Alabama.
Likewise, LSU defeated the UCF on New Year's Day in 2019. It was UCD's first defeat since 2016.
Furthermore, LSU finished the 2018 season ranked 6th by the AP poll and seventh by the Coaches poll at a national level.
Besides, numerous critics and commentators, including Paul Finebaum, believed LSU's 2018 season would last Orgeron.
However, Orgeron's progress and LSU impressive performance earned him a contract extension until the 2022 season.
Coaching Record
| | | |
| --- | --- | --- |
| Team | Overall | Conference |
| Ole Miss | 10–25 | 3–21 |
| USC | 6–2 | 6–1 |
| LSU | 51–20 | 31–17 |
| Total: | 67–47 | |
Ed Orgeron | Wife
, Children & Divorce
If you're wondering whether the legendary coach Ed Orgeron is married or not, the answer is yes. The renowned coach is currently married to his longtime girlfriend, Kelly Orgeron.
Kelly and Ed met each other in 1996 at an annual American college football bowl game, Liberty Bowl. Finally, after dating one another for quite some time, they decided to tie the knot.
Further, their wedding was held in an undisclosed location in February 1997.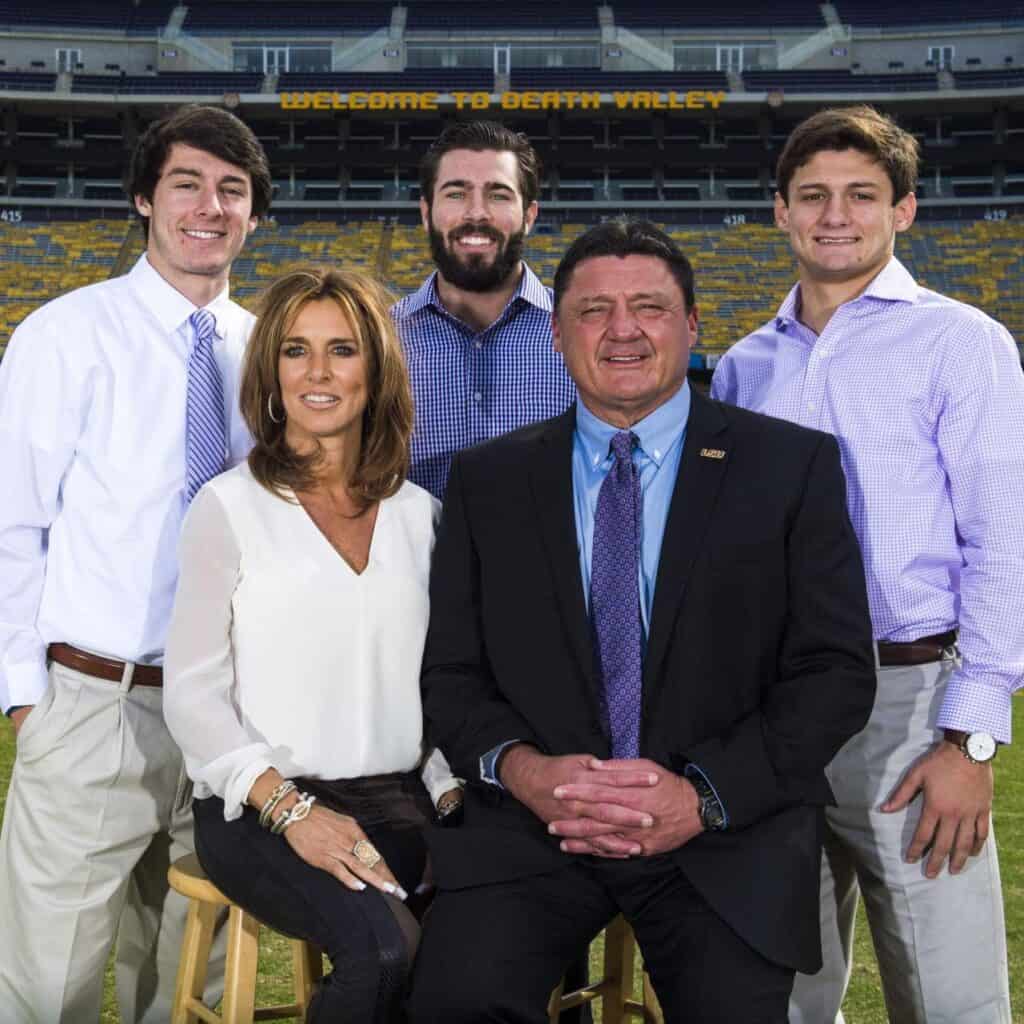 Shortly after their marriage, Ed and Kelly welcomed three beautiful children, namely Parker, Cody, and Tyler. Tyler is Kelly's son from her former relationship.
All of the couple's children share a peculiar love for collegiate football.
The eldest son, Tyler, works as an attacking analyst at Louisiana State University.
On the other hand, Cody plays as a quarterback alongside McNeese State. Further, Parker was a former student assistant at the same institution.
Kelly Orgeron
Kelly is the former wife of American Football Coach Ed Orgeron. On December 30, 1964, she was born in Lake City, Arkansas.
Additionally, Kelly Orgeron grew up with three siblings, Scott, Russ, and Misty. Along with her siblings, she was born to her father, Bobby Owens, and Janis Owens.
His father worked as a farmer, while her mother was a beauty salon worker.
Besides, Kelly has been an athletic child since she was a kid. She was a basketball player at Lake City High School.
However, because of her scoliosis complexion, she had to wear a full-torso cast and a rod, which helped correct it.
Nonetheless, Kelly picked up tennis as her go-to sport. Along with her sons, she enjoyed their time playing tennis while Ed was away at work.
Kelly And Ed Orgeron's Divorce
Ed and Kelly were married to each other for more than a decade. However, Kelly and Ed have filed for a divorce. Nonetheless, the couple still meets one another with their children for events and occasions.
According to the East Baton Rouge Parish Family Court petition, the couple officially separated on February 24.
It is also mentioned that Ed Orgeron is legally entitled to occupy a former matrimonial domicile in Baton Rouge.
Additionally, Orgeron stated that he has no objection to Kelly being granted his home's occupancy and exclusive use in Mandeville.
You might also like to read about Petra Vlhová Bio: Boyfriend, Coach, Ranking & Net Worth >>
Ed Orgeron |
Age, Height & Weight
The American football coach is currently 61 years of age. Additionally, Orgeron has a great personality that goes well with his physical stature.
He stands at 6 feet and 2 inches and weighs around 108 kilograms.
Despite being almost 60, Orgeron has maintained his fitness with a healthy diet and workout routines.
Voice
Known for his strict demeanor and perfection on the field, Ed is also known for his iconic speaking voice. Those low tones and gravel voices can create some difficulties for the listeners, though.
But many say it is the product of his roots which is a perfect blend of French, Southern English, and Cajun(Acadian).
You can watch the video above and hear the real deal.
Ed Orgeron |
Net worth, Salary, and Contract
Recently, Orgeron has been offered a six-year contract extension by LSU. The contract is inclusive of hefty players and allowance.
Further, the coach had accumulated around $4 million per season. Besides, Oregon's new contract with LSU includes a $5 million insurance policy and a $6 million base salary.
Moreover, his total net worth stands around $7 million.
Ed Orgeron | FAQs
Is Orgeron currently in a relationship?
Ever since his divorce from his ex-wife, the coach is not known to be in any relationships.
Is Ed Orgeron a famous coach in America?
Yes, he is a renowned American Football Coach who is also among the highest-paid coaches.