When it comes to sports power couples, Elin Rubensson and her partner, Filip Stenström, undoubtedly stand out.
Their shared love for the beautiful game has not only brought them together but has also united them in their passion for sports.
While Elin is widely recognized for her accomplishments as a professional soccer player, Filip's prowess on the soccer field has also garnered significant attention.
This article explores the dynamic duo's achievements and their inspiring journey as sports enthusiasts.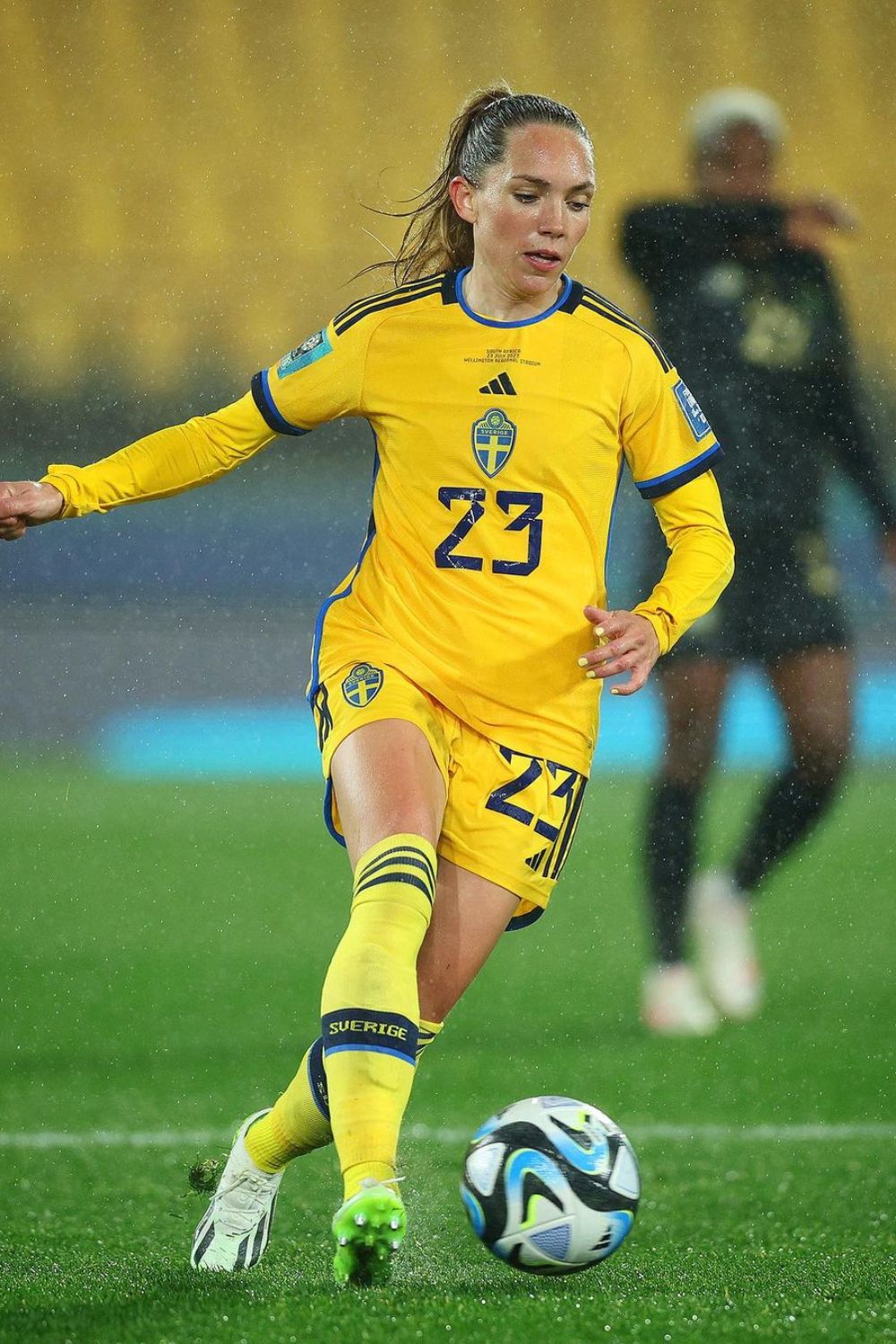 Born on May 11, 1993, in Ystad, Sweden, Elin Rubensson discovered her passion for soccer at a young age.
The Swedish soccer player currently plays for BK Häcken in the Damallsvenskan as a midfielder.
The midfielder previously played for FC Rosengars (formerly Malmö FF Dam) for four years until joining her current club.
Throughout her career, Elin has won five Damallsvenskan and two Svenska Supercupen.
Besides, she represents her national team in the 2023 FIFA Women's World Cup.
On August 2, 2023, Elin scored an important goal in a 2-0 victory against Argentina, with Rebecka Blomqvist scoring another.
Elin Rubensson Partner: Filip Stenström
Elin Rubensson's partner, Filip Stenström, is also a soccer player hailing from Sweden.
Filip was born on July 3, 1991, in Sweden and showcased his skills as a wingback, displaying an impressive defending ability and agility on the pitch early in his career.
With time, Filip's dedication to honing his craft and tactical awareness helped him grow as a player.
He began his youth career at Gideonsbergs IF and played for them until joining Västerås SK in 2007.
Filip Stenström turned professional in 2009. After joining Malmo FF, he made his Allsvenskan debut on July 3, 2011.
Stenström's soccer journey led him to play for various clubs in Sweden like IF Limhamn Bunkeflo and Ängelholms FF.
In addition, the defender played at youth levels for the Swedish national side. The Swedish retired from playing soccer in 2015.
Regardless, his ties with soccer resurrected after he was appointed as an assistant in Örgryte IS U17 Youth Soccer Academy in November 2017.
Filip Stenström Is Still An Active Athlete
Despite bidding farewell to his playing career, the former soccer player remains active in other sports.
In light of his Instagram feed, we know that Stenström is a marathon runner and a ski racer as well.
Every year he visits the village of Berga, Sälen, to take part in Vasaloppet.
Vasaloppet is an annual long-distance cross-country ski race held on the first Sunday of March.
Furthermore, Stenström actively participates in the Gothenburg Half Marathon (Göteborgsvarvet).
Göteborgsvarvet is an annual half-marathon running competition in Gothenburg, Sweden. He was also seen holding silverware in an IG post for his running endeavors.
Elin And Filip: Relationship Timeline
Elin Rubensson and Filip Stenström's shared passion for soccer brought them together in 2011.
Both of them were playing for club Malmo, Elin for the female side, and Filip for the male counterparts.
Their mutual understanding of the demands of a professional soccer career has provided them with a strong foundation.
The couple got engaged on September 22, 2017, after being in a relationship for almost six years.
Elin and Filip solidified their relationship as they got married the following year, on July 14, 2018.
The groom called it an unforgettable experience and the biggest weekend of his life in his Instagram post.
The proud husband even took his wife's surname and is formally known as Filip Rubensson until today.
Elin and Filip became parents as they welcomed their first son, Frans, on December 22, 2020.
As they continue to excel in their respective careers, they also serve as an inspiration for aspiring athletes and fans alike.