Elle Duncan is a famous American reporter, popular sports anchor, host, and writer working with ESPN since 2016. Before this, Duncan worked for networks like NESN and Atlanta, where she hosted many shows.
During her tenure at Atlanta, Duncan was named to the list of "Top 25 Women in Atlanta" by "The Steed Society."
Also, even Jezebel magazine listed her as one of the 50 Most Beautiful Atlanta. As ought to, Elle received Inspiring Women Award at Atlanta Dream back in 2011.
True to her praise, Duncan has been part of many charity organizations.
Since Elle has her laps full of work, it is acclaimed worthy how she manages her personal life. Being a mother is not precisely as easy as can be seen.
Hence, shall we have a closer look at her life? Let's start right away with quick facts first.
Elle Duncan: Quick Facts
| | |
| --- | --- |
| Full Name | Lauren "Elle" Duncan |
| Birth Date | April 12, 1983 |
| Birth Place | Atlanta, Georgia, U.S. |
| Known as | Elle |
| Religion | Christianity |
| Nationality | American |
| Ethnicity | African-American |
| Education | State University of West Georgia |
| Horoscope | Aries |
| Father's Name | Clark Duncan |
| Mother's Name | Unknown |
| Siblings | Sister |
| Age | 40 Years Old |
| Height | 5 feet 3 inches(160 cm) |
| Weight | 50 kgs(110 lbs) |
| Build | Slim |
| Body Measurements | 33-25-35 inches |
| Hair Color | Dark Brown |
| Eye color | Black |
| Profession | Anchor, Host, Reporter, TV Personality |
| Network | ESPN |
| Active Years | 2003-present |
| Marital Status | Married |
| Spouse | Omar Abdul Ali |
| Net Worth | $1 million |
| Social Media | Instagram, Twitter |
| Last Update | November, 2023 |
Who is Elle Duncan's Father?- Nationality and Family
Elle Duncan, known as Lauren Elle Duncan, is a popular sports anchor serving for ESPN.
Aside from being an anchor, this American host is also a reporter, Actress, and writer. Likewise, the talented Elle was born in Atlanta, Georgia, in the United States of America.
Despite being a television personality, Elle has not mentioned much about her parents and family.
Hence, many people have shown keen interest in her childhood thanks to her tight-lipped situation.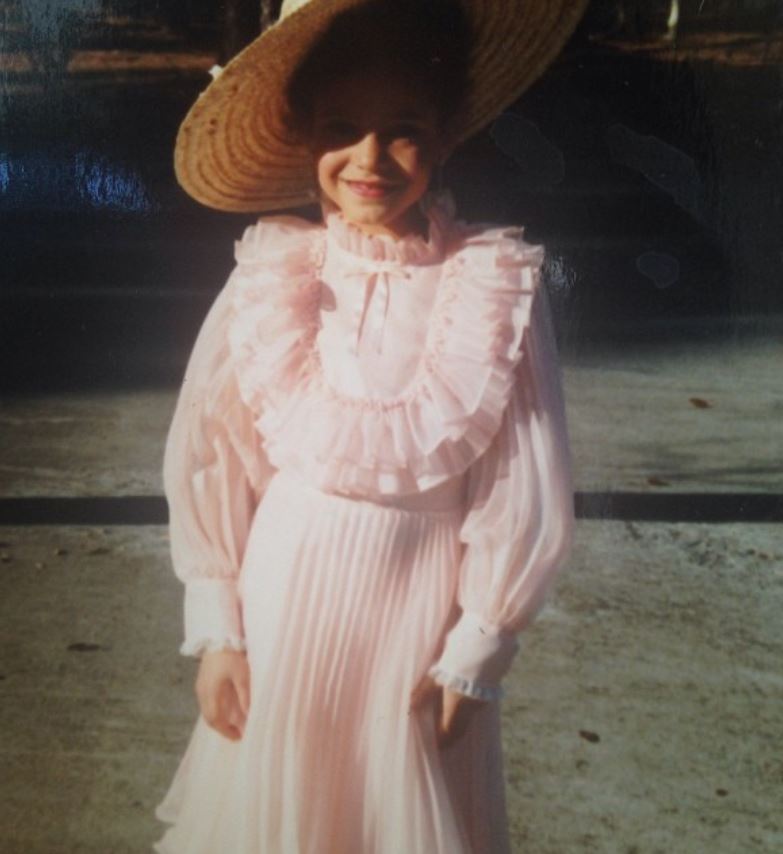 It seems the anchor is the daughter of Clark Duncan, who could be spotted in her throwback pictures. Duncan also has a sister named Kelli Duncan.
As noticed, her nationality is American, while her ethnic background happens to be African American.
As for her education, Duncan went to McEachern High School and later enrolled at the State University of West Georgia. From there, young Elle obtained her degree in journalism.
Age and Height
Gorgeous Elle is an inspiration to many aspiring news reporters and fans alike. This secretive yet charming personality was born on April 12, 1983, which means she is 40 years old.
Not to mention, her star sign happens to Aries, known for their fierce and competitive attitude.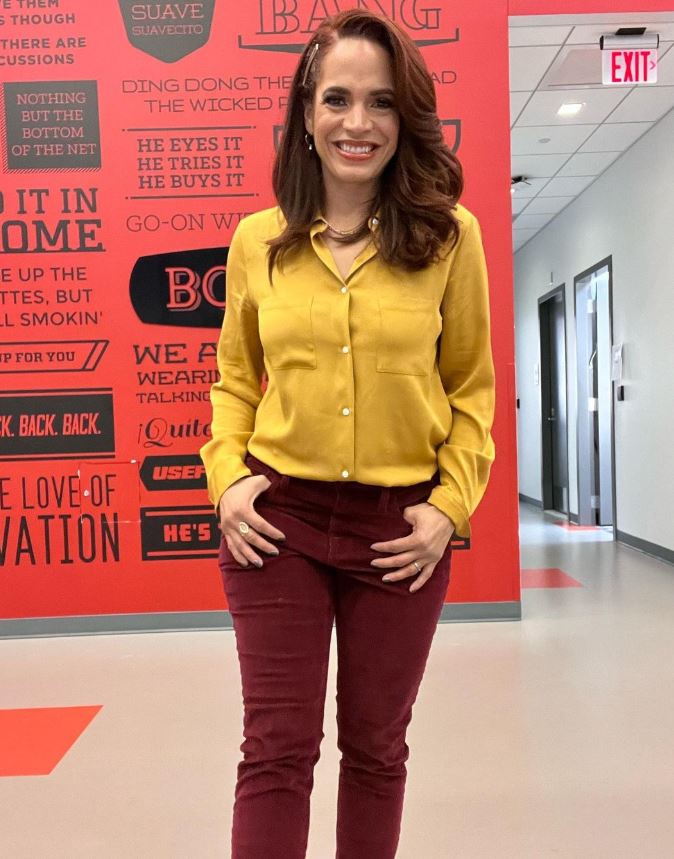 Considering how well-off she is in her profession, it seems her personality has paid off.
Likewise, Elle stands at 5 feet 3 inches(160 cm) and weighs around 50 kg. The young reporter has got curly dark brown hair and dark eyes.
Duncan's curves measure 33-25-35 inches, giving her a gorgeous shape. No wonder she is the envy of many.
Who is Elle Duncan's husband?- More on her personal life
One of the famous television personalities, we are well-acquainted with her habit of keeping secrets.
Like her family, Elle has also kept her lips sealed regarding her personal life. However, we know that this gorgeous lady is married now.
Yes, the secretive Elle tied the knot with her husband, Omar Abdul Ali, on July 9, 2016. Sadly, as always, any further information on her husband, along with the details foretelling their relationship, has been kept hidden.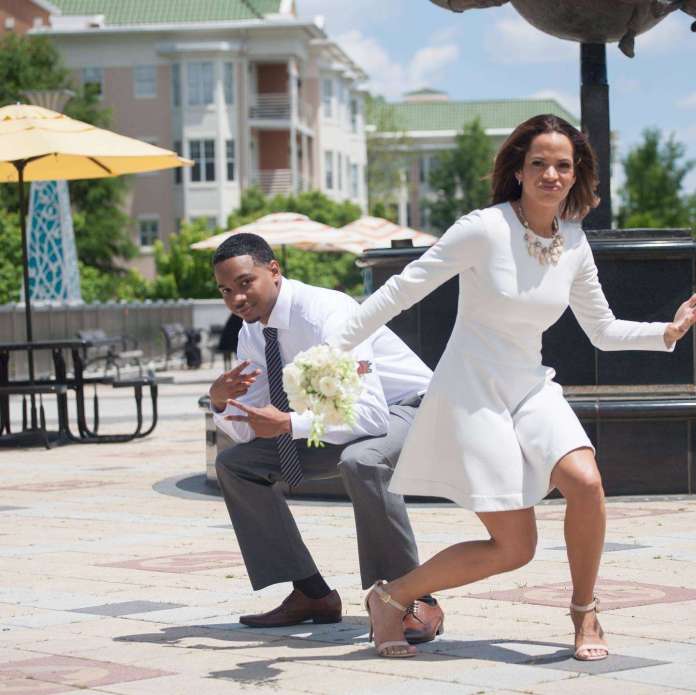 Even the profession of her husband is unknown at the moment. Despite being in the shadows, Duncan shares a fair amount of her family on social media.
She was especially ecstatic when Elle showed the world her baby, Eva. The reporter, who became a mother, gave birth to her first child on July 25, 2018, two years after her marriage.
After her first baby, the couple welcomed their second child in December 2020. Ellen and her husband were blessed with a baby boy named Xander.
Since then, Elle's social media has occasionally been filled with her happy yet small family.
Elle, with her husband and kids, is enjoying the best moment of their life. The anchor is seen posting her pictures with her kids and husband on social media.
Elle Duncan DUI Arrest
Maybe it is due to the lack of personal life or something else, but Duncan has always been under the public's radar.
Despite having a good reputation in the network, she was once arrested for her DUI and reckless driving on April 28, 2013.
As the reports stated, Duncan was seen to be "weaving in and out of traffic in a reckless manner" at a high rate of speed.
Her impulse action narrowly missed striking another vehicle, but it was dangerous nonetheless.
Upon testing, her breathalyzer shows a high alcohol content in her blood, 0.099 to be precise, above the legal limit of 0.08.
Likewise, all the charges that were made that day were later dropped. After the arrest, Duncan wrote:
"I am greatly embarrassed for my actions early Sunday morning. I have been reminded — in a complicated way – that any amount of alcohol can impair us.
I take full responsibility for my actions. I apologize to my fans, community, and 11Alive family."
Net Worth and Income- How much does Elle Duncan make?
Like many other journalists, Elle started her career as early as 2003. Looking back, she has been in the industry for over seventeen years.
Throughout the years, she has built herself as a respectable and reputed Journalist. Thanks to that, Elle has accumulated a hefty net worth of $1 million.
The talented and charming reporter has worked for networks like Atlanta, ESPN, NESN, and others. Because of her strong work ethic and will to do her best, Duncan has made quite an impression in the business.
Likewise, it is mentioned that the 40-year-old makes around $75k from her professional career.
It is not surprising considering her work and fame. But if we have to say something, it might be more than the amount mentioned above.
However, like everything, Elle has kept the information on her assets and income a secret from the public.
Net Worth of Elle Duncan in Different Currencies
Here is the net worth of Elle Duncan in different currencies:
Currency
Net Worth
Euro
€

846,735

Pound Sterling
£

724,050

Australian Dollar
A$

1,357,050

Canadian Dollar
C$

1,256,830

Indian Rupee
₹

74,442,250

BitCoin

฿26
Early Career and Rise
Upon graduation, Elle became a Journalist through the Atlanta network. There she started as an intern with the '2 live Stews', American syndicated sports talk radio show on 790/The Zone.
Just a year later, Atlanta host Ryan Cameron hired the young Elle to join him on the show titled V-103.
Likewise, unlike her intern role, she was introduced as a traffic reporter and on-air personality. She even hosted an afternoon show at the station back in 2009.
Shortly after, Elle moved to handle sports reporting for the morning Frank and Wanda show.
Aside from her designated role, during her time at the V-103, Duncan also filled in as a contributor with the Atlanta Falcons radio network pre-and post-game shows.
Additionally, she handled the Atlanta Hawks sideline and freelance sideline reporting for SEC and ACC football games on Comcast Sports South.
In a way, even as a newbie, Elle's hands were overflowing with work.
Maybe it is her hard work and dedication, even as a rookie, that Duncan gained a lot of positive feedback.
As a result, in 2012, N.B.C. affiliate WXIA-TV offered her a job as a traffic reporter. And without a doubt, Duncan gladly accepted the offer and parted ways with Atlanta.
Move to Other Networks
Two years later, Duncan joined NESN as an anchor, reporter, and host. Before this, her work at other networks helped Elle gain a lot of experience and goodwill.
Similarly, Elle began co-hosting NESN Live, presented by Cross Insurance and Sarah Davis.
The show also featured updates from NESN reporters and game-day analyses from sports pundits like Fenway Park, TD Garden, and Gillette Stadium.
Additionally, Duncan worked as a Red Sox sideline reporter and hosted Super Bowl XLIX coverage.
The event was between the New England Patriots and Seattle Seahawks and was held in Glendale, Arizona.
That same year, Duncan appeared in the 2014 movie Ride Along, where she portrayed a news reporter. Then on April 27, 2016, Elle joined ESPN as an anchor for SportsCaster.
Also, her other memorable works include being a host of the American talk show FishCenter Live.
In a way, Elle has always been known for taking more than her required job.
In the wake of the shooting at Robb Elementary School in Uvalde, Texas, in May 2022, Elle Duncan shared a poignant message during her SportsCenter broadcast, urging viewers not to grow numb to the tragedy.
Elle Duncan and Her Philanthropy Works
Aside from being an influential character in the world of journalism, Elle has also impacted charity.
The American reporter has been involved with Walker, a nonprofit Leader in special education, behavioral health, and residential treatment for children and youth.
Specifically, she has been part of Walker's Change Shoes, Change Lives Run, and Walk.
Through on-campus volunteering, Elle has engaged with Walker's youth and conducted events through NESN's team member volunteer program, NESN Connects.
Moreover, during her tenure at V-103, Duncan launched a Cause & Effect series to represent several local nonprofit organizations quarterly.
Not to mention, the series consisted of different events throughout Atlanta and raised funds for underexposed organizations.
Because of her innate wish to contribute, Elle also worked as a spokeswoman for Enchanted Closet.
It is an organization that aims to provide prom dresses, shoes, and accessories to disadvantaged girls for prom.
Kobe Bryant- "I'm a girl, dad."
On January 27, 2020, a helicopter crash took the life of Kobe Bryant and his daughter, along with other people. Indeed, many people, including Elle, took the matter to heart.
That day, Duncan hosted ESPN's flagship program, SportsCenter, and gave an emotional and heartwarming conversation she had with the late legend.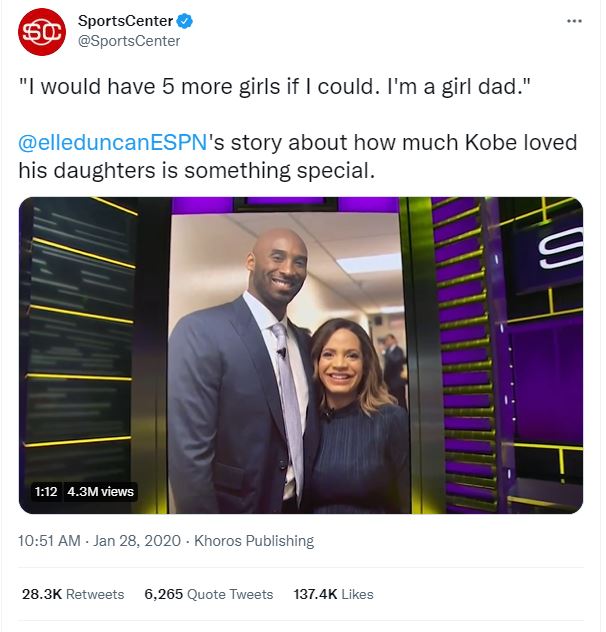 At an ESPN event held in New York City, the two had a chance to meet and talk two years back.
During their conversation, Kobe told her: "I'm a girl, dad." It started a national trend for the hashtag "Girl Dad," where dad's featured pictures and accounts with their daughters.
Accolades | Awards
Top 25 Women in Atlanta – The Steed Society
2011 Inspiring Women Award – Atlanta Dream
Atlanta's Top 30 under 30 – AUC Magazine
50 Most Beautiful Atlantans – Jezebel Magazine
Power 40 Under 40 It List – Johnson Media
Social Media Presence
Twitter– 144.3k Followers
Instagram– 130k Followers
Some FAQs
How Many Kids Does Ellen Have?
Ellen is blessed with 2 kids. Her son's name is Xander, and her daughter is Eva. She has a nuclear and happy family.
Are Ellen Duncan and Matt Barrie Good Friends?
They are good friends and are often paired up together on the SportsCenter. Duncan and Barrie have been a famous partnership on SportsCenter recently, and you typically get a decent mix of knowledge and a lot from them.
What did Duncan Speak in Desean Jackson's Instagram Post?
Duncan speaks out on DeSean Jackson's Instagram post and subsequent apology, saying, "Racism, sexism, and anti-Semitism, they are all despicable behaviors. They are disgusting and, as such, should all be treated in the same vein."
Did Duncan leave ESPN?
No, Elle Duncan hasn't left ESPN. ESPN has re-signed popular SportsCenter anchor Elle Duncan to a multi-year contract extension, keeping the Atlanta native with the network for the foreseeable future.
Where is Elle Duncan now?
Duncan has been a co-host of the weekly ESPN podcast First Take, Her Take with Kimberley A. Martin and Charley Arnolt since June of 2021, and she is a rotating group of panelists on ESPN's afternoon show Around the Horn.