Enthusiasm & professionalism in tennis is a lineage in the Shelton family. Along with the American tennis player Ben Shelton, his sister Emma Shelton also picked an interest in the racquet.
While Emma is pursuing tennis at college, her younger brother Ben Shelton is already enlisting himself as one of the young aspiring tennis players.
The Atlanta-born turned professional in 2022 & competes in the ATP Tour. Having made his debut ATP debut in the 2022 Atlanta Open, Ben made his Grand Slam debut at the US Open.
It didn't take long for Ben to prove himself. In the 2023 Australian Open, he reached the quarterfinals but lost to Tommy Paul, facing three defeats in four sets– in the finale, Novak Djokovic emerged victorious.
In April 2023, he achieved a career-high ATP ranking of no. 37 in singles and no. 159 in doubles.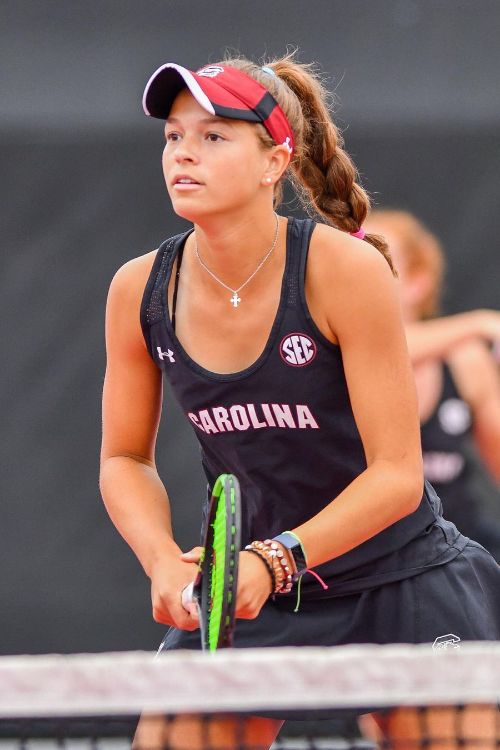 All these steps of the ladder to success were carved by his father Bryan Shelton, a former tennis player-turned-coach.
He coached his son Ben since he was 12 & still gives critics/suggestions on his performance.
Currently, Bryan Shelton is a tennis coach at Florida Gators men's tennis at the University of Florida, where his daughter Emma Shelton is also an attendant.
Fans are already curious if Emma may land into the professional scene of tennis like her father & brother.
Ben Shelton Sister
Ben Shelton has a sister named Emma Shelton, born on March 18, 2001, in Gainesville, Florida.
Emma is also a tennis player and played for the University of Florida Women's tennis team.
Just like her brother, she attended Buchholz High School for her education.
The brother-sister duo had an outstanding season in high school tennis, with Emma playing in Class 4A state finals and Ben earning the 4A singles state title.
Afterward, she joined the University of South Carolina and transferred to the UnivAfter transferring from South Carolina, she signed with the Gators on June 15, 2021. On April 28, 2021, she achieved a career-high ranking in the singles of No. 80.
She played well at the Bedford Cup and claimed the Green Bracket individual title. She also earned a singles win at the Miami Fall Invite.
Moreover, Emma is about two years younger than Ben, and they grew up together.
Ben Shelton Parent
Leading tennis player Ben Shelton was born on October 9, 2002, to Bryan Shelton and Lisa Witsken Shelton.
His parents are former tennis players, his mother was a highly-ranked junior tennis player, and his father was a professional tennis player.
Bryan Shelton is currently the coach of the American college tennis at Florida Gators.
He played collegiately for Georgia Tech from 1985 to 1988 and then started playing professionally from 1989 to 1997.
During his career, he had an inspiring ranking of the world No. 55 in singles and No. 52 in doubles.
In 1999, he became coach of the Georgia Tech Yellow Jackets women's tennis team and helped them win the NCAA championship in 2007.
Bryan has received three awards for being the best coach of the year because of his excellent team-leading skill.
Likewise, his mother was a promising player, but later she switched to become a realtor instead.
His parents have constantly supported and encouraged his playing career.
Ben Shelton's Net Worth
According to sources, Ben Shelton has an estimated net worth between $1 million and $ 3 million as of 2023.
He has achieved high success since 2022 due to his best performance in ATP Tour and ATP Challange Tour. He has received prize money of more than $296,487 over his career.
Moreover, he also endures various brands and has been earning money through those.