E'Twaun Moore is an American professional basketball player who is one of the efficient scorers of the NBA.
Currently, he plays for the Phoenix Suns of the National Basketball Association (NBA) as a shooting guard/perimeter player. Moore commenced his career professionally in the 2011 NBA draft after the Boston Celtics chose him.
At present, Moore plays with the jersey number 55 and has a graceful shoot.
Prior to his present days, he has had a load of points where he stepped up for betterment and has played for other teams, likewise the Chicago Bulls and Orlando Magic.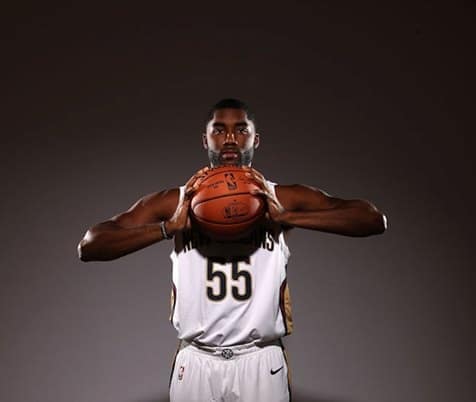 We have tabled a detailed short fact on E'Twaun Moore for in-depth knowledge about the player.
Quick Facts
Full Name
E'Twaun Donte Moore
Date of Birth
February 25, 1989
Birth Place
East Chicago, Indiana
Nick Name
Smooge
Religion
Christianity
Nationality
American
Ethnicity
African
Zodiac Sign
Pisces
Age
34 Years Old
Height
6 ft 3 in (1.91 m)
Weight
191 lb (87 kg)
Hair Color
Black
Eye Color
Dark brown
Build
Athletic
Father's Name
Ezell Moore
Mother's Name
Edna Moore
Siblings
A brother, Ezell Moore, and a sister, Ekeisha Moore
Education
East Chicago Central High School
Purdue University (2007–2011)
Marital Status
Unmarried
Girlfriend
No
Profession
Basketball Player
Position
Shooting Guard / Point Guard
Number
55
Affiliations
Benetton Treviso (2011)
Boston Celtics (2011-2012)
Orlando Magic (2012-2014)
Chicago Bulls (2014-2016)
New Orleans Pelicans (2016-2020)
Active Years
2011–present
Average Salary
$8,500,000 per annum
Social Media
Instagram, Twitter
Merch
Cards, Jersey
Last Update
March, 2023
Physical Attributes
Moore has an athletic body with an attractive face. To illustrate, he stands tall at 6 ft 3 in (1.91 m) and weighs 191 lb (87 kg).
Additionally, he has a tan complexion with black hair and dark brown eyes. Furthermore, he has an oval face and also has tattoos on both biceps. His tattoo reads his parent's name.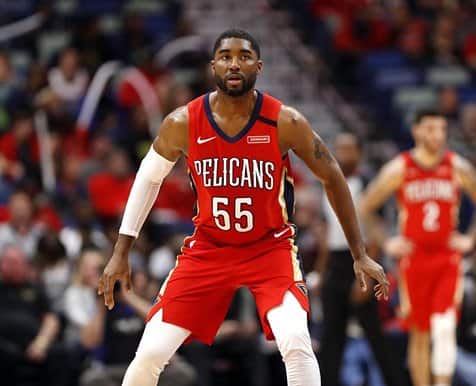 E'Twaun Moore | Early Life
Moore's full name is E'Twaun Donte Moore, born to the parents Ezell Moore and Edna Moore.
He was born under Pisces' star sign on February 25, 1989, in East Chicago, Indiana, USA. He grew up along with his brother Ezell Moore and his sister Ekeisha Moore.
As he grew up, he attended East Chicago Central High School and later enrolled at Purdue University.
E'Twaun Moore | High School Career
East Chicago (2003-2007)
Moore commenced his foremost basketball career at Central High School in East Chicago, Indiana, where he played in the high school basketball team.
During his tenure in his senior years, he had an average of 21.2 points, 5.5 rebounds, and 3.3 assists per game.
In 2007's Indiana High School Athletic Association 4A State Championship, he played alongside his teammate Ángel García and future Carolina Panther Kawann Short.
Back then, they faced the Indianapolis North Central High School, which starred 2007 Indiana Mr. Basketball and current NBA player Eric Gordon.
Consequently, they had bagged a score of 28 points where Moore earned the tournament's Trester Award. Moreover, he also managed to name himself on the Indiana All-Star Team and received third-team Parade All-American honor.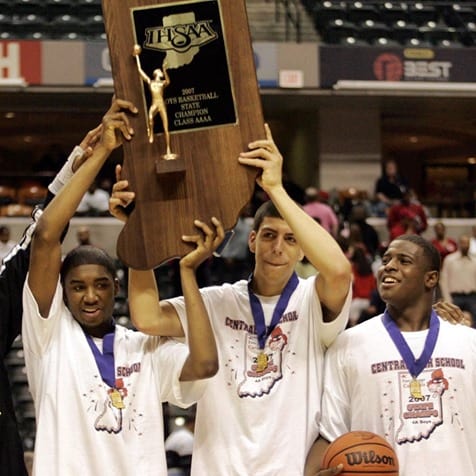 College Sports Recruitment
Following his gameplay, Scout Media (Scout.com) ranked him as the number eight high school basketball shooting guard in the nation.
Not to mention, Rivals.com had him numbered seven shooting guards in the nation alongside the second-best player in Indiana (after Gordon) and the 35th best player in the nation.
Similarly, Hoopmaster .com had him as the number 26 best player of the nation, ranking him as the sixth-best shooting guard and second-best Hoosier.
To add, ESPN stood him in the fourth position as the best point guard and rated him as the nation's 20th best player.
Therefore, he had scholarships coming from all the way, likewise Illinois, Indiana, Iowa, Miami, Tennessee, and Virginia Tech.
Indiana was facing problems as their head coach Mike Davis' resigned; Purdue University grabbed the chance to sweep away the best players.
According to Scout.com and Rivals.com, Moore was in a list of the top 40 recruits along with Robbie Hummel, Scott Martin, and JaJuan Johnson as part of the nation's number 5 and 6 ranked recruiting class, respectively.
E'Twaun Moore | College Career
The Season 2007 – 08
Moore began his college at Purdue University, where he had Robbie Hummel as his roommate, and JaJuan Johnson and Scott Martin were all in a team to share a common bathroom. They were all coached by the head coach, Matt Painter.
On January 30 and February 2 od 2008, Moore faced the Iowa Hawkeyes and the Illinois Fighting Illini, respectively.
Hence, in a few days on February 4, he was named the co-Big Ten Player of the Week for his gameplay efforts.
By the end of it, he had 12.9 points a game for "baby boilers," which led him to claim the first true freshman in Boilermaker history to lead in that category.
Therewith, he surpassed the Purdue freshmen record of 53 field goals set by Chris Lutz in 2006 with three extra goals.
Right after it, he stood behind Russell Cross with a total score of 437. As Moore contributed to the win against the Baylor Bears, Purdue University gained a chance to make their 2nd straight NCAA Tournament.
However, in the second round of it, they had a loss against the senior-led Xavier team thus, ending the tournament with a 25–9 overall record.
Moore was named to a Second Team All-Big Ten selection while he got selected to the Big Ten All-Freshmen Team.
The Season 2008 – 09
For this season, Moore was the leading scorer for the Boilermakers, where he was ranked second in assists and third in rebounds.
In the final week of the 2008 NIT Season Tip-Off, he contributed to Purdue to stand second in the 16-team field. Following it on December 8, 2008, he had his second conference player of the week award.
During the semifinals at Madison Square Garden, Moore recorded 19 points, which ultimately led his team to a 71–64 victory of Boston College.
Afterward, in the championship game, despite Blake Griffin's double-double score of 22 points, he led the team to reach overtime against Oklahoma.
2008 – 09 Result
Moore helped the Boilers to record a score of 11–2 in the preseason and an 11–7 record in conference play.
At the same time, he himself had a double-figure score of 30 times (23–7), including three 20+ point performances (1–2). In the League play, he also had season-high 26 points against Indiana with two double-doubles.
Additionally, he was named the Second Team All-Big Ten and was recognized as a Conference All-Academic selection.
As he became one of the three Boilers to be named on the all-conference tournament team, he also helped Purdue to its first Big Ten Tournament Championship in school history.
In the 2009 NCAA Tournament, Moore led the team making their straight third appearance in it, where he had featured for 1,222 minutes in the season. His timeframe became the second-most in school history behind Joe Barry Carroll.
The Season 2009 – 10
At the beginning of the season, Moore was named the preseason candidate for the John R. Wooden Award along with teammate Robbie Hummel.
Following it, Moore had his 1,000th career point named the 2009 Paradise Jam Tournament MVP after his 22-point performance against Tennessee.
Then, he was selected by ESPN The Magazine and College Sports Information Directors of America for the District 5 First Team Academic All-District Team.
He was one of the 40 finalists for the 15-man Academic All-American team, where he got selected for the Second Team Academic All-American.
2009 – 10 Result
From November 20 to March 3, Moore maintained a double-digit scorestreak in 28 games.
During the quarterfinal of the 2009 Big Ten Conference Men's Basketball Tournament on March 24, they faced Northwestern, where he had eight 20+ point performances with a career-high 28 points.
This led Purdue to 16.5 points a game and 34.3% shooting beyond the arc while he himself got second on the team with 2.7 assists per outing behind Lewis Jackson.
During the conclusion of a regular season, both media and the coaches named him for the First Team All-Big Ten selection.
On the one hand, Moore was selected by the U.S. Basketball Writers Association to the 10-man All-District V team covering college basketball players in the states of Ohio, Indiana, Illinois, Michigan, Minnesota, and Wisconsin.
While om the other hand, he was selected by Yahoo! Sports and the Associated Press for the Third-Team All-American selection and Honorable Mention All-American, respectively.
He was also recognized as an All-District First-Team selection by the National Association of Basketball Coaches.
Season End Record
By the end of the season, Moore helped Purdue hang on the 29–6 record, which was the most season wins in school history.
He also concluded the season the ninth on the steals behind teammates Hummel and Johnson seventh and eighth.
Meanwhile, he had 93 assists and became only the third boilermaker to lead the team in total points and assists since Larry Weatherford.
Likewise, he also became the first person to lead the team in scoring three straight seasons since Troy Lewis.
The Season 2010 – 11
After accomplishing his junior years as the First Team All-Big Ten, Moore, alongside his teammate JaJuan Johnson decided to enter for the 2010 NBA Draft and return for their senior years.
Moore Commenced the season as the Big Ten media had selected him for the 2010–11 Big Ten Conference men's basketball season as a Preseason First Team All-Big Ten.
Besides, Moore was a top 50 candidate for the Wooden Award and a candidate for the Lowe's Senior CLASS Award.
On November 26, 2010, against a match with Southern Illinois, he recorded his first 30-point game performance, including 31 points by going 9 of 18 from the floor.
During New Year's Eve game against Northwestern, he had another 31 point performance, including a career-high of 7 made three-point field goals.
Additionally, on November 17, Moore had his season highs of 7 assists against Alcorn State, followed by his 9 rebounds (4 times) and 4 steals against Austin Peay.
Moore became the Co-Big Ten Player of the Week on January 3; however, in the mid of the month, he had only 15 of his 57 shot attempts from the floor with no attempt of a single free throw in four games (2–2).
In contrast, he made Purdue stand as a #11 with a career-high 38 points over #3 Ohio State on February 20.
2010 -11 Result
Moore made his 2,000th career point with career-high 7 three-point field goals. Afterward, he was in the top ten finalists of the Lowe's Senior Class Award and was selected for the midseason Naismith Award and midseason Wooden Award top-30 lists.
Purdue improved from #11 to a 2nd-place finish in conference play with a 14–4 record and 25–6 overall.
Subsequently, he was the National Association of Basketball Coaches (NABC) Division I District 7 All‐District second-team choice.
Followed by it, he was selected by the United States Basketball Writers Association to its 2010–11 Men's All-District Team. Additionally, he was also one of the 20 players on the final ballot for the John R. Wooden Award.
Altogether, by the end, he had an average career-high of 18 points (2nd on team), 5.1 rebounds (2nd), 3.2 assists (2nd), and .5 blocks.
This includes his 44.7 shot from the floor, 71 percent from the line, and 40 percent from beyond the arc. Hence, Moore had 20+ points in eleven games, including three 30+ point games.
On the contrary, the National Association of Basketball Coaches titled him a third-team All-American Selection. Fox Sports selected him as a Third Team All-American, and the Associated Press gave him an Honorable Mention.
E'Twaun Moore | College Career Stats
Until the end of his college career, Moore had become the third player in Big Ten history to tally 2,000 points (2,136), 500 rebounds (611), and 400 assists (400). He closely followed Michigan State's Steve Smith and Penn State's Talor Battle.
In the end, Moore was the third-highest scorer, trailing only Rick Mount and Joe Barry Carroll.
To illustrate, he had the most minutes played (4,517), three-point field goals made (243), games won (107), games played (140), and starts (137).
His career averages stood as 15.3 points, 4.4 rebounds, 2.9 assists, 1.2 steals, .5 blocks, with a shot of 44 percent from the field, 73 percent from the line, and 38 percent beyond the arc.
E'Twaun Moore | Professional Career
Boston Celtics
The Year 2011
Boston Celtics selected Moore in the 2011 NBA Draft in the second round with 55 overall. Before the Celtics contract, Moore had to sign a deal with Italy's Benetton Treviso that featured an opt-out clause due to the 2011 NBA Draft Lockout.
Eventually, he signed a deal with the Celtics on December 9 and debuted briefly (for less than 1 minute) in the Celtics' season-opener against the New York Knicks on Christmas Day.
On December 28, he had his match against Charlotte Bobcats, where he recorded his first rebound and assist.
The Year 2012
On January 4, in a game against the New Jersey Jets, Moore recorded his first points. Followed by his match against the Indiana Pacers at Bankers Life Fieldhouse in his home state, he got a fair amount of time as he played for 20 minutes.
After the injury of Keyon Dooling and Sasha Pavlović, he was gaining sufficient time on the games.
Hence, he faced Orlando Magic on January 26, where he scored 16 points with 4–4 from a distance. Afterward, he had made his career-high 7 rebounds against the Miami Heat on April 24.
Orlando Magic
Moore was traded to the Houston Rockets in a three-team deal between the Celtics, Rockets, and Portland Trail Blazers on July 28.
The deal was to send Moore, JaJuan Johnson, Sean Williams, and Jon Diebler to the Rockets, Courtney Lee to the Celtics, and Sasha Pavlović to the Trail Blazers.
However, the Rockets waived off Moore, and he went to sign a deal with the Orlando Magic on September 26, 2012.
The Year 2012
As Jameer Nelson and Hedo Türkoğlu were injured during the beginning of the season; hence, Moore started his time there as a starter. On November 6, He played against the Chicago Bulls, where he recorded a career-high 17 points.
In the meantime, he topped the Brooklyn Nets with 18 points, and Nelson started in the lineup as he returned from the injury.
On December 28, against the Washington Wizards' match, Moore suffered an elbow sprain when he and Cartier Martin landed on his arm during a loose ball scramble.
The following night, he couldn't play due to his injury, and he did not start up his training until January 13.
The Year 2013
The next day after his return, Moore went up to the lineup, and on January 28, he played the match against the Detroit Pistons, where he scored career-high 18 points.
Moore then returned to the starting lineup on February 2 for the game against the Milwaukee Bucks as Nelson had his left arm bruised.
Besides, Moore also recorded his career-high with 18 points against the Philadelphia 76ers on February 4. Moreover, Moore continued as a starter even after the return of Nelson as Arron Afflalo and J. J. Redick was injured.
However, on February 13, Moore returned to his reserve role as Affalo and Redick recovered from their injury.
Similarly, Moore came upon the starting lineup on February 22 as Redick was traded to the Magic on February 21, and Nelson had strained left knee patella tendon.
Before Nelson's return to the starting lineup on March 5, Moore had scored a career-high 11 assists against the Houston Rockets on March 1. Moore had been a point guard for the Orlando Magic; however, he missed his game on November 29 due to an injury.
However, he returned to the lineup three games later, on December 29.
The Year 2014
Moore commenced the year with a match against the Milwaukee Bucks on February 18, as he posted a score of 17 points and 2 blocks.
On April 9 against the Brooklyn Nets, he recorded 17 points on 6-for-6 shooting, including 5-for-5 on three-point shots.
Chicago Bulls
Moore dealt with the Chicago Bulls on September 28, 2014.
The Year 2015
The Bulls' players Derrick Rose, Jimmy Butler, and Taj Gibson were sidelined on March 5 due to an injury.
Therefore, Moore helped the Bulls against Oklahoma City Thunder 108–105, and he recorded a career-high 19 points and hit the game-winning three-point shot.
The Year 2016
On January 14, Moore helped the Bulls defeat the Philadelphia 76ers, as he scored Chicago's first 7 points in overtime with both a 24-point deficit and a 4-point overtime deficit.
Following it on February 3, Moore started in place of Butler for the match facing the Sacramento Kings, where he made career-high 24 points, including 13 points on 5-for-5 shooting in the first half.
On the night of February 21, when Kobe Bryant made his farewell visit to the United Center, Moore had scored 24 points against the Los Angeles Lakers.
New Orleans Pelicans
The Year 2016
On July 26, Moore signed a contract to play for the New Orleans Pelicans. Then, he first started his game on October 26 with a 10-point performance against the Denver Nuggets.
However, he had a miss during the game in a three-point shot attempt with 24 seconds left.
The Year 2017
Following it, Moore tied a career-high with 24 points in a 106–105 win over the Atlanta Hawks on November 13. Similarly, he made his new career-high with 27 points in a 125–115 loss to the Golden State Warriors on December 4.
Furthermore, on December 11, Moore made a career-high 36 points and made a career-best six 3-pointers in a 130–123.
However, it came as a loss to the Houston Rockets. Thereafter, on April 4 match against the Memphis Grizzlies came as a 123–95 victory with 30 points and made a career-high seven 3-pointers in 10 attempts.
The Year 2018
Moore recorded his season-high 30 points in a 126–110 win over the Toronto Raptors on November 12, followed by 31 points on November 14 against Minnesota.
The Year 2019-20
For the season 2019-20, Moore was featured in the games in a variety of roles. At first, Moore witnessed the final 7 games of the team's 13-game losing streak from the bench.
Secondly, During his December return to the rotation, the team bagged 5 to 6 contests continually. Therewith the contests, Moore averaged 23 minutes of play (over 9 minutes per fourth quarter) and scored many important points.
Phoenix Suns (2020–present)
Moore joined Phoenix Suns on November 30, 2020. Just after two games, he captured enough playing time with the Suns.
Moore was teamed against the Oklahoma City Thunder on January 27, 2021. Later, he got a start as Chris Paul was out on February 8, due to a sore right hamstring.
Moore notched a season-high 17 points with 4 assists in 39:41 minutes of play for a 119–113 victory over the Cleveland Cavaliers.
E'Twaun Moore | Awards and HighLights
Third-team All-American – NABC (2011)
2× AP honorable mention All-American (2010 & 2011)
Big Ten All-Freshman team (2008)
Third-team Parade All-American (2007)
2× Second-team All-Big Ten (2008, 2009)
2× First-team All-Big Ten (2010 & 2011)
E'Twaun Moore | Net Worth
Moore is known to be the 6th best-paid player of the New Orleans Pelicans this year. He reportedly signed a 4 year/ $34,000,000 contract with the New Orleans Pelicans, including guaranteed, and an annual average salary of $8,500,000.
Therefore, he is estimated to have a net worth of $8,500,000 per year; however, his salary is not disclosed.
Besides his athletic career, he earns his revenue even from the big endorsement deals with Hoop Culture and Q4 sports.
Furthermore, Moore had bought a luxury house for his parents in 2014. Having said these, the details of their total worth are, however, unknown.
You might want to read about: LeBron James Bio: Early Life, Basketball Career & Net Worth >>>
E'Twaun Moore | Love Life and Social Media
Moore is the 67th best-paid guard whose agent is Mark Bartelstein of Priority Sports & Entertainment. He is a player with an attractive personality; however, there are no details about his love life.
To illustrate, there are no rumors about him dating, nor has he ever had a controversy. Thus, we can conclude that he is still a single athlete who is currently focused on his career.
But wait, Moore has a daughter. With this Instagram post of his, we can conclude on more points that Moore is a dad to someone.
Moving forward to his social media appearances, this NBA star is quite famous on the platform. He has many of his followers, where he shares his career highlights and personal life.
E'Twaun Moore | FAQs
How big is E'Twaun Moore wingspan?
E'Twaun Moore's wingspan is 6'9," and his defensive rating is 110.3.
Is E'Twaun Moore getting his free agency?
E'Twaun Moore may be getting his free agency this year, 2020. However, the Sixers do not have a lot of money to spend in the 2020 free agency market; thus, it will take some time to confirm.