Blake Griffin is an American professional basketball player who plays for the Boston Celtics of the NBA. The NBA player played college basketball for the Oklahoma Sooners, where he was awarded consensus the national college player of the year during his sophomore year.
The Los Angeles Clippers first drafted Griffin in the first overall 2009 NFL draft. As of 2023, he has been a six-time NBA All-star and good times All-NBA selection.
Blake was traded Detroit Pistons in January 2018, where he played until 2021. He played for Brooklyn Nets in 2021 and with Boston Celtics on September 30, 2022.
Griffin put his exceptional performances in three games played in December 2022, where he produced an average of 11.7 points and 8.0 rebounds. Celtics coach Mazzulla said that he always counts on him and can lead by example in the dressing room.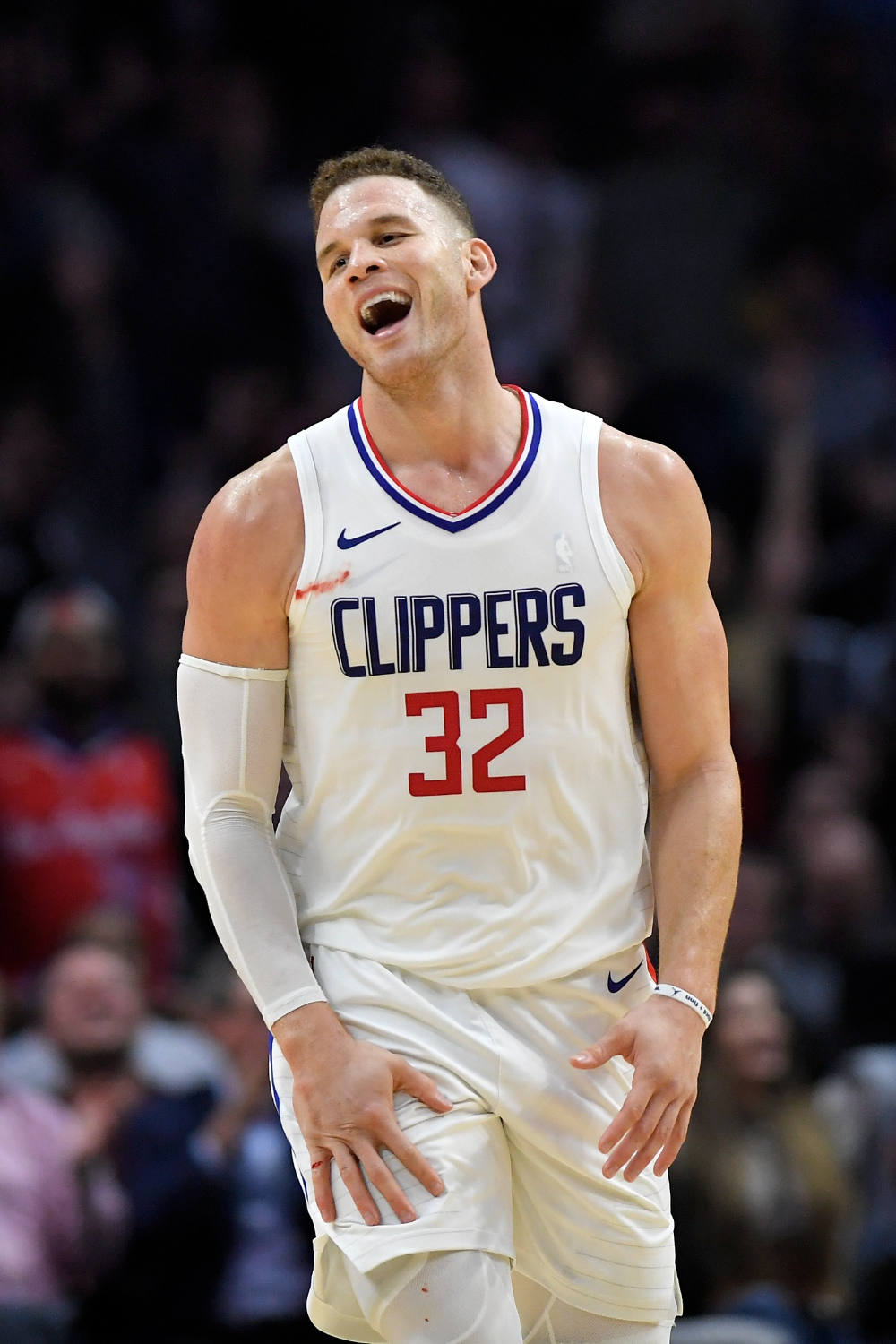 Besides basketball, Blake is also the ex-boyfriend of the highest-paid model Kendall Jenner. The pair, however, broke it off cordially due to unknown reasons.
There is a lot of information about his early life, career, net worth, and wife. So please stick to the article to the end to know everything about him.
Let's look at some quick facts before getting into details about his life.
Blake Griffin | Quick Facts
Full Name
Blake Austin Griffin
Birth Date
March 16, 1989
Birth Place
Oklahoma City, Oklahoma
Nick Name
High Griffinition
Religion
Christian
Nationality
American
Ethnicity
Half Afro-Haitian, Half White
Education
University of Oklahoma

Oklahoma Christian School

Horoscope
Pisces
Father's Name
Tommy Griffin
Mother's Name
Gail Griffin
Siblings
Taylor Griffin
Age
34 Years Old
Height
6'9″/2.06 m/ 206 cm
Weight
113 kg/249 lbs
Hair Color
Dark Brown
Eye Color
Light Blue
Build
Athlete
Profession
NBA player
Current Team
Boston Celtics
Position
Power Forward, Center
Active Years
2009-present
Marital Status
Unmarried
Ex-partner
Brynn Cameron
Kids
Two; Ford Wilson Cameron Griffin and Finley Elaine Griffin
Net Worth
$110 million
Social Media
Instagram, Twitter
Merch
Jersey, Bubble Head, Posters
Last Update
November, 2023
Blake Griffin | Early life, Family, And Education
Griffin was born in Oklahoma on March 16, 1989, to loving and supportive parents Tommy Griffin and Gail Griffin.
His father, Tommy, is a retired basketball player and coach. He played as a center for North Western University. Tommy coached Classen High School and led them to two state championships.
Blake's father and mother were renowned because of their interracial marriage. He, alongside his brother, was homeschooled by his mother until high school.
Griffin has an older brother named Taylor Griffin, who also played in the NBA. Phoenix Suns drafted Taylor in the 2009 NFL draft.
Unfortunately, he only played 32 minutes for the Suns in the regular season, spending most of the year with D league affiliate lowa energy.
After Sun waived him in 2010, he played for lower European leagues like Belgacom Liège Basket and Charlotte Bobcats.
Taylor signed his last professional contract with Italy's Pallacanestro Trapani. Since then, he has been helping his brother in his off-court ventures.
On the other hand, Blake joined Oklahoma Christian School in 2003, where he played with talented coach Tommy Griffin. Griffin joined the University of Oklahoma for his college education.
Blake Griffin | Age, Height, And Weight
The professional basketball player turns 33 years old in 2023.
Blake is an athletic player with a height of 2.06 m while weighing 113 kg/249 lbs. With his tall stature, he has an advantage in playing as a power forward.
For his appearance, Griffin has a white complexion with dark brown hair and light blue eyes. Blake has a small-sized face, and his hairstyle is short and straight.
Blake Griffin | Basketball Career
High School Career
Griffin played alongside his brother Taylor in his high school days. The Griffin brothers were coached by his father, who led them to two state basketball championships.
During the summer of his junior year, he even played against Kevin Durant and Ty Lawson's AAU team. He won two other state championships after his brother went to play college basketball at Oklahoma Sooners.
In his junior year, the coach of Oklahoma Sooners and his brother convinced him to join the University of Oklahoma. He agreed because he got to play with his brother again in his home state.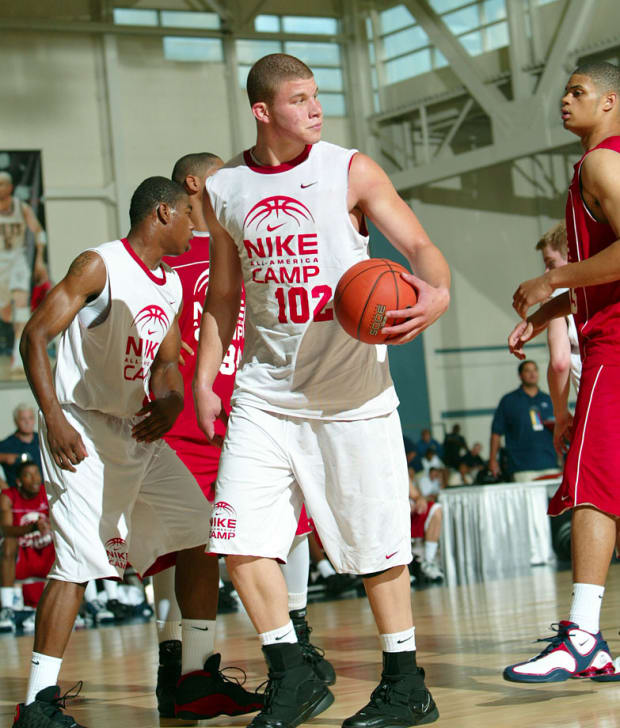 Senior Year was a good year for Griffin as the Tulsa World, and The Oklahoman named him "Player of the Year."
Blake averaged 26.8 points, 15.1 rebounds, 4.9 assists, and 2.9 blocks per game during his senior year, leading the team to a 26-3 record.
Additionally, he was the Gatorade Oklahoma Player of the Year and was selected to the McDonald's All-American, where he won the Powerade Jam Fest Slam Dunk Contest.
College Career
The NBA player soon became the most popular and highest-rated recruit in Oklahoma college history. He averaged 14.7 points and 91. rebounds as a freshman led the Sooners to a 23-12 record.
The skilled player suffered a few injuries in his knee that damaged his cartilage, and he had to undergo arthroscopic surgery. Luckily, he recovered pretty fast and returned on March 2, 2008.
He was the first pick by the USBWA and NABC and was awarded to the Big 12 All-Rookie Team and the first team All-Big selection by the league coaches and Associated Press.
Blake was awarded all six national Player of the year awards during his sophomore year. He scored 25 points and grabbed 21 rebounds in the third game against the Davidson Wildcats.
During his regular seasons, Graffin averaged 22.7 points, 14.4 rebounds, and 2.3 assists per game and earned All-American first-team honors.
He became the first player in the school history of Oklahoma to win the Naismith Award, Oscar Robertson Trophy, Adolph Rupp Trophy, John Wooden Award, and the Associated Press player of the year.
NBA Career
Los Angeles Clippers drafted Blake in the 2009 draft in the first overall. He played for the Clipper's Summer League team and won Summer League MVP.
Unfortunately, he injured his kneecap, which later turned out to be a stress fracture in the left knee. Griffin returned from the injury after two years.
Blake made his NFL debut against Portland Trail Blazers, where he set a record for the most consecutive doubles with twenty-three.
He was voted 2011 NBA All-Star Game by coaches as a reserve on the Western Conference squad. Blake participated in the 2011 rookie challenges and won the Slam Dunk Contest during the All-Star break.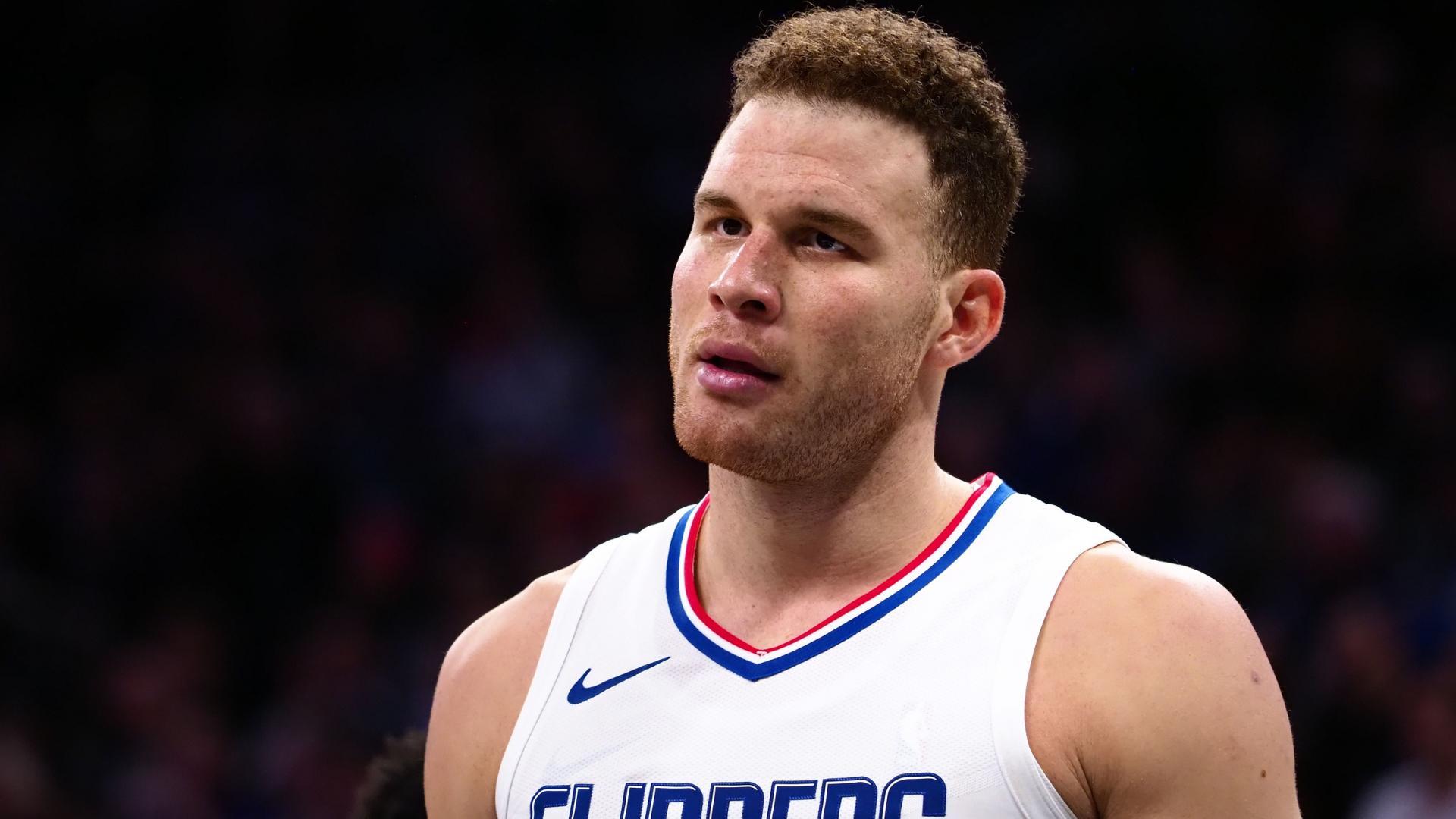 Fast forward to 2018; The Clippers traded them to the Detroit Pistons, where he scored his career-high of 50 points against the 76rs.
Nevertheless, his injuries kept bugging him, forcing him to miss the 2019-20 season. On March 8, 2021, Griffin signed a deal with Brooklyn Nets and his debut against the Washington Awards.
The powerful forward resigned from a one-year contract extension with the Nets on August 9, 2021. He scored 19 points in the 104-124 loss against Denver Nuggets.
On September 30, 2022, Blake signed a one-year contract with Boston Celtics for the minimum salary.
Awards And Honors
Following are some of the achievements and honors of the basketball player:
Six times NBA All-Star from the year 2011 to 2015 and 2019
Three times All-NBA Second Team from the year 2012 to 2014
Two times All-NBA Third Team in the year 2015 and 2019
NBA Rookie of the Year in the year 2011
All-Rookie First Team in the year 2011
Slam Dunk Contest champion in the year 2011
National College Player of the Year in the year 2009
Oscar Robertson Trophy in the year 2009
Western Conference Player of the Month 2014
Western Conference Rookie of the Month: November 2010
Blake Griffin | Relationship And Kids
Blake Griffin was engaged to a former basketball player for the University of Southern California, Brynn Cameron.
The pair shares two adorable children, Ford Wilson Cameron Griffin, seven years old, and Finley Elaine Griffin, four.
However, they broke up in July 2017 without revealing the truth. In September that year, Blake was spotted with Kendall Jenner, and the dating rumors started spreading.
Despite not confirming whether they dated, they were often seen with each other.
In Feb 2018, the sister of American football player Jordan Cameron filed a palimony lawsuit against Griffin for stranding her and their children to date Jenner.
She claimed he cared more about the attention and press he received from dating a top model than a responsible father and partner.
The mother of two even claimed that Blake completely blindsided her and made her sign a prenuptial agreement before the wedding that was supposed to take place on July 28, 2017.
Unlike the actual plans, he instead broke up and went on to date high-profile models.
Griffin denied all the allegations, and the lawsuit was solved after one year.
Soon after, rumors started swirling that she was paid $258,000 per month for child support. However, both of them denied such allegations.
As of now, Blake is dating Francesca Aiello, who is the owner and designer of Frankie's Bikinis. They have been together since 2018 and prefer to keep their relationship private.
Legal Drama
In October 2014, The NBA player was charged with a misdemeanor when he allegedly attacked Daniel Schuman by grabbing his neck and slapping him.
Blake also reportedly took the guy's phone because he was upset by the flashlight that appeared while taking the pictures. The charges, however, were dismissed.
Read More: Jayson Tatum Bio: Basketball Career, Son & Net Worth>>
Blake Griffin | Net Worth, Salary, And Charity
Net Worth And Salary
The power forward player has a sparkling net worth of $110 million as of
2023. As for his career earnings, Blake has amassed $255 million from NBA.
In addition to that, he earns more than 30 million per year from the NBA. In 2018, he earned $32.1 million from the Detroit Pistons.
Blake signed a year contract, $2,905,851 guaranteed, and an average salary of $ 2,905,851 with the Boston Celtics in 2022. His salary in 2022/2023 is expected to be $2,905,851.
Griffin has fantastic deals with well-known brands like Nike, Subway, Kia Motors, Vizio, AT&T, and GameFly.Panini America signed him for a long-term contract.
Blake Griffin falls among one of the highest-paid athlete endorsers. Besides, he shares some experience in the acting world and received positive responses from critics and fans.
Furthermore, he is the co-owner of a production company with Matt Kalil, who plays in the NFL.
Charity
The Christian has committed to giving $100,000 to all Little Ceasars Arena staff who cannot keep themselves afloat during the 2020 pandemic.
During the season, he donated $100 per dunk to a fundraiser he started to fight childhood obesity.
Likewise, Blake also donated the Kia Sedan that he won in the Slam Dunk Contest for a charity auction. Stand Up Cancer received the proceedings of the auction.
He also shares his opinion and viewpoints on particular topics and new projects on his feed. Celebrities like Kevin Hart and Chris Brown have also appeared in his posts.
Blake Griffin | Tattoos
Without a doubt, Blake Griffin is into getting inked and flaunts numerous on his body. As simple as his tattoos may seem, they hold deeper meanings in his life.
We have listed all his known tattoos below.
The left side of his torso (Landscape): His first tattoo of Griffon was done by Dr. Woo. He revealed it back in 2016 during his beach time, portraying a silhouette of two children sitting on a tree branch overlooking the city.
Griffin Flaunting His Tattoo (Source:nbatattoos.com)
The right wrist (Stay): After the 2017 game, Blake tattooed a "Stay" on his right wrist. As per the sources, it stands for his saying, "Stay focused. Stay hungry. Stay humble."
The right side of the torso (Just keep smiling): According to Blake, this tattoo is a quote from his high school teammate Wilson Holloway. Unfortunately, his friend passes away due to Hodgkin's lymphoma.
Continue Reading:B.J.Armstrong: Early Life, Family, Basketball Career & Wife>>
Blake Griffin | Social Media Presence
Griffin is available on various social media profiles like Instagram and Twitter. He frequently shares photos of him playing basketball and posts a few highlights here and there.
Instagram: 3.8m followers
Twitter: 4.4m followers
View this post on Instagram
Keeping his kids' privacy in mind to give them a regular and proper upbringing, Blake does not share any of their pictures.
He also shares his opinion and viewpoints on particular topics and new projects on his feed. Celebrities like Kevin Hart and Chris Brown have also appeared in his posts.
He also shares his opinion and viewpoints on particular topics and new projects on his feed. Celebrities like Kevin Hart and Chris Brown have also appeared in his posts.
Blake Griffin | FAQs
Who is Blake Griffin's agent?
Blake Griffin's agent is Sam Goldfeder, who has been an NBA agent for twenty years.
What is Blake Griffin's career stats? Is Blake Griffin a Hall of Famer?
Blake Griffin has maintained his career stats with 668 scores, an average of 20.9 points, 8.6 total rebounds, and 4.3 assists.
Talking about his Hall of Fame, there have been numerous discussions regarding if he either falls in the category or not. Griffin presents the eligibility with a 6x All-Star appearance and 4x All-NBA.
Is Blake Griffin retiring?
Well, no! Initially, the rumors of his retirement came forward when he took a break from the lineup to decide his path. He is now back on the field and is not retiring.
You May Also Like: Sabrina Ionescu Bio: Basketball, WNBA, Family & Net Worth>>