Evgenia Medvedeva is one of Russia's most well-known figure skaters. She has tremendous talent, setting new world records for scoring on 13 occasions.
She is the first female skater to break the 80-point barrier in the short program and the 160-point barrier in the free program.
The skater won two silver medals at the Pyeongchang 2018 Olympic Winter Games, a career-high for the 20-year-old Moscow native.
Medvedeva, who turned 23 years old, is content with her life: she's reading more, going to school, and aspires to be a producer – for ice shows, TV, or both.
Furthermore, she keeps one metaphorical blade firmly planted on the ice, even though she's certain she won't compete in another Olympic Games.
Let's explore more about the athlete. But before anything, let's take a glance at her quick facts.
Quick Facts
Full Name
Evgenia Armanovna Medvedeva
Name
Evgenia Medvedeva
Native Name
Евгения Армановна Медведева
Date of Birth
November 19, 1999
Age
23 years old
Birth Place
Izhevsk, Udmurtia, Russia
Residence
Moscow, Russia
Nationality
Russian
Ethnicity
Russian
Religion
Not Available
Zodiac Sign
Scorpios
Height
1.58 m (5 feet 2 inches)
Weight
Not Available
Hair Color
Black
Eye Color
Dark Brown
Father's Name
Arman Babasyan
Mother's Name
Zhanna Devyatova
Siblings
Not Available
Education
Not Available
College
Russian State University of Physical Education, Sport, Youth, and Tourism
Marital Status
Unmarried
Boyfriend
Christian Kostov
Children
None
Profession
Figure Skater
Coach

Eteri Tutberidze
Sergei Dudakov
Daniil Gleikhengauz

Former Coaches

Lubov Yakovleva
Brian Orser
Tracy Wilson

Rider Type
Not Available
Skating Club
Sambo-70
Debut Year
2004
Status
Retired
Choreographer

Shae-Lynn Bourne
Jeffrey Buttle
Eteri Tutberidze

Former Choreographer

Misha Ge
David Wilson
Sandra Bezic
Alexander Zhulin
Igor Strelkin
Ilya Averbukh

Net Worth
$1.4 million
Training Locations
Moscow, Russia
Social Media
Instagram, Twitter
Merch
Rolling Guard, Figure Skating Pants
Last Update
June, 2023
Evgenia Medvedeva: Early Life
Evgenia's mother, Zhanna Medvedeva, a former Russian figure skater who retired at 14, and her Father, Armenian businessman Arman Babasyan, are divorced.
Her parents both wanted her to practice figure skating to improve her figure.
The skater competes under the surname Medvedeva, her maternal grandmother's maiden name. Her given name is Babasyan.
She began her University studies in 2017 when she enrolled at the Russian State University of Physical Education, Sport, Youth, and Tourism.
Also, read about; Apolo Ohno's Bio: Net Worth, Olympic Medals & Mother>>
Evgenia Medvedeva: Professional Career
Medvedeva began skating at the age of three and was taught by Elena Proskurina, Lubov Yakovleva, and Elena Selivanova.
She began working with Eteri Tutberidze at the Olympic Reserve Sports School No. 37, later renamed Sambo 70, around 2007.
She made her senior national debut in 2012, finishing eighth, and then placed sixth at the junior level.
She was injured at the start of the following season and did not compete in the senior Russian Nationals.
Moreover, she finished fourth at the 2013 Russian Junior Championships behind Maria Sotskova.
Junior International Debut
Medvedeva made her international debut in the 2013–2014 season. She won gold twice in the ISU Junior Grand Prix series, first in Riga, Latvia, and then in Gdansk, Poland.
The skater qualified for the JGP Final in Fukuoka, Japan, and finished third behind Sotskova and Serafima Sakhanovich.
Likewise, she finished seventh in her second senior appearance and fourth in her junior debut at the 2014 Russian Championships.
Medvedeva was tasked with filling in for the injured Sotskova at the 2014 World Junior Championships in Sofia, Bulgaria.
She won the bronze medal after finishing third in both segments.
At the same time, Elena Radionova and Sakhanovich took gold and silver, respectively, giving Russia its second back-to-back sweep of the World Junior ladies' podium.
World Junior Championship
Medvedeva's first JGP assignment of the 2014 season was in Courchevel, France, where she won gold by 21 points over silver medalist Rin Nitaya of Japan.
At her second event held in Ostrava, Czech Republic, she finished second in both segments and won gold by 1.44 points over Japan's Wakaba Higuchi.
The skater qualified for the Junior Grand Prix Final in Barcelona, Spain, where she won gold in both the short and free programs.
Don't miss out; Nathan Chen Bio: Career, Education, Net Worth & Family
Evgenia finished third in both segments and won the bronze medal, her first senior national medal, at the 2015 Russian Championships, behind Elena Radionova and Elizaveta Tuktamysheva.
The skater figure won gold at the Russian Junior Championships the following year, finishing nearly 20 points ahead of silver medalist Maria Sotskova.
Medvedeva finished first after the short program at the 2015 World Junior Championships in Tallinn, Estonia, setting a new world record of 68.48 points for the junior ladies' short program.
She won gold in the free program after finishing first again. In addition, she had no falls on the ice throughout the season in international competitions.
European & World Titles
For the 2015–2016 season, Medvedeva became eligible to compete at the senior international level.
She won a gold medal in early October at the 2015 Ondrej Nepela Trophy, an ISU Challenger Series (CS) event.
Later that month, she competed in her first senior Grand Prix event, 2015 Skate America.
Moreover, she won the gold medal ahead of Gracie Gold of the United States after finishing first in the short program and second in the free skate.
Medvedeva finished second to compatriot Elena Radionova in her next Grand Prix race, the 2015 Rostelecom Cup.
Medvedeva won the gold medal at the Grand Prix Final in Barcelona, Spain, in December, ahead of Satoko Miyahara, and earned the fifth-youngest Grand Prix Final champion at 16.
Rising & Shining
Evgenia Medvedeva won gold at the 2016 Russian Championships at the end of the month, beating out silver medalist Radionova.
Medvedeva competed in her first senior-level ISU Championships, the 2016 European Championships in Bratislava, Slovakia, in January 2016.
After finishing first in both the short and free events, she won the gold medal.
She won the gold medal at the 2016 World Championships in Boston, Massachusetts, in March 2016.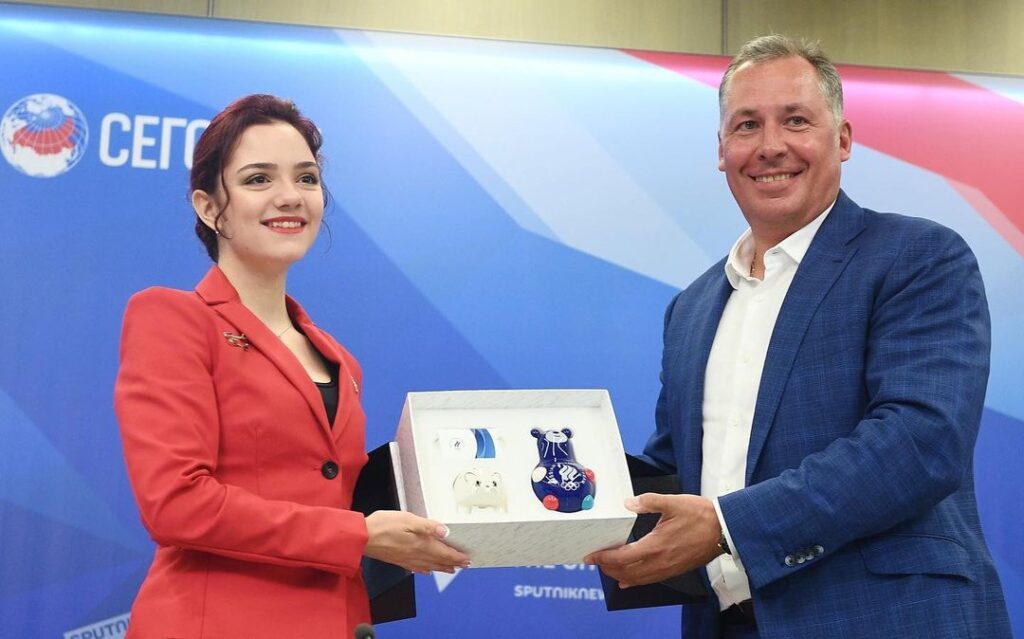 After finishing third in the short program, she won the gold medal in the free skate with a world record of 150.10, breaking Yuna Kim's previous mark of 150.06.
Medvedeva, 16, became the first lady's singles skater to win back-to-back Junior World Championships and Senior World Championships after winning the Junior World title in 2015.
Similarly, she finished first in both segments at the 2016 Team Challenge Cup in Spokane, Washington.
World Records
Medvedeva kicked off her Grand Prix season at Skate Canada International in 2016.
After finishing first in both segments, she won the gold medal, beating Kaetlyn Osmond and Satoko Miyahara.
She then won another Grand Prix by finishing first in both parts at the 2016 Trophée de France.
Medvedeva broke the world record for the ladies short program score (79.21) set by Mao Asada at the Final in Marseille, France.
Moreover, she won the title with an overall score of 9.33 points, which was 9.33 points higher than silver medalist Satoko Miyahara.
Breaking 230-point
Evgenia defended her national title at the 2017 Russian Championships in December 2016, even though the third jump of her 3S-3T-3T combination received no points.
She competed in the World Championships in Helsinki, Finland, in March 2017.
She was ranked first in both segments and set world records for points in the free skate (154.40) and combined score (233.41).
In addition, she became the first female skater to break the 230-point barrier in the combined total score.
Medvedeva represented Team Russia at the 2017 World Team Trophy, held in Tokyo, Japan, in April 2017.
Furthermore, she won the short program with a new world record score of 80.85, making her the first female skater to break the 80-point barrier in the ladies short program.
Injury
Medvedeva's winning streak was extended with a gold medal at the 2017 CS Ondrej Nepela Trophy in Bratislava, Slovakia.
However, following this competition, she changed her long program to Anna Karenina, debuting at the Japan Open.
The skater was diagnosed with a crack in the metatarsal bone in her right foot in mid-October, just days before the 2017 Rostelecom Cup.
She won her Grand Prix event in Russia and the 2017 NHK Trophy, held a month later in Osaka, Japan.
Unfortunately, her foot injury forced her to withdraw from the Grand Prix Final and the Russian National Championship, and she could not defend her title at either event.
Winter Olympics 2018
Medvedeva finished second to teammate Alina Zagitova at the 2018 European Championships in Moscow.
On Sunday, January 21, she was named the Russian Olympic team alongside Zagitova and Sotskova.
Medvedeva won her first performance of the 2018 Winter Olympics, the lady's short program of the team event, with a score of 81.06, a personal best, and a world record for the ladies' short program.
Thanks to the 10 points for first place in the ladies short program, Russia won a silver medal in the team figure skating competition.
Medvedeva finished second in the short program with a score of 81.61, breaking another world record before being surpassed by her teammate, Alina Zagitova. She won a silver medal at the Olympics.
Working with yet another Coach
Medvedeva announced in a statement on May 7, 2018, that she was terminating her partnership with long-term coach Eteri Tutberidze and relocating to Toronto to train with coach Brian Orser.
While training in Canada, she would continue representing Russia and her current club.
In an Instagram Live, Medvedeva explained why she was parting ways with her former coach, Tutberidze.
She stated that she "left to work together with a coach like friends" and that a desire for better results did not inspire her decision.
She went on to say that, while she did not consider herself friends with her coach, she saw herself working on the same level as Orser and primarily left 'to hear, and to be heard.'
Evgenia began her first season with her new coaches by placing first in the short program and second in the free, finishing second overall, behind Bradie Tennell and ahead of Maé-Bérénice Méité.
Struggles In the 2018-2019 Season
After many falls and under-rotations in both programs, Medvedeva finished fourth at the 2018 Internationaux de France in November.
Moreover, it was Medvedeva's first international podium finish in both her junior and senior careers.
Medvedeva substituted a new short program choreographed by friend Misha Ge with selections from Giacomo Puccini's Tosca after her disappointment in France.
She was named the European Championships' second alternate and the Winter Universiade's first alternate.
Likewise, she was called up for the Winter Universiade after Elizaveta Tuktamysheva withdrew, but Medvedeva was also removed, and Maria Sotskova replaced Medvedeva.
Medvedeva competed in the 2019 World Championships despite a thigh injury. After underrotating the 2nd part of her combination jump, she finished fourth in the short program.
The skater turned down an invitation to the World Team Trophy to recover from her injury.
Ups and Downs
Medvedeva began the season with the Autumn Classic International, finishing second in both programs and taking silver behind Rika Kihira.
She competed in the Shanghai Trophy despite not having fully recovered from an extreme fever that had compelled her to miss a week of training before the event.
Medvedeva won the short program at the Rostelecom Cup in her hometown of Moscow with a score of 76.93 points, her best under the new scoring system.
During early practice at the 2020 Russian Championships, one of Medvedeva's boots broke.
Evgenia and Brian Orser decided to withdraw from the competition and begin preparation for the upcoming season after attempting to skate again with her broken boot during free skating practices.
A Rough Patch
Medvedeva traveled to Japan in April to prepare for her Sailor Moon show, which was ultimately canceled due to the COVID-19 pandemic.
She returned to Moscow in June after being unable to return to her Canadian training base due to travel restrictions.
The skater trained at the CSKA rink with Tatiana Tarasova. Medvedeva was communicating with Orser via Skype and planned to return to Toronto once travel restrictions were dismissed.
Medvedeva debuted her new programs set to Masquerade Waltz and Alegra at the Russian test skates in early September.
Unfortunately, she blundered in both programs, and it was later revealed that she had a chronic back injury.
Evgenia was assigned to the first and second stages of the Russian Cup series, which serves as a qualifier for the Russian Championships in 2021.
However, she withdrew from both competitions and did not compete in any of the later Russian Cup stages due to chronic back pain.
Diagnosed With Covid
Medvedeva reportedly tested positive for COVID-19 in November after experiencing symptoms.
The skater figure was admitted to the hospital after suffering severe lung damage. Medvedeva spent the majority of November and early December recuperating.
However, she returned to training on December 8, and doctors advised her that she would not be able to adequately prepare in two weeks for the 2021 Russian Championships at the end of the month, so she opted out of Nationals.
However, she was healthy enough to attend and watch Nationals and perform at the exhibition gala.
Medvedeva was not named to the Russian national team for the 2021–22 season on May 14, 2021.
Did Evgenia Medvedeva Retire?
In June, Evgenia Medvedeva was not assigned any events in the 2021–22 Grand Prix series.
She declared her intention to skip the upcoming season on August 5, effectively ending her bid for a second Olympic team.
Medvedeva announced in December 2021 that she would be retiring from competitive skating due to a chronic back injury.
Awards and Recognitions
She was rewarded with the "Honored Master of Sports of Russia" title in 2016.
She was rewarded with the Order of Friendship title.
Won Russia's "Silver DOE"
Evgenia Medvedeva: Skating Skills
Medvedeva frequently performs nearly all her jumps with an arm over her head, a technique known as the "Tano" variation, which Brian Boitano popularized as part of his triple Lutz jump.
She does several jump combinations that end in a triple-toe loop, including the 3F-3T, 3S-3T, 3Lo-3T, and 2A-3T.
Moreover, she is also known for her triple-triple-triple and triple-triple-triple-triple jump combinations.
Medvedeva also frequently used the "Rippon" variation in the 2016–2017 season, which involves doing jumps with both arms over the head.
Medvedeva began incorporating the triple loop jump at the end of a combination such as the 3S-3Lo in the 2018–19 season. She has also practiced 2A-3Lo, 3Lo-3Lo, and 3F-3Lo.
Near the end of her programs, she frequently performs a cross-grab I-position spiral towards the rink's center.
Medvedeva is also known for her remarkable consistency and many difficult transitions into and out of jumps.
Evgenia Medvedeva: Net Worth
Evgenia Medvedeva is a well-known figure skater with a net worth of $1.4 million as of 2022.
She is a two-time Olympic silver medalist, two-time world champion, two-time European champion, and two-time Grand Prix Final winner.
Moreover, Medvedeva is sponsored by John Wilson, the manufacturer of her Gold Seal blades, Edea, the manufacturer of her skating boots, and Nike.
John Wilson gave her custom 24K rose gold engraved blades designed by fellow figure skater Misha Ge in 2018.
Her other endorsements include being named a Pantene brand ambassador in 2018.
Medvedeva and Russian teammate Alina Zagitova appeared in a TV commercial for the Japanese game Magia Record: Puella Magi Madoka Magica Gaiden in 2019.
She has also worked with Japanese brands Rivaland and Aniplex. In addition, Medvedeva was appointed as one of Ozon's ambassadors in February 2021.
Endorsements
Medvedeva was featured on the front cover of Russian Tatler in May 2017 and Elle Girl Russia in July 2017.
She was also on the surface of Top Beauty Russia's March 2018 issue. In addition, she was ranked 46 on SportsPro's 2017 list of the 50 Most Marketable Athletes.
The skater was the British sports magazine's second figure skater to be featured, following Yuna Kim in 2013.
Medvedeva was also ranked 14 on Business Insider's 2017 list of the world's 50 most dominant athletes.
Furthermore, she was named to Forbes' '30 under 30 Europe' list as one of Europe's most successful young people in 2017.
Evgenia Medvedeva: Interests & Personal Details
Medvedeva has admitted to having lepidopterophobia (fear of moths and butterflies). Her idols in figure skating are Evgeni Plushenko and Yuna Kim.
Friends refer to her as "Zhenya" and "Janny." Evgenia is fluent in English, Russian, and some basic Japanese.
Evgenia enjoys digital drawing and is a fan of Japanese anime. She opened an online store featuring her illustrations in 2020.
In mid-2018, she moved to Toronto, Canada, where she trained at the Toronto Cricket Skating and Curling Club until September 2020.
Jerry and Tofu, her two French Bulldogs, are her pets.
Evgenia Medvedeva: Boyfriend
For a long time, figure skater Evgenia Medvedeva's personal life was shrouded in mystery behind seven seals.
Only recently did the young athlete declare publicly that she was in love, and the press learned that the chosen one was Bulgarian singer Christian Kostov.
Simultaneously, Medvedeva continues to pique the public's interest by posting photos of herself with expensive gifts on the internet.
Many people are drawn to the young champion because she is versatile and attractive. The athlete frequently shares sensual photos on Instagram.
Understandably, Medvedeva's personal life piques the public's interest. However, the athlete is not eager to share details about her attachments.
It is only known that the figure skater was in love, which motivated her to work on herself.
Furthermore, in early 2021, she showed off an impressive diamond ring. "What a radiance!" exclaimed the athlete after displaying a yellow-gold ring on Instagram.
Read about Tony Hawk's Bio: Skater, Spouse, 900 & Net Worth>>
Social Media Presence
We can imagine how important it is for athletes to be active on various social media platforms to connect with their fans and followers.
Fortunately, Medvedeva is active on social media to communicate with her fans.
Furthermore, she frequently posts pictures of her personal life and updates about herself on social media.
Below are the links to her social media; you can follow her there;
Instagram– 1.2m followers
Twitter– 5845 followers
Frequently Asked Questions
Who is Evgenia Medvedeva's coach?
In September 2021, she separated ways with Canadian coach Brian Orser to rejoin former coach Eteri Tutberidze, with whom she had worked for 11 years before parting after Pyeongchang 2018.
Will Evgenia Medvedeva compete in the 2022 Olympics?
Medvedeva announced her intention to skip the 2021-2022 season in August and effectively retired from the sport earlier this December due to chronic pain.