Federico Balzaretti is one of those former left-sided full-back professional football players who has earned 16 caps for the national side. Pronounced as :(fede' Riko baldza 'retti) the Italian style, Federico Balzaretti was born on December 6, 1981, in Turan, Italy.
He was a genuine, hard-working, and efficient defender. And he was a famous player in Italian football from 2000 to 2010. From Torino to Roma via Juventus, Fiorentina, and Palermo, let's have a sneak peek into his ten years of a prolonged football career.
Before navigating his larger-than-life kind of story, Let's view the quick facts of Federico Balzaretti regarding his age, date of birth, height, weight, spouse, net worth, and social media to have some clarification with details.
Federico Balzaretti- Quick Facts
| | |
| --- | --- |
| Full Name | Federico Balzaretti |
| Birth Date | December 6, 1981 |
| Birth Place | Turan, Italy |
| Nick Name | Not known |
| Religion | Roman Catholicism |
| Nationality | Italian |
| Ethnicity | White |
| Education | Not Known |
| Horoscope | Sagittarius |
| Father's Name | Piercarlo Balzaretti |
| Mother's Name | Not Known |
| Siblings | No |
| Age | 41 years old |
| Height | 5'9″ (1.80 m) |
| Weight | 154 lb (70 kg) |
| Hair Color | Brown Light |
| Eye Color | Black |
| Build | Athletic |
| Profession | Left-sided full-back footballer |
| Current Club | Roma |
| Affiliations | Torino, Roma, Juventus |
| Active Years | 2000-2010 |
| Marital Status | Married |
| Wife | First wife (Jessica), Eleonara Abbaginato |
| Kids | Ginevra Vittoria Balzaretti, Julia Balzaretti, Lucezia Balzaretti, Gabriel Balzaretti |
| Net Worth | $1 million – $5 million |
| Social Media | Twitter, Instagram |
| Merch of Roma | Jersey, Jacket |
| Last Update | June, 2023 |
Okay, now let's move on to cracking out Balzaretti's club career journey from beginning to end.
Federicco Balzaretti- Club Career
Torino
Balzaretti took off his career at the age of 6, playing for the hometown club Torino, playing with the various youth teams. The fact seems undeniable that he soon gained the name and fame as an athletic wing-back player of tremendous capacity.
He did go on a loan to provincial sides Varese and Siena (two cities in Italy) between 1999 and 2002, with Torin.
Someone who was just a local player before, soon became an icon for Torino supporters, kissing the jersey under the stadium at the end of games, must say that would be one of the delightful moments for the fans cheering out there in the stadium.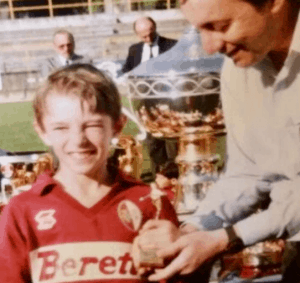 From 2004 to 2005, he was in the campaign for promotion, which brought the team back to Serie A. After the bankruptcy of Torino Calcio, the promotional tactics did succeed in solving the problematic pre-season retreat.
Blazaretti, like all the players, was released and allowed to come to agreements with other teams.
Juventus
Moving further, it was the time of 15 August 2005, Balzaretti signed up an agreement with the cross-city rivals Juventus on a free transfer. Balzaretti did confess that it was a tough time deciding to move to Juve (Juventus).
He only agreed as the club's coach, Fabio Capello, said: " There won't be any transfer to any other clubs, but you will stay here."The only central fact that was bothering him was his first wife, Jessica, was pregnant with his daughter Lucretia.
The conspiracy was heating the environment that moving was an act of double-crossing by the former hometown club Torino.
In an interview, he also said that he received Torino supporters' threats like "We're going to kill you; we're going to burn your car." This decision made others question his loyalty to his former home club. All he was looking for not ease but a challenge.
That's why he took this big step. Now he was in a stronger team, which would add much value to his net worth.
His first ever ball in Juventus was against Lionel Messi. Maybe as a consequence of this action, he might have to face many more insults and hatred whenever he returned to Turin, his birthplace.
During the year 2005-2006, he was part of the first team for Bianconeri, often playing regular under the orders of coach Fabio Capello, the top coach but really rigid and finally winning the Serie A league. His first-ever senior goal came on 17 February 2007 in Serie B, as Juventus beat Crotone(5-0).
Fiorentina/ Palermo
Balzaretti moved to Fiorentina in July 2007 for Euro 3.8 million fee. Somewhere, he failed to compromise with the club itself viola (nickname for Fiorentina). He made only six appearances in the first half of Serie-A 2007-2008 and subsequently signed by the other club Palermo on a three and half year contract.
Transfer to Palermo was indeed a permanent move to the club (loan with an option to buy financial reports) during the January transfer market for Euro 3.8 million.
Moving to Palermo gave him an excellent opportunity to take the #42 jersey as a tribute to his father was born in 1942 to prove his silician side. And this was the most crucial period when he established himself as one of the most celebrated and appreciated Italian left-backs.
International Career
After playing with the number of youth selections between 2000 and 2002, Balzaretti made his debut with the Italian national team for UEFA euro 2012. He soon became the opening left-back in the third match at the group stage as Italy moved from 3-5-2.
Not to mention, he could play the whole game against Germany in the position of right-back player as the coach of the team suspended the substitute player Christiano Maggio in the semi-final fixture.
And Maggio showed up there for Ignazio Abate, who faced an injury on the 90 minutes but stayed on the bench, confessing to a penalty during stoppage time and assisting his team in reaching the tournament final.
In January 2010, again, Balzarettti was able to sign a new contract of three and a half years.
Roma
On 1 August 2012, Balzaretti signed a three-year contract with Roma, for an enormous amount of Euro 4.5 million by Roma Coach Zdenek Zeman. Balzaretti made sure that he would add his much-needed experience and guideline to a young backline.
He made his debut with a match against Catania during the 2012-2013 seasons that ended up in a draw 2-2. He made his successful attempt at the first-ever goal for the club Roma in the Derby capital match against Lazio on 22 September 2013. Roma won the game with a scoring of 2-0.
During the second season at the club Roma, he suffered severe pelvic pain in a match against Sassuolo on 10 November 2013. Due to the pain in the pelvis, he had to undergo several operations.
However, with god's grace, Balzaretti managed to make a comeback to the pitch on the final match of the 2014-2015 season in a 2-1 home defeat to his former club Palermo on 31 May 2015.
Federico Balzaretti – Retirement
Unfortunately, on 12 August 2015, he confirmed his retirement at the age of 33 from professional Football, having made 221 appearances, scored four goals in Serie A and 130 appearances and three goals in Serie B.
He also mentioned that he has failed to fully recover from the pelvis injury he had battled for the last two years despite several treatments and two surgeries. As a consequence of this injury, Balzaretti had to make a statement saying.
"I am retiring from Football. Unfortunately, the injury I've had is forcing me to hang up my boots."
"It has been a difficult decision to make, but I can't continue playing the way I want to, at 100 percent. Last year, in my last news conference here, I said I wanted to get back on the field and play one more match for Roma."
" I managed to play 90 more minutes with Roma, and I'd like to thank everyone here for making that last dream come true. I'm happy to have spent the last few months of the season with this group, and I am delighted we secured second place."
Balzaretti has also mentioned that he would work with Roma throughout the management, working under Roma sporting director Walter Sabatini. He stated, "I will now form part of the sports management staff here at Roma. It's something that I like and feel is right for me."
Federico Balzaretti- Approach for Playing
As confirmed from the various sites, Balzaretti has remained a very attacking,sharp-minded, left-sided full-back player fully capable of playing as a winger, wing-back, or wide midfielder.
His specific characters were his energy, crossing ability. He was a cheerful, active, versatile player who moved his every single step with a strategy. He was also capable of playing the right side of the pitch.
Federico Balzaretti- Personal Life
Talking about his personal life, Balzaretti got married to famous Italian Ballerina Eleonara Abbagnato, the former Opera ballet dancer, during the 2011 Palermo summer. They both came from firmly different professions.
Gradually, with the pace of time they groomed to building their relation strong, they started getting to know each other well and respecting each other.
Balzaretti also confronted that her wife had a bigger and better career than him; they did not align with professions and occupations.
She aced very well in her field while Balzaretti himself was a very regular good player, not known for his game at that specific time. They have two children.
Also, he had two children from a previous relationship. His best friend is Peter Gulobovic.
Federico Balzaretti- Honors
| | |
| --- | --- |
| Club Roma | Coppa Italia:2012-2013 Runner-up |
| Individual | Serie A-Team of the Year: 2011-2012 |
| International | UEFA Championship: 2012 Runner-up |
Talking about UEFA, interested ones also can check out our article on Manuel Neuer, who was in the nomination for the UEFA Club Goalkeeper for the Year Award.
Federico Balzaretti – Social Media Presence
The famous former footballer Federico Balzaretti does not seem quite active on Twitter, but he seems entirely busy on his Instagram account.
He keeps posting about his wife, kids, things of his interest on his Instagram posts and stories too.
The sad part is for the people who don't understand the Italian language, it might be challenging to get the posts as most of Balzaretti's stories are in the Italian language.
Instagram– 22.1k followers (@federicobalzarettireal)
Twitter– 4439 followers (@Balzaretti42FC)
Facebook Fanclub- 67 followers (@FedericoBalzarettiFc )
Federico Balzaretti – FAQs
What are Federico Balzaretti's career statistics to date?
To date, Federico Balzaretti has appeared in a total of 399 games and has scored nine goals.