An American professional tennis player, Frances Tiafoe family includes his parents, girlfriend & his twin brother.
Tiafoe Jr. was born to his parents, Alphina Kamara & Constant Tiafoe, on January 20, 1998, in Hyattsville, Maryland.
He grew up with his twin brother Franklin.
Frances turned pro in 2015. His journey in the ATP Tour began at an astonishingly young age of just 16 and a half.
He was granted a wildcard entry into the main draw of the 2014 Washington Open, his home tournament.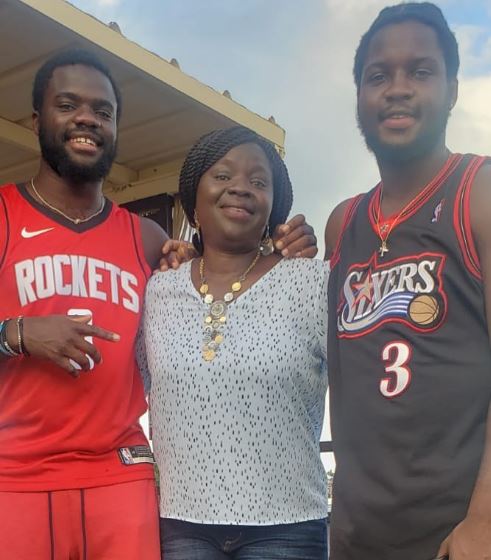 Despite his talent and enthusiasm, he faced a challenging debut, where he encountered the experienced Evgeny Donskoy and, unfortunately, suffered a loss in his first career tour-level match.
Undeterred by the initial setback, Tiafoe's determination led him to the 2014 US Open, where he received another wildcard, this time into the qualifying draw.
In this significant event, he faced the 11th seed, Tatsuma Ito, in a highly competitive match, but ultimately, victory eluded him.
These early experiences in his professional career set the stage for Tiafoe's growth as a tennis player, demonstrating his resilience and commitment to making his mark in the world of professional tennis.
Frances Tiafoe Family
Father Constant Tiafoe
Constant Tiafoe, the father of Frances Tiafoe, is a remarkable individual whose journey is both inspiring and heartwarming.
He emigrated from war-torn Sierra Leone to Washington, D.C., in 1993, seeking his family's safer and brighter future.
Upon his arrival, Constant assumed the custodian role at the Junior National Tennis Center.
It was here that he harnessed the power of tennis as a means to provide for his family, covering their essential expenses and ensuring his children could access education.
In those early days, Frances and Franklin, his two sons, shared a modest room with their dedicated father at the tennis center.
They were granted access to world-class tennis facilities despite their limited financial resources. However, expensive tennis gear remained out of reach.
Nonetheless, Constant's dedication to his family led to steady progress in his work, which ultimately improved their quality of life.
He also instilled in his children a strong work ethic and discipline in their approach to tennis.
He ensured that they received top-notch training, nurturing their budding talents and dreams on their path to becoming tennis stars.
Mother Alphina Kamara
Alphina Kamara, the mother of Frances Tiafoe, is a remarkable individual with a rich background.
Originally of African descent, she holds American nationality and played a significant role in her family's journey to the United States.
Before her husband Constant Tiafoe's immigration to the United States during Sierra Leone's civil war, Alphina married him in Sierra Leone.
She joined him in the United States in her twenties, where they embarked on a new life together.
Alphina's education proved invaluable, swiftly securing her a job as a nurse in Washington, D.C. Her dedication to her family was unwavering, and she played a pivotal role in supporting her children, Frances and Franklin, with their education.
She resided in a modest apartment near the National Junior Tennis Center, providing a stable home environment for her family.
Not only did Alphina prioritize her children's education, but she also encouraged them to dream big and hone their skills, particularly in tennis, instilling a strong sense of ambition in them.
To contribute to the family's income and sponsor her son's tennis pursuits, Alphina took on part-time jobs, showcasing her relentless dedication to her children's aspirations.
Alphina Kamara's story is a testament to the vital role parents play in nurturing their children's talents and dreams.
Her support, combined with her own achievements and sacrifices, has played a significant part in the success of Frances and Franklin Tiafoe, illustrating the power of family and determination.
Twin Brother Franklin
Another important member of Frances Tiafoe family is his twin brother Franklin. He shares a remarkable bond with his twin brother, Franklin Tiafoe, as they both entered the world on the same day, January 20, 1998.
Similar to Frances, Franklin embarked on a journey in the world of tennis.
Franklin's tennis journey commenced during his high school years at DeMatha High School in Maryland, where he diligently honed his skills on the court.
After graduating from high school, he decided to take his tennis talents to the collegiate level, where he spent a year playing for Salisbury University.
This experience at the college level provided him with invaluable exposure to competitive tennis.
However, despite displaying promising talent in the sport, Franklin ultimately chose not to pursue a professional tennis career. According to his father, he lacked a significant interest in pursuing tennis professionally.
Instead, Franklin transitioned into coaching and, in 2021, commenced his role as a volunteer coach for the Howard University Tennis program.
What Religion Does Frances Tiafoe Follow?
Frances Tiafoe's religious beliefs remain private, and he has not publicly identified with any particular religion.
While there has been speculation regarding his faith, he has not provided any official statements regarding his religious beliefs.
One interesting observation is that the hashtags used in his Instagram posts (#godspeed🙏🏿🙏🏿) may suggest that he holds a belief in a higher power or God.
However, it's important to note that hashtags used in social media posts do not necessarily provide a complete or definitive understanding of an individual's personal beliefs.
As of now, Frances Tiafoe's religious views remain a personal and undisclosed aspect of his life, and any conclusions drawn from social media content should be approached with caution.