Frank Kaminsky III is an American basketball player who last played for the National Basketball Association's (NBA) Phoenix Suns.
He played collegiate basketball for the Wisconsin Badgers when he set a single-game scoring record.
Kaminsky's shooting stroke is maybe his most remarkable talent. The player's range stretches all the way to the three-point line, allowing him to contribute offensively in various ways.
He is a type of athlete who can be useful in both pick-and-roll scenarios as well as pick-and-pop or post-up situations.
Kaminsky was named the undisputed men's National College Player of the Year in 2015.
Here, we have summarized all you need to know about Frank Kaminsky, including his personal and professional life, in one page.
So, read the article all the way to the conclusion to learn more about the player. But first, let's look at some short facts regarding Kaminsky.
Quick Facts
Full Name
Francis Stanley Kaminsky III
Birth Date
April 4, 1993
Birth Place
Winfield, Illinois
Nick Name
The Tank
Religion
Christianity
Nationality
American
Ethnicity
White
High School
Benet Academy
College
University of Wisconsin-Madison
Playing Career
2015 – present
Zodiac
Aries
Chinese Zodiac
Rooster
Father's Name
Frank Jr. Kaminsky
Mother's Name
Mary Kaminsky
Siblings
Two sisters
Age
30 years old
Height
7 feet
Weight
109 kg
NBA Debut
2015
Shoots
Right
Tattoos
None
Food Habits
Non-vegetarian
NBA Draft
Round: 1, Pick: 9th overall in 2015
Hair Color
Dark Brown
Eye Color
Hazel
Career Highlights and Awards

Consensus first-team All-American
National college player of the year

Build
Athletic / Muscular
Children
None
Girlfriend
Elyse Panick
Jersey Number
44, 8
Position
Power Forward, Center
Profession
Basketball player
League
NBA
Net Worth
$6 Million
Salary
$1,830,802
Social Media
Instagram, Twitter
Merch of Phoenix Suns
Basketball Shorts
Last Update
May 2023
Frank Kaminsky: Early life and Education
The player was born on April 4, 1993, in Winfield, Illinois. His father's name is Frank Jr. Kaminsky and his mother's name is Mary Kaminsky.
Frank Jr. Kaminsky played basketball at Lewis University. Likewise, Mary was also a Northwestern volleyball player.
Frank, who is of Polish and Serbian origin, grew up in a Serbian neighborhood in Woodridge, Illinois.
His uncle Jim Stack and aunt Karen Stack Umlauf worked for the Chicago Bulls when he was five years old. Similarly, Frank also had access to the practice facilities while Michael Jordan, Dennis Rodman, and Randy Brown were on the team.
Until high school, Frank was a member of the Serbian Eagles A.C., who competed in Serb National Federation basketball events.
Further, Frank attended Benet Academy, situated in Lisle, Illinois. Likewise, he joined Winsconsin college in 2011. The player graduated from Winsconsin in 2015.
Frank Kaminsky: Amateur Career
Frank was awarded first-team all-state by the Chicago Sun-Times and IBCA and second-team all-state by the AP.
He achieved the feat after averaging 14.2 points, 8.7 rebounds, 4.2 blocks, and 2.8 assists during his senior season.
Similarly, after being beaten in the Sectional Semifinals by the East Aurora Tomcats, captained by Connecticut Huskies standout and National Champion Ryan Boatright, the player guided the Redwings to a 29-1 season.
In addition, Frank was selected all-area, all-conference, and East Suburban Catholic Conference Player of the Year.
On November 18, 2017, Frank's jersey number, 44, was retired in a ceremony at Benet Academy.
The Incident That Helped The Growth of Frank Kaminsky
Frank was 15 when he arrived at a gym with his bags packed before his sophomore year of high school, excited for his first road trip with his new AAU club.
Instead, he was notified by Illinois Wolves coach Mike Mullins that he had not made the travel roster.
Mullins said that Frank could still practice with the squad, however, he wouldn't be able to play in games.
Hearing that, Frank escaped to his father's car as the rest of the Wolves climbed into a van.
He sobbed the entire way home.
"It was the nicest thing that could have happened to him," stated Frank Kaminsky Jr. "It made him further hungrier."
Further, It made Frank understand that simply being tall was insufficient. He'd have to put in a lot more effort if he wanted to achieve."
The player never again felt sorry for himself. He spent the next several months working out on the court and in the weight room with the Wolves, finally becoming a key member of their squad the following summer.
Years later, as an unsung part of Wisconsin's 2011 signing class, Frank used the same strategy.
You might be interested in Patrick Christopher Bio: Career, Records, NBA & Net Worth>>
Frank Kaminsky: College Career
As a freshman, Kaminsky appeared in 35 of 36 games. On November 22, 2011, he set a season-best with nine points against UMKC.
Kaminsky appeared in 32 games, including the first two openings of the season. He concluded the season with a 4.2-point-per-game average and a 1.8-rebound-per-game average.
With a free-throw percentage of 76.7 percent, he topped the club. On February 3, 2013, he set a season-best with 19 points against Illinois.
The player set the Wisconsin single-game scoring record with 43 points against North Dakota on November 19, 2013.
Kaminsky also made 16 of 19 field goals, including 6 of 6 from 3-point range and 5 of 6 from the free-throw line.
Frank Kaminsky: Professional Career
The Charlotte Hornets picked Kaminsky with the ninth overall choice in the 2015 NBA draft on June 25, 2015.
He scored 16 points in a 116–99 defeat to the Golden State Warriors on December 2, garnering extra minutes with starter big Al Jefferson out injured.
Likewise, on December 30, Frank scored 20 points for the second in this season in a 122–117 defeat to the Los Angeles Clippers.
In a 113–98 defeat against the Washington Wizards on April 10, 2016, he had 18 points and a then-career-high 11 rebounds.
Likewise, Frank was placed into the rotation on March 1, 2019, to attack zone defense with his passing abilities. The player went on to score 15 points in a 123–112 win over the Brooklyn Nets.
Frank was traded with the Phoenix Suns on a two-year, $10 million contract on July 17, 2019. On December 11, Kaminsky set a season-best with 24 points in a 115–108 defeat against the Memphis Grizzlies.
Likewise, Kaminsky's second year of his contract was waived on November 19, 2020, allowing him to enter free agency early.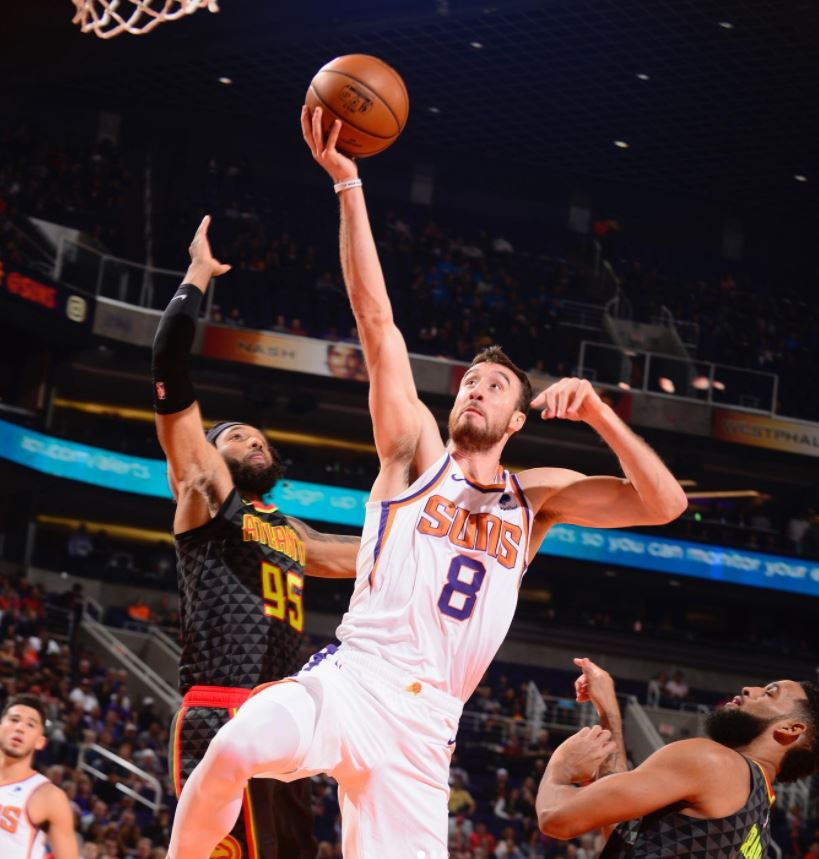 Frank signed with the Sacramento Kings on November 29. However, he was released by the Kings on December 20 after participating in four preseason games.
After clearing Waivers, the player was re-signed by the Suns on a more team-friendly one-year contract for the next season.
Kaminsky made his first NBA Finals appearance, but the Suns were defeated in six games by the Milwaukee Bucks.
The player re-signed with the Suns on a one-year, $1.2 million contract on August 4, 2021.
Kaminsky set a career-best with 31 points in a 119–109 victory over the Portland Trail on November 10.
Read about: Derrick Jones: Career, Family & Net Worth>>
Frank Kaminsky: Injuries
The player was first sidelined with a right knee ailment in 2020 before suffering a left patella stress fracture that kept him out for most of the season.
However, on July 31, 2020, he returned to action during the 2020 NBA Bubble period, assisting the Suns in a 125–112 victory over the Washington Wizards.
Kaminsky eventually assisted the squad by coming off the bench for the bulk of the rest of the season, resulting in an 8-0 record in the 2020 NBA Bubble. It was the first winning run of at least 8 games since March 2010.
Similarly, the player was diagnosed with a stress reaction in his right knee on November 21, 2021, and was ruled out indefinitely.
Frank underwent an operation on his right knee on January 6, 2022, and was declared out for at least two months. Unfortunately, the player was released on April 7, 2022.
Awards
2015 National college player of the year
2015 Consensus first-team All-American
2014, 2015 First-team All-Big Ten
2015 Kareem Abdul-Jabbar Award
Big Ten Player of the Year 2015
2015 Big Ten Tournament MVP
Favorite TV show
The player has never revealed his favorite TV show. However, we know that Frank is a great Game of Thrones Fan. The player even had customized Game of Throne shoes.
Moreover, Frank also visited Dubrovnik – the King's Landing and exclaimed that he found it absolutely amazing.
He also likes to watch comedy and fantasy shows, and he is a big admirer of "The Office" and "Harry Potter."
Age, Body Measurements and More
Frank Kaminsky was born in the year 1993. Hence, he is 30 years old. Likewise, the player is born in the Rooster year, according to the Chinese calendar.
Frank has an athletic, muscular, and well-toned body. The player also looks attractive with his dark brown hair and hazel eyes.
Moreover, Frank stands tall at a height of 7 feet. Likewise, he weighs about 109kg.
Additionally, Frank is also known to cover his lips with a towel during timeouts so he may talk to himself. Frank's zodiac is Aries.
Frank Kaminsky: Girlfriend
The basketball player is in a relationship with his long-time girlfriend, Elyse Panick. Elyse, Kaminsky's lover, was born Elyse Marie Panick on October 28, 1994, in Chicago, Illinois.
Elyse is one of three children born to Mary and Brian Panick. She also has two brothers, Brett and Eric.
Ms. Panick graduated from Marist High School in her hometown in 2013. She began her academic career at Marshall College before moving to the University of South Florida.
Moreover, Elyse also played volleyball for the USF Bulls and was named the 2016 Charlotte Invitational Most Valuable Player, the 2016 AAC Weekly Honor Roll, and the 2016 AAC Defensive Player of the Week.
Social Media
Frank Kaminsky: Net Worth
The basketball player, Frank Kaminsky's net worth is estimated to be around $6 million. The player earned $1,830,802 in the 2020/21 season with the Phoenix Suns.
Likewise, the player had made $5,056,452 in 2019/20, with the Phoenix Suns.
Currently, the player is making 20.28 percent more than what he made in 2020/21. The total career earning of the player is $18,322,107.
Similarly, Frank is presently the 53rd highest-paid NBA player. He's also the Phoenix Suns' 14th highest-paid player this season.
FAQs
Did Frank Kaminsky play for the national team?
The player has not, as of now, played for the national team. However, Coach Igor Kokokov indicated in November 2019 that bringing Kaminsky to the Serbia national team is being considered.
Does Frank Kaminsky have a nickname?
Frank Kaminsky is popularly known as "The Tank."
What did Frank Kaminsky dream to become as a child?
The player Frank Kaminsky always wanted to be an NBA player. He never had any other alternative options.