War divides us, but sport unites us. Of course, we all know that sport in itself is a beautiful activity. Just like sports comes in various types, so do its venues. More likely, have you ever wondered what do the top sports cities in the world look like?
Today's article will mention the top 10 sports cities and their specialty and facts. So,
keep scrolling to find some educative information about these incredible sports cities,
which we will be talking about.
Top 10 Sports Cities in the World
Before we start, please know that this listing is just a simple composition and is not to be taken seriously. Every city mentioned here is equally remarkable and unique in its way. Hope we all understand.
| | | |
| --- | --- | --- |
| Rank | Name of the Cities | Country |
| 1 | Barcelona | Spain |
| 2 | London | United Kingdom |
| 3 | Beijing | China |
| 4 | Tokyo | Japan |
| 5 | Melbourne | Australia |
| 6 | Berlin | Germany |
| 7 | Manchester | United Kingdom |
| 8 | Rio De Janeiro | Brazil |
| 9 | Toronto | Canada |
| 10 | Sydney | Australia |
10. Sydney
When it comes to one of the top sports cities, we have Sydney ranked number 10
in the list.
Most importantly, Sydney hosted the 2000 Summer Olympic Games, which was quite remarkable. Moreover, soccer, rugby, cricket, and Basketball are some of the most popular sports in Sydney.
In America, rugby and cricket might not be the hottest ticket. But, Sydney is all about
those sports cultures. Similarly, Sydney's beautiful landscapes and luxurious sports culture have turned itself into a spectacular city over the years.
So when you go to Sydney to watch Sydney FC play soccer and the National Basketball League action, you won't be disappointed.
9. Toronto
Ranked 9th among the top sports cities of all time, we have Toronto. Also, when it
comes to an ice hockey town, Toronto is the one.
The pride and joy of this delightful city are the Maple leaves. Over the years, the team has won 13 Stanley Cups, which is quite a remarkable achievement. Not to mention, Toronto also got a fantastic basketball franchise as well.
Since the raptors moved here in 1995, they have made it into the NBA playoffs six
times. Right now, according to Basketball-Reference.com, they are on pace for a 7th
arrival.
<Paulina Gretzky: Early Life, Boyfriend, Net Worth & Career>
Moreover, the Raptors will always be admired for having a legendary shooting guard
Vince Carter. Not to forget, Carter holds the title of the 2000 NBA Slam Dunk Contest
winner wearing a Raptors uniform. Therefore, this city has plenty of sports to offer.
8. Rio De Janeiro
Rated among the top sports cities globally, Rio De Janeiro is the 8th ranking sports
destination.
If you didn't know that Brazil is one of the most energetic countries, we have the 2014 FIFA World Cup as proof. Moreover, the crew ESPN revealed marvelous views of Rio De
Janeiro from the exterior shots that were a crucial part of the World Cup.
Similarly, soccer is a critical segment of Brazilian culture. The national team birthed
some of the greatest players in history and has won five World Cups so far. Besides that,
volleyball has become quite a popular sport in the city.
A contributor to the Rio Times, Lisa Flueckiger, mentioned the local volleyball scene in
Rio De Janeiro.
Therefore, only a few destinations have the talent and attraction of Rio De Janeiro.
7. Manchester
We all know what the city of Manchester is famous for. The iconic soccer (international football) team "Manchester United," fans, and the beautiful city.
Soccer is, in fact, so popular that for around 30 years, the city has been called "Alex Ferguson country." This is a tribute to the Manchester United manager for guiding the Red Devils to its glory for almost three decades.
Under the leadership of Ferguson, the Red Devils won two Champions League crowns, 13 Premier League titles, five FA Cup victories, and four League Cup wins.
Besides, Ferguson is among the legendary people who have contributed to turning this city into one of the top sports cities in the world.
<Cristiano Ronaldo Net Worth: Properties & Investments>
There is not a place in the world that hasn't felt the shockwave thrown by this city. Therefore, Manchester deserves the 7th spot on the list.
6. Berlin
Unlike other sports cities, Berlin deserves to be on this list more than any other.
We all might be familiar with the city for its soccer craze, but it is also famous for sports like hockey and basketball.
Likewise, the city is infamous for its team Alba Berlin. Throughout the years, Alba Berlin has won multiple championships and cups for the town. Some of them are Korac Cup and eight German National Cup victories.
Not to forget, Berlin is also one of the most beautiful cities in Europe. It has a rich history and a thriving culture.
5. Melbourne
Long sand beaches and colorful bungalows aren't the only things this city is famous for. Apart from this, Melbourne is famous for its taste for sports.
The beautiful city makes a perfect recipe for sports nirvana.
Besides Melbourne's popularity for hosting tennis' Australian Open, it also hosts many other sporting events that don't normally get mainstream attention.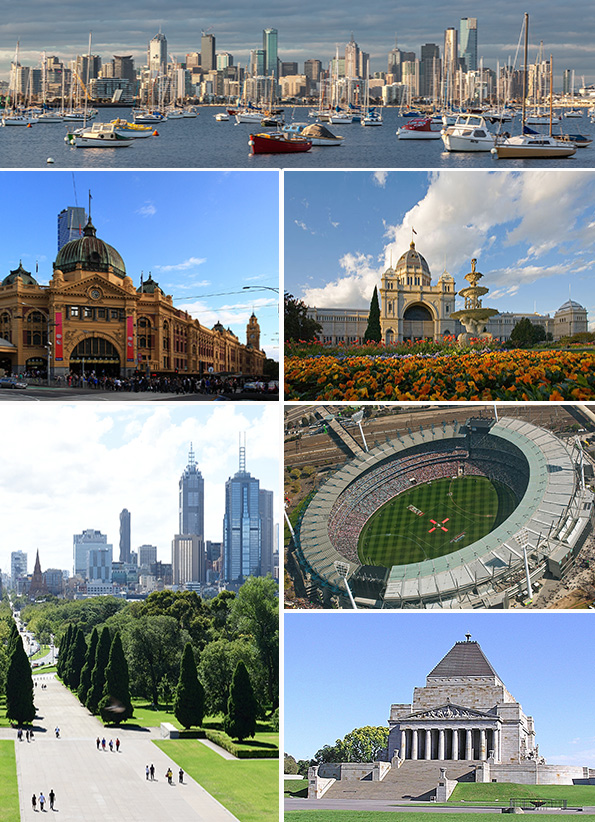 Similarly, Melbourne also hosts popular sports events like the ICC Cricket World Cup and the Australian Grand Prix. The natural beauty of the city and its rich sports culture is like the cherry on the cake.
Moreover, Melbourne is famous for catching high waves, just like most parts of Australia. So, this has created a thriving surfing sports community and culture.
From all the points mentioned above, Melbourne is undoubtedly one of the top sports cities in the world.
4. Tokyo
If you thought Tokyo was only famous for its tall buildings, culture, and innovation, then you're wrong because Tokyo is considered one of the top sports cities in the world.
In other words, Tokyo ranked number 4th on the ranking.
<Top 10 Craziest Extreme Sports in the World>
If you ask which sport is "The sport" of this city, it is Baseball without a doubt. In fact, Baseball is celebrated in this part of the country that Tokyo has five clubs.
To be precise, these clubs include Yokohama DeNA Baystars, Chiba Lotte Marines, Saitama Seibu Lions, Tokyo Yomiuri Giants, and Tokyo Yakult Swallows. Guess how many fans storm into the stadium each season, thousands.
Not to forget, some of the legendary players in Major League Baseball have come from the Japanese Professional Baseball.
Also, Tokyo has hosted four Olympic games till now.
3. Beijing
Infamous for being one of the biggest economic powerhouses, China is also a powerhouse when it comes to sports. The biggest sports pumper in the country being Beijing.
Apart from development, innovation, and production, the thing this nation takes seriously is sports. So, China makes sure no stones are left unturned when it comes to sports and their venues.
Not to forget, the country spent around $100 million on the 2008 Olympics opening ceremony, lavish, right? Surely, it's the economic powerhouse, after all.
That spectacular opening ceremony sent chills down everyone's spine even while watching it on TV; imagine watching it live.
<Ekpe Udoh Bio: Net Worth, Career, Stats, Contract & Beijing Ducks>
Similarly, Basketball is the other sport that is widely popular in Beijing. Led by Stephon Marbury, Beijing Ducks is the team representing the city.
Sports has such a significant influence on Beijing that the city has its own sports university, Beijing Sport University. This university is recognized as the best sports university in China.
Therefore, Beijing deserves the 3rd spot in the top sports cities list.
2. London
It seems the United Kingdom is the country with the most cities on the list today. With London ranked second, the United Kingdom is the country famous for its rich sports culture.
For a second, just think, when you hear London, what comes to your mind? Soccer right? Not to mention, this city is famous for its rich history, the London Bridge, the royal palace, beautiful landscapes, and the stone-paved London streets.
Moreover, London has produced some of the most famous and successful clubs, likes Chelsea, Arsenal, Tottenham, Queens Park Rangers, and West Ham.
When it comes to soccer, it's not just the city but the people too. There isn't a single person in London that doesn't love soccer.
Similarly, apart from soccer events, London also hosted the 2012 Olympic Games along with boxing and NFL games.
The city of London doesn't fail to amuse us. Hence, this city deserves the spot in the top ten list.
1. Barcelona
We all know how beautiful the city of Barcelona is. Not to mention, it is considered one of the most beautiful cities in the world. So, plan on booking a flight?
This Spanish city is famous for its weather, culture, beauty, beautiful beach, and soccer craze. However, when it comes to soccer, this city does not fail to surprise fans because it is the home to one of the most fearsome soccer clubs in the world FC Barcelona.
Besides, FC Barcelona is among the most decorated La Liga teams besides FC Real Madrid. The city of Barcelona and its soccer club has always been blessed with talented soccer players.
FC Barcelona has been home to some of the legendary soccer players like Diego Maradona, Lionel Messi, Ronaldinho, and Neymar.
Similarly, the city of Barcelona also hosted the 1992 Olympic Games.
Plus, the good thing about this is, unlike most host cities after the Olympics games pack up and abandonment of the stadium and resources, Barcelona took all of the money they spent on the games and turned it into positive spending.
Therefore, considering all of the points mentioned above, Barcelona is undoubtedly the number one city on the top sports cities list.
Conclusion
Hope the cities mentioned above impressed you. These cities are blessed with not just talents but also beautiful landscapes, streets, and energetic people.
With that said, did your favorite sports cities show up on today's list? If yes, then which one was it? Also, if you didn't have a favorite city before you came here, do you have one now? Drop a comment to let us know.