The Nigerian American professional basketball player Gabe Vincent plays shooting guard for the Miami Heat of the NBA.
He has been with the Heat since 2020, when the team signed him on a two-way contract.
Gabe has been an integral part of the Heat offense since he first donned the Heat uniform.
His camaraderie with fellow Heat Jimmy Butler has made the team formidable on the court.
Gabe is averaging 9.4 points, 2.1 rebounds, and 2.5 assists per game this season.
Despite being considered questionable for Game 5 against the Celtics in the Eastern Conference Finals, his determination allowed him to contribute to Miami's courageous effort, even though they lost 104-103.
Will Vincent play in Game 7 of the NBA 2023 Eastern Conference finals?
Let's explore!!
Quick Facts
| | |
| --- | --- |
| Full Name | Gabriel Nnamdi Vincent |
| Known As | Gabe Vincent |
| Birthdate | June 14, 1996 |
| Age | 27 Years Old |
| Birthplace | Modesto, California, United States |
| Current Residence | Miami, Florida, United States |
| Father | Franklyn Vincent |
| Mother | Cynthia Vincent |
| Siblings | Justin Vincent, Benjamin Vincent |
| Nationality | Nigerian-American |
| Marital Status | Unmarried |
| Built | Athletic |
| Sexual Orientation | Straight |
| Eye Color | Dark Brown |
| Hair Color | Brown |
| Height | 6 ft 3 in/1.91 m/191 cm |
| Weight | 200 lb/91 kg |
| Ethnicity | African-American |
| Horoscope | Gemini |
| Religion | Christian |
| Profession | Professional Basketball Player |
| Education | St. Mary's High School, University of California, Santa Barbara |
| Association | Miami Heat |
| NFL Draft | Undrafted 2018 |
| Playing Career | 2018-Present |
| Position | Shooting Guard |
| Played For | Stockton Kings, Sioux Falls Skyforce |
| Net Worth | $1 Million |
| Salary | $1,742,428 |
| Social Media | Instagram, Twitter |
| Last Update | September 2023 |
Early Life & Education
The Miami Heat guard, Gabe Vincent, was born Gabriel Nnamdi Vincent on June 14, 1996, in Modesto, California, United States, to parents Franklyn and Cynthia Vincent.
He comes from a mixed heritage. He is American from his mother's side and possesses Nigerian heritage through his father.
Reportedly, Vincent's father, Franklyn, used to play college basketball in Nigeria. So we can believe that it was Franklyn who instilled a love of the game in him from a young age.
Dr. Franklyn C. Vincent was born in December 1954 in Nigeria and moved to the U.S. in his 20s. He has a doctorate in psychology.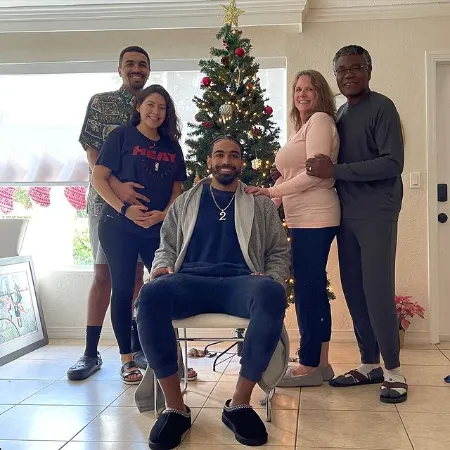 His mother, Dr. Cynthia Lin Vincent, was born in June 1964 in Connecticut. She also has a Ph.D. in Psychology.
She is a practicing psychologist in Modesto, California.
Dr. Cynthia specializes in clinical psychology and has over 31 years of experience in the field of medicine. She graduated with a medical degree in 1992.
Education
Gabe, the youngest of three siblings, went to St. Mary's High School in Stockton.
After graduating high school, he attended University of California, Santa Barbara, and played collegiate basketball from 2014 to 2018.
During college, he played 113 games averaging 12.8 points per game.
Career
After college graduation, Gabe had a pre-draft workout with the Sacramento Kings. After going undrafted in the 2018 NBA Draft, he signed an Exhibit 10 contract with the Kings on October 2, 2018.
Nevertheless, he was waived a few days later.
During the 2018–19 season, he had an impressive performance with the Stockton Kings of the G League, playing in a total of 24 games.
Although he made just three starts, his impact on the court was undeniable.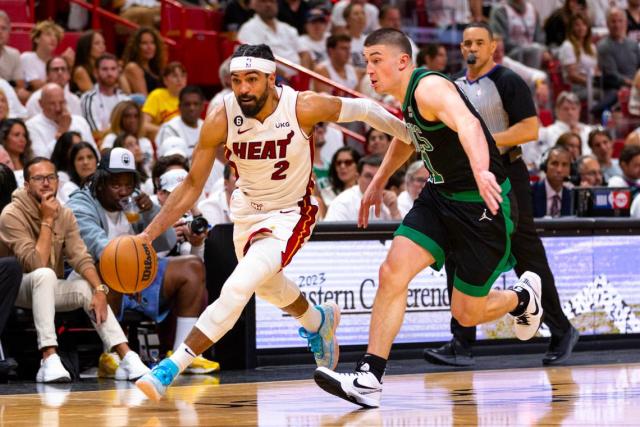 He signed with his current team Miami Heat on January 8, 2020, on a two-way contract. Gabe made his BA debut on January 29 against the Orlando Magic.
On May 21, 2023, he had a playoff career-high of 29 points leading the Heat to a 3-0 lead over the Celtics in the Eastern Conference Finals.
Net Worth & Contracts
As of September 2023, Gabe Vincent is estimated to have a net worth of around $1 million.
He has been in the NBA for about three seasons and has earned more than $3.53 million in salaries. He has earned more from his endorsement deals.
On August 6, 2021, he signed a two-year $3.48 million contract with Miami.
The following year Miami fully guaranteed a $1.81 million salary for the 2022-23 season.
Girlfriend
Gabe Vincent, the NBA star, has managed to keep his personal life private, leaving fans and netizens curious about his relationship status.
Despite being an eligible bachelor with numerous attractive qualities, there is currently no information available about him being in a relationship.
He is neither married nor engaged to anyone at this time.
People have scrutinized Vincent's social media profiles in search of any hints about his romantic life, but his Instagram feed primarily showcases pictures and reels of his friends, family, and parents.
This lack of personal relationship posts suggests that Gabe is currently prioritizing his career and is determined to excel further in the field of basketball.
Injury
Gabe exhibited extraordinary resilience in Game 6 on May 27, 2023, despite battling an ankle injury.
Despite initial doubts about his availability, his determination propelled him to contribute to Miami's valiant effort, even in a heartbreaking 104-103 loss against the Celtics.
His injury occurred during the intense fourth quarter of Game 4, forcing him to sit out Game 5 to prioritize his recovery.
Regrettably, Miami suffered consecutive defeats in both games, despite their earlier commanding performances in the first three games of the best-of-seven series.
As they head into a pivotal Game 7, having Vincent perform close to full strength would undoubtedly boost the Heat's chances of securing a spot in the Finals against the Nuggets.
Unknown Facts
Gabe represents the Nigerian national basketball team, D'Tigers.
In 2020, he won the NBA G League Most Improved Player award.
Vincent represented the Nigerian team at the 2019 FIBA Basketball World Cup in China.
Frequently Asked Questions (FAQS)
In what round was Gabe Vincent drafted?
Gabe Vincent was never drafted into the NBA.
What number is Gabe Vincent?
Gabe wears jersey number 2 for the Heat.