Gabriel Diallo's parents made the youngster train in various fields from a young age. His father, Moubassirou Diallo, and his mother didn't want his identity to be only a tennis player.
With his father coming from Guinea and his mother from Ukraine, Gabriel learned Russian from them as they had previously settled there for their studies. But Diallo said he tries to act like he doesn't know Russian among those who know the language.
Coming from a household that loves sports, Gabriel previously said if tennis didn't work out for him, he would love to join the stock market or the banking field. But looking at the way he plays, he might not jump the ship immediately.
The 21-year-old beat the recent Citi Open winner and British No.2 Daniel Evans in the Canadian Open. It marked his first ATP Tour win, and though he lost the very next round against Alex de Minaur, his certainly to keep an eye on in the future.
Gabriel Diallo Parents Come From Two Different Continents
Gabriel Diallo's parents have a culturally rich background. His father, Moubassirou Diallo, has roots in Guinea, and his mother, comes from Ukraine.
And the proud parents of the young tennis player met in a third country, Russia while pursuing their studies. Shortly after Gabriels' birth, the couple moved to Canada and have settled there ever since.
Moubassirou works as an engineer, and his wife, Gabriel's mom, is a professional handball player.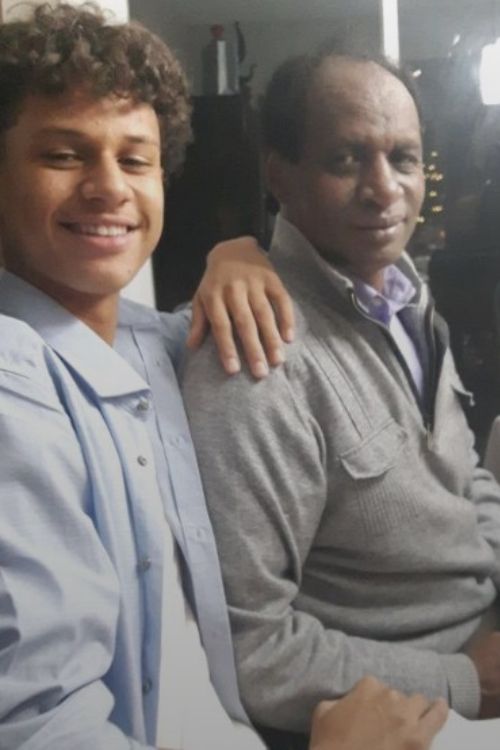 Gabriel isn't just your ordinary kid with a passion for tennis. He excels in several fields other than sports. Ever since he was a kid, Moubassirou and his wife made Gabriel train in various sports and also made him a keen reader.
From chess to swimming to gymnastics, no sports were left behind. Diallo also excelled in studies at the University of Kentucky and has trained in ballet, and knows how to play piano.
In his interview, Gabriel said his parents made him focus on various fields, as tennis will not last forever. They didn't want tennis to be his only identity.
Despite his parents coming from different backgrounds, Diallo says both sides of his parents are family oriented. His maternal grandmother lives in their family home in Canada, and his dad's side family supports him from Africa.
Gabriel Diallo Girlfriend, Fiona Arrese, Is A Tennis Player
Gabriel Diallo's girlfriend, Fiona Arrese, is a collegiate-level tennis player at the University of Kentucky.
Fiona hails from Barcelona, Spain, and won the ITF Barcelona, Spain (Grade 4) singles title in 2019. She began playing tennis at age six and is pursuing a Mechanical Engineering degree alongside her tennis dreams at Kentucky.
Fiona had an excellent start to her tennis career at Kentucky, receiving All-America honors after earning the No. 1 seed in the doubles draw. She was also named to the All-SEC First Team along with teammate Akvile Parazinskaite.
During her second year, Fiona couldn't keep up with her first-year achievements, nonetheless had an 11-9 record in singles and 13-11 in doubles. Last year, in her junior season, Fiona opted not to play tennis but was named to SEC Spring Sports Academic Honor Roll.
The Canadian tennis star began dating the Spanish tennis player in February 2022. The two are likely to have during their time at the University of Kentucky.
Earlier this year, on their first anniversary, Gabriel shared a series of photos of him and Fiona to mark the occasion. Last year, with his girlfriend in July, the tennis player had a fun trip to Costa Brava.
He shared a couple of loved-up pictures with his girl, including a snap of them having the time of their lives at a concert. Fiona is available on Instagram but has kept her handle private.