Argentine former tennis athletes Gabriela Sabatini and Juan Martin del Potro have been friends for a long time. However, their social media activities in recent times have caused fans and media alike to speculate that del Protro is Gabriela's boyfriend.
In July 2023, Gabriela and Juan posted pictures on their Instagram handles, which looked like a dinner date.
However, the two have not publicly announced that they are in a relationship yet. So, what exactly is going on between them? Are they dating? Read this article further to find out!
Gabriela Beatriz Sabatini, better known as Gabriela Sabatini, is a former professional tennis player who represented Argentina in international tournaments since the eighties.
After turning professional in 1985, Sabatini became the youngest player to reach the semifinals of the French Open that same year, where she lost to American athlete Chris Evert.
In her career spanning over a decade, Gabriela won 41 titles, including the 1990 US Open singles and 1988 Wimbledon Open doubles titles.
Moreover, she was the silver medalist at the 1998 Olympics and runner-up at the 1991 Wimbledon Open.
Considered one of the greatest female players in the history of tennis, Gabriela Sabatini was inducted into the International Tennis Hall of Fame in 2006.
Gabriela Sabatini Boyfriend: Juan Martin del Potro
The veteran tennis player Juan Martin del Potro was born to his parents, Patricia and Daniel, on September 23, 1988, in Tandil, Argentina.
Besides him, his parents had two daughters, but their older daughter died in an accident when she was eight.
Juan's parents were not professional athletes. His dad, Daniel, was a veterinarian, and his mother was a schoolteacher. However, they liked sports and were Argentine club Boca Juniors fans.
As soccer has always been the most popular sport in his country, Juan grew up playing the sport along with tennis as a kid. Argentine-born Italian soccer player Mauro Camoranesi is his childhood friend.
However, he began dedicating more time to tennis at age seven, taking coaching at a tennis training center in his hometown. He played his first junior match in Italy in 2003.
He eventually turned pro in 2005 at age 16 and participated in numerous international competitions until his retirement in 2022.
Del Potro won 22 titles throughout his career, including the 2009 US Open, where he defeated the Swiss tennis star Roger Federer in the final.
Moreover, his other significant achievements include winning the bronze and silver medals at the 2012 London Olympics and the 2016 Rio Olympics, respectively.
Are Juan And Gabriela Dating?
To speak the truth, there has not been any official confirmation of their relationship from Juan and Gabriela. However, their social media activities have made their fans suspicious for quite some time now.
Being two of the most accomplished tennis stars in their country, it is normal for them to appreciate each other. So, maybe they do that by posting each other on their social media handles every now and then.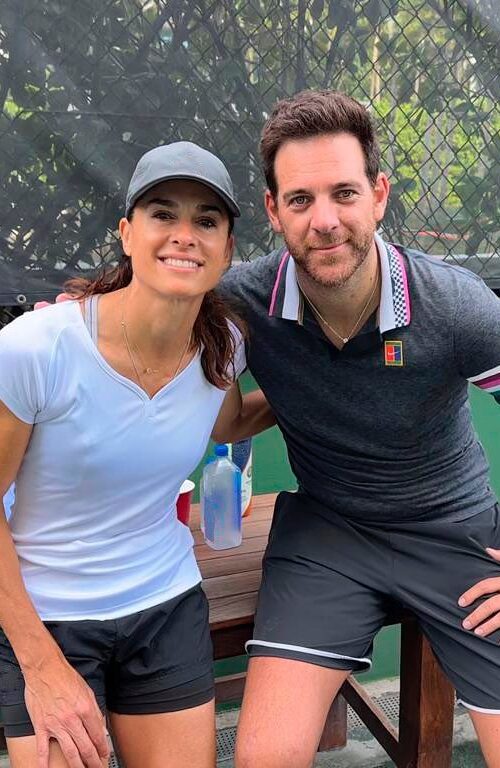 Gabriela posted him probably for the first time in February 2022, after Juan spoke about his potential retirement during his press conference just a day before that.
Following this, the two have met several times and enjoy each other's company.
On July 9, Gabriela posted a picture of them having dinner together with a caption, "For more moments like these, I look up to you, and I love you so much! I love you so much!"
Posting the same picture that same day, Juan wrote, "Best in the world @sabatinigaby
I love you."
Fans took their latest post as the official confirmation of their relationship, but the athletes are still silent about this matter, confusing their fans. So, even if there is something more than their friendship, only they know, at least for now.