Gardner Minshew is an American football quarterback for the Philadelphia Eagles of the National Football League (NFL). He played college football at Northwest Mississippi and won NJCAA National Football Championship.
Later, he played his next two college years at South Carolina. Minshew used his final year of eligibility at Washington State, where he won the Johnny Unitas Golden Arm Award. The Jacksonville Jaguars selected him in the sixth round of the 2019 NFL Draft.
His team, the Eagles, will compete against the Kansas City Chiefs at the Super Bowl LVII on February 12, 2023, after winning 31-7 against the San Francisco 49ers in the NFL Conference Championships.
Aside from being a footballer, Gardner is also a social media star. He rose to prominence for his mustache look and personality, which earned popularity across social media platforms in 2019.
It is fair to say that this talented player has captivated his fans with his outstanding skills and mustache.
We will discuss his career succession, personal life, earnings, and net worth.
But first of all, let's glance at the quick facts.
Quick Facts
| | |
| --- | --- |
| Name | Flint Gardner Minshew II |
| Nick Name | Jock Strap King |
| Birthdate | May 16, 1996 |
| Age | 27 Years Old |
| Birth Place | Flowood, Mississippi |
| Occupation | Football Quarterback |
| Previous team | Jacksonville Jaguars |
| Current team | Philadelphia Eagles |
| College team | Northwest Mississippi, East Carolina University, Washington State |
| Ethnicity | White |
| Nationality | American |
| Father's name | Flint Minshew |
| Mother's name | Kim Minshew |
| Siblings | Two sisters (Callie Minshew and Meredith Minshew) |
| Residence | Mississippi |
| Eye Color | Brown |
| Hair Color | Dark Brown |
| Sexual orientation | Straight |
| Body type | Athletic |
| Height | 6'1″/1.85 m/185 cm |
| Weight | 102 kg/225 lb |
| Jersey Number | #15 ( Jacksonville Jaguars), #10 (Philadelphia Eagles) |
| Education | East Carolina University, Washington State |
| Girlfriend | N/A |
| Tattoo | N/A |
| Net Worth | $1 Million-$5 Million |
| Salary | $2.5 Million |
| Social Media | Instagram, Twitter |
| Merch | Shirt, Signed Jersey |
| Last Update | May 2023 |
Gardner Minshew Bio | Early Life, Family & Education
Minshew, AKA the "Jock Strap King," was born on May 16, 1996, in Flowood, Mississippi, to supporting parents Flint Minshew and Kim Minshew.
His father, Flint, used to play a defensive end at Millsaps College in the early 1990s and was listed in the Hall of Fame.
He has always supported his son and guided him in every way possible. Flint is a proud father and has attended his son's game regularly since Gardener was in school.
At the same time, Minshew's mom, Kim, also has an athletic background, having played college basketball at Mississippi State.
As for siblings, Gardner has two beautiful sisters named Callie Minshew and Meredith Minshew. Callie is a freshman on MSU's volleyball team.
Growing up, Minshew had a very happy childhood.
Age, Height, Weight, & Education
Minshew is 27 years old as of 2023. He stands 6'1″/1.85 m tall and weighs 102 kg/225 lb.
As for education, Minshew went to Brandon High School in Mississippi. There, he played quarterback for the Brandon Bulldogs from 2011 to 2014.
He also led the Bulldogs to the 6A Mississippi Championship game in his sophomore year. Likewise, Minshew led his team to a South 6A championship in his senior year.
Due to his performance, he was rated as a three-star prospect and the 70th-best pro-style quarterback by 247Sports.com.
After high school graduation, Minshew attended Troy University. However, later he was transferred to Northwest Mississippi Community College.
Gardner started his college football with Northwest Mississippi. While playing with Northwest, he led the team to NJCAA National Football Championship.
However, he again transferred to East Carolina in 2016 and graduated with a degree in communication in 2017.
NFL Journey
Jacksonville Jaguars
The Jacksonville Jaguars drafted him in the sixth round, 178th overall of the 2019 NFL Draft.
Famous for his goofy mustache, Minshew made his NFL debut against Kansas City Chiefs after Nick Foel fractured his left clavicle in Week 1.
He got the opportunity to show arm strength, mobility, and leadership ability but only bagged his first professional victory in Week 3 against Tennessee Titans.
Chicago Bears
In March 2020, Nick Foles was traded to Chicago Bears, making way for him to take over as the starting quarterback in the 2020 season.
The talented quarterback started the 2020 season with an outstanding 27-20 victory over Indianapolis Colts.
He completed 19 of 20 pass attempts for 173 yards and three touchdowns, becoming the first NFL quarterback to throw three or more touchdowns with a pass completion of 95 percent or higher.
He suffered multiple fractures in his right thumb, which kept him on bed rest for a while.
He appeared in nine games during the 2020 season, recording 2,259 passing yards, 16 passing touchdowns, and five interceptions.
Philadelphia Eagles
Minshew was traded to the Philadelphia Eagles by the Jaguars in exchange for a conditional sixth-round pick in the 2022 NFL Draft on August 28, 2021.
He first started in Week 11 against the New York Jets, completing 20 of 25 passes for 242 yards and two touchdowns.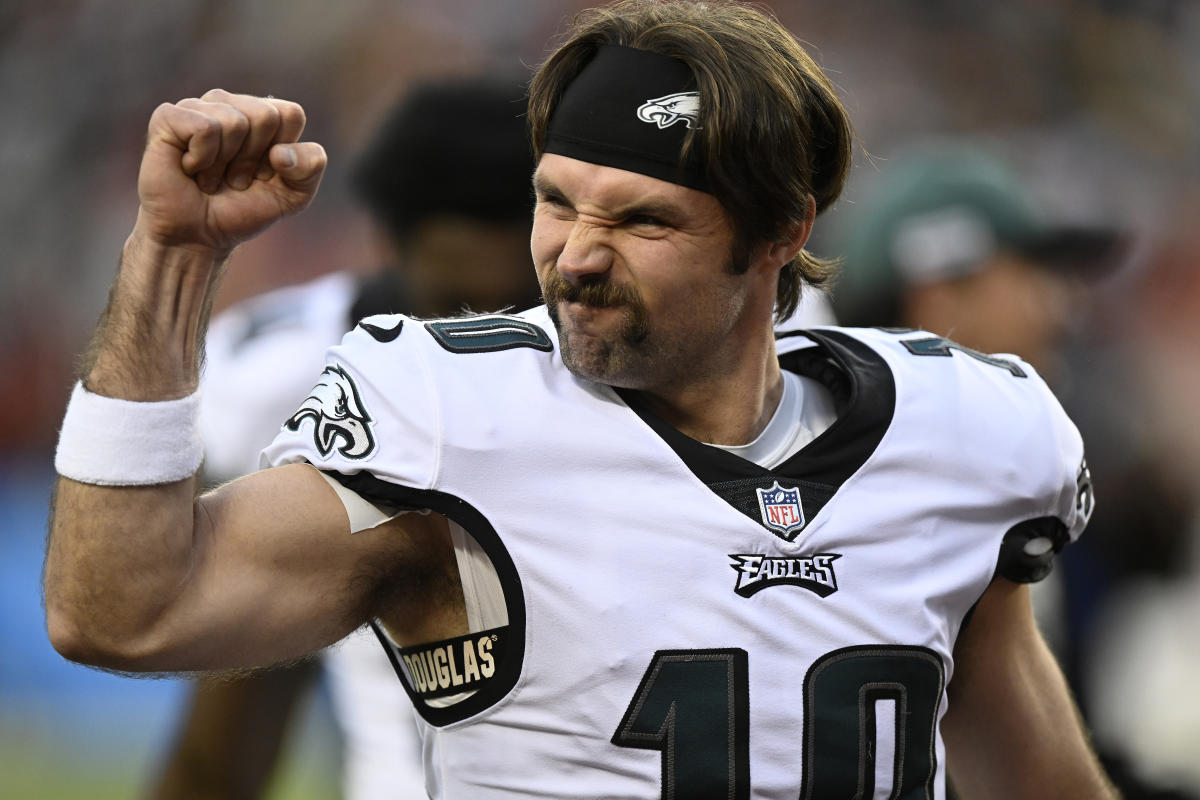 Gardener started the 2022 season as the backup quarterback. He made his debut in Week 8 against Pittsburgh Steelers when the Eagles won the game by 35-13.
He was named the starting quarterback for the Eagles' Christmas Eve game against the Dallas Cowboys. During the game, he finished with 355 yards, two touchdowns, and two interceptions.
The quarterback recorded 633 rushing yards, 2 touchdowns, and 3 three interceptions in the 2022 season.
Awards & Achievements
Gardner has won numerous awards for his outstanding skills. He won the majority of them during his college years.
Minshew bagged the Johnny Unitas Golden Arm Award" in 2018. Furthermore, he also won Pac-12 Offensive Player of the Year (2018).
Besides these two awards, he managed to win "First Team All-Pac-12" in 2018. Above all, Minshew also won the "Pepsi Rookie of the Week Award" in 2018.
The Magic Of Mustache & The Mullet
If we go through Minshew's Instagram, we will find his hairstyle is viral on social media.
The talented player has a mullet with short hair at the front but long at the back. His iconic hair and mustache give him a perfect personality.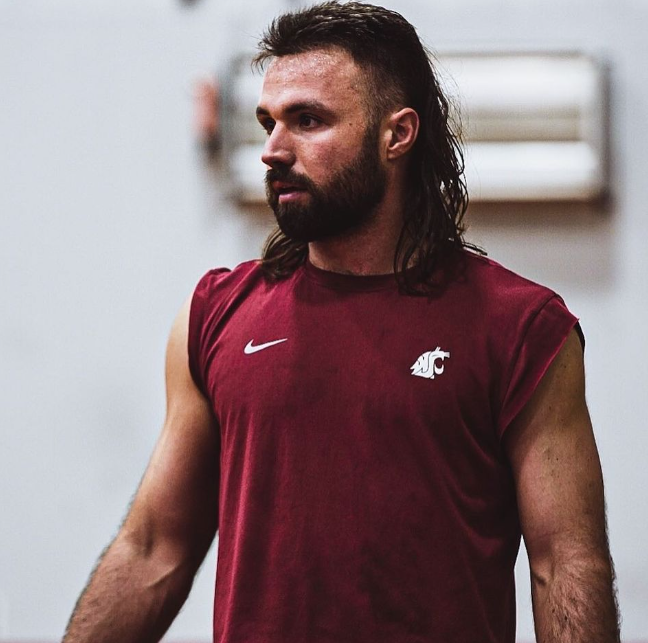 On the other hand, Gardner has brown eyes, brown hair, and a welcoming personality that makes him even more popular among women.
Whatever Outfit He Carries Never Goes Out Of Style
Whenever it comes to dressing up and styling himself, NFL hero Gardner Minshew never drops a chance.
The last time he made headlines was when he wore a flashy Cougar-themed disco suit, complete with a large-collared silver shirt, and left his button open at the top to expose chest hair.
And the aviator sunglasses added much power to the look. Also, don't forget to notice his stylish mustache there.
Gardner put on that outfit for the Cougars' trip Sunday to San Antonio for Alamo Bowl in 2018.
Additionally, the long hair and the headband make him look like Uncle Rico from Napoleon Dynamite.
Girlfriend & Personal Life
Gardner Minshew is one of the prominent names in the world of football. Like other celebrities, his personal life has also captured the attention of many fans and media.
He is not married yet but could probably be in a relationship with his girlfriend. However, there are no reports of his relationship, girlfriend, or affair to date.
Gardner seems to be focused on his career, which might be why he hasn't shared about his personal life.
Besides, Minshew hasn't even given a single hint about his relationship in the media or in person.
Gardner is close to his family and often posts pictures with his family members.
Besides football, he loves traveling and is often spotted wandering around the States with friends and families.
Net Worth & Salary
Before knowing about Minshew's earnings and salaries, let's learn how much NFL players can make.
Players can earn anywhere from $500k to $550k annually, depending on teams and positions. The players get paid according to their performance and contracts with the team.
Gardner signed a 4-year contract worth $2.71 million with the Jacksonville Jaguars, including a $190k signing bonus, $190k guaranteed, and an annual salary of $677k.
He has collected a net worth between $1 million-$5 million as of 2023.
Fantasy Football Outlook & Value
The sixth-round pick Gardner Minshew impresses everyone in the audience when he plays games with his kicks and rifle pass in the battleground.
2019 Stat
PASS YDS: 3,271
PASS TDS: 21
RUSH YDS: 344
RUSH TDS: 0
Talking about 2020, Gardner was a slight disappointment for the Jaguars.
After going 1-6 in the first seven games and throwing six touchdowns in the first two, Minshew fell out of favor.
Gardner had established a tough image as a rookie, and to still sustain that same image, he needs to work hard and get that solid fantasy appeal.
2020 Stat
PASS YDS: 2259
PASS TDS: 16
RUSH YDS: 153
RUSH TDS: 5
2021 Stat
PASS YDS: 439
PASS TDS: 4
RUSH YDS: 21
RUSH TDS: 1
2022 Stat
PASS YDS: 663
PASS TDS: 3
RUSH YDS: 3
RUSH TDS: 1
If Gardner works hard, he can stick to his level because he has the scrambling ability, more explosive receiving targets, and a quality offensive line.
Social Media Presence
Minshew is not a player who earns fame only for his game. He is also popular because of his goofy mustache, which became viral in 2019.
Twitter: 131.3k followers
View this post on Instagram
Instagram: 557k followers
Besides this, when you scroll through his Instagram, you'll see his mullet hairstyle. He has massive fans and admirers who follow him on his social handles.
Gardner Minshew Bio | Popularity
The football quarterback is renowned for his quick throwing motion, arm strength, and mobility. Besides, he is also famous for his mustache and unique fashion sense.
The graph includes his search trend for 12 months.
Frequently Asked Questions (FAQS)
What is Gardner Minshew's Madden 23 rating?
Gardner Minshew received a 69 overall rating in Madden 23.
Did Gardner Minshew chop his mustache?
Minshew chopped off his iconic mullet haircut last June 2021.
Is Gardner Minshew a good fantasy pick?
Gardner is good enough to stream against bad defenses. However, he is not considered as good enough to be an every-week fantasy starter.