Giselle Ramirez is El Salvador-born and is currently dating the NBA star, JaVale McGee. She is also a mother to JaVale's kids, Genevieve Grey and Everleigh McGee.
Fate is like a gift; sometimes, it leaves happiness in its wake, and other times not so much. If something is bound to happen, it will happen, but only when the moment's right.
The moment was right for JaVale McGee when Giselle Ramirez came into his life.
JaVale McGee is a basketball player for the Dallas Mavericks and is a two-time NBA Champion with his former team, the Golden State Warriors.
The 7-foot-tall Mavericks' center is successful professionally and also in his personal life.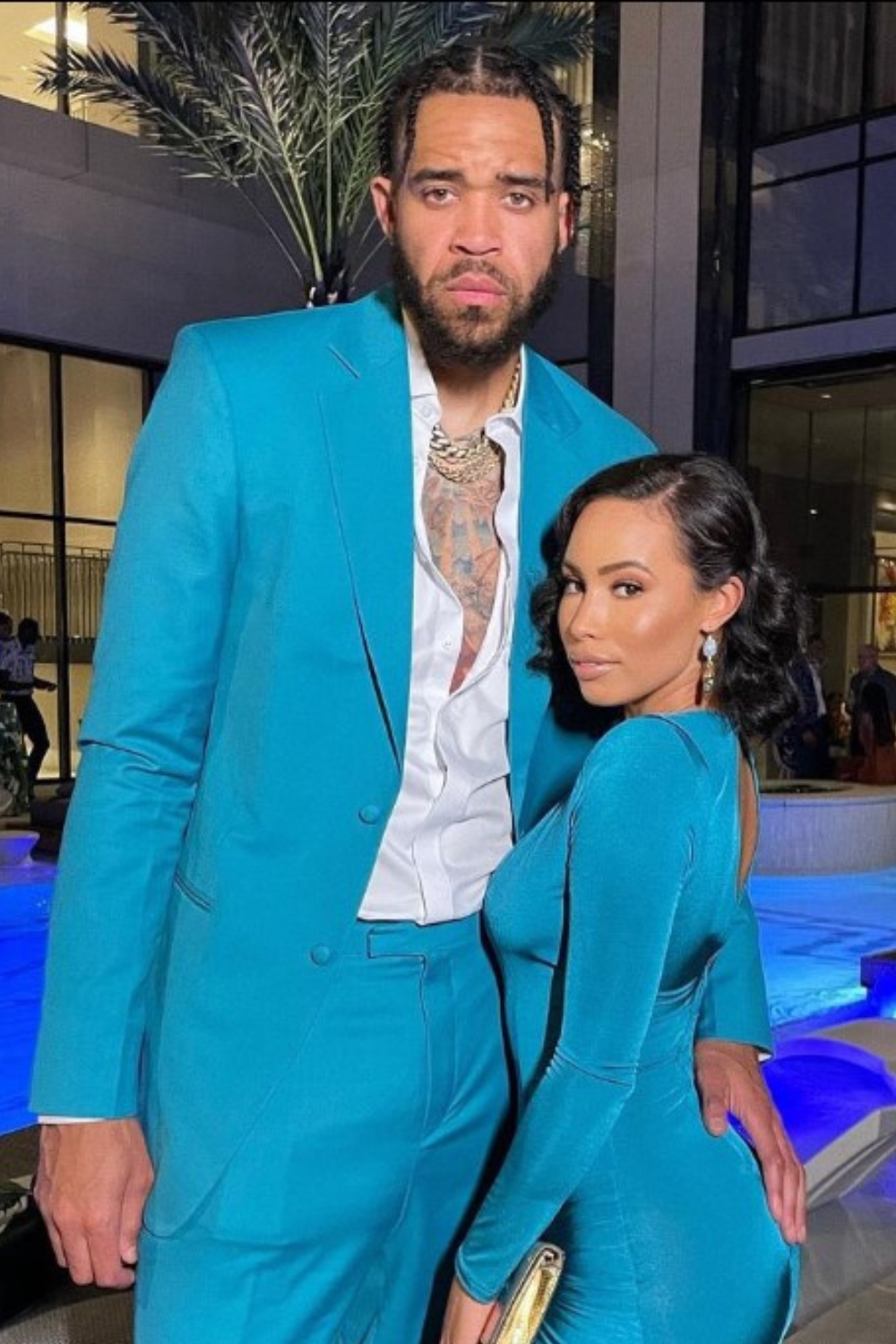 Although he is not married to his longtime girlfriend, Giselle, they share two children. Their second child, Everleigh McGee, was born on May 13, 2022.
In everybody's mind, a question beckons who is the luckier of the two, McGee or Ramirez?
JaVale is an accomplished athlete, whereas his girlfriend is simply an otherworldly beauty. Today we will talk about the stunning Giselle Ramirez and shed light on all you need to know about this bombshell's lifestyle!
Before diving into the details of her life, let's first look at the quick facts table;
Giselle Ramirez | Quick Facts
| | |
| --- | --- |
| Full Name | Giselle Ramirez |
| Birth Date | Somewhere between 1988 to 1992 |
| Birth Place | El Salvador, Central America |
| Nick Name | Giselle |
| Religion | N/A |
| Nationality | American |
| Ethnicity | Latin |
| Education | University of Southern California |
| Horoscope | Unknown |
| Father's Name | Not disclosed |
| Mother's Name | Not disclosed |
| Siblings | None |
| Age | Around 31 to 35 |
| Height | 5'8″/1.76 m/176 cm |
| Weight | N/A |
| Shoe Size | N/A |
| Hair Color | Black |
| Eye Color | Brown |
| Body Measurement | Unavailable |
| Figure | Voluptuous |
| Married | Yes |
| Husband | JaVale McGee |
| Children | 2 Daughter; Genevieve Grey and Everleigh McGee) |
| Profession | Realtor, Model (Former), Actress |
| Net Worth | $500,000 |
| Social Media | Instagram |
| Last Update | March, 2023 |
Giselle Ramirez | Early Life & Ethnicity
Giselle Ramirez's exact date of birth is still unknown. However, she was presumably born sometime between 1988 to 1992 in El Salvador, Central America. Further, the detail regarding her parents or other family members remains in the dark.
Also, she is of Latin American origin and is a proud citizen of the United States of America. Hence, Ramirez is fluent in both English and Spanish. But, the story about her journey to the USA is hidden from the public's eye.
Despite being in a romantic relationship with a famous athlete, the entirety of her life is obscured.
The only part of her early life we do know is that she was a student at the University of California, Los Angeles, and graduated with two degrees.
Giselle Ramirez | Age, Height, & Body Measurements
Although we are unaware of her birthdate, if we base it on JaVale's age, Giselle is around 31 to 35 years old. Whatever her age may be, Ramirez's social media presence suggests that she is eye candy.
Added to that, the former model appears to be about 5'8″ (1.76 m), opposite to her beau's towering stature of 7'0″ (2.1 m). Regardless, the two perfectly complement each other.
On the other hand, several Instagram posts revealed that Ramirez is a huge fitness geek.
The entirety of her posts are related to health and exercise, and to top it off, she posts pictures of her in dresses that accentuate her voluptuous frame and also of her family.
We can safely say that Ms. Ramirez slays every time she steps out.
Giselle's beautiful frame is not due to fitness trends but her involvement as a model before she hopped onto the real estate business.
the Salvadoran is not only aesthetics; she is a committed mother and a hardworking realtor.
Most importantly, the Latin model's distinguishing features are her monolid eyes, squared jawlines, plump lips, and high-arched eyebrows. In short, JaVale McGee found a carefully sculpted work of art.
Giselle Ramirez | Career As A Realtor
Before working as a real estate agent, Giselle was a model. There is not much evidence to attest to the fact, but there was one instance when she had a shot with Milan Garter.
Well, isn't her Instagram proof enough to classify her as a model?
However, she started low-key in sales operation in a Media company in the entertainment industry. Then, later in 2011, she started working as a model.
She is also an actress and was featured in the 2014 comedy romance drama, Obvious Child, although she had a minor role of a bar extra. There is nothing more information regarding her acting career.
Anyway, let's move on to her current profession as a realtor for Rodeo Realty. Apart from posing in ravishing dresses, Ramirez keenly shares her work and advertises various residences, from affordable to luxurious ranges, on her social media.
Honestly, she is one of the most independent women we can ever see.
Even though she is married to one of the highest-earning players in the NBA, Giselle likes her freedom, and dealing in real states is her guilty pleasure.
On the contrary, we all know what JaVale does. The 7-foot-tall NBA star plays as a center for the LA Lakers.
Throughout his active playing career, McGee played for Washington Wizards, Denver Nuggets, Philadelphia 76ers, Dallas Mavericks, and Golden State Warriors.
Learn About Veronica Stigeler Bio: Age, Height, Birthday, Music, Husband, Kids Wiki>>
Giselle Ramirez | Net Worth, Salary & Income
To begin with, no sources have come forth to mention the exact figure of her net worth, but we can assume that the Latina has a net worth of over $500k.
However, we are talking about Ramirez, who sells property worth in a six-digit range. Judging by her knack for it, it comes as no doubt that she is earning a hefty package. On average, a typical realtor in the U.S. earns around $94k, according to indeed.com.
Furthermore, the Salvadoran was a model at one point in her life. Hence, that gig certainly contributed to her fortune. On the other hand, Giselle's boyfriend has a mouth-watering net worth of $14 million.
Over the years, the Mavericks' center collected massive paychecks from his time at various clubs. Washington Wizards provided him with a contract of $6.9 million and received a yearly $1.3 million.
The Michiganite pocketed the same wages until he signed a contract 4-year/ $44 million contract with the Nuggets in 2012.
In the 2015-16 season with Dallas Mavericks, McGee collected $1.2 million in his single season.
Similarly, he went on to sign with Golden State Warriors, who paid him $2 million as a base salary.
Again, in the 2018-19 season, a new contract with the Lakers saw him walk away with $2.3 million and some additional bonuses.
ON July 9, 2022, Giselle's husband signed a 3-YEAR contract worth $17.2 million with Dallas Mavericks.
Thus, both Giselle and JaVale live exquisite lives and reside in their dream of a home in Los Angeles purchased for $2.4 million.
Further, to add to their luxury, McGee even owns a collection of cars valued at $1.6 million in total.
Giselle Ramirez | JaVale McGee & Kids
JaVale and Giselle reportedly met in 2015 and immediately had a thing for each other. It is still unclear how the couple met, but many sources stated that the two crossed paths when McGee searched for a house.
Evidently, a guy like JaVale is bound to fall in love with someone as beautiful as Giselle.
Since 2015, the duo has remained strong to this day. Even though they have no plans of marriage just yet, the lovebirds already have the greatest happiness in their life with the birth of their daughter, Genevieve Grey McGee, born in 2016, and now another girl, Everleigh McGee, on 13th March 2022.
Giselle Ramirez | Social Media Presence
Giselle is a substantial Instagram user; her account has more than 2k posts as of this writing. She keeps posting pictures of herself draped in different outfits, pictures of both her kids and her boyfriend.
You can follow this model and a realtor on Instagram @giselle_mybelle.
Instagram: 31.4k followers
View this post on Instagram
Giselle Ramirez | FAQs
Is Giselle Married?
She is not married yet. However, she is in a relationship with the NBA star, JaVale McGee, and together they have two daughters.
How old is Giselle Ramirez?
Her exact age is unknown to the public, but we can assume her age to be around 31 to 35.
You Can Also Read A Article On Helena Seger Bio: Age, Career, Net Worth, Husband, Instagram Wiki>>