After playing 11 NBA seasons, Greg Anthony, the American former professional basketball player, took a spin as a TV personality. Currently, Anthony serves as an analyst for Turner Sports and NBA TV.
Moreover, he is a co-host/analyst on SiriusXM NBA Radio and a contributor analyst of college basketball for Yahoo! Sports.
The 1990 NCAA champion played college basketball at the University of Portland & the University of Nevada, Las Vegas, before being the first-round pick in the 1991 NBA draft.
Throughout his career, Anthony has played for NBA teams like the Knicks, Bulls, Bucks, and Blazers before retiring in 2002.
A one-time divorcee, Greg Anthony, currently lives with his second wife, Chere Lucas Anthony. He is father of four children, two from his ex-wife & two from his current significant half.
While Anthony wants to keep himself clean from controversies, his fate won't let him, it seems. He was arrested on the charge of misdemeanor solicitation for prostitution; later, the charges were dropped.
Let's learn more about him as much as possible, starting with some quick facts.
Quick Facts
Full Name
Gregory Carlton Anthony
Birth Date
15 November 1967
Birth Place
Las Vegas, Nevada
Current Residence
Del Ray Beach, Florida
Nick Name
None
Religion
Christianity
Nationality
American
Profession

Retired Basketball Player
Analyst

Ethnicity
African-American
Education

Rancho High School
University Of Portland (1986–1987)
University Of Nevada (1988–1991)

Horoscope
Scorpio
Father's Name
N/A
Mother's Name
N/A
Siblings
N/A
Age

55 Years Old

Height
6'1″/185 cm/1.85 m
Weight
180 lb./82 Kg
Eye Color
Dark Brown
Hobbies
N/A
Profession
Sports Analyst
Marital Status

Crystal McCrary (Divorced)
Chere Anthony (Present)

Kids
Four Kids

Cole Anthony (Son)
Tyson (Son)
Ella Anthony (Daughter)
Naomi (Daughter)

Net Worth
$10 Million
Social Media
Twitter, Instagram
Last Updated
June 2023
Early Life & Education
The retired NBA star was born on the 15th of November, 1967, in Las Vegas, Nevada.
Nothing much about his parents or family background is out.
Growing up, Anthony wanted to be Nevada's first black Senator; he was fond of politics.
Greg Anthony attended Rancho High School, which is located in North Las Vegas.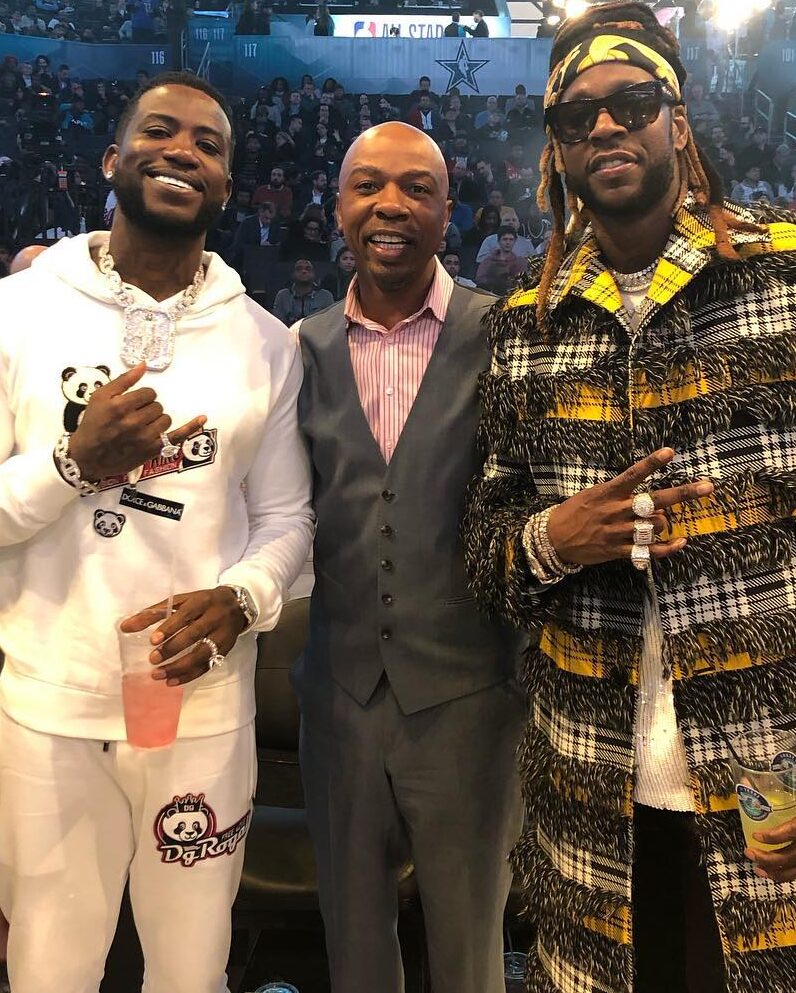 There is no reliable record that Greg played high school basketball, but there's a saying morning shows the day as childhood shows a man.
He probably played high school basketball for Rancho High.
College Basketball
Then in 1986, Greg Anthony went to the University of Portland before transferring to the University of Nevada, Las Vegas, in 1988, where he stayed until 1991.
During his junior year at UNLV, Anthony led the Rebels to the 1990 NCAA Championship despite having a broken jaw that season. Now that's a great example of commitment!
They defeated the Blue Devils with a 30-point gap, the most significant margin in the league's history.
In his senior year, Greg was named the 3rd Team All-America. Moreover, he is also a three-time All-Big West performer.
Greg Anthony got his bachelor's degree in political science and graduated from the University of Nevada, Las Vegas, in 1991.
Political Life
Remember when we said he wanted to be a political figure? That was not just a childhood dream later forgotten.
Since his college days, Anthony has actively supported the Republican Party.
He served as the vice-chairman of Nevada's Young Republicans.
Fast forward a few years, Anthony openly supported Democratic presidential candidate Barack Obama in 2008.
He showed his utmost support to Republican Presidential Candidate Mitt Romney in 2012. He even appeared in his presidential campaign ads in Nevada, his hometown.
Pro Basketball Career
The New York Knicks drafted Anthony as the 12th overall pick in the first round of the 1991 NBA Draft with players like Bison Dele.
He was a poor shooter; honestly, his accuracy was average, but he shined in the defense; Greg was an excellent guard.
He played in the position of point guard, debuting for the Knicks the following year in 1992.
Anthony was the defensive specialist for the New York Knicks for four seasons, from 1992 to 1995.
He then joined the Vancouver Grizzlies for two seasons from 1995 to 1997 before transferring to the SuperSonics.
After that, he joined the Seattle SuperSonics, where he lasted only for the 1997/98 season.
He was a member of the Portland Trail Blazers from 1999 to 2001, playing three seasons as their defense.
Then, Greg joined the then-dominators of the NBA, the Chicago Bulls, for two seasons before he saw himself briefly with the Milwaukee Bucks.
Later in 2022, he retired from his professional basketball career.
Off-Court Career (TV Career)
After retiring from his pro basketball career, Greg joined ESPN, where he worked as an analyst for both NBA broadcasts on ABC and ESPN.
Anthony was officially made a college basketball analyst for CBS Sports on the 13th of December, 2008. He replaced Clark Kellogg, who was promoted to lead commentator.
Moving on, Greg was hired as a color commentator for the YES Network and was covering the Nets for the 2012/13 season.
There, he joined other TV personalities like Jim Spanarkel, Ian Eagle, and Mike Fratello.
Greg and Clark exchanged their studio analyst position and lead commentator in 2014.
Perhaps one of the happiest moments in Anthony's life was being featured as a commentator in the NBA 2K series of NBA video games.
Greg Defended Cole On Twitter
Greg is a proud father and always has his son's back. Cole has been playing well for the Orlando Magic.
In a Twitter thread of April 2023, a debate about Cole Anthony's impactful performance with the Orlando Magic came forth. So, Greg decided to chime in with some sarcasm, as stated by Sports Illustrated.
The people on Twitter kept twisting about the skepticism for Greg's son and Orlando Magic.
This is for all Orlando Magic fans…Cole love's the team, city and organization…none of what any fan says will have any bearing on Cole. The focus for everyone on the team is to get better. #GoMagic https://t.co/QHcnsNC2UD

— Greg Anthony (@GregAnthony50) April 1, 2023
As a user tweeted that paying Cole $15 million would give the Magic a "middle of the pack roster."
Greg firmly doubled down on his son's commitment to the Magic in a final tweet regarding the issue.
"This is for all Orlando Magic fans…Cole love's [sic] the team, city and organization…none of what any fan says will have any bearing on Cole. The focus for everyone on the team is to get better," Greg tweeted.
Net Worth
The former basketball star has an estimated net worth of about $10 million as of 2023.
His fortune is accredited to his pro basketball and broadcasting careers. During his NBA career, he has accumulated a total salary of $18.5 million.
Although his exact salary as an analyst is not disclosed, he probably sums up around $85k annually from his TV career in NBA TV and Turner Sports.
Marriage & Kids
Greg Anthony first married Crystal McCrary, a professional lawyer and an author who was named one of Crain's New York Business 40 under 40.
With McCrary, he got two kids, a son, Cole, and a daughter, Ella.
Cole, Greg's eldest son, is a professional basketball player now; he was the 2020 NBA draft pick by the Orlando Magic.
His daughter Ella is also a basketball player and previously played for the Hotchkiss girl's basketball team. She enrolled at Harvard in 2023 and will complete her degree by 2025.
After separating from his first wife, Greg married Chere R. Lucas sometime in the early 2010s; the couple has not yet revealed the exact date.
Chere Anthony is a Board Certified Dermatologist in Boca Raton at the Dermatology and Aesthetic Center.
She is a highly educated individual who attended Dartmouth College, Duke University School of Medicine, Virginia Mason Medical Center, and Cleveland, Ohio-based Case Western University.
With Chere, Greg had two more kids, a son Tyson and a daughter, Naomi.
Tyson and Naomi are thriving under the care of their devoted parents and, as a family, are a picture of happiness and contentment with purpose and passion.
They are a tight-knit family united in a bond of love and nurture.
Greg Anthony Arrested For Soliciting Prostitution
On the night of 16th January 2015, the cops arrested Greg Anthony at the Washington Hotel in a prostitution sting operation.
The investigation found that Anthony had responded to an escort ad on Blackpage.com, a classified website.
So, Anthony unknowingly hired an undercover female officer pretending to be a prostitute; the two met at the hotel, which would later result in his arrest.
At the time of arrest, he was married to his second wife, Chere & his firstborn with Chere was not even a year old.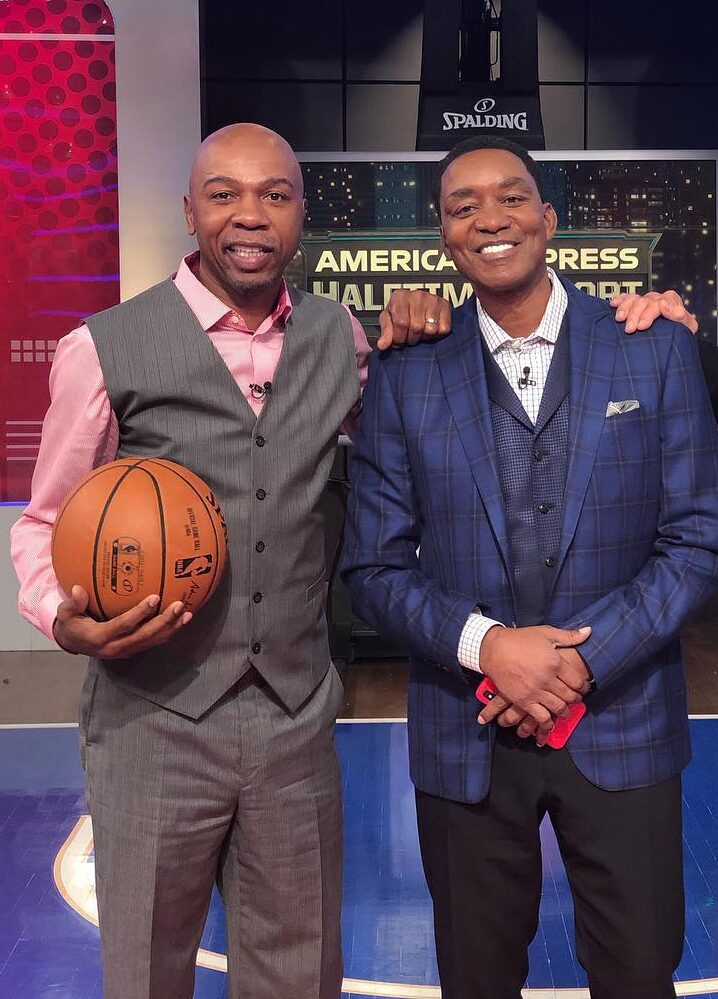 Following his arrest, CBS and Turner Sports suspended him from his job.
About a month later, the court ruled that his charges would be dropped if he stayed clean and out of trouble for four months and did 32 hours of community service.
Anthony later addressed the issue, apologizing to his family, friends, colleagues, and, most importantly, his wife.
Eventually, in March 2016, he returned to CBS and Turner Sports in his prior position for March scheduled programs.
Social Media Links
Greg is available on Twitter and Instagram, with a considerable following.
He mainly posts about his kids, second wife, and about his sportscaster programs.
Twitter: 197.8 K followers
Instagram: 16.1 K Followers
Search Graph
The search graph of Greg illustrates the popularity he earned during his NBA years.
This search rate illustration also includes the fame he earned during his sportscaster years.
Frequently Asked Questions (FAQs)
What NBA team did Greg Anthony play for?
Greg Anthony played for a bunch of different teams. In his pro-NBA career of 11 seasons, he played for six teams: Seattle SuperSonics, New York Knicks, Vancouver Grizzlies, Portland Trail Blazers, Milwaukee Bucks, and Chicago Bulls.
Is Cole Anthony Greg Anthony's son?
Just like his father, Cole is also a professional basketball player. He plays for the Orlando Magic of the NBA. Moreover, Ella, Anthony's daughter, is a basketball player who is to play in the big league; she is just in college.
Why does Cole Anthony wear 50?
Cole wears the no. 50 jersey in honor of his father, Greg Anthony, who played his entire pro-NBA career wearing the no. 50 jersey. Cole started wearing the no. 50 jerseys since 2020.
Is Greg Anthony still married?
Yes, Greg Anthony is still married to Chere Anthony despite the infidelity that got him arrested.
How much does Cole Anthony make?
Greg Anthony's first son, Cole, reportedly made $3.6 million in the 2022/23 season. Moreover, his salary is set to increase in the upcoming years. The Orlando Magic exercised a $5.54 million option for 2023-24.