Bison Dele was a professional American basketball player. He played for numerous teams, including Detroit Pistons, Chicago Bulla, Los Angeles Clippers, Denver Nuggets, and Orlando Magic.
Being the one-time NBA Champion, Bison was very loved by the public, not only for his playing skills but also for his irreplaceable personality.
The athlete Bison Dele triggers many surreal things. Indeed every incident of his life makes one think, 'Does this happen?' He was the man with the most inspiring nature, who never hung on only to fame and money.
Moreover, Bison was always in seek of purpose to live. As a result, he got retired at the peak of his career.
After his retirement, he began living his life the way he wanted by traveling and more. But, did he ever return from his trip? To know more, let's scroll through the article.
Quick Facts
| | |
| --- | --- |
| Full Name | Brian Carson Williams |
| Gender | Male |
| Height | 6 feet and 10 inches (2.08 m) |
| Weight | 260 lbs (118 kg) |
| Horoscope | Aries |
| Date Of Birth | 6th April 1969 |
| Birth Place | Fresno, California, United States |
| Died | 7th July 2002, Tahiti, French Polynesia |
| Nationality | American |
| Ethnicity | Afro-American and Native American |
| Skin Colour | Fair |
| Marital Status | Unmarried |
| Girlfriend | Serena Karlan |
| Kids | No |
| Father's Name | Eugene Williams |
| Mother's Name | Patricia Phillips |
| Siblings | Older Brother, Miles Dabord |
| High School | St. Monica Catholic High School and Bishop Gorman High School |
| University | The University of Arizona and the University of Maryland |
| Profession | Basketball Player |
| Active from | 1991-1999 |
| Position | Center |
| NBA Teams | Orlando Magic, Denver Nuggets, Los Angeles Clippers, Chicago Bulls, and Detroit Pistons |
| Total Points per game | 4,536 |
| Awards | NBA Champions (1997), First-team All-Pac-10 (1991), and Third-team Parade All-American (1987). |
| Net Worth | $30 million |
| Salary | $6 million |
| Social Media | None |
| Last Update | December, 2022 |
Was Bison Dele Murdered?
The late athlete, the Bison, disappeared suddenly in 2002. When the public and his well-wishers did not see him, everyone was in despair, thinking if any bad had happened to him.
All sorts of theories and conspiracies were made by numerous news channels, media, and people. But none of them found any proof regarding the issues.
However, after a month, the public heard unfortunate news when the media circulated the information by saying that Bison was dead.
Bison's death was confirmed when the authorities, who searched him, found only the boat, but not the passengers' sign.
Likewise, Bison was not the only one in the boat, and there were two other persons. Those people were his girlfriend, Serena Karlan, and Boat's Captain.
Investigation
After doing many investigations, in September 2002, the investigators found shocking news.
On 5th September 2002, the man calling himself to be the Bison Dele was spotted in Pheonix. He had Bison's passport and checkbook.
Though the man claiming to be Bison resembled more like him, he was not the real Bison. Shockingly, the man was none other than Miles Dabord, older brother of Bison.
Related: Tyler Skaggs – Career, MLB, Death & Memorials
During the five years of investigation, Miles stated that he was attempting to buy the Gold Eagle Coins from Certified Mint Inc for $152,096 on Bison's behalf.
After hearing the statement, Miles left the station with the approval of the Pheonix Police Department.
However, police authorities came to know the big lead of the case. The investigating officers revealed that Miles was the matching description of the man spotted at the Pearl Resort in Moorea on 8th July 2002.
Bison's brother, Miles, spent a week with the girlfriend, Erica Weise, before meeting Bison at the resort.
The man who left the boat into Phaeton Bay on Tahiti's Southeastern shore was Miles, as per the news published on Si.com.
At that time, he registered his name as Aria Bella. After leaving the boat, he flew to Los Angeles. All of the events became a shred of evidence to prove that Miles was also on the ship that day.
After facing interrogation by the police, Miles headed to Mexico. Before this, he met his girlfriend, Erica Weise, as well. Police were in search of him, but he died on his way due to an overdose.
Bison Dele's Murder's Proof
Though the main suspicious person, Miles died in between of nowhere. His girlfriend became the second lead to the case. She stated that Miles was the one to kill Bison.
As per Erica, Miles and Bison argued while they were sailing in Tahiti. During the fight, Miles punched Bison's girlfriend, Serena, unintentionally, which killed her instantly.
Discover: Kobe Bryant Net Worth: Stats, House, Cars, Lifestyle, Kids & Death
Then, Miles killed Shaldon, the boat captain, by hitting him on the wall. After that, he murdered Bison in self-defense. And Miles dumped all three bodies.
Hence, it is believed that the legend of basketball, Bison, was murdered by his older brother, Miles Dabord.
Bison Dele Personal Life | Girlfriend And More
Bison Dele dated several women, including singers and artists, but he never found what he was looking for in them.
He was in seek of his soulmate, the one who could understand him deeply. But, he kept searching for many women until 1997.
In 1997, Bison found the woman he was looking for. They both were in a relationship till the last moment of their life.
Who Was Bison Dele Dating?
The late athlete was dating an elegant and unique woman, Serena Karlan. He encountered Serena for the first time in 1997 in Los Angeles while wandering with one of his friends.
Similarly, Bison fell in love with Serena when she asked something that wrecked his soul. She questioned him if he had ever experienced the weird emotion of being alone in a room full of people.
Another Love Story: Muhammad Ali Bio: Wife, Age, Net Worth, Death, Children Wiki
After hearing the most related question, Bison answered her with,' Yes, exactly.' At the time, the late player found the short conversation so meaningful that he knew Serena was the one who could understand him better than anyone.
Patch Up- Death
In 1997, Bison and Serena started having feelings for each other. However, within the time, they began facing difficulties in communication as they were in different professions.
The late basketball player was into the NBA, whereas Serena was in search of her desired job. Eventually, Bison and Serena were out of touch for many personal reasons.
However, there is a saying, ' If it is meant to be, it will be.'The Lord indeed wrote their love story with perfection. After being separated for almost three years, the couple reunited in 2001.
In September 2001, Bison contacted his sweetheart, Serena, to join him in New Zealand. With a happy heart, Serena accepted the invitation and flew to him for two weeks.
Though she visited Bison with the thought of staying with him for two weeks, she stayed for five weeks in real.
After being together for five weeks, Serena returned to her home. Again, she received a call from Bison within a few weeks.
And she left for New Zealand in early 2002 to accompany and wander to find the purpose of life with the late player.
Next Lovestory Of Famous Athlete: Jimi Manuwa Wiki: Wife, Career, Net Worth & Stats
Unfortunately, Bison and Serena never returned from their trip to Tahiti. Indeed, they were made for each other.
Bison Dele | Age, Early Childhood, And Family
Bison Dele was born on 6th April 1969 in Fresno, California, United States. His birth name was Brian Carson Williams. Being born in April, his birth sign was Aries.
Family
The late athlete was born to his parents; a father, Eugene Williams, and a mother, Patricia Phillips. His father, Eugene, was a singer and had a musical group called The Platters.
However, Bison's father and mother's marriage started deteriorating. And they got legally separated. After the divorce, the late athlete was raised by his mother in Fresno, California.
Know The Family Details of Colleen Jones: Colleen Jones Wiki: Personal Life, Career & Meningitis
Similarly, his mother, Patricia, remarried. But, her second marriage also didn't last, as she faced another divorce. At the time, Bison was in his junior school.
Siblings
Bison was not the only child of his parents, as he had an older brother named Miles Dabord. His older brother's real name was Kevin Williams.
The late basketball player's brother, Miles, stood tall at the height of 6 feet and 8 inches. Though he possessed an athletic body, he was away from sports due to his Asthma.
Talking about Miles's other facts, he was very bright. He used to read a World Book Encyclopedia when he was only in third grade. During his childhood, he was an introverted child.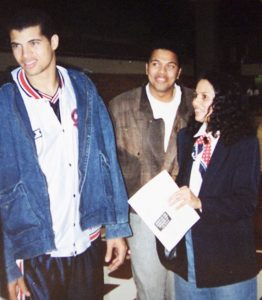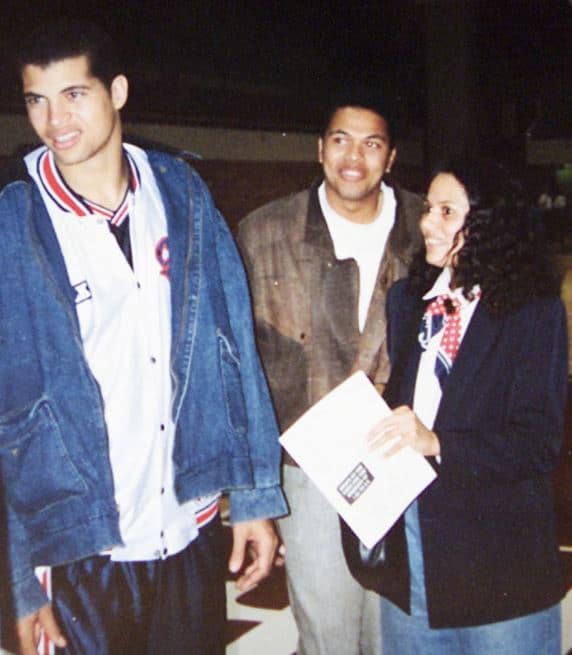 Similarly, Miles's personality began changing with time. He became awkward and helpless with his true self. In other words, Miles used to feel overlooked.
He handled all types of fluctuations in emotions, which led him to be a depressed man due to bad childhood and an uneven family.
Not only this, but Miles also tried to commit suicide many times. Also, he was highly addicted to cocaine and others.
By trying to be appreciated and hidden from the realities, he died on 26th September 2002 due to an insulin overdose.
Bison Dele's Education
Higher Education
Talking about Bison's education, he attended Saint Monica Catholic High School in Santa Monica, California.
Later on, the late athlete got transferred to Bishop Gorman High School. The school is located in Las Vegas, Nevada. While he was at school, he played basketball until his graduation.
College
After graduating from high school, Bison got enrolled at the University of Maryland. He played and studied at the university for only one year.
You May Want To Check This Out: Nicolas Claxton Bio: Injury, NBA, Girlfriend, Salary & Family
The late basketball player didn't cease his college studies because he went to the University of Arizona after being transferred from his former colleagues.
Bison Dele | Nationality And Ethnicity
Bison Dele held an American nationality. Similarly, he belonged to the Afro-American and Native American ethnic backgrounds.
Bison Dele Body Measurements | Height And Weight
Highlighting the Bison's physique, he was decently tall. He stood at a towering height of 6 feet and 10 inches (2.08 m). And his listed weight was 60 lb (118 kg).
Eventually, the detail on his chest, shoe and waist measures are unavailable.
Bison Dele Wealth | Net Worth And Salary
Bison earned massive money until his death. He used to make millions by signing the contract. And he played for more than four teams during his playing tenure, which is evident to prove his fortune.
As per the report obtained from reliable sources, Bison had a net worth of $30 million at his death.
Another Wealthy Sports Man: Andrew Whitworth Bio: NFL, Net Worth, Wife & Education
Additionally, the late athlete used to make a salary in millions of figures. Before he retired from the game, his salary was about $6 million.
Bison Dele Properties | House And Others
The highest-paid player, the Bison, lived a luxurious life for sure. And indeed, he had several vehicles and lavish villas. However, the detail on his properties was never publicized.
Moreover, the late basketball player bought a house worth $ 350,000 for his mother. Also, he purchased Harley Davidson costing $15000 for his father, Eugene Williams.
Professional Career Highlights
Bison commenced his professional career after being drafted in the 1991 NBA Draft in the first round with the 10th pick. He debuted with his team Orlando Magic. After playing from 1991-to 1993, he left the team.
Then, the late player joined Denver Nuggets and played from 1993-to 1994. For the team, he scored 8.0 points per game on average.
Later on, Bison switched to the Los Angeles Clippers. But, he played for one year.
Similarly, the late athlete played for the Chicago Bulls in 1996. And from 1997 to 1999, he represented the Detroit Pistons. Later, Detroit's revealed Bison's contract buyout didn't bring much to them.
Well, indeed, it did keep them up for two productive year however, he retired soon. Later, it was revealed that Bison never really like the game of basketball much.
Social Media Presence
The late athlete, the Bison, was not active on any social platforms until his death. However, his fans have created many accounts on the media like Facebook, Instagram, and Twitter under his name.
Well, there is a documentary made on Bison Dele's disappearance and murder. It's a single-season show with 12 episodes titled, "Dark Waters."
Unknown Facts About Bison Dele
Bison Dele has a record of scoring 17.3 points, 12.7 rebounds, 2.1 assists, 2.5 steals, and 9.1 blocks per game in his senior season on average during his high school.
Bison was only 33 years old at the time of his death.
To respect his ancestors, Native American and African, the late player, Bison, even changed his name. His original name was Brian Carson Williams.
He also dated the singer Madonna for a short time.
During their retirement, Bison walked away with the worth $36.5 million.
Common Queries About Bison Dele
Did they ever find Bison Dele?
The late athlete, the Bison, was dumped by his older brother, Miles Dabord, overboard. Due to this, none of the people found his dead body.
What was Bison Dele's real name?
The real name of Bison was Brian Carson Williams.
Who killed Bison Dele?
It is believed Bison's older brother, Miles Dabord, killed him.
When did Bison Dele die? Did they find the body?
Bison Dele died on 7th July 2002. No, they didn't find the body.
What was Bison Dele's net worth?
At the time of Bison's death, he had a net worth of $30 million.
Did Bison Dele play alongside Michael Jordan?
Bison Dele appeared on Michael Jordan's team for just two months but did achieve a lot.