Greg Monroe is an American professional basketball player who last played for the CBA's Shanxi Loongs and left on Jan 21, 2023.
The center and power forward Greg Monroe was an NBA star with an extensive basketball career.
Over the decade, he has played in different NBA teams, including Detroit Pistons, Phoenix Suns, Boston Celtics, and more.
In the 2021- 2022 season, he signed a contract with the Minnesota Timberwolves.
Talking about his personal life, Greg's girlfriend gave birth to his son, Maven Malachi Monroe, on November 11, 2022.
This article will cover some essential details about the player—ranging from his professional career to his net worth.
Let's look at some quick facts about Greg Monroe without further ado.
Quick Facts
| | |
| --- | --- |
| Full Name | Gregory Keith Monroe Jr. |
| Known As | Greg Monroe, Moose |
| Birth Date | June 4, 1990 |
| Birth Place | New Orleans, Louisiana |
| Father | Gregory Monroe Sr. |
| Mother | Norma Jean Monroe |
| Siblings | One Sister (Brittany Monroe) |
| High School | Helen Cox High School (Harvey, Louisiana) |
| College | Georgetown (2008-2010) |
| Nationality | American |
| Zodiac Sign | Gemini |
| Age | 33 Years Old |
| Height | 6'10″/2.08 m/208 cm |
| Weight | 250 lb/113 kg |
| Body type | Athletic |
| Profession | Basketball Player |
| Position | Center/Power Forward |
| Current Team | Shanxi Loongs |
| Draft | 2010 (Round 1) |
| Active Years | 2010 – Present |
| Marital Status | Dating |
| Spouse | Lesnik |
| Children | Son, Maven Malachi Monroe |
| Net Worth | $5 Million – $10 Million |
| Social Media | Instagram, Twitter |
| Merch | Milwaukee Jersey, Autographed Basketball Card |
| Last Update | December 2023 |
Early Life
Gregory Keith Monroe Jr., famously known as Greg Monroe, was born in New Orleans, Louisiana, on June 4, 1990.
Son of Gregory Keith Monroe Sr. and Norma Jean Monroe, young Moose grew up with his sister, Brittany Monroe.
Monroe was a student at Helen Cox High School in Harvey, Louisiana. He had taken up basketball from his early days in high school.
Likewise, he averaged 21.0 points and 14.0 rebounds per game in his senior year at high school.
In 2007–08, Monroe was then named a McDonald's All-American. He also earned the Parade All-America first-team honors, courtesy of his noteworthy performances in high school.
College Life
Monroe was a student at Georgetown University, where he continued to give stellar performances for his college.
He was awarded the Big East All-Rookie of the Year in his first year at Georgetown University.
He averaged 12.7 points, 2.5 assists, 1.5 blocks, and 6.5 rebounds in his 31 games as a freshman. Greg, thus, earned the Big East All-Rookie Team and the NCAA Freshman All-American first-team honors.
In 2008, Monroe was listed as the number 1 power forward and the number 8 player in the United States as a five-star recruit.
Monroe was named the Big East All-Tournament team, NABC Division I All-District five first team, AP NCAA All-America third team, and NABC Division I All-America third team.
His improved performances meant he was named to the All-Big East first team and the USBWA All-District II team.
In 2010, Monroe was eligible for the NBA Draft as he was preceding his final two years of college.
The Detroit Pistons then drafted Monroe in the 2010 NBA Draft.
Career
Monroe made his NBA debut in October 2010 with the Detroit Pistons against the Chicago Bulls.
He gave a good performance coming off the bench, and after playing for 7 minutes, he scored 2 points and had three rebounds.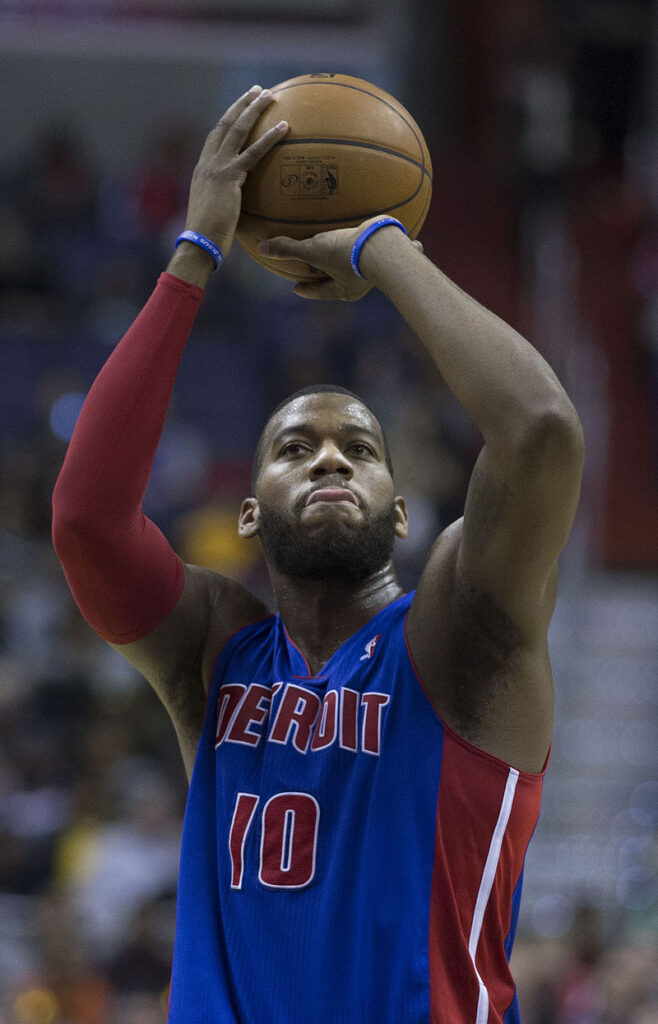 Monroe played off the bench for the first month of his recruitment with the Pistons.
Later in December 2010, he got an opportunity to play against the Minnesota Timberwolves. He scored eight points and made 15 rebounds in 35 minutes on the court.
New & Improved Greg Monroe
Monroe performed well in his initial stages in the NBA.
But he became a solid basketball player in 2011 as he honed his skills, and in a game against the Indiana Pacers, Monroe scored 27 points and had 12 rebounds. It was the best game of the 2011 season for Monroe.
NBA pundits considered him a prominent rebounder and scorer for the Pistons.
During the Detroit Piston's rebuilding stage, Monroe's exceptional performances gave them the needed boost.
Greg was placed sixth in the NBA Rookie of the Year voting totals in May 2011.
In the 2011-2012 season, Monroe played and starred in all of Piston's 66 games.
Monroe eventually became the last player from Detroit Pistons to wear the number 10 jersey as the Pistons retired the number for Dennis Rodman in April 2011.
Since then, Monroe has played in different NBA and other leagues. Let's have a look at them.
Milwaukee Bucks (2015-2017)
Phoenix Suns (2017-2018)
Boston Celtics (2018)
Toronto Raptors (2018-2019)
Boston Celtics (2019)
Philadelphia 76ers (2019)
Bayern Munich (2019-2020)
Khimki Moscow (2020-2021)
Capital City Go-Go (2021)
Minnesota Timberwolves (2021)
Recent Deals
On 27 December 2021, Monroe signed a 10-day contract worth $138,019 with the Minnesota Timberwolves.
Besides the guaranteed signing amount, the short-term deal also ensured an annual average salary of $13,802.
He became the 541st player to play in NBA that season.
On February 2022, Monroe played his first game against the Boston Celtics. He scored 11 points and nine rebounds in his team's 108-103 victory.
This was Monroe's first appearance in an NBA game since 2019.
In an interview with ESPN, Monroe said about his 2021 signing with the Timberwolves.
"It has been a whirlwind. Honestly, I was so focused on being ready when my number was called I haven't gotten a chance to digest it, but in this league, you don't have much time to digest anything."
After that, at the beginning of 2022, he signed with Washington Wizards on a 10-day contract, and after playing two games, he returned to Capital City Go-Go.
On February 5, 2022, Monroe again signed a 10-day contract, but this time with the Milwaukee Bucks.
He scored six points and grabbed six rebounds in 15 minutes of playing time in his debut during a 137–108 win against the Portland Trail Blazers.
Later in March 2022, he signed with Utah Jazz for a 10-day deal and, on April 2022, returned to Minnesota Timberwolves in a year contract worth $55,208 with a cap hit of $1,811,516.
On December 10, 2022, Shanxi Loongs of the CBA signed Greg with an undisclosed amount.
He averaged 11.7 points and five rebounds in 10 minutes per game and left the team on Jan 21, 2023.
Personal Life, Wife & Family
Greg is dating Lesanik, and on November 2, 2022, his girlfriend gave birth to a son, Maven Malachi Monroe.
Lesnik owns XO, Juice, and is in a co-partnership with DN Skincare.
The 2.08 meters NBA star lives a luxurious life even though he has been out of action for some time in the NBA.
Over the years in the NBA, his income has provided him a firm cushion for a luxurious life with his girlfriend and newborn.
Net Worth
According to reports, Greg Monroe's net worth is between $5 million – $10 million as of 2023.
Monroe was always considered a high-value draft pick in the NBA.
However, the league eventually lost its interest in players like him. So, he could not precisely turn his decent career into a magnificent one like those of NBA legends.
Despite that, Moose still earned a decent amount as an NBA player. According to Spotrac, Monroe has made over $77 million in his NBA career.
Most of Greg's income came from his three-year contract with the Bucks.
Contract
Monroe had signed a three-year contract with the Milwaukee Bucks in 2015. The agreement was worth a whopping $51.4 million.
He was then traded to the Phoenix Suns in exchange for Eric Bledsoe in 2017.
Later, in 2018, Greg signed with the Boston Celtics, and in August, he signed with the Toronto Raptors.
In 2019, the NBA center was traded to the Brooklyn Nets for $770,764.
As mentioned in the article, Greg Monroe signed a three-year contract with the Minnesota Timberwolves in 2022.
Awards & Achievements
Below are Greg Monroe's career highlights, awards, and achievements.
He recorded his third consecutive season with 1,000-plus points and 600-plus rebounds during the 2013-2014 season.
NBA All-Rookie Second Team (2011)
Pete Newell Big Man Award (2010)
Third-team All-American-AP, NABC (2010)
First-team All-Big East (2010)
Big East Rookie of the Year (2009)
Big East All-Rookie Team (2009)
McDonald's All-American (2008)
First-team Parade All-American (2008)
Third-team Parade All-American (2007)
Louisiana Mr. Basketball (2007 & 2008)
Trivia
He was named a McDonald's All-American in his senior year of high school, averaging 21.0 points and 14.0 rebounds for Helen Cox High School.
Monroe was awarded the Pete Newell Big Man Award in 2010. This award is given to the top low-post player in college basketball by the National Association of Basketball Coaches.
His triple-double with the Celtics in 2018 was the first triple-double by a Celtics player off the bench since Robert Parish in 1987.
Greg plays basketball with his left hand, but in his interview with Detroit Free Press, he said he is right-handed.
Monroe made the playoffs for the first time during Milwaukee's 2016-17 season.
Social Media Presence
Instagram: 102k Followers
Twitter: 37.8k Followers
Greg and his girlfriend are immensely active on Instagram and keep their fans updated via their social media.
Recently the couple made an Instagram handle for their newborn @mavandbenzishow.
Greg thanked his newborn son for positively changing his life in an Instagram post in 2022.
This shows how Greg stepped in 2023 with a new positive ray of life.
Greg collaborated with Sutaria training and fitness in 2023 and was seen giving some tips on lunges for better results to his followers on Instagram.
The Search Graph
Greg's popularity graph is comparatively lower than in the beginning months of 2022.
As Greg is still in his active years, we can say that he is popular, and people still search for him.
Frequently Asked Questions (FAQS)
Was Greg Monroe the first pick in the 2010 NBA Draft?
Greg Monroe was the seventh overall pick in the first round of the 2010 NBA Draft.
When was the last time Greg Monroe played in the NBA?
Greg Monroe last played in the 2018-2019 season NBA with Toronto Raptors, Philadelphia 76ers, and Celtics. Later left the NBA to play for Bayern after the 76ers did not re-sign him. Although he played for Minnesota Timberwolves for the remainder of the 2021-22 season.