Gwen Berry, a hammer thrower for the United States Olympic track and field team, made waves at the Olympic trials by turning her back on the American flag during the national anthem. The two times Olympian has recently secured 10th and 11th positions at World Championships at Doha-2019 and Tokyo Olympic Games-2021, respectively.
The athlete activist also won the gold medal in Pan American Games in 2014 and was the champion for 2019, who got suspended by the board for protesting the same year.
From a kid in a small community in St Louis, Missouri, to the Field of Olympic games, Gwen has had an iconic journey of her own and is listed among the best hammer throwers worldwide.
The fierce beauty has won gold in indoor championships three times! She has also proudly represented her country in Olympic and Pan AM Games.
In today's article, we will learn about Gwen Berry's journey to the Olympics and what caused her eventual suspension.
Before getting into the details, here are some quick facts about her:
Quick Facts: Gwen Berry
| | |
| --- | --- |
| Full Name | Gwendolyn Denise Berry |
| Common Name | Gwen Berry |
| Nick Name | Gwen |
| Birth Date | June 29, 1989 |
| Birth Place | St. Louis Missouri, U.S |
| Residence | The U.S.A. |
| Ethnicity | Black |
| Religion | Christianity |
| Nationality | American |
| Zodiac Sign | Tauras |
| Father's Name | Michael Berry |
| Mother's Name | Laura Hayes |
| Siblings | Two Brothers, One sister |
| Age | 33 years old |
| Height | 1.78 m (5'10") |
| Weight | 194 lb (88 kg) |
| Hair Color | Black |
| Eye Color | Black |
| Body | Toned |
| Shoe Size | N/A |
| Married | No |
| Partner | Possibly single |
| Children | One son, Derrick |
| High School | McCluer High School |
| College | Southern Illinois University Carbondale |
| Sport | Track and Field |
| Event | Hammer Throw |
| Club | NYAC (New York Athletic Club) |
| Started Playing | 2005 |
| Turned pro | 2011 |
| International Debut | 2010 |
| Net Worth | $1-$5 million |
| Hobbies | Reading, Listening to music |
| Charity | St. Jude's Children's Research Hospital, Athletes for Hope |
| Social Media | Facebook, Instagram, Twitter |
| Merch | Gear Chain |
| Last Update | May, 2023 |
Gwen Berry: Early Life and Family
The diva, Gwen Berry, was born on June 29, 1989, to parents Michael Berry and Laura Hayes. Her birthplace is St Louis, Missouri, in the U.S.A. She has two brothers, Davon and Micheal, and a sister Quincy.
Likewise, her father, Michael, was only 17 when Gwen was born. Initially, she was with her mother, but her father thought it would be good for Gwen to live with a large family.
So she moved in with her father's side of the family. Her grandmother raised her in a family of 13 members.
They never had enough space, but it taught her the power of having a loving family.
Racism and Track
Growing up, Gwen saw racism all around her but could not figure out what was happening. Her father taught himself about black history and civil rights.
Even if kid Gwen could not understand, he used to share what he learned with her.
Moving on, Gwen has been athletic since her childhood. Being in a house full of kids helped it even more.
Similarly, the kids were always outside, playing, and jumping. They used to play baseball, soccer, volleyball, etc.
She started doing team sports during her school years, where her athleticism shined the most in basketball games.
Also, Gwen used to participate in track and fields sports occasionally. Mostly, she did sprints and triple jumps.
Giving birth and continuing sports
Gwen got pregnant with her son, Derrick, at age 15. This situation changed a lot of things for her.
On top of that, Micheal was accepted into Army after only a few weeks and deployed to Iraq. This made things even harder for Gwen.
However, Gwen didn't give up on sports even after having her son. Her athletic trajectory started skyrocketing during this time.
Moreover, Berry completed high school at McCluer High school in Florissant, Missouri. She set records in the high jump for three years.
Due to this unmatched talent, she got a scholarship from Southern Illinois. Then she went to University in 2007, where she studied psychology and criminal justice.
Growth as an athlete
College was two hours away from home, and it was difficult for her to leave her son. But both her and her son's father had to complete their education. So, Derrick mainly lived with his paternal grandfather during this time.
It was during college that she threw the hammer for the first time! When her college coach watched her performance, they suggested she had to try it.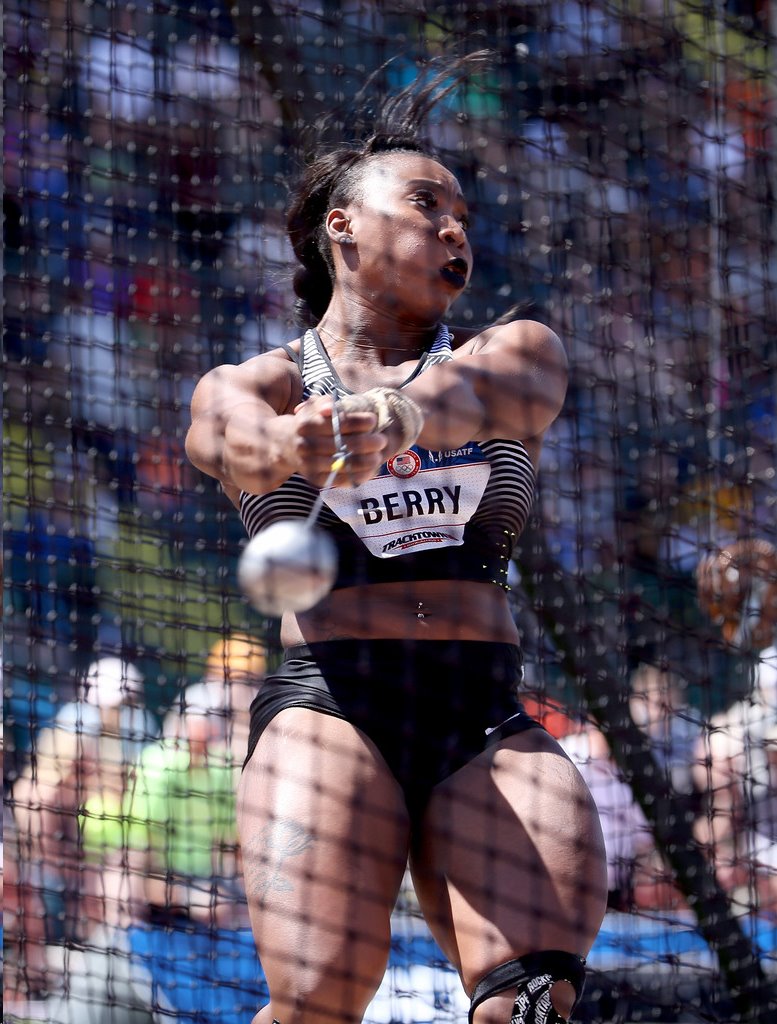 While initially, she did not show much interest, she realized how much fun she had.
So, she made the life-changing switch. By 2008, she had already reached the top five in U.S.A. junior championships. Now she gave her full attention to hammer throwing.
>>>Melina Perez Bio: Early Life, Career & Relationships>>>
Gwen Berry: Career
Gwen's professional career began after graduation. Initially, she focused on weight throws in the indoor and hammer throws during the outdoor season.
After her hammer throw best of 71.95m in 2012, Berry got a chance to enter the 2012 U.S. Olympic trials. By then, she was ranked second after Jessica Cosby.
Although she could not perform well and ended up seventh, she got an exclusive New York Atheltic Club to offer to join them.
At the 2013 U.S.A. Indoors, Gwen finally secured her first national title, maintaining 2014 and 2016.
In the 2014 Pan Am Games, she snatched the gold medal with a mark of 72.04.
Moreover, she beat the three-time world Champion Yipsi Moreno, who had inspired Gwen throughout her career.
Anti-doping Procedures
Gwen's performance truly shined in 2016. She won four straight games with throws over 24 meters. She ranked number one for that season with the best of 75.11m.
However, she got sanctioned from March to June due to a violation of anti-doping procedures.
It was not a performance-enhancing drug but a prescribed medication inhaler, but unfortunately, the substance was prohibited by the rules.
Despite that, she currently holds a world record in the weight throw with a 25.6m, a record that she set in March 2017.
What really happened in the 2019 Pan American Games?
The 2019 Pan Am games started in late July in Lima, Peru. Participated by many countries in various sports, the Pan Am Games are a massive event for athletes and sports lovers.
Gwen, who had been top three in the world for the last few years, performed very well in her events. Eventually, she won a gold medal.
During her medal ceremony, towards the end of the national anthem, something just overcame berry.
The years of witnessing and facing discriminatory behavior as a person of color sparked a fire within her.
Likewise, her father's years of education in black history made her capable of raising her voice wherever and whenever possible. Poor Berry could not help but wonder what kind of world her son would be growing up in.
So, she silently bowed and raised her fist in the form of protest towards everything wrong happening in the world.
Similarly, at another medal ceremony, U.S. fencer Race Imboden took a knee, showing his anger towards injustice to people of color and immigrants.
>>>Cat Zingano: Who is Cat Zingano? Husband's death & Net Worth>>>
The Aftermath
The organizer of the Pan Am games is Pan American Sports Organization. This organization follows the rules of the Olympic charter.
Immediately after the Incident, USOPC CEO Sarah Hirshland wrote a letter to both the athletes. The letter contained a piece of bad news for both of them.
However, later she changed her statement and wrote, "I value the voices of Team U.S.A. athletes and believe that their right to advocate for racial and social justice and act as a force for good deserves the support of the USOPC. My full letter to Team U.S.A. athletes."
The athletic activist had been put on probation for 12 months. It also warned that repeating the same actions further could come at a higher cost.
Being put on probation for 12 months can mean a lot for an athlete. As soon as the Committee made the decision, positive and negative comments started flowing.
Some showed support, while some criticized her action
While some of them lauded Gwen for what she did, many also said she was 'anti-nationalist.' Can you believe that?
Even talking with C.B.S. Sports, Berry has clearly stated that it is the racism towards the colors that she could not stand. She said,
"But I don't want to talk about the anthem because that's unimportant. The anthem doesn't speak for me. It never has."
On another side, Gwen slowly started losing her significant sponsors. She said that the probation cost her around $50,000.
After the incident, Gwen has said that although she did it spur of the moment, she does not regret what she did. After all, her actions were not harming anyone!
Well, athletes can protest outside the podium, but a mere voice without an audience to listen to it won't make any impact.
"Of course, we can protest outside the Olympic village, but who will see that? "
For this act of bravery, team Toyota humanitarian awards honored her in 2020.
For the award, Gwen also received $10,000 to distribute to charities of her likes. The beneficiaries are all educational institutions that foster minority students:
Fannie Lou Hamer Freedom School (New York), New Era Prep (South Florida), and Scholars Education Centre (New Orleans).
Gwen's biggest hope is to be able to raise her hand and voice in the upcoming Olympics without being punished for her actions.
On the good news, the U.S. Olympic Committee decided in December 2020 that athletes won't be reprimanded for respectfully demonstrating in support of racial and social justice for all human beings.
Turning her back on the stars and stripes during Olympic Trials
Hammer Thrower and Social Activist Gwen Berry turned her back to the American flag. They faced the stands as the national anthem, "The Star-Spangled Banner," was played at the U.S. Olympic Trials in Eugene, Oregon.
Furthermore, towards the end of the anthem, Berry also put a black t-shirt on her hand with the words "Activist Athlete."
While her competitors DeAnna Price, who won first place, and Brooke Andersen, second place winner, faced the flag, putting their hands over their hearts.
According to Berry, the timing of the anthem was planned, not a coincidence.
"I feel like it was a set-up, something like they did it on purpose," she said, according to the A.P. "I was pissed, to be honest," she claimed.
On the other hand, Susan Hazzard, the spokeswoman for the U.S.A. Track and Field said, "the national anthem was scheduled to play at 5:20 pm." We did not decide to wait for the athletes to stand on the podium for the hammer throw awards.
But Berry again retaliated, saying, "They said they were going to play the anthem before we walked out, then they played it when we were out there. But anyway, I don't want to discuss the national anthem because that's not important."
Again, the after-effects
Moreover, amidst all of this, an old picture of Berry happily flaunting the national flag went viral from her website.
Brigitte Gabriel, the founder of security organization A.C.T. America, agreed, commenting: 'This image is directly from Gwen Berry's website. It seems like her entire 'Activist Athlete' bit is an act!'
"Looks like the American flag didn't offend Gwen Berry a few years ago..." author Nick Adams bantered.
While totallyy not all an act!' tweeted Donald Trump Jr.
Berry, on the other side, took to Twitter and explained her side of the story,
"These comments really show that: 1.) people in America rally patriotism over basic morality. 2.) Even after the murder of George Floyd and so many others, the commercials, statements, and phony sentiments regarding black lives were just a hoax."
On Fox News, former N.F.L. player Jack Brewer confronted the U.S. Olympic Committee "needs to do something about this garbage," and Rep. Dan Crenshaw, R-Texas, said Berry should be "removed from the team."
Gwen Berry competed at the Olympic Tokyo 2021 in the hammer throw event representing the United States. She obtained the 11th position there.
She is also happy to be wearing the red, white, and blue uniform with the letters "U.S.A." printed on it.
"I feel like I've earned the right to wear this uniform," Berry says after making it to the qualifying round at the Tokyo Games. As of August 1, 2021, she had the third-best distance of the day in Group B.
And Gong Lijiao of China won gold in the shot put, besting Raven Saunders of the United States, who threw in her style with that "Incredible Hulk" mask and purple-green hair and now has grabbed a silver medal.
Berry's take on mental health
Over the first ten days of the Tokyo Olympics 2021, the rising topic of mental health has grabbed all the limelight as crucial talents like Naomi Osaka, and Simone Biles withdrew from the floors due to mental health issues.
Berry stated that this matters to her, too, as her uncle died at the beginning of 2021, and her agent passed away just before the Olympic trials in June.
"I felt like I was going to quit this sport in February," Berry said. "It's been hard. However, overall, I have to be thankful I'm alive, and I'm here, and I made it."
Gwen Berry: Relationships
Gwen has a child from her relationship during high school. The identity of her son's father is not disclosed. Whether or not they are still together is also not disclosed.
Gwen is not open about her private affairs. Hopefully, we will learn about her partner soon enough.
Read about Mia Hamm Net Worth: Salary & Endorsements>>>
Gwen Berry: Social Media
Gwen Berry is active mainly on her public Instagram where she has amassed 45.8k followers. She has around 19k followers on Twitter.
Besides her fierce opinions, Berry is famous for her unique fashion sense on social media. Berry is seen sporting unique yet gorgeous hairstyles from time to time.
That matched her bold and colorful lipstick shades, making her look like a true diva.
Her every post makes it evident that she is super confident in her own body, making us like her even more!
Instagram: 45.8k Followers
Twitter: 19k Followers
Facebook: 554
Gwen Berry: Net Worth
The American athlete Gwen Berry has a net worth of around $1-$5 million. Though track and Field is not the sport where there is a lot of money, being the best in her sports opened great opportunities.
After the PAN AM incident, Gwen lost a significant amount of her sponsorship which she has publicly criticized. The likes of Nike withdrew their money from her.
Gwen Berry: Frequently Asked Questions
Is Gwen Berry married?
No, Gwen is not married. It also appears that she does not have any partners right now. She has kept her marital life and relationships secret so far.
Can Gwen Berry play in Tokyo Olympics?
Yes, Gwen's probation period will be over till the 2021 Tokyo Olympics, and she will be eligible to play.
She played at the Tokyo Olympics and ranked 11th in the championship.
Where did Gwen Berry finish in the Olympics?
Gwen Berry finished the Olympics in Tokyo Olympic Games in 2021. Berry finished in eleventh place of twelve competitors, registering a distance of 71.35 meters.
Did Gwen Berry win anything?
The athlete activist also won the gold medal in Pan American Games in 2014 and was the champion for 2019, who got suspended by the board for protesting the same year. She secured 11th out of 12 in Tokyo Olympics in 2021.