In a world where women are considered naturally weak, some proof is that they are no lesser than any man. One of those has to be Swedish arm wrestler Heidi Andersson.
42 years old Andersson is an eleven times arm-wrestling champion! She hails from a small town in Lapland, Sweden.
Heidi started wrestling at the age of 11 and became an elite athlete and a teacher to the upcoming arm wrestlers in the future.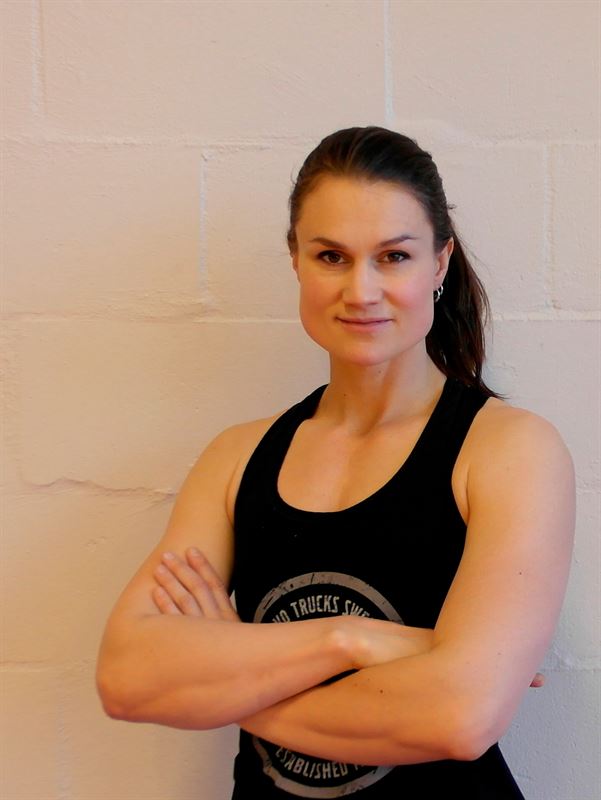 Alongside being an athlete, Heidi is also passionate about planetary conservation. She advocates reducing the use of fossil fuels and promotes the use of sustainable sources of energy.
Both Heidi and are Husband are on a mission to lead a fossil-free lifestyle by 2025. They also regularly give presentations and interviews about this noble mission.
In this article, we will explore the life of Heidi as both an athlete and an earth warrior. Before we go into more details, here are some interesting facts about her.
Quick Facts
| | |
| --- | --- |
| Full Name | Erika Heidi Marie Andersson |
| Common Name | Heidi Andersson |
| Nick Name | Heidi |
| Birth Date | 27 February 1981 |
| Age | 42 years old |
| Zodiac Sign | Pisces |
| Birth Place | Ensamheten, Sweden |
| Residence | Storuman, Sweden |
| Father's Name | Kent Andersson |
| Mother's Name | Jeanette Andersson |
| Siblings | 2 brothers Torbjörn Andersson Frank ANdersson |
| Religion | Christianity |
| Nationality | Swedish |
| High School | N/A |
| College | N/A |
| Education | Honorary Doctorate |
| Height | 170 cm/5'7″ |
| Weight | 65 kg |
| Hair Color | Light Brown |
| Eye Color | Brown |
| Shoe Size | N/A |
| Married | Yes |
| Partner | Björn Ferry (m. 2006) |
| Children | One son, Dante |
| Profession | Arm Wrestler, Climate Conservation Advocate |
| World Championships | 14 wins |
| Hobbies | Training, Working |
| Net Worth | $1 Million – $5 Million |
| Status | Retired |
| Salary | N/A |
| Social Media | Facebook, Instagram, Twitter |
| Merch | Arm wrestler from Solitude |
| Last-Update | March, 2023 |
Heidi Andersson | Early Life & Family
Heidi was born on the 27th of February, 1981, in Storuman municipality of Lapland, Sweden. The locality that she belongs to is named Ensamheten, which literally translates to 'Solitude.'
There are only about 18 residents at the moment. Likewise, six generations of the Andersson family have already lived in the place.
So just like the name, her locality was in solitude. It gave her a sense of strong community and co-operation. Since childhood, Andersson learned to value life, sustainability, and responsibility.
Talking about her family, her father is Kent Andersson, and her Mother is Jeanette Andersson. She also has two brothers.
Her grandfather was a huge source of inspiration for her. He taught her to be responsible for the beautiful world where she belongs.
Heidi started arm wrestling when she was merely 11 years old. She was influenced by watching Swedish arm wrestlers on TV.
Her family helped her build her tables and other requirements for initial practice. Since then, Andersson had been dreaming of becoming a world-class arm wrestler.
Heidi Andersson | Husband and Son
Gorgeous Heidi is married to Swedish Olympian biathlete Björn Ferry. Their small wedding ceremony took place on June 23, 2006.
Just like Heidi, Ferry is also environmentally conscious and does his part to protect the earth.
In November 2017, the husband announced that he would not fly anymore as the airline industry's impact on the environment is well known.
There is a Swedish term for that called 'flygskam,' which translates to 'flight shame,' which refers to a movement that encourages people not to fly on environmental grounds.
Ferry initially started this movement but only gained publicity after young environmentalist Greta Thunberg hyped it up.
Together, both Heidi and Ferry are a power couple and household name in Sweden. They are working as a spokesperson for the fossil-free 2025 movement.
Likewise, they welcomed their son, Dante Andersson Ferry, on 19 July 2011.
In the latest news, Heidi is Pregnant! She is two months due to the delivery date, and the family has decided to name the newborn Simon/Simona.
Heidi Andersson | An Earth Warrior
Besides being a fantastic arm wrestler, Heidi loves the earth and environment activist. Her main area of focus is fossil fuels, and she is working towards going fossil fuel-free by 2025.
She and her spouse are together on this journey of preserving our precious planet. They have managed to reduce their fossil fuel consumption by 80% in just five years.
Not only that, they own a 1000-hectare forest and spend significant time working there.
Together, they frequently give lectures and do programs to educate people about the rarity of fossil fuels and how using alternative sources of power can significantly change the planet for the better.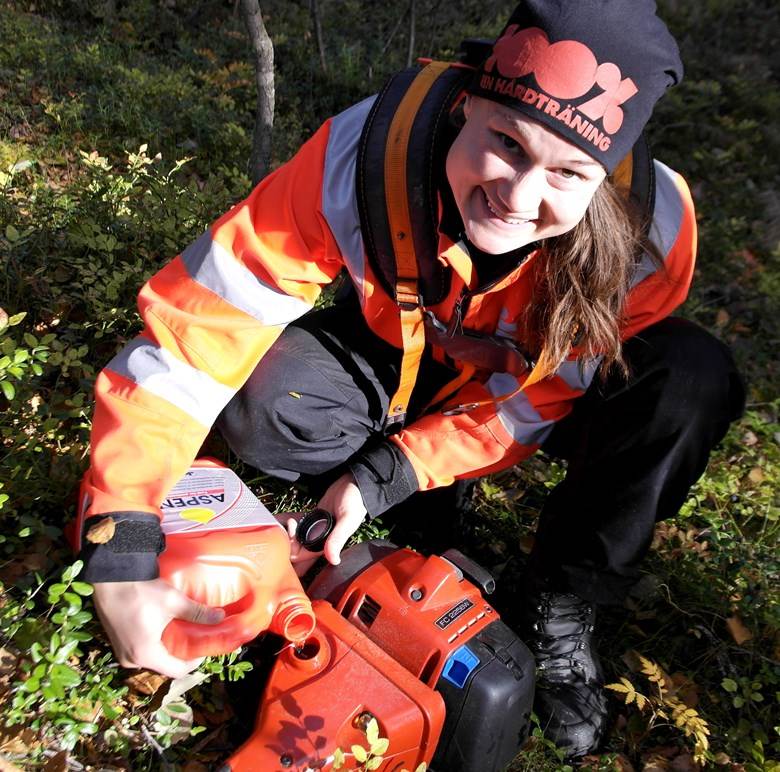 Furthermore, SVT aired a series called 'Storuman Forevr' in 2018 that depicted the noble work of Heidi and Bjorn regarding climate awareness.
For her contribution, the arm wrestling champion has been bestowed with an honorary doctorate of forest sciences at the Swedish University of Agricultural Sciences in 2018.
Heidi | Body and Training
A champion arm wrestler needs to take very good of their body and health. Heidi has an athletic, muscular body with a weight of 65 kgs.
That is why she has her training routine to fit her necessity.
During her elite career, Andersson had a more tough workout routine. She worked out 5-12 times a week while taking only 1-2 days off for rest. Her straight training itself was about 60-90 minutes long.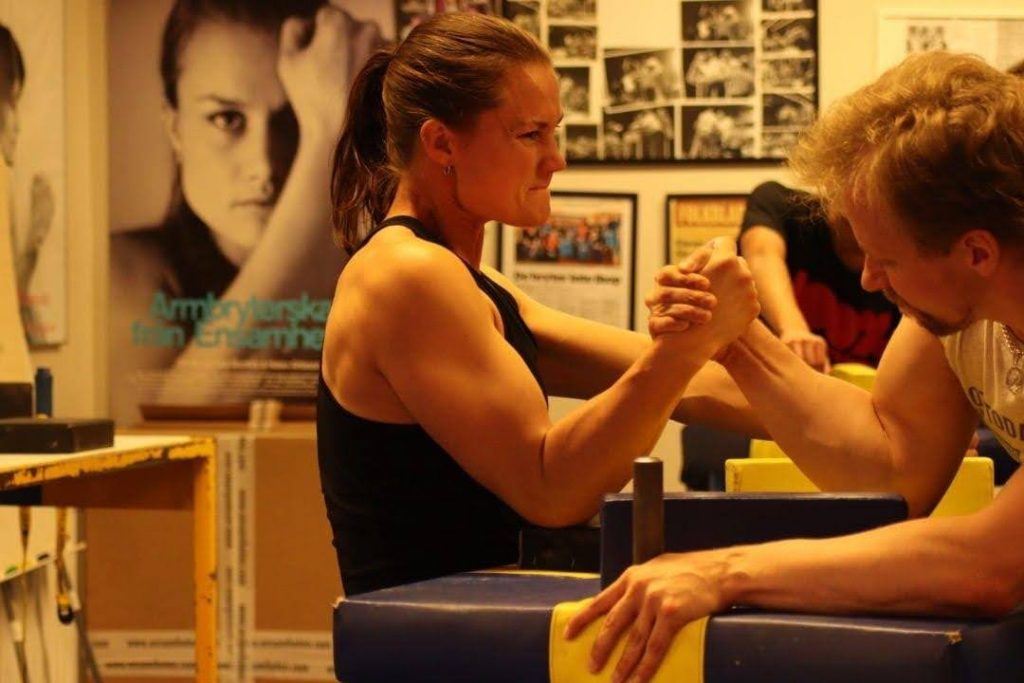 Even after retiring from an elite career, she has not given up on training. Also, Heidi does about five sessions of training weekly.
In addition to the regular arm wrestling training, she is also fond of strength training at the gym.
Most of the time, Andersson trains with her students in arm wrestling school at Storuman. She also loves training with towing machines and free weights.
Similarly, she is also fond of running and climbing ropes.
Heidi Andersson | Arm Wrestling Career
There is no accurate information about her career, but we know that she began playing professionally in late 1990. To date, she has won 11 world championships.
Besides that, Heidi has won six silvers and four bronzes in the world cup. She is also the three-time European champion.
Furthermore, she has won Swedish championships and nordic championships multiple times.
Hedi has given up her elite career but still trains and teaches arm wrestling.
In a world where most people don't even realize that arm wrestling is a professional sport, Heidi strives to teach as many people as possible about her sport.
Moreover, Andersson travels to schools, teaching the new generation about arm wrestling with live demonstrations and presentations.
Besides arm wrestling
A rival moment in her life was the release of the documentary "Armbryterskan från Ensamheten"(Armwrestler from solitude) in 2004.
Though Andersson already was a four-time world champion before the documentary aired, this exposure made her well known all over Sweden.
Besides that, the champion has been a part of many TV and radio shows. She was the host of five seasons of the SCT TV show Miljöhjältarna, which aired in 2009 and 2012.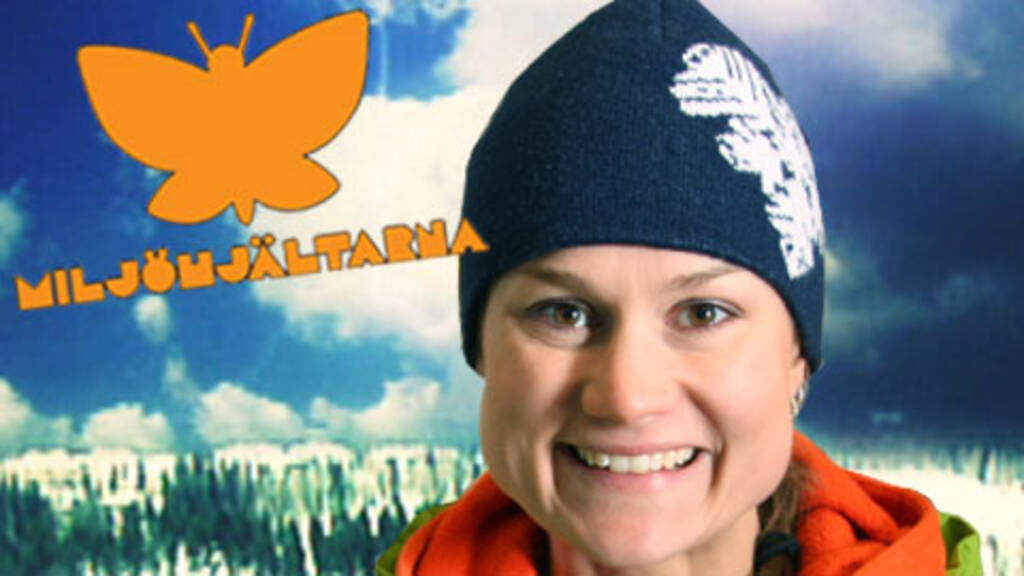 The show's title literally translates to 'The environmental heroes,' which is a kids' show to make little children informed about environmental conservation.
Likewise, Andersson also worked as a host on Swedish Radio P1 in 2012. She participated in the SVT program Sommarpratarna. (The summer Talks).
In 2016, along with her husband, Heidi was a part of the eighth season of the Tv show Mästarnas mästare (Master of Masters).
This show features several sports stars from different disciplines who participate in many duels to see who is the best.
The show airs in multiple episodes, and participants are eliminated one by one. The last one to stand is crowned as the master of masters.
Heidi made it to the 5th position while Bjorn was placed 6th.
You can follow CrossFit to get more detail on Heidi.
Heidi Andersson | Net Worth and Endorsements
Even though arm wrestling is a common sport, it is not a big sport like football or cricket at a professional level.
One of the primary incomes of athletes, prize money, is significantly less for arm wrestling champions. The highest Heidi has won as prize money is 10,000 SEK.
After her elite career formally ended, Heidi is spending time as an entrepreneur, teacher, and planet warrior. Andersson is also seen in many TV shows so far.
Andersson is an active spokesperson for products that value sustainability. For instance, she is a brand ambassador for 'Fairphone.'
Originally from the Netherlands, this is an ethical company that develops smartphones with minimal environmental impact.
Heidi not only endorses the phone, but it is also the only smartphone she owns.
The athlete couple teamed up with Volvo trucks in 2019 to talk about making the future of transportation climate-friendly.
Furthermore, Heidi's net worth is estimated to be somewhere between $1million-$5million.
Net Worth of Heidi Andersson in Different Currencies
Here is the net worth of Heidi Anderson in different currencies, including the cryptocurrency and the Euro
Currency
Net Worth
Euro
€

859,635

– €

4,298,175

Pound Sterling
£

735,050

– £

3,675,250

Australian Dollar
A$

1,371,121

– A$

6,856,265

Canadian Dollar
C$

1,259,785

– C$

6,299,150

Indian Rupee
₹

74,268,300

– ₹

371,341,500

BitCoin

฿21 – ฿105
Heidi Andersson | Lifestyle
Needless to say, Bjorn and Heidi are not the people to live extravagant life. They try to live a minimal and basic life that causes the least harm to our precious planet.
The environmentally conscious family drives an electric car and carries a low-ecological impact phone.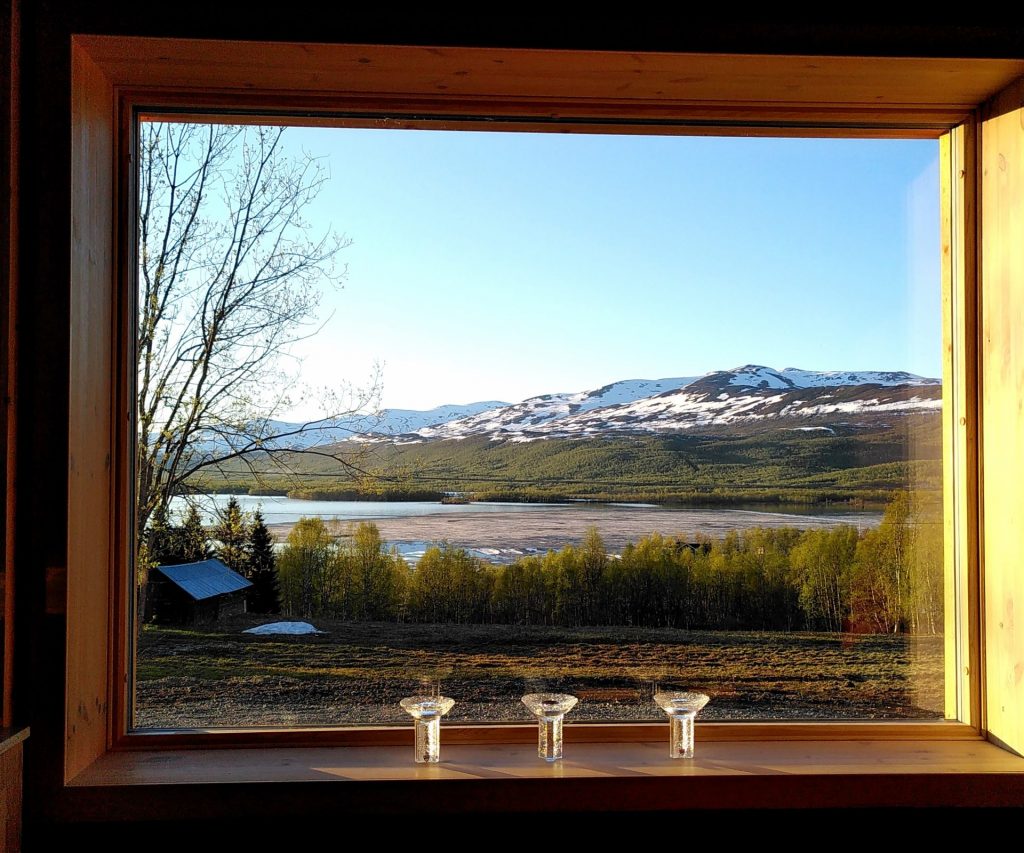 Since Bjorn has given up flying and even extensive vacations are out of the picture.
Moreover, the family lives in Storuman in an ecological house that might not have all the modern luxuries but has breathtaking mountains.
Heidi Andersson | Social Media Presence
Facebook: 5.6K Followers
Instagram: 10.4k Followers
Twitter: 818 Followers
Website: https://heidiandersson.com/
Blog (In Swedish)
Heidi Andersson | Frequently Asked Question
How Many Kids does Heidi Andersson have?
Heidi has one son, Dante, who was born in 2011. Currently, the champion is pregnant with her second child.
Is Heidi a World Champion?
Yes, Heidi holds multiple wins in world arm-wrestling championships. Alongside that, she has won the Swedish national title as well as the arm-wrestling world cup.
Does Andersson Reside in Helsinki?
No, she doesn't reside in Helsinki.
Is Heidi Andersson the Board Member at WWF?
No, Heidi is not a board member at WWF.