Henrik Lundqvist is a former Swedish professional ice hockey player who earned the nickname "King Henrik" for his dominant play style. He played all fifteen seasons with the New York Rangers of the National Hockey League (NHL).
Lundqvist is widely known for his aggressive butterfly style of goaltending. He recorded the most wins by a European-born goaltender in NHL history during his professional career.
Henrik Lundqvist would return to his role as a lead studio analyst on MSG Network throughout the 2022-23 season, which New York Rangers announced on September 2022.
Additionally, he competed in the 2006 Winter Olympics as a part of the Swedish men's national ice hockey team. That year, Sweden successfully brought the gold medal home.
After he retired from professional ice hockey, Henrik Lundqvist tried his hands at sports broadcasting. On October 15, 2021, Lundqvist joined MSG Network to cover the Rangers' 2021-22 season.
If you are curious about King Henrik and his journey to becoming one of the greatest goaltenders in the NHL, we've got you covered!
Henrik Lundqvist | Quick Facts
| | |
| --- | --- |
| Full Name | Henrik Lundqvist |
| Nick Name | King Henrik |
| Date Of Birth | March 2, 1982 |
| Birth Place | Åre, Sweden |
| Residence | New York, United States |
| Age | 41 Years Old |
| Gender | Male |
| Sexual Orientation | Straight |
| Height | 6ft 1 in / 1.85 m / 185 cm |
| Weight | 85 kg / 187 lb |
| High School | Not Available |
| University Name | Not Available |
| Zodiac Sign | Pisces |
| Religion | Not Available |
| Nationality | Swedish |
| Ethnicity | White |
| Father's Name | Peter Lundqvist |
| Mother's Name | Eva Johansson |
| Siblings | Joel And Gabriella |
| Hair Colour | Dark Brown |
| Eye Colour | Blue |
| Skin Colour | Fair |
| Marital Status | Married |
| Partner | Therese Andersson |
| Kids | Charlise And Juli |
| Profession | Former Ice Hockey Player |
| Position | Goaltender |
| Status | Retired |
| Net Worth | $35 Million |
| Salary | $1.5 Million (2021) |
| Social Media | Instagram, Twitter |
| Merch | Henrik Lundqvist T-shirt, Autographed Gear |
| Last Update | November, 2023 |
Henrik Lundqvist | Early Life And Family
Lundqvist, the athlete, was born on March 2, 1982, in Åre, Jämtland province of Sweden. His father name is Peter Lundqvist, and his mother is Eva Johansson. He has an identical twin brother, Joel.
When they were in kindergarten, the twins learned to skate in an outdoor ice rink that their teachers made during winter. Their locality was famous for alpine skiing, but they were more interested in ice hockey.
Moreover, their father, Peter, once took them to watch Västra Frölunda HC play in the Scandinavium arena of Gothenburg city. It was one of their fondest memories and intensified their love for ice hockey.
Henrik and Joel started playing organized hockey games with Järpens IF in 1990. However, the two brothers joined Rögle BK after their family moved to Båstad, Skåne, in 1993.
Henrik and Joel were competing in the 1998 Scandinavium Cup when Frölunda's junior team manager Janne Karlsson first expressed his interest in scouting them.
Before his professional ice hockey career, Henrik Lundqvist played guitar in a Swedish band named Box Play. They only played Swedish rock covers, but Lundqvist had a great time because of his love for music.
Henrik Lundqvist | Career
Västra Frölunda HC
Lundqvist made his debut in the Swedish Hockey League with Frölunda Hockey Club on September 21, 2000. However, Frölunda lost the opening game against Brynäs IF.
In the next game against IF Björklöven, Lundqvist stopped 18 shots except for one goal, leading his team to victory.
On the other hand, he did not start for most of the season and lost his roster spot to Pat Jablonski.
Instead, he played for IF Mölndal Hockey in Sweden's second-highest ice hockey league, HockeyAllsvenskan.
After nine games, he joined Frölunda's junior ice hockey team and participated in the J20 SuperElit in December 2000. His subpar performance started to worry his coaches, but he was back in shape at the 2001 World Junior Ice Hockey Championship.
Lundqvist was awarded the Honken Trophy for Swedish goaltender of the year in 2003, 2004, and 2005. He also received the Golden Puck and Golden Helmet in 2005.
New York Rangers Rookie Season
In the 2005-06 NHL season, Henrik Lundqvist joined the New York Rangers as a backup for the starting goaltender Kevin Weekes. But when Weekes suffered an injury in the second game, Lundqvist made his NHL debut on October 8, 2005.
Lundqvist secured his first NHL win on October 13 against the New Jersey Devils at Madison Square Garden.
On October 16, the Rangers made a 5-1 win against the Atlanta Thrashers. Lundqvist received the nickname "King Henrik" after fans, and the New York media praised his performance.
In 2006, Lundqvist earned a spot on the NHL All-Rookie Team. He finished his rookie season with a record-breaking 30 wins in Rangers history.
Brotherly Bout
King Henrik faced his twin brother, Joel, in a game against the Dallas Stars in December 2006. The Rangers won the game with ease.
Lundqvist recorded eight shootouts in the 2007-08 season. Similarly, he recorded nine shootouts in the 2008-09 season, becoming the first Rangers goaltender to achieve the feat since Eddie Giacomin in 1966-67.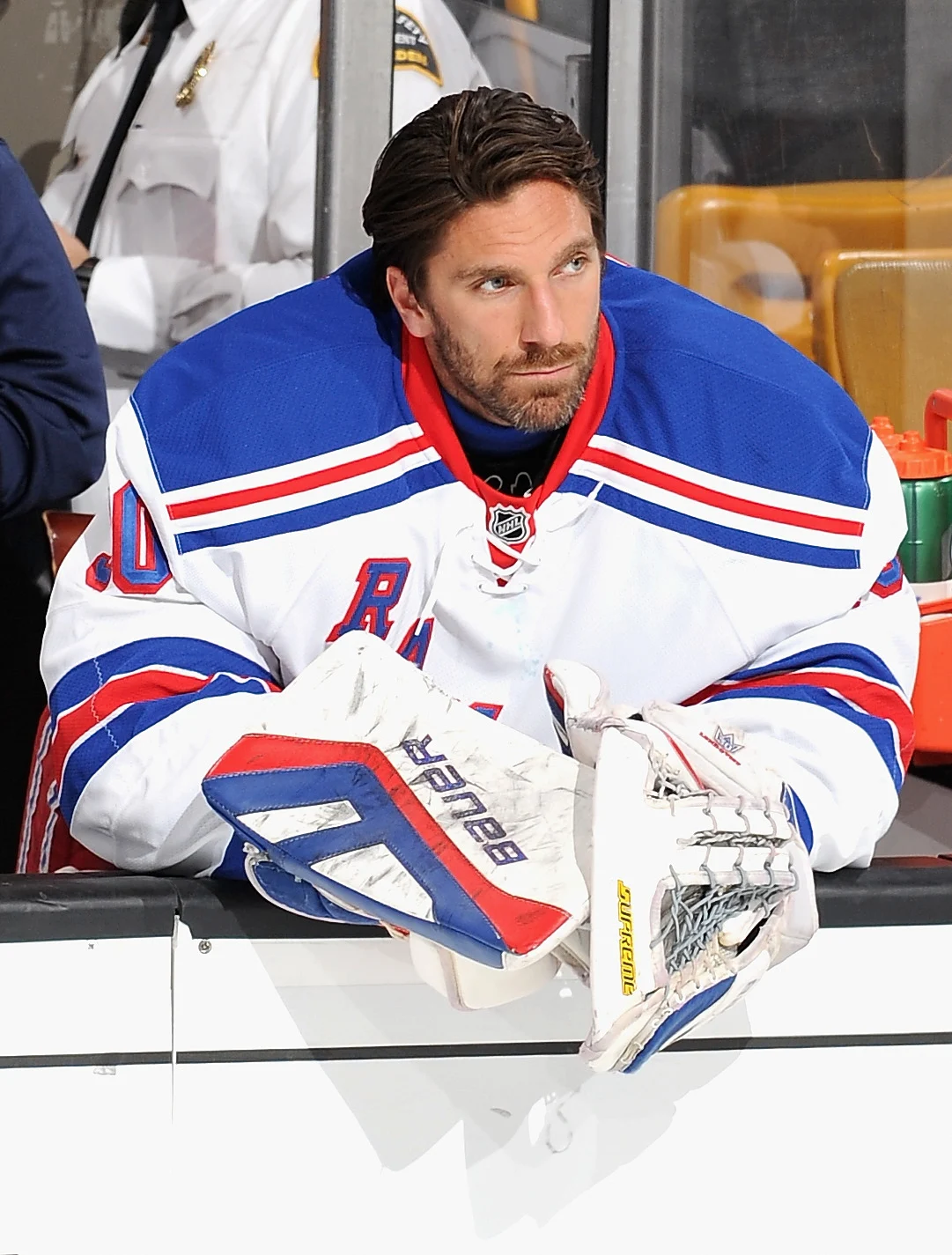 In October 2008, the Rangers won the Victoria Cup over the Russian professional ice hockey team Metallurg Magnitogorsk. Lundqvist participated in the 2009 NHL All-Star Game in Montreal, first appearing in the Elimination Shootout.
On March 12, 2009, Henrik Lundqvist became the first goaltender to win at least 30 games in his first four NHL seasons.
After receiving nominations in the first three seasons, King Henrik finally won the Vezina Trophy at the 2012 NHL Awards in Las Vegas.
The Professional Hockey Writers' Association (PHWA) named him the Rangers Most Valuable Player for five consecutive seasons (2006-07 to 2010-11).
Injuries
During his game against the Carolina Hurricanes on January 31, 2015, Lundqvist suffered from an injury that damaged the blood vessel in his neck. As a result, he missed a few games of the season.
Following, on March 28, Lundqvist returned to play as the starter, but the Rangers lost in a 4-2 game against the Boston Bruins. Although Henrik started the rest of the games in the 2015 playoffs, the Rangers showed weak offensive performance.
King Henrik recorded another career achievement on January 16, 2016, becoming the first goaltender in the NHL with 11 consecutive 20-win seasons.
In addition, he recorded his 60th shutout during a game against the St. Louis Blues.
On February 11, 2017, Lundqvist became the quickest goal-tender to earn 400 wins in their career after defeating the Colorado Avalanche. He recorded his 455th win on November 25, 2019, securing fifth place in the NHL all-time wins.
You May Also Like 12 Most Expensive NFL Stadiums >>
Move To Washington Capitals
The Rangers decided to buy out the final year of Lundqvist's contract on September 29, 2020. After that, the athlete became a free agent and signed a $1.5 million contract with the Washington Capitals in October.
Unfortunately, Henrik could not play in the 2020-21 season because of pericarditis, which resulted in an irregular heartbeat.
Moreover, he had to perform open-heart surgery in January 2021.
Later, Lundqvist returned for practice in late February but decided not to partake in the 2020-21 season. Then, on August 20, 2021, King Henrik shared the news of his retirement.
Therefore, the Rangers announced the retirement of his jersey number 30 in his honor. The jersey was officially retired on January 28, 2022.
2022 Update
It was announced on September 9, 2022, that King Henrik and New York Rangers entered a new deal. He would play a vital role in a newly created business with MSG Sports and MSG Entertainment.
Lundqvist will represent both organizations in various partner and sponsorship endeavors, assisting with content development for digital platforms across both companies.
After retirement, he is keeping his profile high, and as per some sources, he will probably do some fill-in national television work in the TNT studio.
Also, Lundqvist said, "During the past year since I announced my retirement, I have enjoyed the opportunity to explore many different areas of the sports and entertainment industry and I look forward to continuing on that path."
"At the same time, I am a ranger at heart, and Madison Square Graden is my home. I am thrilled to continue my relationship with MSG and the Rangers in this exciting, expanded role."
Furthermore, projections were made in November 2022 by some sources that Rangers legend Henrik Lundqvist should be a first-ballot Hall of Famer for the Class of 2023 when votes are taken this June.
Further
On December 8, 2022, The Athletic ranked Henrik Lundqvist as the No. 50 on their list of the greatest players in the modern era of the NHL for his generational goaltender and being the backbone of his team.
He was also portrayed as an ultimate teammate with his fashion sense and philanthropy. They also mentioned that the Rangers goalie saved more goals than the average netminder would have based on the number of shots he faced in almost every year of his career.
Lundqvist could not do better only three times later in his career, in 2016-17, 2018-19, and 2019-20. Even when accounting for his workload in terms of minutes played in those 12 seasons, he generally ranked highly in the league.
He saved 183 goals on average, in his career; that ranks 10th in the league since 1967-68
Henrik Lundqvist | Marriage And Kids
Henrik Lundqvist and Therese Andersson met in 1998 when Lundqvist was still establishing himself as a junior ice hockey player.
The couple was together for more than twelve years when Lundqvist popped the question to Andersson. The two shared their wedding vows in the summer of 2011.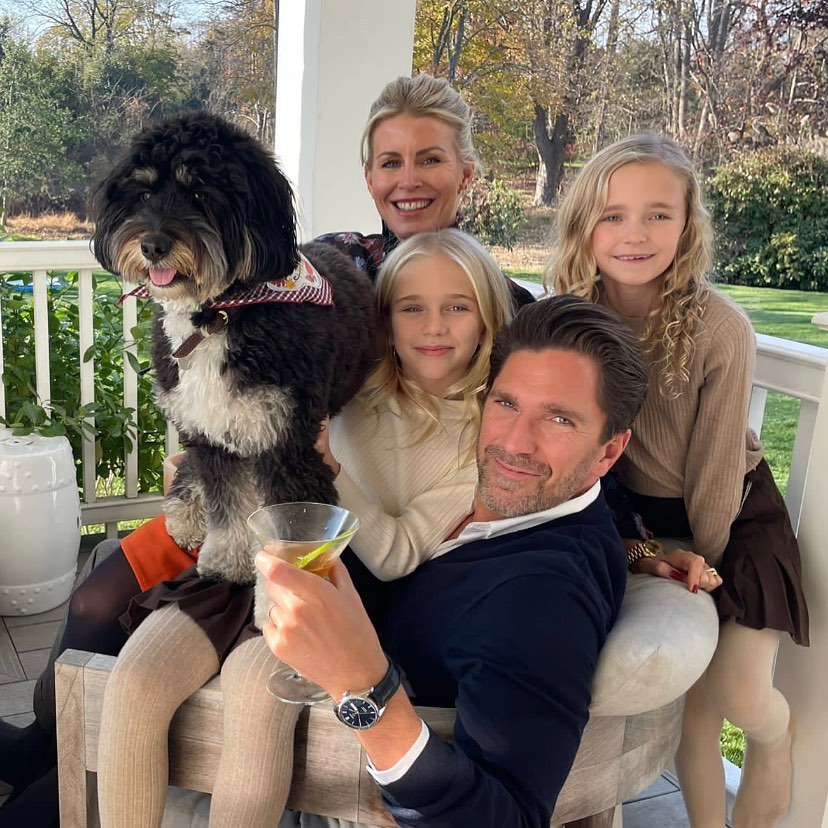 Henrik and Therese welcomed their first child, Charlise, on July 10, 2012. Moreover, their second daughter, Juli, was born on March 20, 2015.
Lundqvist and his wife established the Henrik Lundqvist Foundation in 2014, intending to provide health services and education to underprivileged families.
It is a non-profit, international grantmaking organization that hosts fundraising events.
Henrik Lundqvist | Net Worth And Career Earnings
In February 2008, Henrik Lundqvist signed a six-year $41.25 million contract extension with the New York Rangers. So, Lundqvist made an average of $6.875 million for a season.
After the end of his contract, he signed a $59.5 million extension on December 4, 2013, for another seven years.
Consequently, Lundqvist became the highest-paid goaltender in the NHL, receiving $8.5 million per season.
His estimated net worth is $35 million.
Lundqvist owns a restaurant in Tribeca, Lower Manhattan, called Tiny's. Likewise, he lives in a $2 million mansion with his wife and children in New York.
Check Out Royce Gracie's Bio: Net Worth, Wife & Kids >>
Social Media
There is no doubt that King Henrik is one of the best goaltenders in NHL history, but fans are equally interested in his good looks.
In April 2006, he was listed among the World's 100 Most Beautiful People by People's magazine.
Additionally, Henrik Lundqvist received the "Best Dressed" award in Sweden in 2004. If you are curious to follow him through his everyday life, you can find him on different social media platforms.
View this post on Instagram
Instagram: 597k followers
Twitter: 698.7k followers
Popularity Graph
Henrik Lundqvist is a former professional hockey player from Sweden in the NHL.
His search rate hiked as he signed a new deal with New York Rangers franchise, and he is also projected to be in the Hall of Fame.
Frequently Asked Questions(FAQs)
Did Henrik Lundqvist cheat on his wife Therese Andersson?
During his rookie season, there were rumors that Henrik Lundqvist was cheating on Therese with Swedish model Victoria Silvstedt. Henrik had just moved to New York from Sweden, and the two were seen hanging out together. However, the rumors were neither proven nor denied. But Lundqvist was accused of being unfaithful towards his partner again in 2010 when news broke out that he saw Princess Madeleine of Sweden.
Who is Joel Lundqvist?
Joel Lundqvist is a professional ice hockey player from Sweden. As of 2021, he plays as the captain and the center position for Frölunda HC of the Swedish Hockey League. Additionally, he is known for being the twin brother of former New York Rangers goaltender Henrik Lundqvist. Joel Lundqvist played for the Dallas Stars of the NHL from 2006-2009.
Is Lundqvist in the Hall of Fame?
Henrik is undoubtedly the closest to being a lock among the first-year eligible candidates in the Class of 2023. The former New York Rangers goalie is sixth in NHL history in wins (459), ninth in games played (887), and 17th in shutouts (64).
Similar Article Evgeny Svechnikov Bio: Ice Hockey, Career & Net Worth >>