Santino Ferrucci girlfriend of two years, Renay Moore, became his fiance in September 2022. The couple will now become husband and wife in January 2024.
The 25 years old IndyCar Series driver, Santino Ferrucci, went official with his romance in September 2020.
Now with Santino ready to become a married man, he has already received training in raising kids, as with his fiance, the driver has raised two cute furry babies, Kodak and Kleo.
Before breaking into IndySeris in 2018, Santino was a reserved driver for the Haas F1 team alongside the current F1 Ferrari driver, Charles Leclerc.
Since joining Indy Series, Santino has seen his ups and downs. But on Sunday, Santino is confident it will only be a career-high.
He will be starting fourth in the prestigious Indianapolis 500 race and will carry the torch for the AJ Foyt racing.
Santino Ferrucci Girlfriend Turned Future Wife Renay Moore
Santino Ferrucci's girlfriend turned future wife, Renay Moore, has been together with the racer since 2020. The couple will tie the knot next year on January 20, 2024.
Renay Moore is a graduate of Southern Methodist University with a finance degree. Even before graduation, Renay interned as a summer analyst for the famous investment management firm Goldman Sachs.
After three months of internship at Goldman Sachs, Renay received her bachelor's degree. She rejoined Goldman Sachs in 2017 as a private wealth manager and worked with HNI.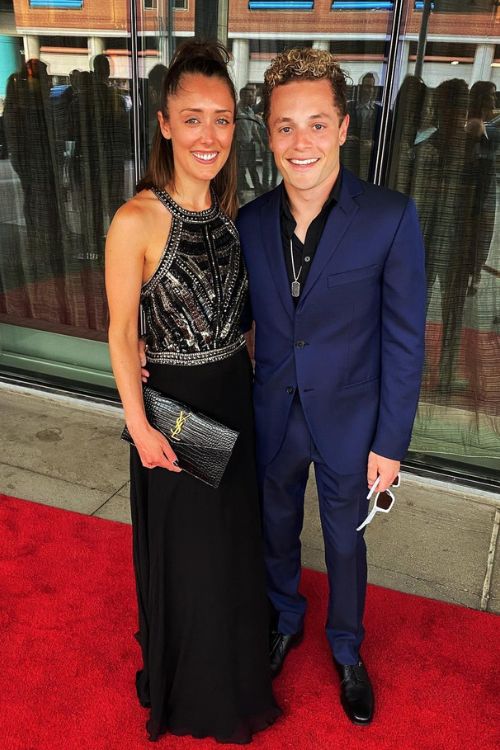 But Renay decided to leave Goldman Sachs in 2019 and joined the private equity firm based in Florida, Cresset. The firm also has Dallas Mavericks owner Mark Cuban as one of its investors.
Renay's tenure at Cresset was short-lived and only lasted for a year and a half before she returned to Goldman Sachs. But this time around, as an Associate.
Renay has been working at Goldman Sachs in her second tenure for two years. Renay is available on Instagram with the username @renay_moore but has decided to keep it private.
Santino Ferrucci And Renay Moore Relationship Timeline
Since going public with their romance in 2020, things have escalated quite quickly in the young couple's life.
Now with the couple ready to take another big step in their life, let's take a look back at where it all began for them.
Santino And Renay Become Instagram Official
On September 3, 2020, Santino, with a mystery woman and his cute dog Kodak, posed in front of a billboard sign of Big Machine Vodka.
It was a sponsored post, but it did make many curious about who the woman beside Santino was, and at the time, he didn't even tag her.
But their love story might have begun a few months before going Instagram official, as the couple had already adopted their dog Kodak, in June.
On the Instagram page Kodak Momentz, run by Renay, the couple has been seen together since July. On August 17, 2020, one of them even shared a photo with Kodak in the frame, captioning the post, "Family photo."
The Couple Loves Going On Trips
Santino has shared several photographs of them celebrating various festivities and going on vacations on Instagram.
In 2021, with Kodak, the couple took a downtime in Oyster Harbours, Massachusetts. Santino shared a photo of them basking in the sun at the poolside with several other images from the trip.
Last year, the couple took a skiing trip to Taos, New Mexico, with Santino even sharing a photo of him skiing down the mountain slope.
He then did a photo dump, which included Renay showing off her skiing skills. Along with accompanying him on trips, Renay also accompanies her future husband to racetracks, attending several of his races.
Santino Announces His Engagement To Renay
On September 18, 2022, the IndyCar Series driver Santino announced his engagement with his partner of two years.
In a photo shared by Santino, Reny is seen showing her engagement ring. It does look like Santino and Reny's family were present for the big occasion as the driver shared a group photo of them enjoying a small gathering party.
Earlier this month, the future bride and groom were seen attending the famous Kentucky Derby at Churchill Downs, Louisville.
On the wedding website The Knot, the couple has announced their wedding date to be January 20, 2024.