Ever since Austin Reaves joined the Lakers, fans have been trying to dig out every possible info about this shooting guard. So, there comes a curiosity, "What is Austin Reaves's religion?".
While there are two-sided claims about his faith- some say he is Christian while some say Jewish, the NBA player is to confirm if he follows any.
Though there are reports suggesting that Reaves is a devout Christian.
Austin Reaves, a rookie in the LA Lakers, joined the main roster in the 2021-22 season after his two-way contract turned into a standard deal.
In his rookie, he scored his first-ever triple-double with 31 points,16 rebounds, and 10 assists. Then, in the following season, the basketball player scored his career-high 35 points.
The American-born NBA player's sheer dedication did lead him to prominence, but the credit also goes to his family members- his parents & elder brother Spencer Reaves.
What Religion Does Austin Reaves Follow? Christian Or Jewish?
Austin Reaves has always tried to skip queries about his personal life in interviews, whether it be his dating life, religion, or any.
Though fans, who won't stay put without answers, surf through his social media profile & all to stuff about the basketball player.
On the court, the Lakers' player seemingly shows his faith in god with his hand gestures after he scores.
Based on his Instagram (@austinreaves12), Reaves loves Christmas & even participated in a Christmas giveaway with Rigor, a Chinese sports apparel, of which he is an ambassador.
And already, they are claiming that the shooting guard is Christian & his religious faith has held him high throughout his journey.
For sure, faith in god does help one to unlock their potential-many NBA players are into pre-game rituals. And fans have queries if Reaves does prayers too.
But also, when it comes to basketball, confidence & faith among teammates is a ladder to success. Well, that example is not far.
Thanks to his impressive games, the LA Lakers player Austin has the trust of his teammates, which includes elite names like LeBron James, D'Angelo Russell & Anthony Davis, whom he has admired since growing up.
Family & Relationship
Austin Tyler Reaves grew up in a family of athletes.
Born to college basketball player parents: Nicole Wilkett and Brian Reaves, he has an elder brother named Spencer Reaves, who plays for the German basketball team Brose Bamberg.
Austin's father & mother were both college basketball players at Arkansas State University on their respective teams.
As reported, Reaves' parents were so dedicated to making them athletes that they would give them a choice, either 'work on the farm or hit the gym.'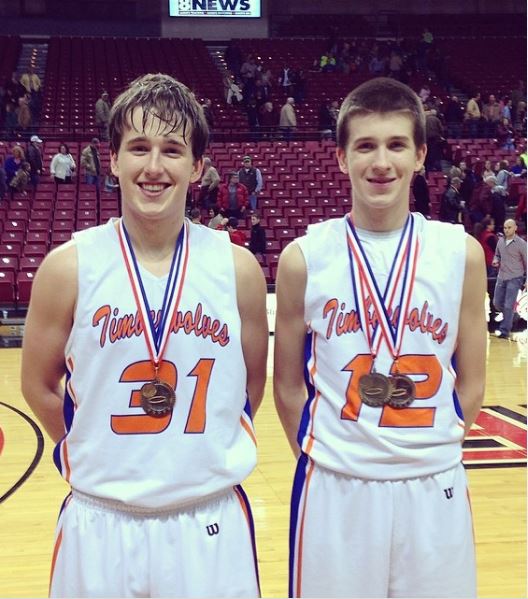 But the future NBA player wouldn't prefer any. His elder brother would drag him to the gym & to the basketball court. Later, it instilled in him a passion for hoops.
Now, Austin is a stand-out NBA player who plays for the Los Angeles Lakers. In addition to a successful career, he has a blissful relationship with his longtime girlfriend, Jenna Barber.
The two have been dating ever since they met at Cedar Ridge High School.