The long and luscious hair of Matt Strahm is as real as it gets. The athlete takes it easy with his hair and just lets it grow.
One thing that stands out the most with Matt Strahm is his hair. He has long, flowing hair, which sometimes might look like a wig.
However, it is not, Matt's locks are indeed his natural hair. The main advice for maintaining such a delicate piece is to relax and keep it clean, per Matt.
Mathew Scott Strahm is a 32-year-old baseball player from West Fargo in North Dakota. He is a pitcher and has been in the MLB since 2016.
Strahm committed to the University of Nebraska-Lincoln. Soon, in the 2012 MLB draft, the Kansas City Royals selected Matt as the 643rd pick over his previous commitment.
This would see Strahm have brief stints with a couple of minor league teams over the years. It was in 2016 that the pitcher would finally make his MLB debut and took the role of relief pitcher.
Subsequently, he joined the San Diego Padres and played there for 3 years before moving to the Red Sox. Strahm had 50 relief appearances before becoming a free agent.
Moreover, the Philadelphia Phillies signed Matt on a 2-year contract worth $15 million in 2022.
What Is The Secret Behind Matt Strahm And His Hair?
Discussing Matt Strahm without acknowledging his distinctive features would be culturally remiss.
This talented pitcher is known for his flowing, luminous hair, which is not only a visual identifier but also a fascinating element of his persona.
Reason Behind The Long Hair
When talking about his hair, Strahm mentioned that he hasn't cut it since 1 July 2017. It was pretty long ago cause if we think about it, the pitcher was playing for the Royals back then.
As to the reason behind such commitment to long hair? Strahm explains it as a hint of superstition.
Because the last time he cut his hair and went to practice, Strahm injured his knee. He is the type of guy to put the left sock before the right, so it's just how his mind works.
Moreover, Matt believes he doesn't owe good looks to anyone. But worry not, Matt, the fans love your long hairstyle more than anything.
His Wife Loves His Hair But Not Sure If Her Daughter Fancies It
Well, to be completely honest, Matt does owe good looks to one person: his wife, Megan Strahm.
But she loves it, so it's all completely fine. In Matt's own words, "The wife likes the long hair."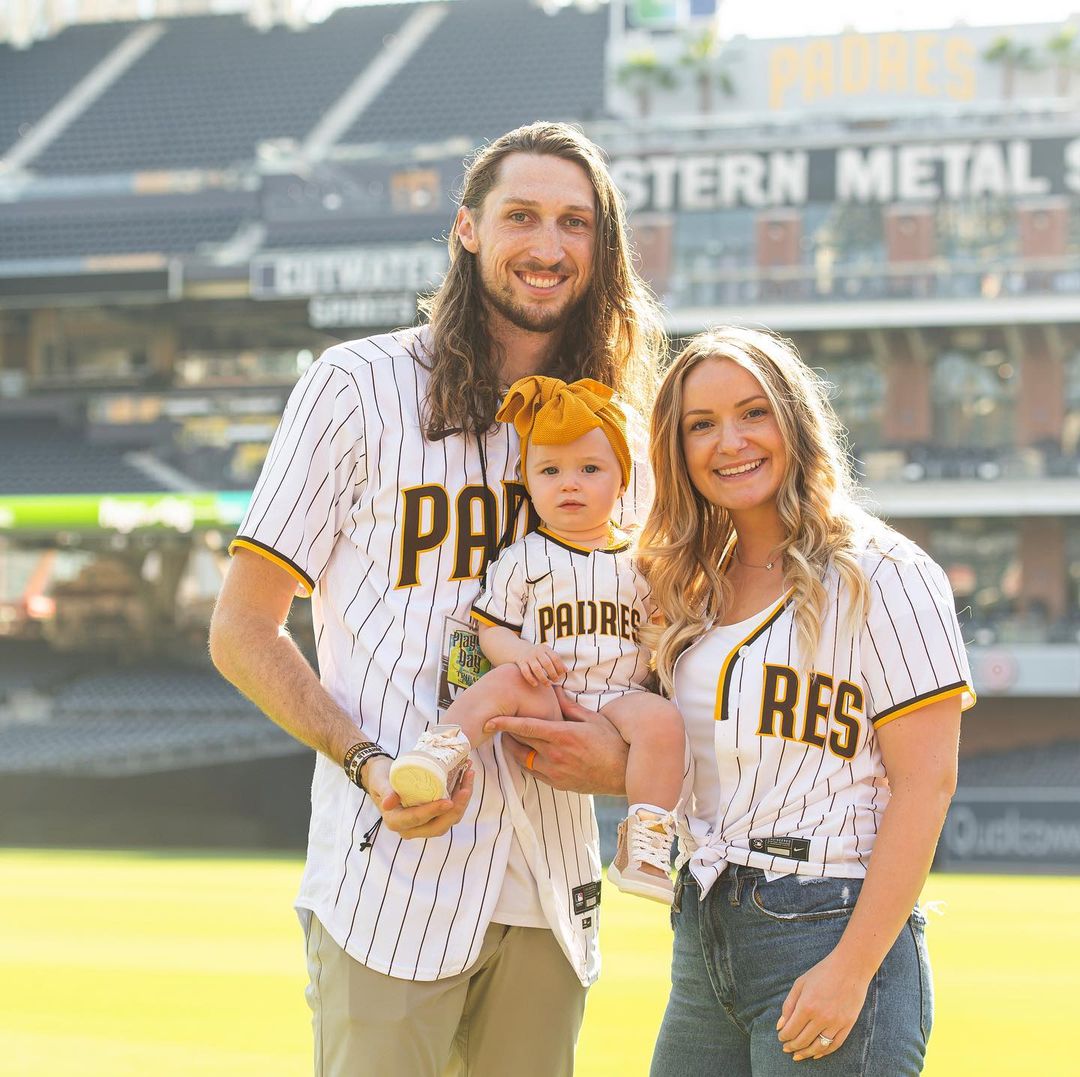 However, he did have trouble handling it around his kid. Matt's daughter Wren Lois, who is only 3-years often pulled it, making it quite hard.
So much so that Matt even once thought about cutting his beautiful strands. But he has made it through the phase and has no plans on getting rid of it anytime soon.
Another interesting thing is that Matt had short hair during his marriage. So, his daughter now does not recognize her dad in the wedding pictures.
Matt Strahm And Brandon Marsh: Hair Competition
An interesting battle within the Phillies roster is between Matt and Brandon Marsh.
With both the pitcher and the outfielder having long hair, they are in a sort of match-up on who has better flow.
However, Matt is the veteran on this matter, so he constantly gives Marsh advice on how to handle and keep his hair intact.