Italy wins over Northern Ireland with 2-0 on 25 March in Parma as they start off in the World Cup Group C Qualifier games
Italy cemented its lead in the first half after Domenico Berardi scored at the 14th minute and Ciro Immobile just seven minutes before the break.
Coached by Roberto Mancini from 2018, the Italian team were formidable opponents that the Irish team had to be prepared for. Mancini's team have been unbeaten in 23 matches as of now.
He told Rai Sport:
"The first half was excellent and we should've scored more goals."
"The ball was moving quickly, it was perfect. We scored two goals and we could have scored another two at least.
"We"ll have to review the second half because we must do better than that. Perhaps we started to take a few too many touches and the ball moved slowly. It can happen after five months of not seeing each other."
In 2018, Italy failed to qualify for the World Cup in Russia. It was their first time in sixty years that they didn't make it.
As four-time World Cup winners, they have never lost as home World Cup qualifiers.
The Northern Ireland team built up a strong play after the second half taking the Azzurris by surprise. Inspired by Gavin Whyte, they put up their stance.
They face the Bulgaria team at Belfast's Windsor Park on 31 March.
Northern Ireland boss Ian Baraclough's team is getting geared up for the match, as they continue to compete for the World Cup finals, which has eluded them since 1986.
Italy Dominates the First Half Despite Northern Ireland's Stance
The first several minutes of the opening looked positive for the Norn Irons. The team were freshened up and kept a strong steady play.
However, the Italians picked up their tempo and carried out sharp passes. Northern Ireland could not compete with the Azzurri at their peak.
Lazio forward Immobile displayed the first sign of a possible goal, but goalkeeper Bailey Peacock-Farrell blocked it easily.
Forward Domenico Berardi scored the opening shot. His opportunity came when he got a pass from Alessandro Florenzi.
He spurted down the right-wing cutting inside and fired an angled shot that went past Northern Ireland goalkeeper Peacock-Farrell near the post.
It was a high shot that went straight into the roof of the net. And the Sassuolo forward's fourth goal after playing five Italy matches.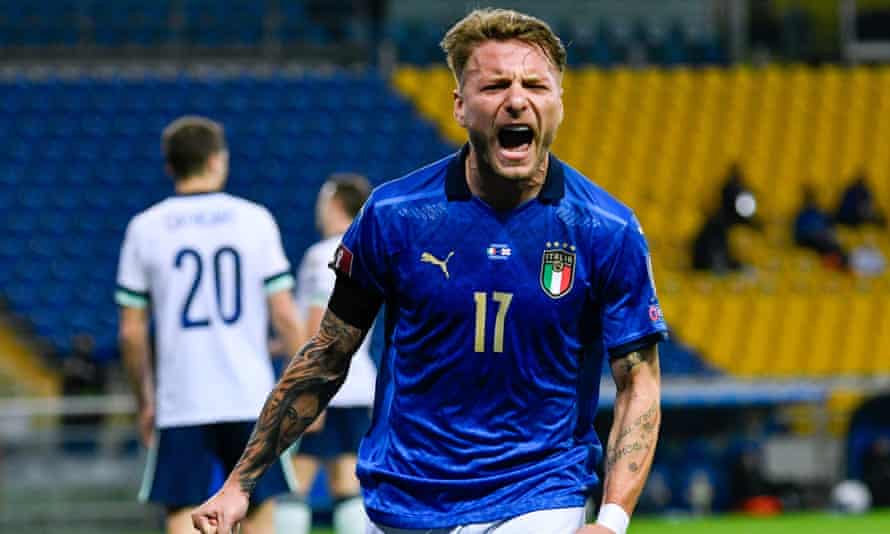 Immobile got a chance moments before half-time. Getting a run-off from Lorenzo Insigne, the striker succeeded with a low left corner shot.
It was his first goal for Italy since 2019. Last year's winner of the European Golden Shoe, Ciro couldn't hold back his elation and kicked and thumped the corner flag.
In his own words, "I felt a weight off my shoulders, I hadn't scored for a year and a half for Italy."
"It was a release, an important goal for me and for the team, seeing as the match was a bit complicated."
The Norn Irons Pick Up in the Second Half
After the break, the Northern Ireland team reinforced to play better and stronger.
In fact, the Italians got slightly ruffled at one point.
Gavin Whyte caught up with a chance when he latched onto a backpass from Azzurri midfielder Manuel Locatelli, but AC's Milan's Gianluigi Donnarumma fended it off.
The Italian goalkeeper also made a second consecutive effort and blocked Michael Smith's shot. Smith tried to score with his left foot but didn't use enough force.
Just four minutes before wrap-up, Baraclough's team nearly won a goal. They had played well into the game and Captain Steven Davis was able to track Paddy McNair giving him a smart pass. However, the Middlesbrough man couldn't deliver that night.
His sloppy shot flew over the crossbar. He has been playing well for his team and country in recent matches, but his performance on Thursday was a real disappointment to Northern Ireland fans and boss.
Boss Ian Baraclough spoke to Sky Sports: "These are not the sorts of games we're going to get judged on. We need to take that intensity from the second half into our next qualifier on Wednesday against Bulgaria.
"These are the games, against the Bulgarians, against Switzerland, and even against Italy at home. We'll be buoyed by that second-half performance.
"We know we need to start games better, but we can create chances. We've got a team ethic where I think we need to be on the front foot. We can't be passive, and when we are we get affected by it."
Northern Ireland needs to buck up and launch themselves into a better prepared and energized team and learn and take experience from the second half. They need to step up to Wednesday's game with Bulgaria if they want to continue to qualify for the 2022 World Cup finals.